According to at least one source, Vincent Van Gogh only sold one painting in his lifetime, despite having completed an estimated 900 works. Incredible as it may seem now, contemporaneous critics found Van Gogh's work to be dark and lifeless—a snub that no doubt helped pave the way to the artist's eventual suicide.
While the Mitsubishi Sigma may be something less than an overlooked automotive prodigy, it actually was am impressive ride, especially given the price. For about $20,000, the Sigma boasted a collection of standard and available equipment that easily challenged the available-features list of the $35,000 Mercedes-Benz 190E.
For the car's $18,164 base price, customers got cutting-edge features such as a port-injected V6 engine, 4-speed automatic transmission, steering-wheel audio controls, speed-sensitive wipers, and 4-wheel disc brakes.
The real tech news came by way of the options list, however. For $2042, enthusiast shoppers could order the "Eurotech Package," which included antilock brakes and an electronically controlled adaptive suspension.
Sadly, despite its "midsize-plus" external dimensions, the Sigma was little larger than Mitsubishi's compact Galant sedan on the inside. In fact, the Sigma shared the smaller car's 102-inch wheelbase.
Though generally well reviewed at the time, the Sigma sold poorly, and is almost non-existent on roads today. If you've seen one, tell us about it. You are among the very few.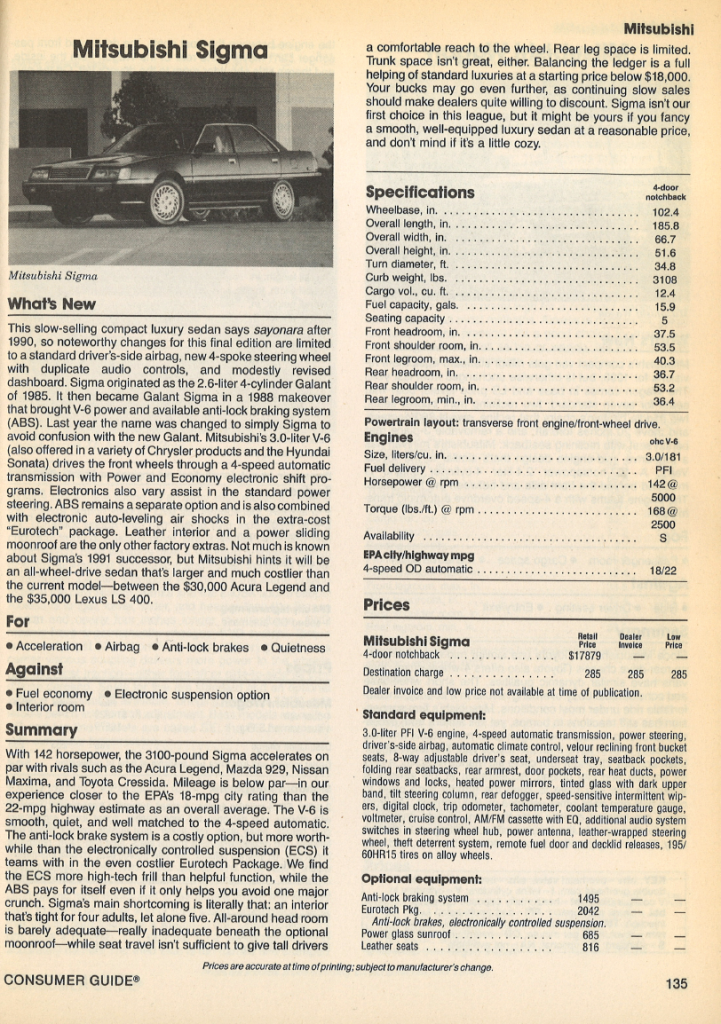 Review Flashback! 1982 Honda Accord