There were two good reasons for the demise of the Ford Excursion, and only one really good reason for it to have been built in the first place.
Addressing the former: Gas prices rose alarmingly during the Excursion's brief tenure in Ford's product lineup. Also, there was probably a finite market for 7000-pound SUVs, and what demand there was for such a vehicle had been met fairly quickly in the Excursion's 2000-05 model-year run.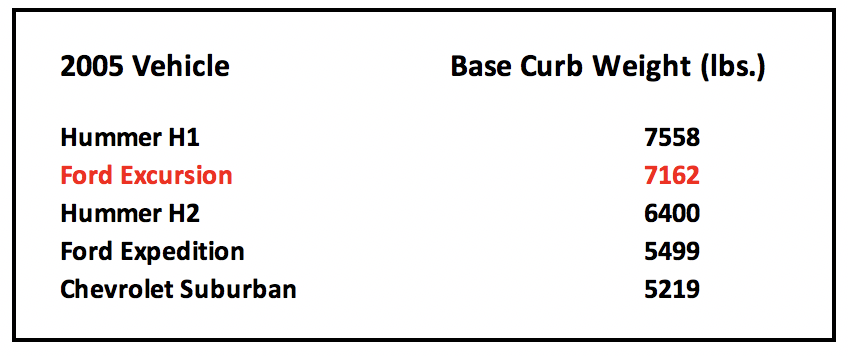 As for why the rig had been brought to market in the first place, the answer is money—and lots of it.
Though both the Excursion and the slightly  smaller Ford Expedition were based on Ford's F-Series pickups (the Expedition on the F-150, the Excursion on the F-250), the Excursion did not benefit from an expensive conversion to a coil-spring rear suspension, making the truck fairly inexpensive to build. Plus, Ford was able to demand top dollar for the Excursion (at least at first), making the gargantuan SUV popular with dealers and stockholders alike.
Fully loaded, a 2005 diesel-powered Excursion topped out around $60,000–roughly $10,000 more than a decked-out Expedition, even though the Excursion cost less to build. A $60K price tag in 2005 equates to about $75,000 in 2017 dollars–that figure seems almost quaint compared to the going price of optioned-up new Expeditions today, but it was a considerable sum of money to be laying down for an SUV in 2005.
While I used to cringe every time I witnessed someone commuting solo in an Excursion—and I wrote about it here–I've heard from a number of Consumer Guide readers regarding the big Ford's outstanding towing capabilities.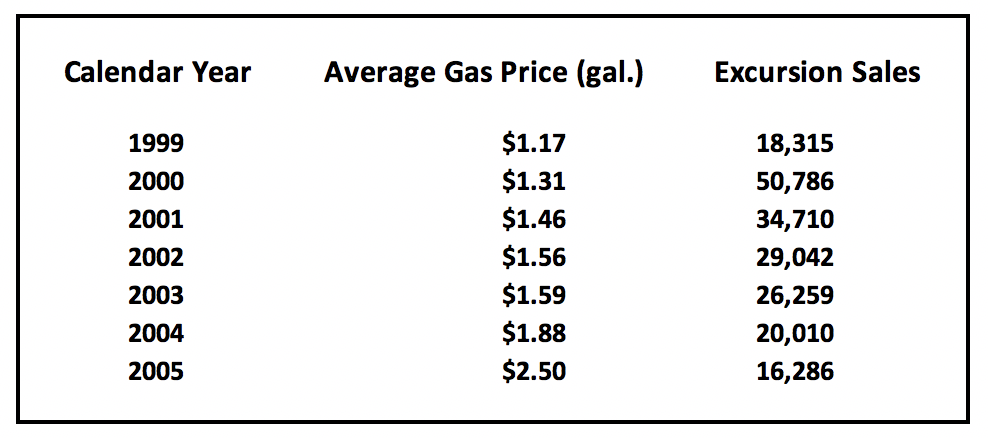 Indeed, there is a robust market for used Excursions–clean, low-mileage examples still trade for around $15,000, and spotless diesels regularly bring more than $20,000.
It's worth noting that the Excursion was the only Ford passenger vehicle (if it could indeed be considered a passenger vehicle) that could be equipped with the automaker's 6.8-liter "Modular" V10 engine. You can read more about that engine here.
With demand having been met–and with gas prices rising–Ford killed the Expedition after the 2005 model year, after having built almost 200,000 examples.
What follows is the original Consumer Guide review of the 2005 Ford Excursion. If you have any memories of this extra-large truck, please share them with us below.
2005 Ford Excursion
Overview
The largest SUV sold in America gets a minor cosmetic makeover for 2005. Excursion is 7.4 inches longer than a Chevrolet Suburban, 6 inches taller, and 2000 lb heavier. It seats up to nine and offers rear-wheel drive or 4WD that should not be left engaged on dry pavement but includes low-range gearing. Gasoline V8 and V10 engines are offered, along with a turbodiesel V8. All engines use automatic transmissions–the gas engines a 4-speed, the turbodiesel a 5-speed. Antilock 4-wheel disc brakes are standard. Side airbags aren't offered. Power-adjustable pedals are available on all models. Rear obstacle detection is standard on all but the base XLS and XLT. Rear DVD entertainment is available on all but XLS. Maximum towing capacity is 11,000 lb.
Acceleration
V10 gets this heavy SUV to cruising speed fairly quickly. Highway passing response is adequate. No V8 or turbodiesel version made available for test.
Fuel Economy
Test V10s averaged 9.6 mpg with 4WD, 10.8 with 2WD, among the lowest figures we've recorded. Gas engines use regular-grade fuel.
Ride Quality
A stable straightline cruiser undisturbed by most broken pavement, though bigger bumps and ridges register fairly sharply.
Handling
Ponderous on twisting roads. Steering is light, but turning diameter is huge, making it a chore to maneuver in parking lots. Brakes are easily modulated and feel strong, but drivers need to reacclimate to longer stopping distances.
Quietness
Suppression of wind rush and road roar is quite good. Engine intrudes only under full throttle.
Controls
Organized layout, though driver must stretch for audio and climate controls. View of road is big-rig tall, but small objects hide along flanks. Rear-obstacle-detection system helpful, especially since the deep-tint windows reduce night visibility. Interior decor ranges from pickup-truck functional on XLS to leather-plush on Limited; solid assembly.
Modular Misfit: The Forgotten Ford V10
Comfort
Accommodating seats, generous room, though wide transmission tunnel cuts into front-passenger footwell. Power-adjustable pedals aid comfort and can help shorter drivers sit a safer distance from steering-wheel airbag Second-row passengers get the roomiest accommodations, highlighted by exceptional leg space. Third-row hospitable to adults if not sofa comfortable.
Cargo Room
Huge, even with 3rd-row seat in place. That seat folds or removes, but it's heavy. The 2nd-row bench also folds. Cargo-bay access is by a top-hinged window above rear half-doors. These "Dutch" doors are less cumbersome than a one-piece panel, but don't open or close unless the liftglass is open.
Photo Feature: 1933 Twin Coach Bakery Truck
Value
Excursion is too cumbersome to act as a "suburban utility vehicle." But if you tow heavy loads and can tolerate abysmal fuel economy, this huge wagon is an acceptable SUV value.
Happy 10th Anniversary, H2: Remembering a Hummer in Verse
Written by: Tom Appel
on December 20, 2018.
on March 22, 2019.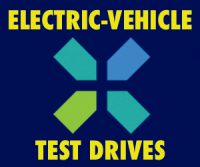 Auto Shows
Steve & Johnnie's Road Tests