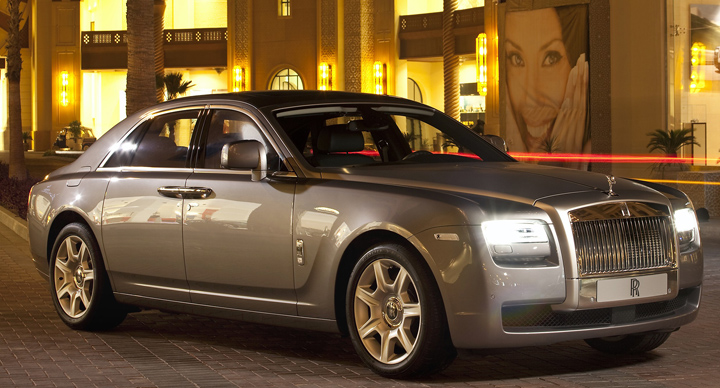 no secret that Rolls-Royce has been working up a coupe version of its smaller sedan, the Ghost, and Britain's Autocar magazine has now given us a good idea of what's in store. For starters, the new 2-door will bow at the March 2013 Geneva Auto Salon in Switzerland, ahead of a summertime production start at the R-R facility in Goodwood, England. First deliveries are slated for late fall, presumably for European customers. No word yet on U.S. timing, but we'd guess the car will be available before New Year's Day 2014, which means it could arrive here with a 2015 designation.
Test Drive: 2017 Rolls-Royce Dawn
U.S. pricing is also unclear at this point, but Autocar thinks the U.K.-market minimum will be some $323,500-$363,000 at current exchange rates. That's midway between the standard- and long-wheelbase Ghost sedans and assumes roughly the same pricing strategy used for the company's larger, flagship Phantom models.
The Phantom sedan was the first Rolls to emerge after BMW took control of the company in 2000. It has since been spun off into a convertible, a coupe, and a long-wheelbase sedan. As the upcoming Ghost coupe suggests a similar expansion of R-R's "junior" line, it seems only a matter of time before a Ghost convertible appears. We think that time could be around model-year 2016.
Incidentally, Autocar says the Ghost coupe won't be labeled as such, but will have a specific name that may be plucked from R-R's past, as Ghost and Phantom were. Two prospects have reportedly been ruled out, however: Corniche, because buyers associate that with convertibles, and Camargue, because the name graced an unsuccessful 1970s Roller coupe. Still, as Autocar notes, the famed ultra-premium brand has several evocative "back catalog" names that could be recycled for the new 2-door, including Dawn, Wraith, Cloud, Shadow, and Spirit. Well, maybe not the last two, as Chrysler put them on some pretty ordinary family cars in the 1990s.
Whatever it's called, the Ghost coupe promises to be one of the sportiest Rollers ever, thanks to trimmer dimensions, less weight, and more power. According to Autocar's company sources, the sedans' turbocharged 6.6-liter V12 will be retuned to make around 600 horsepower, up from 531, plus commensurately more torque. Like Ghost sedans, the coupe will come only with an 8-speed ZF automatic transmission and rear-wheel drive.
Autocar estimates the coupe transformation will produce a curb weight of just under 5,100 pounds, some 440 less than the standard Ghost sedan. This reflects a trimmer 2-door package with an overall length of 204.7 inches, nearly 8 inches shorter than the sedan, and a wheelbase sliced by some 7 inches to around 122.6. Overall height is said to be reduced by 2.4-2.8 inches via a new, more-rakish roof line that would bear a family resemblance to the Phantom coupe's, judging from Autocar's speculative rendering. That artwork also indicates that lower-body styling will be much like the Ghost sedan's, including rear-hinged "coach" doors a la 2-door Phantoms.
The Ghost sedans are widely regarded as more-involving drives than the big Phantoms, which helps explain why they've been attracting far-younger buyers, according to Rolls officials. The new coupe is intended to be even more the youthful "driver's car." As Autocar reports, its extra power will be accompanied by "mildly sport-orientated upgrades to the brakes, tires, and suspension, although Rolls-Royce's engineers have been careful to maintain the air of refinement and luxury that they believe is a [brand] 'given.'" Though top speed will be governed to 155 mph, as with other models, "the coupe's 0-100 mph acceleration is expected to be considerably brisker than that of the already quick Ghost [sedan]. Engineers say drivers will also notice greater agility, thanks to the tauter suspension, bigger tires, reduced weight and size, and [ride height] lowered by [0.4-inch]."
For all that, as Autocar observes, the Ghost coupe has been conceived only as "a measured response to the increasingly high-powered cars lately launched by Bentley and Aston Martin," and that it does not signal R-R's intent to "compete in a power race" with those British brands or other top-of-market manufacturers. That's really no surprise for a company that for many years refused to state specific horsepower for its products, saying only that their power was "adequate."
That's all we have for now, but keep checking back with The Daily Drive for further news. Ghostly Smoothness: Rolls Employs Torque to Reduce Shifting