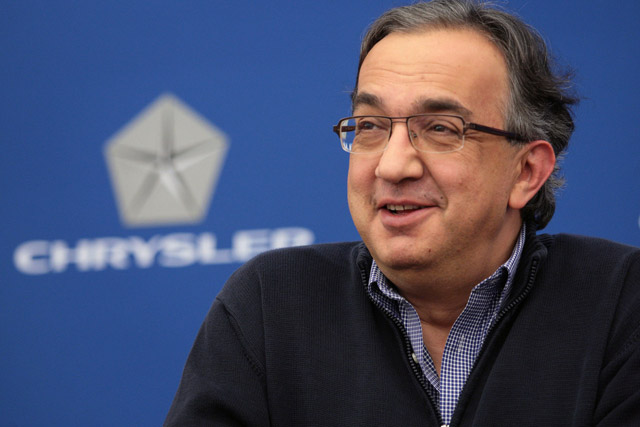 Hot on the heels of the Ram 1500 pickup truck receiving North American Truck of the Year accolades, Fiat and Chrysler CEO Sergio Marchionne spent a few minutes with journalists at the North American International Auto Show. Here are some highlights of that conversation:
More Sergio Marchionne news and interviews
The state of the U.S. auto industry
"The U.S. market is in healthy shape. The question today is how much over 15 million units 2013 sales will go. It will be the best year for the Chrysler Group since I've been here.
"There is a natural rhythm to this market, and record sales years aren't always a healthy part of that. The American market got into this [recent] mess through unhealthy practices. It's the worst Ponzi scheme you can think of. Slow steady growth is the best for everyone.
"That said, I may not like what some people are doing with pricing on certain models, but that's healthy warfare, not crazy incentives."
On Ram 1500 being named 2013 North American Truck of the Year
"Watch for a number of announcements in 2013, 2014 about how we will strengthen our pickup line."
On North American plant capacity
"We have enough capacity to deal with a 15.5 market. No matter how good 2013 is, we will be fine."
On the auto industry in Europe
"We are not the most exposed [automaker] to the European crisis. That said, it is a problem for everyone. Because the fixed costs of running a car maker are very high, any serious drop in sales is a problem. It is impossible to look at Europe right now with any sense of serenity."
On sales of the Dodge Dart
"The launch did not go as well as I want. The problem is powertrain solutions. We need to expand the powertrain offerings to match the segment. Dart will be the first beneficiary of the 9-speed transmission when that option becomes available to us.
"The problem with the Dart is that we launched it with a manual-transmission and a dual-clutch transmission, [the latter of] which is very much a European transmission. It's great for fuel economy, but it has to meet American driving expectations, which it clearly does not. It's a mismatch to consumer expectations.
"The car is a perfect car; there's nothing wrong with it architecturally. It will do well. It could have done better had we completed all the powertrain solutions. The car is priced right. Given the richness of the content, this car is priced right. In fact, it is a steal."
On shaving his beard
"I got tired of the beard."
On the future of the Chrysler Town & Country and Dodge Grand Caravan
"We're looking at a total [minivan] market of 500,000 to 700,000 units in the U.S. As long as people keep making children, we will likely continue to make minivans.
"That said, a shrinking of the minivan may be in order. For non-U.S. markets, the minivan is a very large vehicle. We would like to amortize production over more markets than just America. At the very least, we need a shorter-wheelbase version of the van.
"We do not know yet whether it is the Chrysler or Dodge van that will carry on. The other brand will get a 'people mover' of similar dimensions with conventional doors, not sliding doors."
On the future of the Lancia brand
"We need to be honest about what Lancia is. We want to be very careful that we're not hanging on to unrealistic expectations of what a European recovery can do for the brand. We will continue to nurture the products that exist today, and as those products die off they will be replaced by Chrysler-sourced products."
On bringing Alfa Romeo back to the U.S.
"I have been made aware that Fiat continues to threaten the world with an Alfa Romeo comeback. Here's the deal: We're not going to do this twice. It's a one-shot deal. The fact is that engine and chassis designs need to come back to Alfa. We need to be ready with Alfa. We are not ready. Our first step is the relaunch of Maserati. The [Maserati] Quattroporte that we will launch here today is part of the process [of revitalizing our premium brands]."
"But back to Alfa, it must have an Alfa engine. It can't be an American engine. With all do respect to Chrysler, it must be a wop engine. High-performance engines are something we [Fiat] know how to make."
On in-car connectivity
"I am concerned about the percent of total cost that in-vehicle electronics represent. In the C-segment [compact cars], those costs are becoming prohibitive—much more intrusive in terms of cost than we ever expected, and much more rich in terms of capability. But, because these systems are becoming so specific to given brands, I cannot see us, or anyone, cooperating with other makers. The systems are very much proprietary—so there will be no cost amortization there."
On the success of the newly created Ram and SRT brands
"I am delighted. [Creating Ram] has cleared up some unwanted confusion with Dodge. I'm happy and I think we're making good progress. SRT was a brand that we created out of nothing, so there was no confusion."
On building Jeeps in Italy
"The Jeep that is being built in Italy is a product that doesn't yet exist in the North American portfolio. The decision came about because the architecture we need does not exist within the NAFTA portfolio. The new Jeep will be built on the Fiat Punto architecture. The car will be sold in the U.S., but it will be much smaller than any current Jeep product. That said, the U.S. will not be the vehicle's biggest market."
On how he would fix the European auto industry
"God forbid that I be running Europe. The problem is clear: You need to improve demand or reduce production. The only solution now is to 'idle it up.' And how you idle things up, and who should feel that burden, is the question. For us, it's a question of what country we pull production from. The problem is that being the first person to idle production benefits everyone else.
"Every time I make one more car just to make an extra dollar, I reduce my margin on every vehicle I've made so far. They don't teach you that in Economics 101. You can't build your way out of a sales slump. Lowering your margins on a few cars lowers your margins on every car."
On Chrysler's biggest challenge
"The threat of complacency. I saw too many smiling faces on the Chrysler stand this morning. We had just won Truck of the Year, and launched the new Grand Cherokee. We need to remember that the competition ain't standing still. Ram may be the best truck in the world, which it is, but let's use that for marketing purposes and move on. There's work to do."
FCA Just Killed the 200 and Dart. Is the Dodge Brand Next?