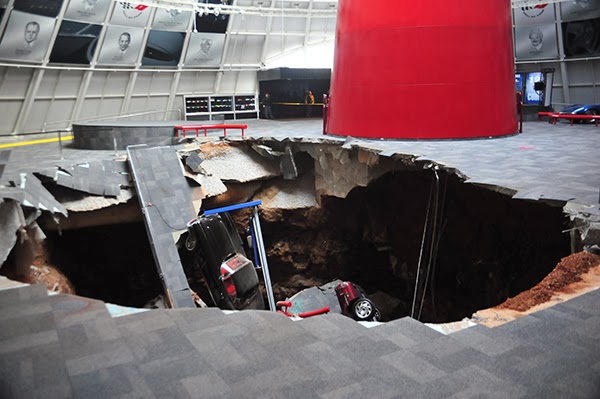 On February 12 a sinkhole inside the National Corvette Museum resulted in damage to several classic vehicles. Below is an account of the event and the vehicles damaged provided by the museum, followed by a General Motors press release presented without editing.
Sinkhole Collapses at National Corvette Museum
We received a call at 5:44am from our security company alerting us of our motion detectors going off in our Skydome area of the Museum. Upon arrival it was discovered that a sinkhole had collapsed within the Museum. No one was in or around the Museum at the time. The Bowling Green Fire Department arrived on the scene and secured the area. The Fire Department has estimated the size of the hole is 40 feet across and 25-30 feet deep.
It is with heavy hearts that we report that eight Corvettes were affected by this incident. Those cars include:
1993 ZR-1 Spyder on loan from General Motors
2009 ZR1 "Blue Devil" on loan from General Motors
The other six vehicles were owned by the National Corvette Museum including:
1962 Black Corvette
1984 PPG Pace Car
1992 White 1 Millionth Corvette
1993 Ruby Red 40th Anniversary Corvette
2001 Mallett Hammer Z06 Corvette
2009 White 1.5 Millionth Corvette
None of the cars affected were on loan from individuals.
From General Motors:
Museum cars damaged in sinkhole collapse will be shipped to Warren Michigan
DETROIT – To help the National Corvette Museum recover from the massive sinkhole that opened under the facility this week, Chevrolet will oversee restoration of the Corvettes damaged. General Motors Design in Warren, Mich., will lead the project.
"The vehicles at the National Corvette Museum are some of the most significant in automotive history," said Mark Reuss, executive vice president of General Motors Global Product Development. "There can only be one 1-millionth Corvette ever built. We want to ensure as many of the damaged cars are restored as possible so fans from around the world can enjoy them when the Museum reopens."
A Road Trip Through Horse Country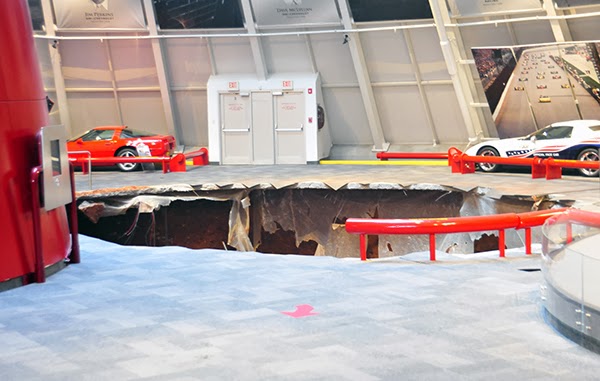 Ed Welburn, vice president of GM Global Design, will oversee the restoration.
When the cars are recovered, they will be shipped to the Mechanical Assembly facility, a small specialty shop within GM Design, where the best restoration approach will be determined. Mechanical Assembly has been part of GM Design since the 1930s, and today maintains and restores many of the vehicles in the GM Heritage Collection and GM's historic concept cars.
The National Corvette Museum is independently owned, and supported solely by charitable donations from enthusiasts. It is currently accepting donations on its website to assist in refurbishing the facility. Donations are tax-deductible.
Founded in 1911 in Detroit, Chevrolet is now one of the world's largest car brands, doing business in more than 140 countries and selling more than 4.9 million cars and trucks a year. Chevrolet provides customers with fuel-efficient vehicles that feature spirited performance, expressive design, and high quality.
Read about the 2015 Corvette Zo6 here