2014 Kia Soul ! (Exclaim)

Dates tested: 10/30/2013-11/11/2013
Miles Driven: 342
Fuel Used: 15.0 gallons of regular unleaded
Real-world fuel economy: 22.8 mpg
Driving mix: 60% city, 40% highway
Base price $20,300 (not including $795 destination charge)
Options on test car: Sun and Sound Package ($2600), The Whole Shabang Package ($2500)
Price as tested: $26,195
Quick Hits
The great: Room for four adults
The good: Decent fuel economy
The not so good: Less than polished drivetrain
John Biel
That's a nice trick Kia pulled off by naming the top trim level of its Soul subcompact crossover with an exclamation mark. Any time that a reviewer writes about the "2014 Kia Soul !," it makes it look like it's a vehicle that engenders irrepressible enthusiasm. If you told us that the first guy in line to buy one was the artist formerly known as the artist formerly known as Prince, we wouldn't be surprised. (Provided the Soul came in purple, which it doesn't.)
Symbolism aside, the new Soul is a pretty nice vehicle. For 2014, it sports modified exterior styling and dimensions, a stiffer platform, and upgrades to the interior.
The 4-door hatchback hasn't changed its essential upright, boxlike profile. It has, however, changed its detailing. Gone is the sharp diagonal crease that defined the bodysides of the first-generation Soul, replaced by tamer, flatter sheetmetal. A new hood spans the width of the fender tops and incorporates a decorative dummy grille—the real "breathing" now happens much lower on the fascia. In back, a contrast-color loop design runs around the liftgate between the taillamps that are still built into the corner pillars of the vehicle.
The Soul's footprint is about the same as before, with gains in wheelbase, overall length, and width that are each less than a full inch. It is 99 pounds heavier, though. Inside, head room has been reduced somewhat (by more than half an inch in front), but leg room has been fractionally increased both front and rear. Even with the reductions, head room is by no means pate-skimming for most passengers. (The middle-rear passenger might beg to differ, but 3-across seating, while possible, is probably best realized with a trio not yet old enough to vote.) There's decent adult-friendly leg room in the outboard rear seats, and doors open wide enough for uncomplicated entry and exit.
There's good flat-floored, covered cargo space in back. Split-folding second-row seatbacks don't fold completely flat, but they still open up lots more space when tipped. Front-of-the-cabin storage includes a couple of cup holders in the center console and a deep covered box that doubles as an arm rest. Rear-seaters can pull down a center arm rest that houses a pair of cup holders.
Controls are relatively close at hand for the driver. The ! that we tested included the optional navigation system with an 8-inch display screen in the center of the dash that also absorbed the logically programmable audio controls. Climate controls reside below the screen. A central rotary dial sets the temperature, but it is flanked by buttons for other HVAC functions. At least they're big buttons. The top model's standard leather-wrapped steering wheel is chock full of thumb buttons for control of audio and other functions. Dials are well-placed and legible, and centrally located graphic vehicle-information display included with the optional "Whole Shabang Package" (yup, its real name) shows up well.
Interior materials make the Soul feel a bit more upmarket. Soft-touch surfaces with "give" cover the dash and door panels. The optional leather upholstery in the test car had a rich look and feel—and the front seats and outboard rear seats were heated, another Whole Shabang goodie.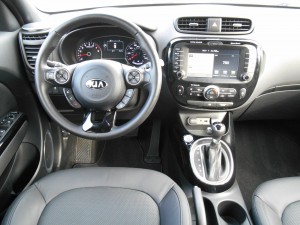 The tighter platform and suspension modifications that Kia has made for the 2014 Soul result in a comfortable-riding and easy-handling vehicle. With a wheelbase now in excess of 101 inches, the '14 Soul does a fair job of avoiding unpleasant hip/hops over road imperfections and cornering lean is well managed. Our tester was quiet, too, with little road or wind noise making itself heard.
What hasn't changed in the Soul ! is its standard 164-horsepower 4-cylinder engine and 6-speed automatic transmission. They deliver performance gutty enough for most driving situations. In CG's tests of previous-generation Souls with this powerteam, it noted that one occasionally clunked when upshifting at low speed; it seemed to this driver that was a fault that persists. In a run of 152.3 miles, with 58 percent of miles under city driving conditions, the ! averaged 23 mpg on the head.
The line-topping Soul ! starts at $20,300, which is not bad for its level of comfort, equipment, and utility. The vehicle tested was pumped up with another $5100 in option packages, but even they brought enough popular and desirable features (automatic climate control, panoramic sunroof, nav system, audio upgrade, heated leather seats, and more) to make it worth the price. This is one Soul that may have legitimately earned its !.
Tom Appel
I find that every time I settle into a Kia Soul (or Nissan Cube, or, to a lesser extent, the Scion xB), I wonder why every car isn't basically a box on wheels. There's really no better way to squeeze more passenger and stuff space into a given amount of space. I suppose this is the basic principle behind the minivan—though credit Kia for delivering a product far more charming than the average van.
Check out the 2015 Kia Soul EV
The old Soul (pun intended) was a fine ride, and the newly updated version is a little bit better. Better, in that the cabin is more upscale in feel, sound levels seem reduced, and the overall look of the vehicle is slightly higher-end.
Like the old Soul (sorry), the new Soul still suffers from a cranky-sounding engine and somewhat ill-behaved transmission. Now, in ! trim we get a 2.0-liter engine in place of the standard Soul's 1.6-liter unit. The bigger engine delivers plenty of power with appropriate immediacy for around-town cutting and thrusting. There's even enough power for mostly effortless merging and passing maneuvers. But working this engine hard means listening to a fair amount of groaning from under the hood, and that can get old pretty quickly.
Settle down for the long haul, and this Kia shines a little brighter. Soul rides surprisingly well given its tidy wheelbase, and, but for some wind and road noise, this car would make for a stellar long-distance cruiser.
We saw about 23 mpg in mostly city driving, which is a little low for a vehicle this size, but not bad given our 60% city bias. If you're not afraid to embrace the box, this boxy Kia makes a lot of sense. Soul is practical; arguably cool looking; and, when slightly less opulently outfitted than our test vehicle, a strong value to boot.