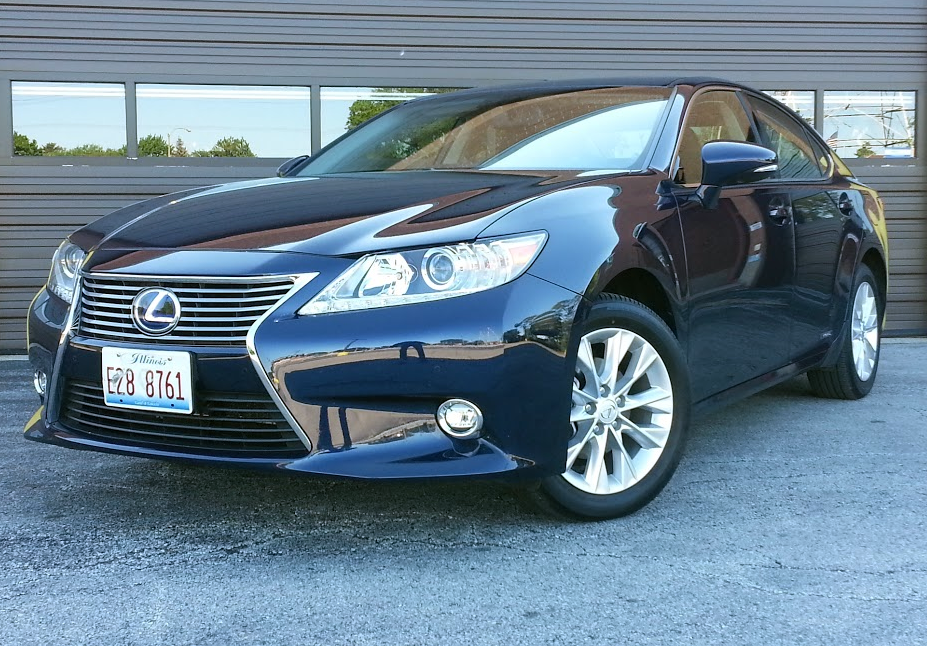 Class: Premium Midsize Car

Miles Driven: 225
Fuel Used: 5.2 gallons
Driving mix: 55% city, 45% highway
Real-world fuel economy: 43.3 mpg
EPA-estimated fuel economy: 40/39/40 (city, highway, combined)
Base price: $40,430 (not including $925 destination charge)
Options on test car: Blind-spot monitor with rear cross-path alert ($500), high-intensity discharge headlights ($565), power rear sunshade ($210), Luxury Package ($1370), navigation system with backup camera ($ 1795), power trunk closer ($400), park assist ($500), wood and leather steering wheel ($300)

CG Report Card
Room and Comfort
A-
Power and Performance
C+
Fit and Finish
B+
Fuel Economy
A
Value
B+
Report-card grades are derived from a consensus of test-driver evaluations. All grades are versus other vehicles in the same class. Value grade is for specific trim level evaluated, and may not reflect Consumer Guide's impressions of the entire model lineup.
Price as tested: $46,995

Quick Hits
The great: Impressive road isolation, excellent fuel economy 
The Good: Roomy, nicely trimmed cabin

The not so good: Low on power for premium-class car

Check out Consumer Guide's Premium Midsize Car Best Buys
 John Biel
Experience with the 2015 Lexus ES line already tells us that the ES 350 is the "nice" midsize sedan in Lexus showrooms, with no sport models, a refined V6/automatic powertrain, good passenger and cargo space, and a considerable price break from the Lexus GS that fits in the same premium-midsize class. That makes the ES 300h Lexus' "nice" hybrid—and it will seem even nicer when you pull up to the gas pump.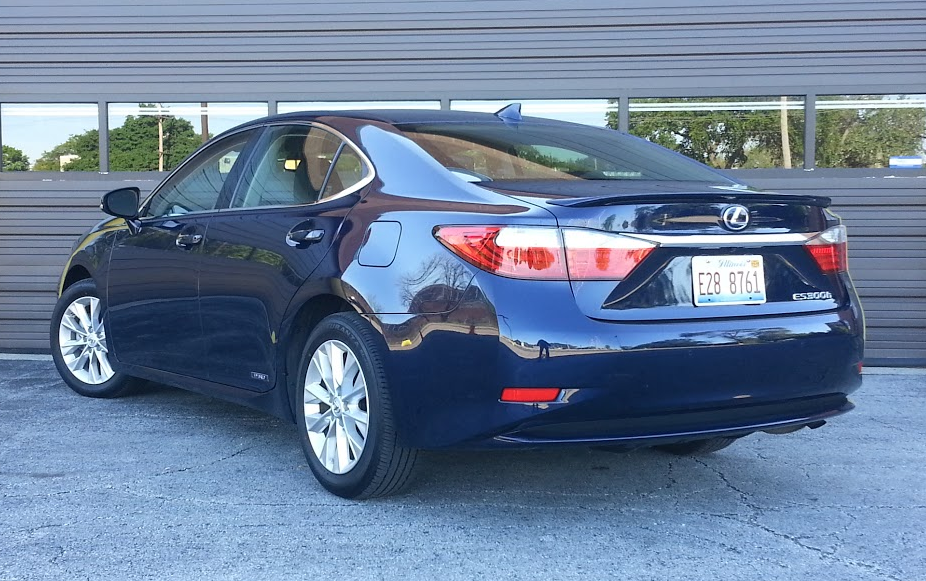 EPA ratings for the 300h are 40 mpg in city driving and 39 on the highway. When this driver took his turn in Consumer Guide®'s test car, it heartily overachieved, averaging 43.3 mpg from a run of 225 miles, 55 percent of which was in city driving. When the same driver did a similar stint in an ES 350—226 miles, 70 percent city—that car returned 20.4 mpg, which wasn't even quite up to its 21-mpg EPA city estimate.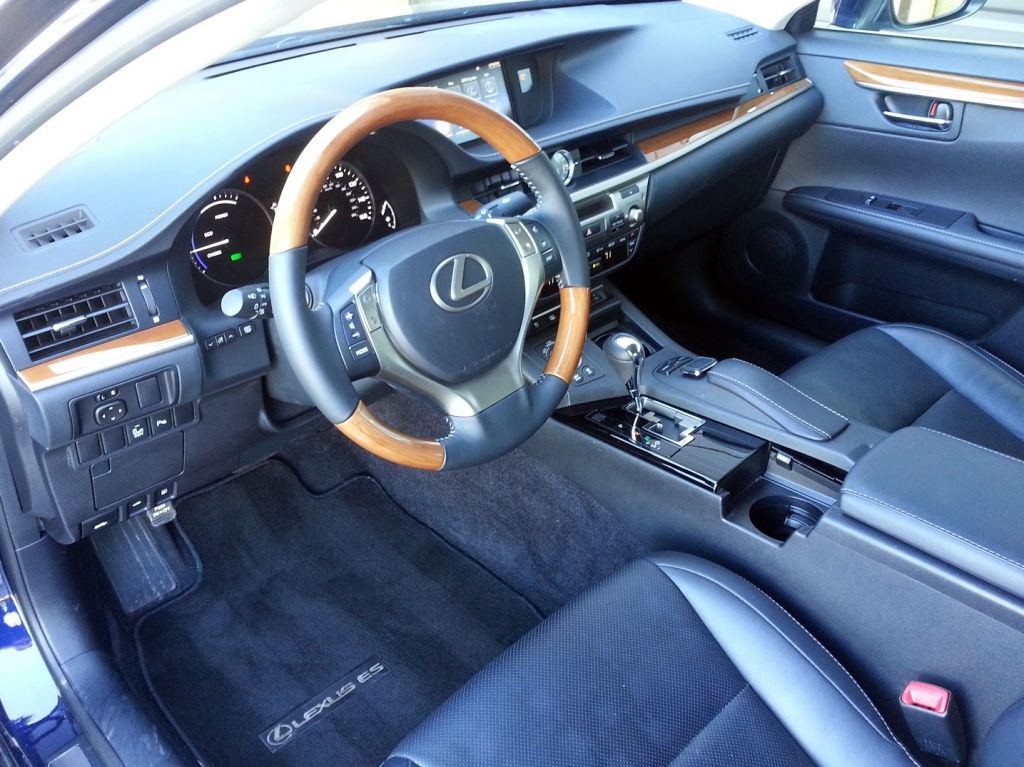 There being no free lunch in the gas-saving game, there is a price to pay for all of this, beginning with . . . price. The ES 300h starts at $40,430, almost $3000 more than the ES 350. (The requisite fuel-economy report on the window sticker projects that the 300h will save its driver $4500 in fuel costs "compared to the average new vehicle," but that's over 5 years. People who lease likely wouldn't have the hybrid long enough to make up the difference.) Then, too, the hybrid powerplant is, at best, solidly adequate in performance, and its components exact a little bit of a penalty in trunk capacity.
The 300h's motivation comes from a 2.5-liter dohc 4-cylinder engine and a permanent-magnet electric motor that team up for 200 total system horsepower. The hybrid also uses a continuously variable transmission (CVT) in place of the 6-speed automatic found in the ES 350. The 300h moves out well if not quite spectacularly, and the gas engine makes a little noise when pushed because the CVT lets it wind up without a break as with a geared transmission. The transitions from electric to gas operation and back are fairly unobtrusive, but owners will have to get used to the whirring that the car makes as it goes through its energy-recapturing paces as it slows to a stop. Otherwise, it's pretty quiet. Ride is tuned for comfort, and handling is easy enough to keep all but dedicated sport-sedan types happy.
Overall, trunk space is quite good, but in the hybrid, some of it is ceded to the electric-motor battery behind the rear seat. The seat doesn't fold in either ES, but the 350 has at least a rear-seat pass-through that the 300h lacks. There's no difference between the two cars in terms of interior space, where leg and head room are ample in front, and the back seat offers lots of leg room, slightly less head room than in front, and enough space for an adult middle passenger.
Where the gas-engine ES has a tachometer in the left dial housing of the instrument cluster, the hybrid has a power-monitor gauge that lets the driver know if the car is charging or if it's being operated in either low-stress "eco" or more demanding "power" range. Additional standard equipment of note includes 17-inch alloy wheels with 215/55R17 all-season tires, push-button starting, Enform Safety Connect (with emergency-assistance contact, stolen-vehicle locator, etc.), automatic headlights, 10-way power front seats, electrochromic heated exterior mirrors, power moonroof, automatic dual-zone climate control, 8-speaker audio system, satellite radio, and Bluetooth connectivity. Driving controls are easy to see and use, and climate adjustments are made via a limited array of buttons low on the dash that can be reached without fuss.
Check out the V6-powered Lexus ES 350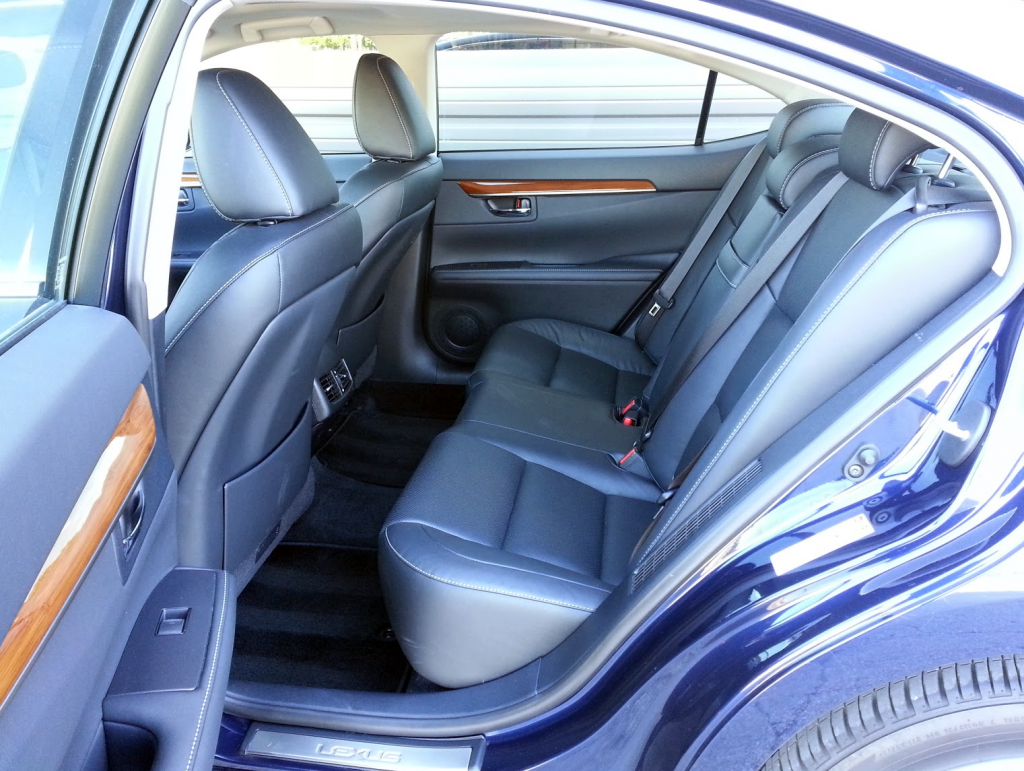 The cushiest of the car's soft-touch interior trim resides atop the dash and arm rests. (There's less give to the grained plastic at the top of the doors, and much of the middle of the door panels, console, and lower dash is grained molded plastic.) Rear-seat passengers have their own overhead reading lamps and a 120-volt power port built into the back of the console near floor level. Front storage is handled by door pockets; a moderately sized glove box; two covered cup holders in the console; and a large console box with an adjustable tray, a power point, and inputs for digital devices under the arm-rest lid. Rear storage is handled by pouches on the front seat backs and twin cup holders in the pull-down center arm rest.
Turning ESes into something akin to full-blooded luxury cars requires digging deeper for the extra-cost Luxury Package. The $1370 option in the CG's test 300h included comfortable heated and ventilated perforated-leather seats, swatches of bamboo-wood trim, a power tilt/telescoping steering wheel, and more. Pricier still at $1795 was the navigation-system group with voice control, 8-inch color touchscreen, rearview camera, Enform app suite, and the Remote Touch Controller that, in this driver's opinion, will grow on users but requires a bit too much attention when it's being used. With a few more stand-alone luxury and technology add-ons, the final delivered price for our test car surged to $46,995—more than the bearable cost of the ES 350 that CG previously tested, but still probably not too bad for a premium-midsize hybrid.
Damon Bell 
There are plenty of midsize luxury cars with more-dynamic styling and driving personalities than the Lexus ES, but for many shoppers in the segment, the ES's unassuming, low-key demeanor is an asset. This is a practical luxury car for people who want a serene driving experience and don't care too much about being noticed. The 300h hybrid model was added to the roster when the ES lineup was redesigned for 2013. It sees minor updates, such as as standard rearview camera and updated infotainment features, for 2015.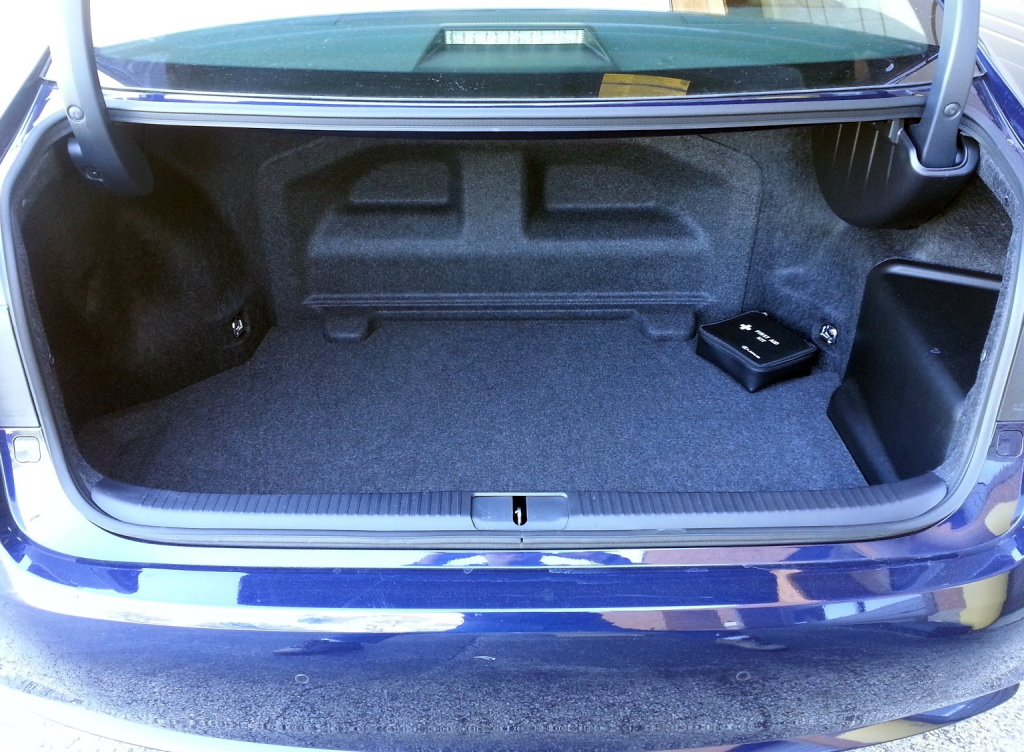 The ES 300h's hybrid system is laudably smooth. The typical hybrid drivetrain quirks (occasional surging and bogging in the course of normal acceleration and braking) are muted to the point of being almost unnoticeable. However, they're just noticeable enough to assist the driver in achieving an economical driving style that maximizes electric-only operation.
The ES 300h is primarily focused on fuel economy, but it has ample power for most everyday driving situations. The standard Drive Mode selector is a nice feature that adjusts throttle, steering, and other systems among three settings. Response is dullest in the Eco setting. Normal is fine for most driving tasks. Sport provides surprisingly brisk power delivery. There is also an EV-mode button, which allows the car to operate solely on electricity for approximately one-half mile at speeds up to about 25 mph, provided the battery has enough charge.
The classy, understated cabin boasts impressive-for-the-class backseat room (we tested a Lincoln MKZ around the same time as this Lexus, and the ES clearly had the MKZ beat in both headroom and legroom). The ES's dashboard design is nowhere near as stylistically ambitious as some competitors, but again, the conservative design can be an asset. For drivers occasionally stymied by gee-whiz touchscreen systems like Cadillac's CUE (I count myself among this group), The ES's traditional push-button controls are a plus. Lexus does Bluetooth connectivity better than most in the business as well… it was especially easy to pair my phone initially, and the system was super-quick to connect to my phone upon startup.
However, I wasn't as big a fan of the Remote Touch system. In theory, the console-mounted touchpad controller allows the driver to interact with the climate/infotainment system while better keeping their eyes on the road. In practice, I found it awkward to use… maybe I would acclimate to it better with more time.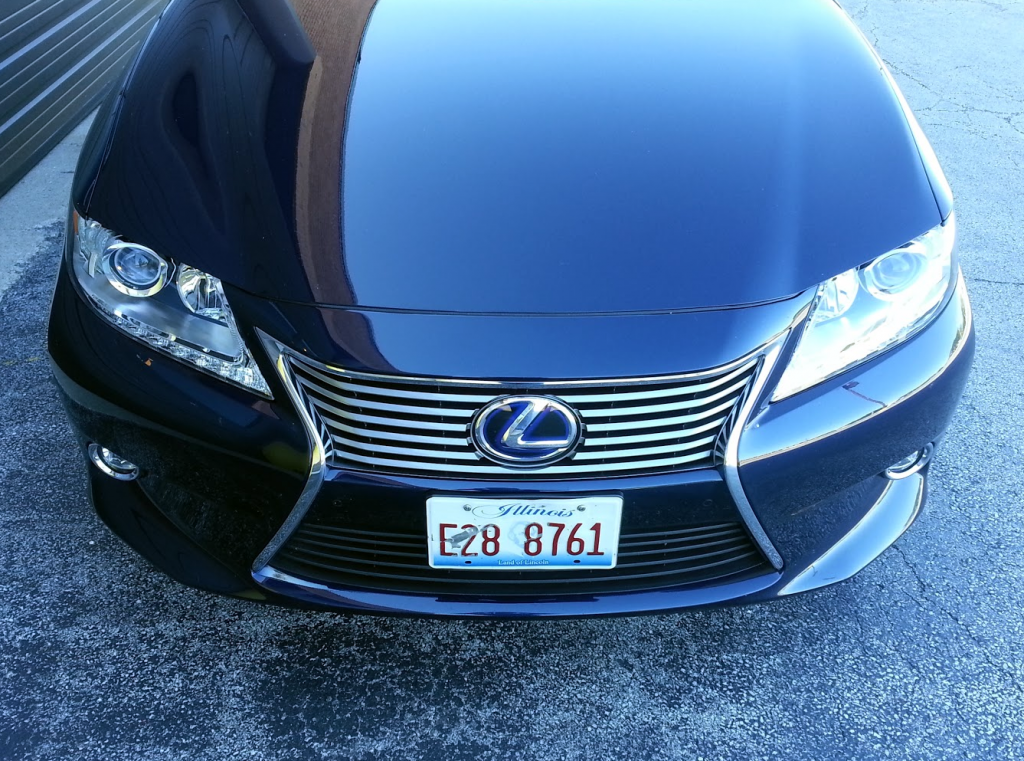 If your tastes leans toward class without flash, and you're more interesting in comfy cruising than agile handling, then the ES is a midsize luxury car that should be on your shopping list. The ES 300h's hybrid hardware tacks on a price premium, but also delivers a significant bump in fuel economy over the ES 350 with little compromise in performance or drivability. The as-tested price of our tester was $46,995. That strikes me as a pretty good deal for a car with this much luxury and economy.