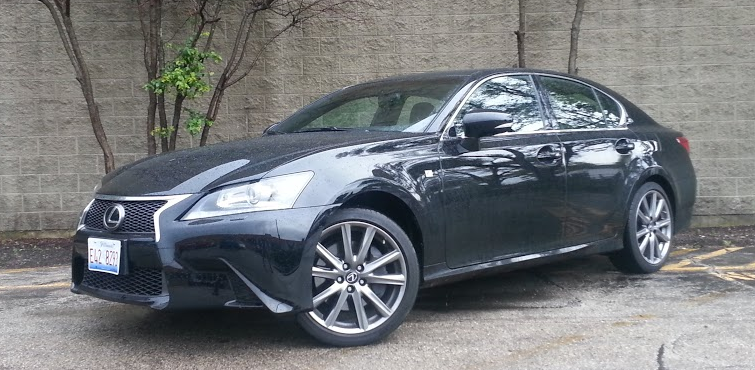 Class: Premium Midsize Car

Miles Driven: 674
Fuel Used: 36.2 gallons
Driving mix: 50% city, 50% highway
Real-world fuel economy: 18.6 mpg
EPA-estimated fuel economy: 19/26/21 (city, highway, combined)
Base price: $50,850 (not including $925 destination charge)
Options on test car: Blind-spot monitor ($700), F Sport Package ($4640), Heads Up Display ($900), Navigation Package (N/C), Pre-Collision System ($2,000), Cargo net ($65), Trunk mat ($105)
CG Report Card
Report-card grades are derived from a consensus of test-driver evaluations. All grades are versus other vehicles in the same class. Value grade is for specific trim level evaluated, and may not reflect Consumer Guide's impressions of the entire model lineup.
Room and Comfort
B+
Power and Performance
B-
Fit and Finish
A-
Fuel Economy
C
Value
B
Price as tested: $60,185
Quick Hits
The great: Visibility, interior ambiance, quietness
The Good: Powertrain responsiveness, ride, handling
The not so good: Mediocre fuel economy, control layout, rear-seat room
More GS price and availability information
Rick Cotta

For years, Lexus has fielded two contenders in the premium-midsize segment: the luxury-oriented ES, and the sport-oriented GS. That would seem to be a good strategy in a class that includes strong entries from all the premium makes, and the ES has long been among the segment's top sellers.
Not so much the GS.
GS has always faced the brunt of the competition in the class, as most rivals (notably BMW) focus more on performance than luxury. That left the door open for the ES to sweep up with those who put more weight on coddling than quarter-mile times, essentially becoming the import version of a Buick.
And that seemed to strike a chord with buyers. In 2014 – as in many recent years – Lexus sold more than three times as many ESs as GSs. But for whatever reason, that tide is beginning to turn; so far for 2015, the ratio has dropped to 2.5:1, with ES sales down and GS sales up.
So what happened? One theory (okay, mine) is that the GS has blossomed because it offers ever-more-popular all-wheel drive (optional to standard rear-wheel drive) whereas the ES is front-drive only. And the ES is one of the few cars in the class that doesn't offer AWD.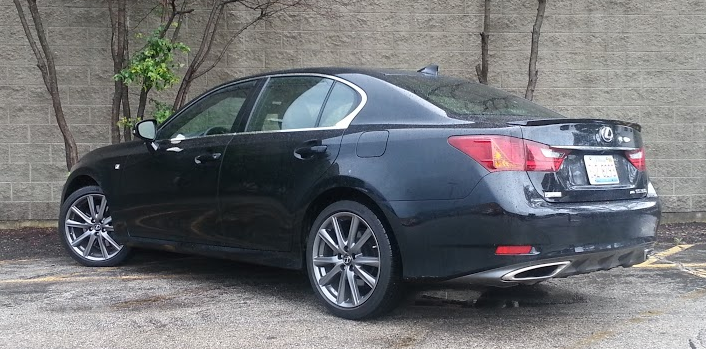 Our test car was a GS 350 with all-wheel drive fitted with the $4640 F Sport package, which – as the name implies – adds some sporting equipment (along with other items) to a car that leans toward the sporting side to begin with. These include 19-inch wheels shod with summer performance tires, adaptive variable suspension, variable-ratio steering, beefier brakes, and some sporting trim, along with rain-sensing wipers, heated and ventilated front seats, and power rear sunshade. Other options included a blind-spot monitor, head-up display, pre-collision system, and trunk mat and cargo net. All that (plus the $925 destination charge) boosted the base price of $50,850 to $60,185.
V8 power used to be expected for that kind of money, but the GS's 306-horsepower 3.5-liter V6 provides near-V8 acceleration – including a snappy jump from a start when the throttle is stabbed – along with better fuel economy. (The "performance option" is now the GS 450h hybrid, which uses an electric motor to assist in putting out 338 horsepower – along with even better fuel economy – but it starts at more than $60k with rear-wheel drive.) Helping the responsiveness is a 6-speed automatic transmission (rear-drive GSs get an 8-speed) that kicks down impressively quickly for more passing power.

The F Sport's variable suspension provides Normal, Sport, and Sport + modes. The ride was solid yet quite smooth in Normal mode, getting progressively stiffer in Sport and Sport +. As in most such systems, it seemed Normal offered the best combination of ride and handling unless serious corner carving was the order of the day. Sport and Sport + also brought quicker (some might say "touchier") throttle response and heavier steering feel, the last being very heavy at low speeds in Sport +. Left in Normal, low-speed steering was light, and it combined with a tight turning circle to make the big car seem surprisingly nimble.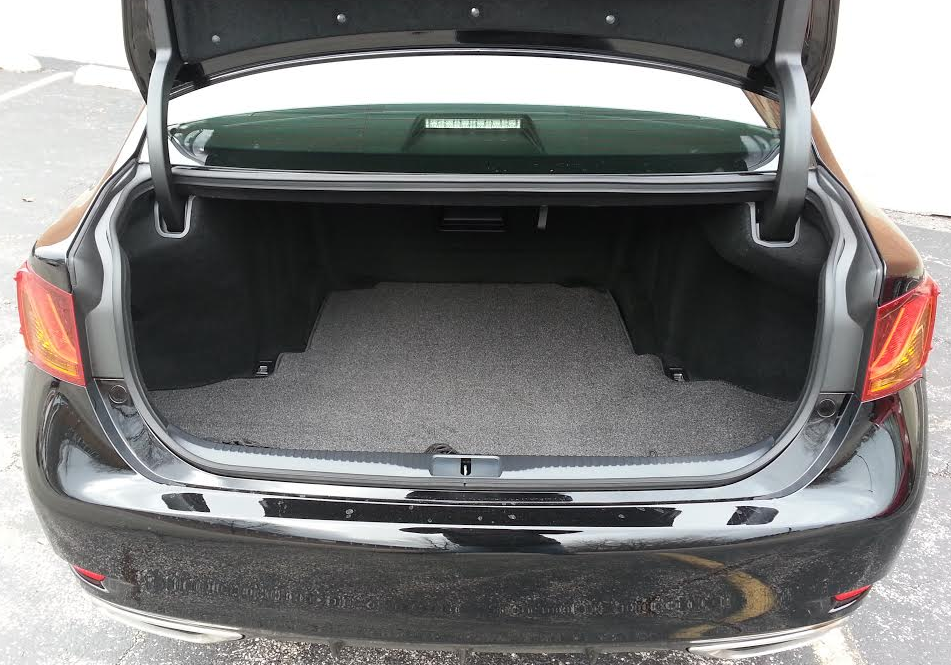 What the big car didn't seem was particularly roomy. While there's ample legroom and headroom up front to accommodate even very tall folks, moving the front seat far back greatly limits the amount of space behind it, and headroom is only adequate in back for those up to about 6' tall. With the front seat ahead all the way rearward, the knees of my 5'9 frame were pressed into the front seat backs, and it took a lot of twisting and maneuvering to get my feet out the door. Note, however, that four average-size adults could fit comfortably enough, though three in back would be a tough squeeze due to a very prominent driveline hump.
From the driver's seat, visibility is great to the front corners (something you don't often hear me say), very good to the sides (ditto), but just okay to the rear corners, though a 180-degree rearview camera (a great feature) helps tremendously when backing. Materials are nice enough, though the many "padded" surfaces are really quite hard save for the armrests. The F Sport came with an all-black interior highlighted with a mix of matte and "grained" silver trim, which looked classy if a bit subdued; other models get more vibrant wood trim.
Interior storage is quite good, and includes a 2-tiered glovebox, good-size 2-tiered console box with Aux/USB/12-volt plugs, two covered console cupholders, a left-side dash bin, and map pockets lacking the now-expected cupholders. Anything that doesn't fit in one of those areas can go in the trunk, which is wide at the rear, but narrows considerably between the wheelwells. Sickle-shaped hinges dip into the cargo area a bit (but are covered to prevent damage to luggage), and there's a rather tall 7-inch liftover to get items out the trunk opening. Unlike in many vehicles, the rear seat backs don't fold forward to expand the cargo area, though there is an 8-inch-square pass-through for skis and the like.
Test Drive: 2015 Hyundai Genesis V6 AWD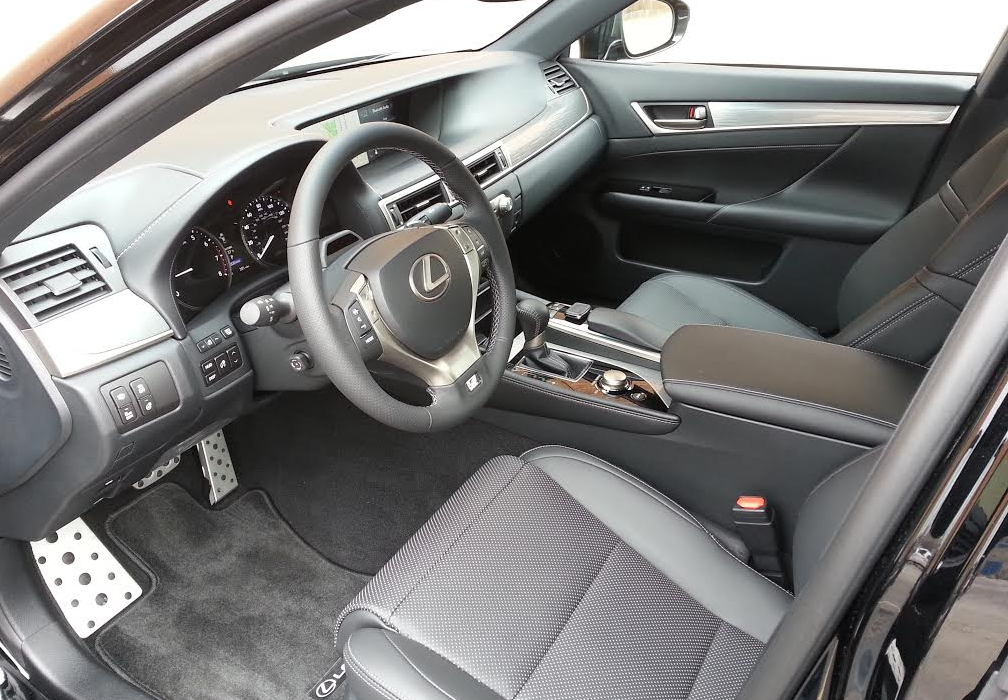 The GS comes with "real" instrument-panel gauges (rather than video-game virtual ones), and I'm also a big fan of the optional head-up display, which projects speed and other information on the windshield just below the driver's line of sight. But I'm not such a big fan of the dashboard layout. The GS is fitted with what is now the traditional Lexus control system that includes a console control knob with auxiliary buttons, a large dashboard screen, and repetitive-step dashboard-mounted climate controls. Some on our staff like the "mouse" controller on the console, but I've never warmed up to it; it seems to require a deft touch to make the screen cursor settle on the right spot (particularly tough to do on anything but a glass-smooth road), and it takes multiple steps to complete what used to be simple operations. Nor do I care much for rep-step climate controls, as they likewise take more time to adjust than traditional rotary dials, and any moment you're looking at the dash means a moment you're not looking at the road.
But all of that may get a bit easier and quicker with practice, and it's really the only part of the GS I didn't find to my liking. This is a quiet, solid-feeling car whose performance and ambiance clearly put it a cut above a comparatively sized "regular" sedan. Backing out the F Sport Package (which I don't think most drivers would miss) and ordering its desired "non-sport" features separately would likely get you into the mid-$50,000 range, and that strikes me as a rather good value for such a capable, upscale luxury car.
Tom Appel
There's a relaxed sportiness to this car that appeals strongly to this long-haul daily commuter. In F Sport guise, the GS boasts a supremely comfortable cabin and expected luxury-car road isolation, along with an entertaining dose of athleticism. Toyota's ever-slick 3.5-liter V6 does a commendable job of moving this car along, and sounds great doing so. And though it's first and foremost a luxury sedan, the GS 350 F Sport attacks on-ramps and curvy roads with a bit more vigor than you'd expect from a midsize Lexus. The GS is the kind of car that grows on you over time. There's a quiet, unassuming competence to this machine that makes it an excellent choice for drivers forced to spend more time in their cars than they'd like.