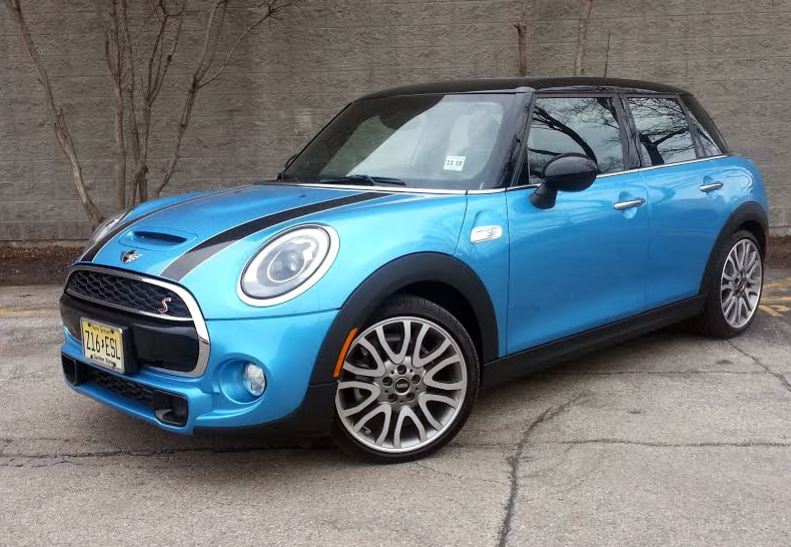 2015 Mini Cooper S Hardtop 4-Door

Class: Sporty/Performance Car
Miles Driven: 151
Fuel Used: 6.4 gallons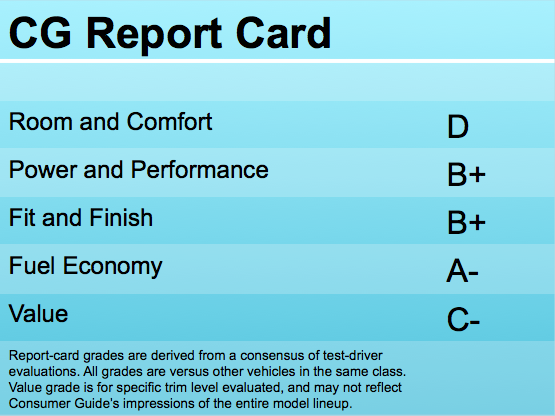 Real-world fuel economy: 22.2
Driving mix: 85% city, 15% highway
EPA-estimated fuel economy: 26/33/29 (city, highway, combined)
Base price: $25,100 (not including $850 destination charge)
Options on test car: automatic transmission ($1500), Fully Loaded package ($4500), cold-weather package ($600), 18-inch wheels ($750), special paint ($500), rear-parking assist ($500), LED headlights ($250), leather-wrapped steering wheel ($250), special-color headliner ($250), head-up display ($500) fiber-alloy interior trim ($350)
Price as tested: $35,900
Quick Hits
The great: Snappy acceleration, wonderfully nimble handling

The Good: Good fuel economy, nicely finished cabin

The not so good: Limited occupant space, pricey options

John Biel
To paraphrase George Orwell, 2 doors good, 4 doors better.
That must be the only rationale that Mini could have mustered for producing a 4-door version of its Cooper Hardtop, the 2-door car that is the root stock of the modern Mini that has been on the market for close to 15 years now. Four doors suggests room and convenience for rear-seat passengers, but this 4-door sedan (still a "Hardtop" in Minispeak) is a very cramped car that seems ideally suited to the expression "wiggle room."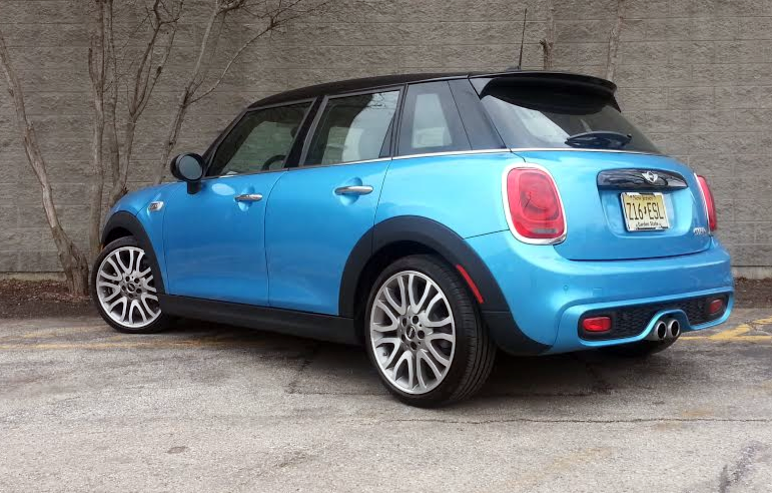 Compared to the 2-door, the Hardtop 4-door has a 2.9-inch-longer wheelbase, 6.1 additional inches bumper-to-bumper, an extra inch and a half of rear leg room, and up to 6.7 more cubic feet of cargo room (with the rear seats down). OK, then that 2-door is way smaller than we remember.
Mini also rates the 4-door as a 5-passenger car—1 more occupant than it expects the twin-portal Hardtop to carry. Frankly, this tester would like to see how that's done. You don't have to be toweringly tall as a front passenger (and I'm not) to take up enough space that only the tiny will have room for legs and knees in back. Head room is good front and rear thanks to a tall roof, and all-around visibility is quite good, too. Still, the overall feeling inside is pretty claustrophobic. Everything—armrests, door panels, the steering wheel—just feels so close. Minis have been famous for roofs painted as flags or other graphic designs, so here's a suggestion for a future top décor: a sardine-can key.  
Test Drive: Mini Cooper S Hardtop 2-Door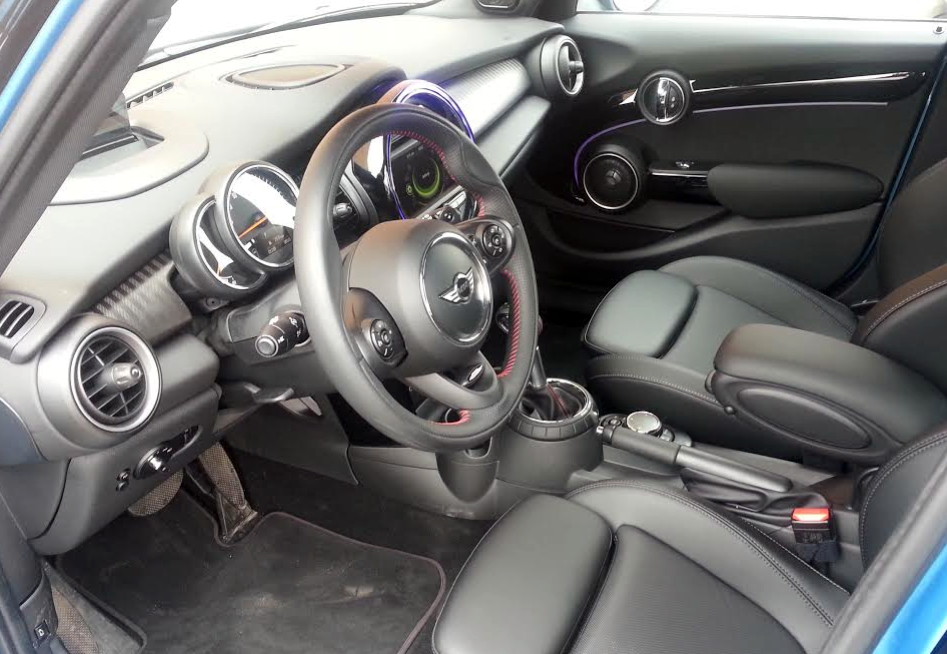 Interior storage is pretty skimpy. As for the rear cargo area, there's not much capacity with the rear seats up, but there's a good-sized space under the bumper-height cargo floor, and the surface can be removed to increase stacking volume if seats must remain in place. The seats fold 60/40, but are a few inches higher than the level of the cargo floor. With the seats down, cargo volume is 40.7 cubic feet.
Mini can make whatever changes it wants to its Hardtop models but regardless of the door count they have the knack of remaining exciting drivers. The Hardtop 4-door that Consumer Guide® sampled was a performance-oriented Cooper S with the optional 6-speed automatic transmission. Acceleration is vigorous, and handling is great with taut steering and very well-controlled corner lean. However, even with the "stretched" wheelbase—101.1 inches for the 4-door vs. 98.2 for the 2-door—ride is decidedly firm, and road cracks give the Mini a pretty good shake.
The Cooper S's 2.0-liter turbocharged 4-cylinder puts out 189 horsepower at 4700-6000 rpm and 207 lb-ft of torque at 1250 revs. Drivers can select "Sport," "Mid," or "Green" driving modes that alter fuel delivery, steering, and transmission calibrations. Clicking into Sport gives the Cooper S some real jump. Green mode activates a coasting feature that disengages the transmission when your foot is off the gas that is less obtrusive than the engine stop/start that some other cars use as a fuel-saving device. This driver averaged an eye-opening 34.39 premium-fueled mpg, though that was in a small sample size—54.3 trip miles, 68 percent of it in city driving. (A longer stint with proportionally about as much city driving in a '14 2-door Cooper S yielded 28.88 mpg.) EPA ratings for the 189-horse 4-cylinder with automatic are 26 mpg city, 33 mpg highway, and 29 combined.
In the Mini Cooper's 2014 redesign, the speedometer and other key gauges were moved from the center of the dash to in front of the driver. The center currently houses a round display with room for audio, navigation, and rear camera displays. A central controller on the console makes it necessary to take a lot of steps to select and save a radio station, so this driver is no fan. A series of toggle switches for things like the starter and traction-control activation remain arrayed in a row low on the instrument panel.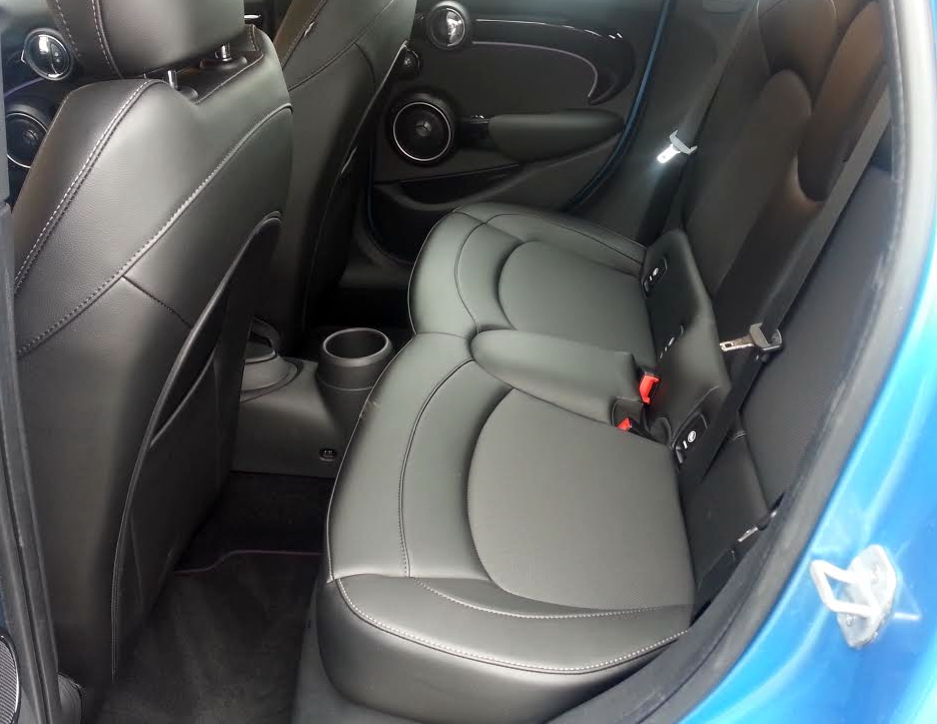 The Mini Cooper S 4-door starts at $25,100—a grand more than its 2-door sibling—and ordinarily comes with a 6-speed manual transmission, cruise control, 16-inch alloy wheels, electronic brake-force distribution and corner brake control, automatic dual-zone climate control, firmly bolstered leatherette sport seats, a leather-wrapped steering wheel, configurable LED interior mood lighting, Bluetooth connectivity, USB port and iPod interface, and 6-speaker audio. That was hardly the end of the story for our test car, however, which hit $35,900 with delivery and a lengthy list of packages and stand-alone options that brought things like the automatic transmission, navigation system, a panoramic sunroof, 18-inch wheels, head-up display, and more. That points up the Mini Cooper's susceptibility to packing on cost to get desirable goodies.
To some eyes, the 4-door Mini Cooper replaces the micro-station-wagon Clubman model of recent years. To these eyes, it's not such a good trade. A Clubman that CG had as a long-term tester a few years ago was a pleasant little car with useful cargo space and easy rear-seat access aided by a two-part passenger-side "Clubdoor," yet with almost no penalty in driving fun. That considered, 2.5 doors was best.
Test Drive: Fiat 500c Abarth Cabrio
Damon Bell
Have you seen the TV commercial where the sleepy guy accidentally gets into the back seat of his Mini Cooper Hardtop 4 Door? That ad would be a lot more believable if the guy was about 5 feet tall. The 4-door version of the Mini Cooper Hardtop is new for 2015, and it does indeed add a bit more passenger and cargo versatility over its 2-door stablemate. Still, it's tough to squeeze four doors into a two-door-sized package.
Well, technically it's a stretched two-door package: The S Hardtop 4-door rides a 101.1-inch wheelbase—2.9 inches longer than its 2-door sibling—and its overall length is 158 inches, 6.1 inches longer than the 2-door. The modest lengthening maintains the all-important aesthetics of the signature Mini profile, but it also compromises entry and exit. The front and rear door openings are especially stingy, which makes getting in and out a tight squeeze for many average-sized-and-up adults.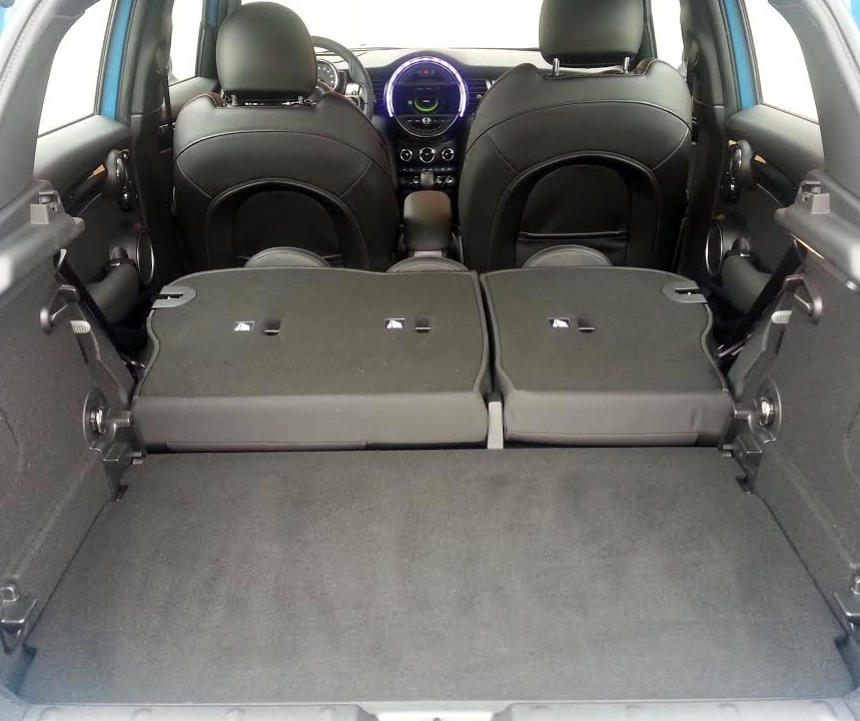 I'm much taller than average (6'6"), so things were especially tricky for me. I like to have the telescopic steering wheel adjusted all the way out, which left barely enough room for me to squeeze through the gap between the wheel and the door aperture. I had to employ a "butt-first, fall-back" technique to get seated, and then tilt my head sideways so it would clear the upper edge of the door opening. Tedious.
Once inside, space is a bit cramped too. Though headroom is adequate, the short, upright windshield gives the interior a chopped-top feel. The rear-seat headrests intrude on the view out the rear window, but at least they can be folded down for slightly better visibility. The rear seats fold down to expand the cargo area, but they leave a pronounced step that makes it tricky to slide in long or especially large boxes.
To have adequate legroom, I need the front seat adjusted pretty much all the way back, which basically nixes the rear-seat legroom behind me. It also means that my torso is basically parallel with the central door pillar once I'm seated. I guess that's comforting from a side-impact crash standpoint, but it interferes with my view out the left-hand side and makes climbing out of the car a bit of a hassle.
Still, the 4-door configuration offers some benefits. I was able to fit my two sons (ages 1 and 3) into the back without too much trouble—something that would be almost impossible with a 2-door Mini. And since the doors are so short, it's fairly easy to open them all the way in tight parking spots.
Some other highlights: The Mini Cooper's fuel-saving auto-stop feature operates smoothly and it can be easily deactivated if you desire. The "Sport" and "Green" drive modes have a definite effect on driving personality. Chances are you'll spend most of your time behind the wheel in the default "Mid" mode, but it's nice to have the option of the Sport mode's more aggressive throttle and transmission settings and the economy-focused calibrations of the Green mode.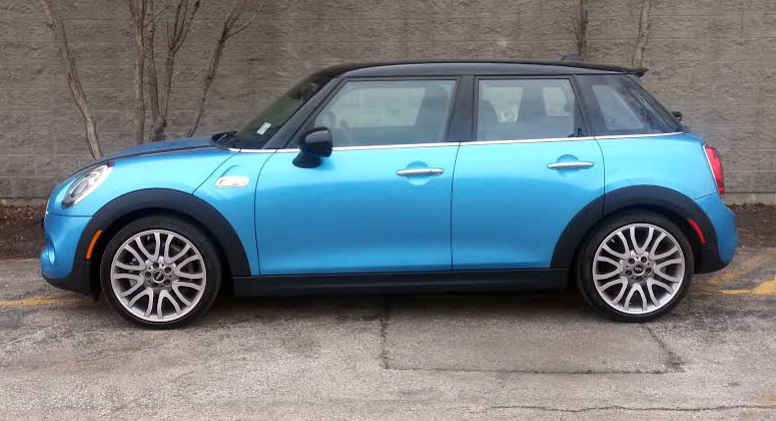 The Cooper S 4-Door's base price is a fairly reasonable $25,100, but that's for a rather sparsely equipped vehicle. Our tester was loaded up with almost $10,000 in options, which pushed the sticker price to a sobering $35,900. That's a lot of money for a compact hatchback, even for one as flashy and fun to drive as this one. This Mini offers outstanding agility and unmistakable, aggressively whimsical styling inside and out. However, if you can live without the one-of-a-kind Mini personality, a Volkswagen GTI offers similar driving thrills in a more-practical, more value-conscious package.
Test Drive: Fiat 500L "Lounge"