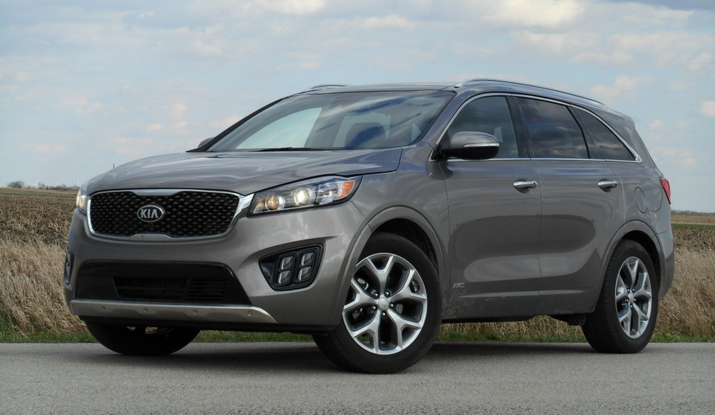 2016 Kia Sorento AWD SX-L Limited  

Class: Midsize Crossover SUV 

Miles Driven: 654
Fuel Used: 29.5 gallons
Real-world fuel economy: 22.2
Driving mix: 30% city, 70% highway
EPA-estimated fuel economy: 19/25/22 (city, highway, combined)
Base price: $41,700 (not including $895 destination charge)
Options on test car: SXL Technology Package ($2500)
Price as tested: $45,095
Quick Hits
The great: Available features, control layout, interior space
The Good: Powertrain performance, fuel economy, ride, quietness
The not so good: Throttle "hiccup"
Check out the Consumer Guide Midsize Crossover SUV Best Buys
Rick Cotta

Kia's Sorento midsize SUV has been redesigned for 2016, and as much as we liked the previous version, we found that the changes have made it an even stronger contender in this very competitive segment.
Sorento continues in 2- and 3-row versions (seating 5 and 7 passengers, respectively) with front- or all-wheel drive, powered by a choice of a 185-horsepower 2.4-liter four, a 290-horsepower 3.3-liter V6, or the new-for-2016 240-horsepower 2.0-liter turbocharged four fitted to our all-wheel-drive, 5-seat, SXL test vehicle.
Consumer Guide last tested a Sorento in 2014 and found it to be an impressive entry with one minor flaw: namely, slightly tight-for-the-class rear-seat legroom. That has been addressed with the 2016 redesign, as the Sorento has a 3-inch-longer wheelbase that accounts entirely for its 3-inch increase in overall length.
Steve and Johnnie drive the Kia Sedona (video)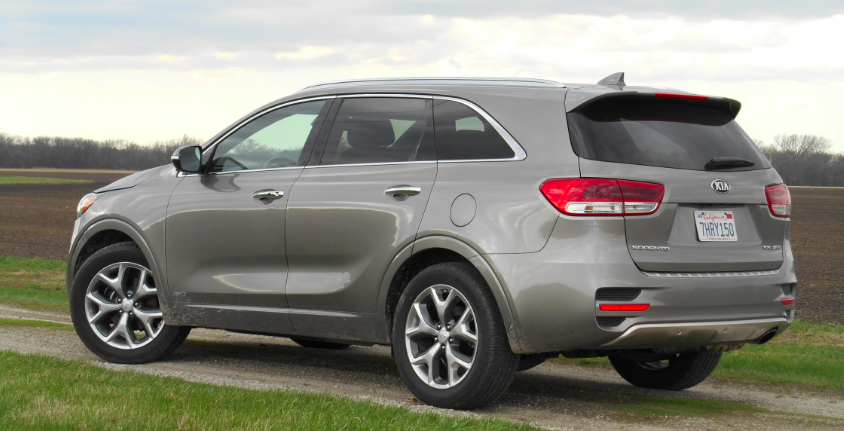 That wheelbase stretch also accounts for the increase in rear-seat legroom, which the specs indicate is up by a valuable two inches. In practice, we found the Sorento to be quite spacious in back, with large door openings and a relatively low step-in height aiding easy entry and exit. Furthermore, the floor in back is flat (no center driveline hump), which makes 3-across seating more comfortable for the one stuck in the middle. (As our test vehicle didn't have the 3rd-row seat, we can't comment on space back there.) The doors themselves wrap in at the bottom, which moves the sills inward to help protect against dirty pant legs on egress. However, if the wind blows the door shut while you're getting out, that lower edge can whack your shin. But overall, what was previously a demerit has been turned into a comparative asset.
With our 2014 test vehicle, which was EPA rated at 18 city/24 highway/20 combined, we averaged 17.1 mpg in a mix of 60-percent city/40-percent highway driving; somewhat disappointing, as we didn't even manage to hit the city number. Our 2016 test vehicle was rated at 19 city/25 highway/22 combined, and we averaged 22.15 mpg in about 70-percent highway driving — beating the combined number. So fuel economy is no longer disappointing.
But it's largely added features – and the way they're deployed – that really tips the scales in the 2016's favor. Some new ones include adaptive cruise control and a 360-degree camera, both of which were fitted to our test vehicle (along with lane-departure warning and forward-collision warning) thanks to its $2500 Technology Package.
Adaptive cruise control is one of my favorite new high-tech features, and it worked flawlessly on a long highway trip. That excursion also gave me the opportunity to test the lane-departure warning, which also worked well, though it generated a perhaps too-subtle "ding" when the vehicle got close to a road stripe. Thankfully, I did not experience the forward-collision warning, though it's nice to know it's got your back. (Well, actually front.)
But what I really came to appreciate was the 360-degree camera system. Other vehicles offer this, but none I've seen make it so easy to use.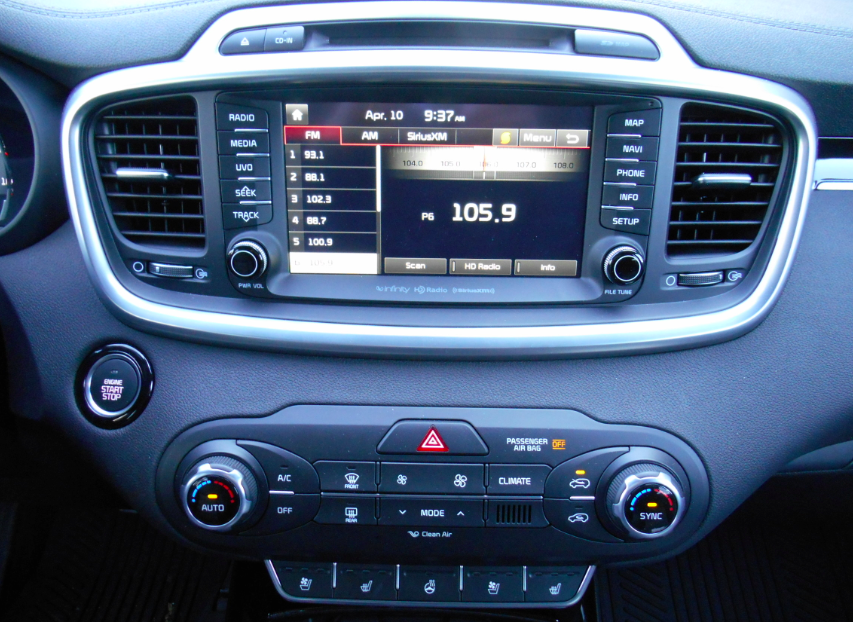 On the console is a button that lets you toggle between displaying audio or the camera view on the large, 8-inch dashboard screen. When in camera mode (activated automatically when in Reverse, of course), there are a series of virtual buttons that allow you to pick which view you want. When in Reverse, you can choose regular, wide angle, or 360-degree, and in Drive, you can manually turn on the front cameras to show how close you are to an object, or what's coming at you from blind sides (such as when pulling out of an alley). If other cars offer this (and few include front cameras), it usually requires stepping through multiple menus to get what you want, and that can make it too tedious to use it when you should.
Similarly, audio controls are mounted high, within easy reach, and include volume and tuning knobs along with fairly large, virtual screen buttons for source and station presets. The only controls out of easy reach (set right of the screen) are the physical (!) navigation and phone buttons, which usually aren't used very often. Climate controls are likewise "in your face" (the panel actually protrudes from the dash), with rotary temperature knobs augmented by less-convenient repetitive-step pushbuttons for fan and mode. Along the bottom of the climate panel are physical (again, "!") buttons for the heated and cooled front seats, along with the heated steering wheel; "Easy, peasy, lemon, squeezy," as my niece used to say. So overall, the Sorento gets really high marks for its control layout.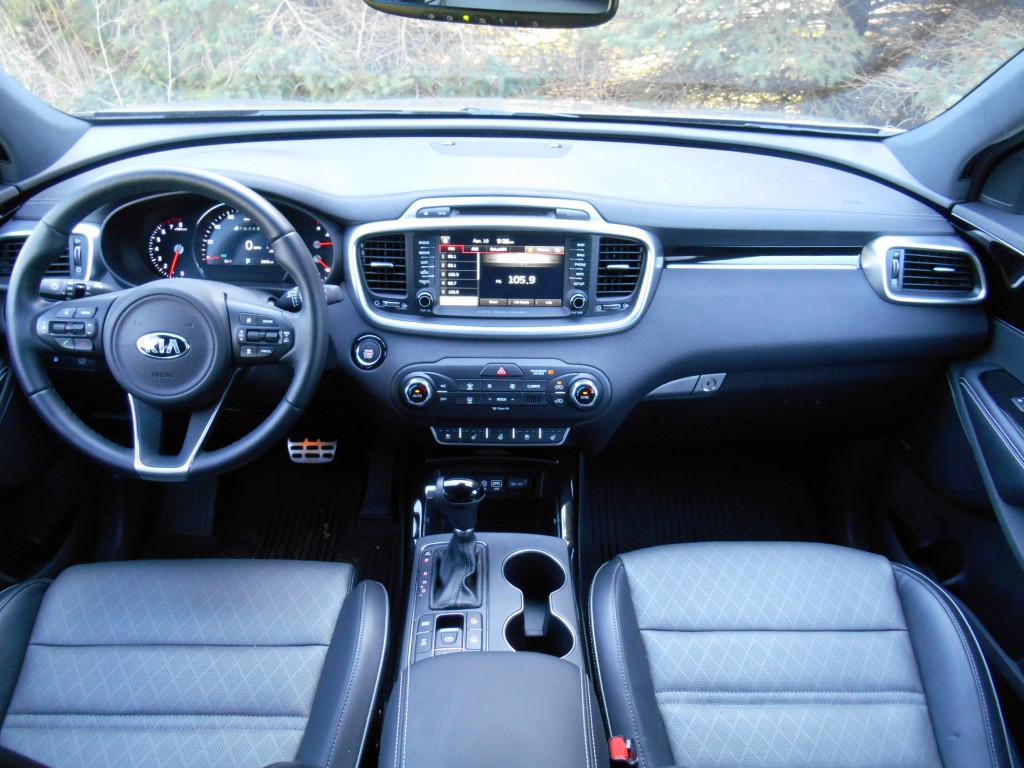 It also gets high marks for interior materials, though not necessarily for interior appearance. Virtually all touch points are nicely padded (dash top and face, door tops, all armrests), but our tester's monotone black scheme was brightened only with some matte-sliver bezels. However, two-tones appear to be available, which would seemingly enhance the picture somewhat.
Cabin storage consists of a decent-size glovebox, 2-tier console box with USB port, two cupholders, a small rear console bin, a large covered forward bin with Aux/USB/two 12-volt jacks, and smallish map pockets in the doors. In back, the generous cargo area can be enlarged by folding down the rear seat backs, which lie level with the floor and very nearly flat. Under the floor is a large, wide bin just ahead of the rear bumper; the right side contains the jack, but the left side is large enough to hold quite a bit of stuff.
Dynamically, the Sorento is nearly a gem. It offers a compliant ride with decent handling and a fairly tight turning circle. The 2.0-liter turbo might seem small for a vehicle this size, but it provides strong power, and the transmission kicks down quickly for surprisingly good passing response. The only flaw noticed was that when tipping into the throttle from a slow roll, there seemed to be a momentary lag followed by an unseemly "jump" when the power came in. Highway wind and road noise are very low, and the engine emits just a muted whine when pushed.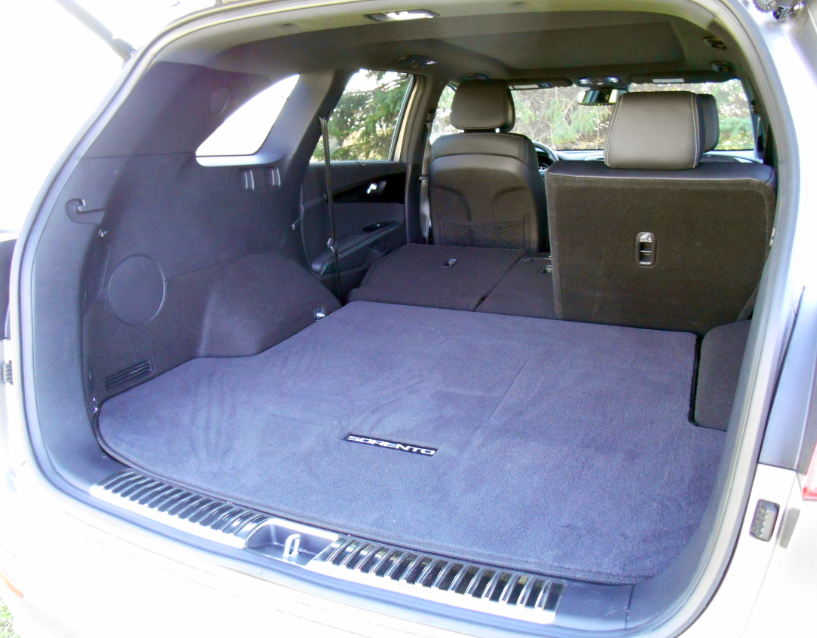 Overall, the Sorento really impresses, especially when its industry-leading warranty is taken into account. Although our tester's $45,095 bottom line is a bit staggering –particularly if you think of Kia as being a low-priced make – it included loads of equipment, some of which isn't even offered elsewhere. If the Sorento wasn't on your list of prospects before, it really should be given a line now.