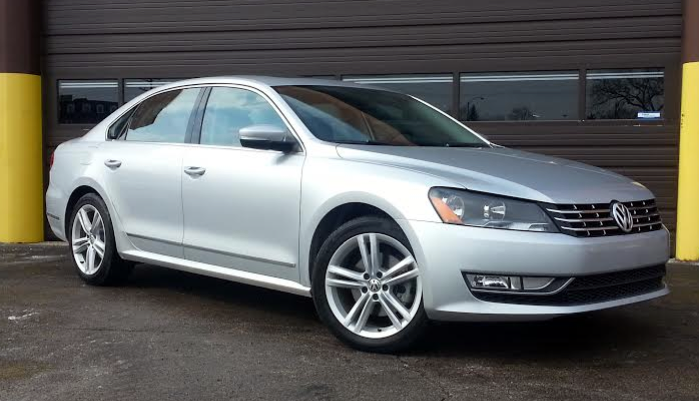 2015 Volkswagen Passat TDI SEL Premium
Class: Midsize Car
Miles Driven: 424
Fuel Used: 10.9 gallons
Real-world fuel economy: 38.9 mpg
Driving mix: 55% city, 45% highway
EPA-estimated fuel economy: 30/42/34 (city/highway/combined)
Base price: $33,585 (not including $820 destination charge)
Options on test car: None

Price as tested: $34,405
Quick Hits
The great: Stellar fuel economy, roomy and comfortable cabin

The good: Good power, expected European-style ride and handling

The not so good: Cranky cold-weather start-up behavior
Check out the entire VW lineup
John Biel
The lone member of the mainstream midsize-car class to offer a diesel engine gets a new one for 2015. The Volkswagen Passat sports a 2.0-liter turbocharged 4-cylinder diesel that, at 150 horsepower, is 10 hp more powerful than the engine it replaces.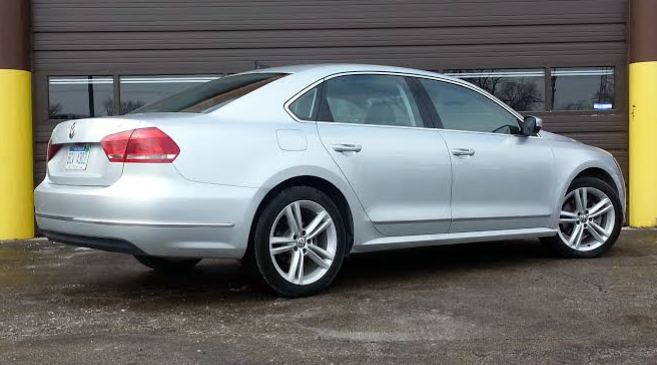 VW makes this engine available several ways: as an SE with three levels of equipment, and as a top-line SEL Premium. It was the well-equipped SEL that Consumer Guide® editors got to try out.  
Test Drive: 2015 Volkswagen Jetta TDI
Once warm and happy, the Passat's TDI engine will cruise expressways with the best of them. We think that qualifier is necessary after driving it during a winter cold snap to which it did not take well. (Neither did we, come to think of it.) If it's zero or less overnight, expect a few moments' wait for the engine to start after you press the button. Then that first block or so away from your starting point may make you wonder if there's something wrong with the car—it is reluctant to accelerate.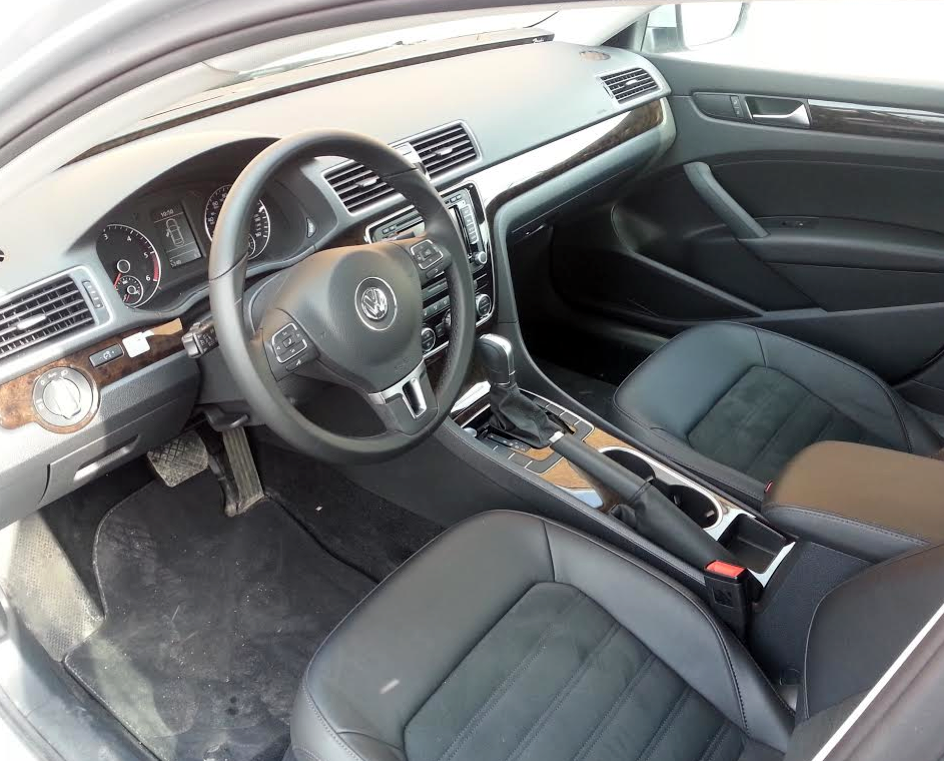 This is a fine powerplant, though. In normal operation, the level of engine noise is no worse than that of any decent gas car we've driven. Throttle response is a little muted, especially when you want to pick up the pace a little on the open road, but once the message does fully get through, there's a nice, steady flow of power. Economy is the diesel's greatest strength anyway, and in the SEL it comes attached to a smooth-operating 6-speed twin-clutch automatic with overdrive ratios in the top three gears. This driver put 163.7 miles on the car (only 34 percent of that as city miles) and averaged 36.29 mpg. That falls pretty squarely between the car's EPA estimates of 30 mpg city and 42 mpg on the highway.
Another of the Passat's better qualities is its interior room. Depending on where the folks in front settle themselves, rear-seat leg room can range from good to excellent. A tall central floor tunnel pretty much rules out an adult passenger in the middle, though. Doors open wide for easy entry/exit. Front seats offer lots of opportunity for the long-legged if they need it. Head room is pretty good throughout.
Like a Scalded Rabbit: Driving the 2015 Volkswagen Golf R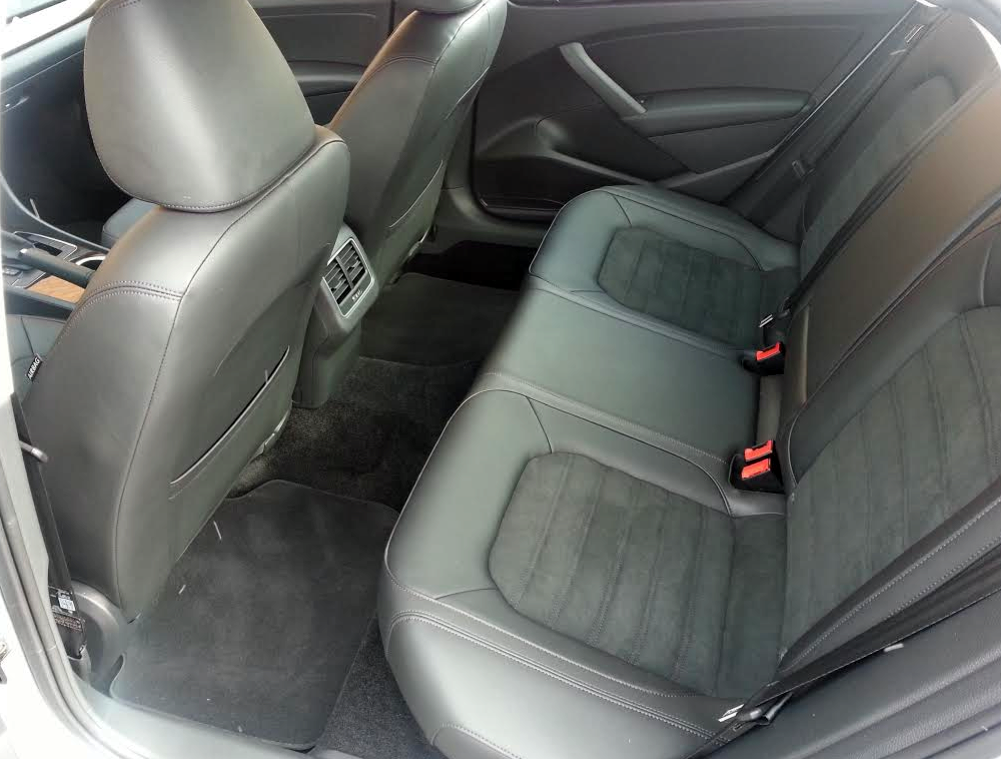 Seats are supportive and comfortable, and the SEL cabin has an upscale-sporty vibe to it. Standard suedelike Dinamica inserts are worked into the leather seats. Dash, doors, and console are dressed up with autumn nut burl wood trim; the steering wheel, shifter knob, and brake handle are wrapped in leather. Soft-touch material on doors and dash don't occupy a lot of space, but passengers will find just enough of it where they are most likely to contact the car. Controls are easy to see and use—though climate settings at the center of the dash are a little heavy on the buttons and just low enough that you might be tempted to take some attention from the road to deal with them.
Driving dynamics are a bit of a mixed bag. The Passat delivers a nice intermediate-sedan ride with commendable bump absorption. Body lean is well controlled in turns. The car is maneuverable and steering accurate, but there's something that feels a little light and vague at the wheel, oddly disconnected. Brakes stopped us well, but in that moment of movement from the accelerator to the brake, there's a disconcerting sense of the car picking up speed. (We've felt this in some other VWs.)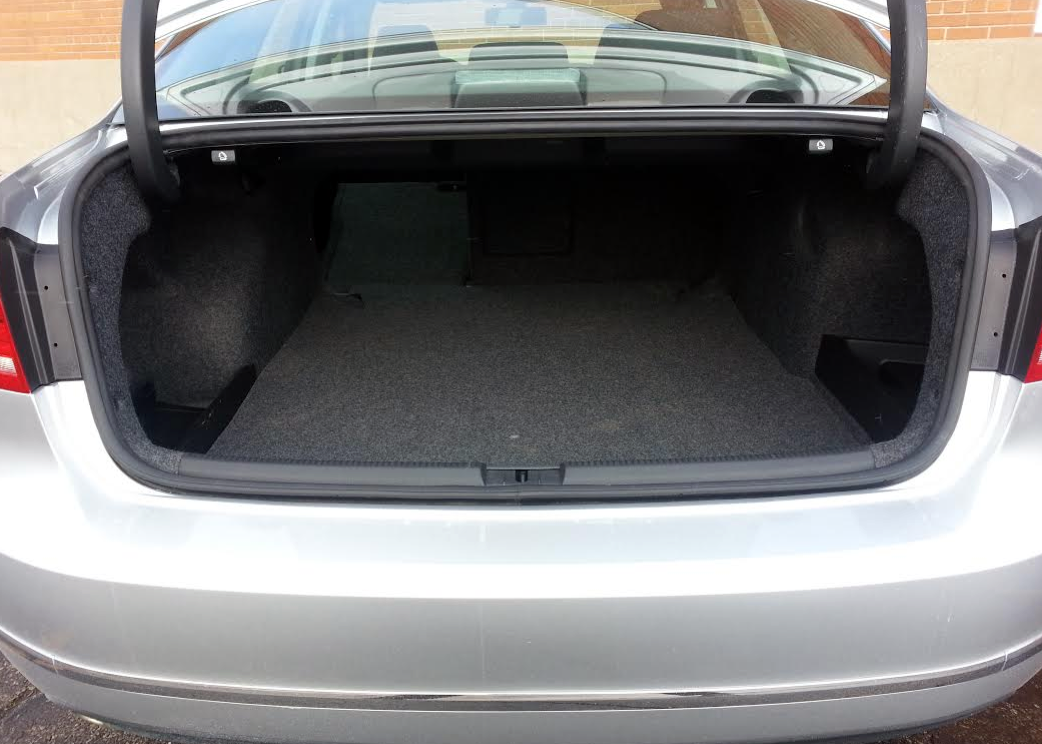 It can be a useful car for a variety of tasks. A spacious trunk extends far forward. The trunklid swings up to full vertical, clearing well out of the way to make loading easier. Rear seats fold in a 60/40 split, only not especially flat. At least there's a smooth transition from trunk floor to the backs of the folded seats. A pass-through accessible when the seats are up is included for long, thin items.
Interior storage in front consists of a decently proportioned glove box, a smallish cubby under the console arm rest (made all the smaller because device inputs are housed within), 2 open cup holders in the console, and fairly big door pockets. Rear-seat storage is door pockets, pouches on the backs of the front seats, and a pull-down center arm rest with a pair of cup holders and a shallow covered storage space.
Standard technology features in the Passat SEL Premium include touchscreen navigation, Bluetooth telephone connectivity, keyless access with remote-starting capability, a rearview camera, and rain-sensing windshield wipers. Functional hardware runs to electromechanical power steering, an electronically locking differential, and 18-inch alloy wheels with all-season tires. In addition to the previously mentioned comforts and conveniences, there is a Fender 8-speaker audio system, satellite radio, dual-zone climate control, heated power-adjustable front seats, ambient interior lighting, exterior heated power mirrors with memory settings, corner-illuminating fog lights, and a power sunroof.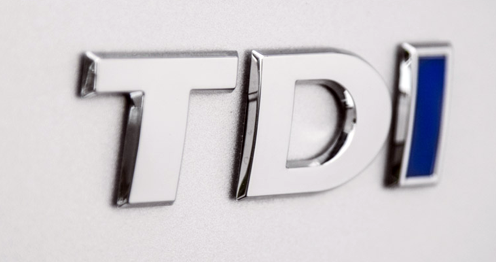 There are no available option packages for the SEL Premium, so the delivered price of $34,405 on the car CG drove equaled "fully loaded." The Passat could be a little more of an engaging driver, but for shoppers attracted to the idea of diesel power, it is the only game in town without making a costly jump to the premium-midsize class.
Tom Appel
My turn in our test Passat included more highway time, and it is there that the TDI engine really gets frugal. In about 65-percent highway driving, I averaged an über-thrifty 42.5 mpg—amazing for a sedan this large and this quick.