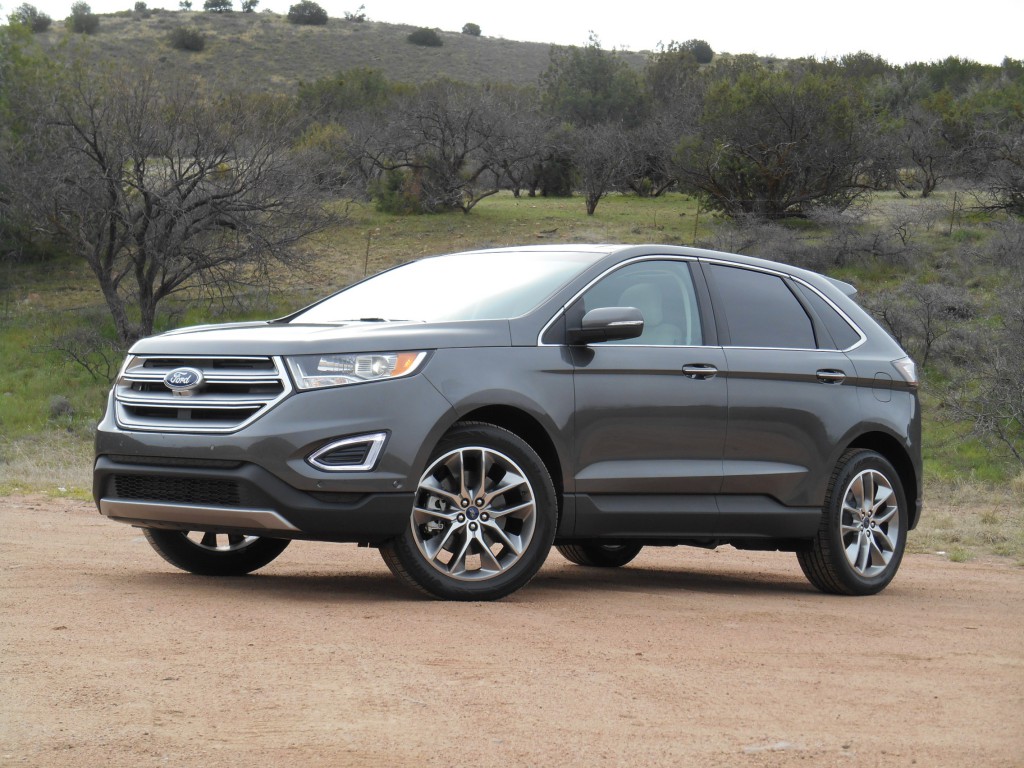 Since its introduction for 2007, the Edge has been a sales leader in the midsize SUV class. While that's good for Ford, it's tough on those tasked with its 2015 redesign.
When updating such a successful vehicle, the designers understandably try to stick with the current formula while adding a bit more spice. In the case of the Edge, that "flavor enhancer" comes primarily in the form of added power, new features, and greater refinement.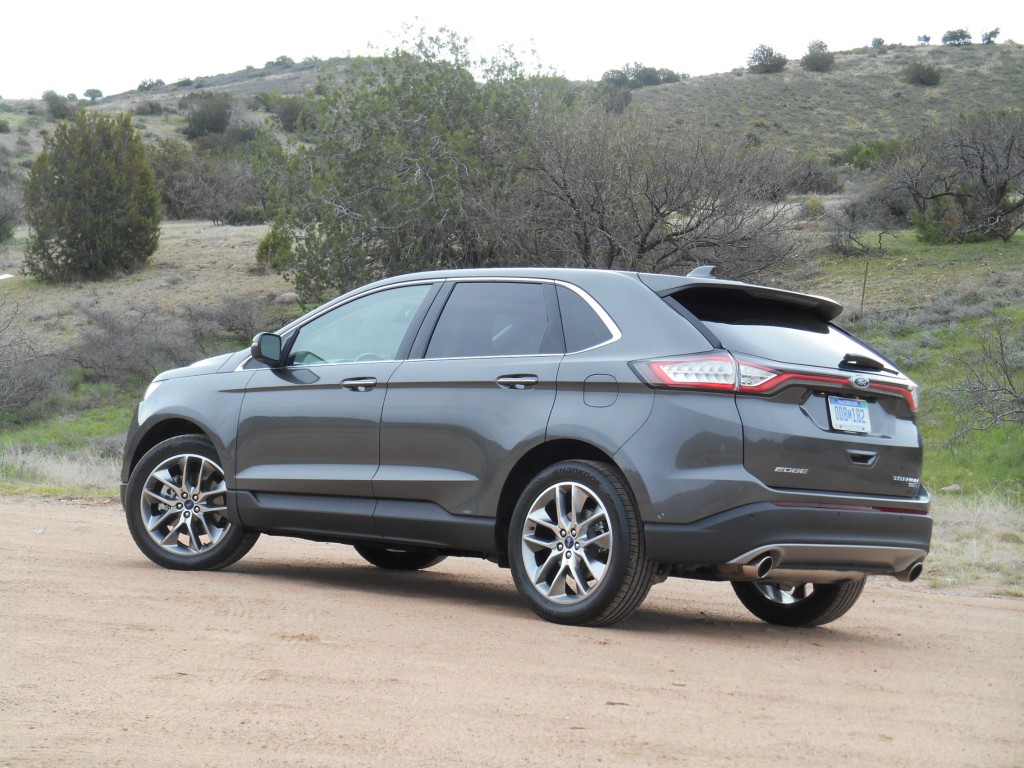 The outgoing Edge made a styling statement with its bold grille, slab-sided body, and steeply angled rear roof pillars. But while the new Edge carries much the same profile, that's about where the similarity ends. Up front, the grille's former thick, chrome slats are laid back and painted in contrasting colors (which differ depending on trim level), and the headlights—while still "wings" joined to the grille—are far more complex and bedazzling. The same light story holds for the taillights, which go from simple blocks to an elaborate "racetrack" of red LEDs encircling jeweled bezels at the edges that wrap far around the bodysides. And speaking of bodysides, the new ones trade "blocky" for deep, horizontal sculpturing. The end result is a mix of old and new; decidedly more upscale yet surprisingly familiar—sort of like an old girlfriend who's gone through a stylish midlife makeover.
Check out Consumer Guide's Midsize Crossover Best Buys
The upscale theme continues inside. Virtually all touch surfaces are padded, and panels are enhanced with elaborate stitching themes. Solid black and two-tone color schemes are offered, and trim selections include satin silver, piano black, and woodgrain.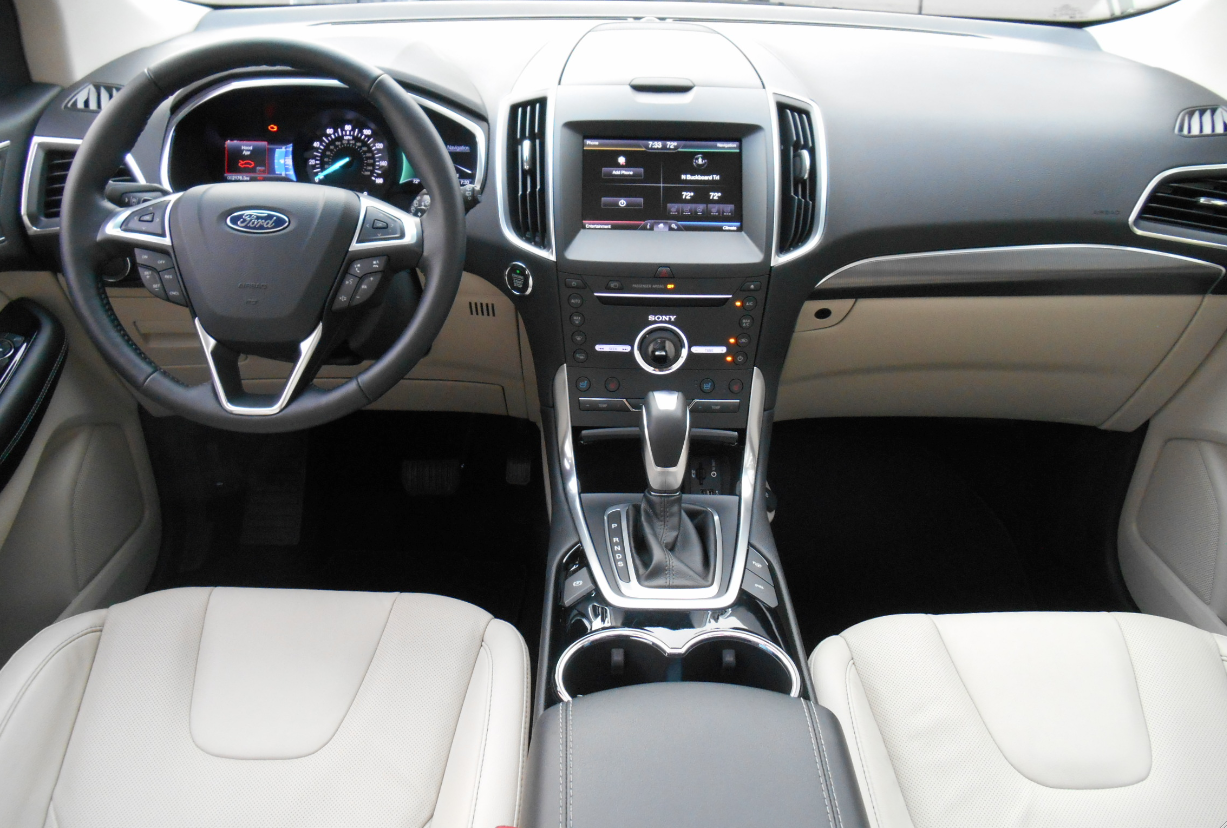 While the whole SUV craze was spawned by midsize, 2-row sport utes, today, they're somewhat of a "tweener" anomaly in the marketplace. Bracketed by the wildly popular 2-row compacts on one end and "manly minivan" 3-row midsizers on the other, the traditional midsize is fighting for viability. In fact, while SUVs in general are going great guns, some Edge competitors are rumored to be dropping out. In its own corporate stable, the popular Edge is still significantly outsold by its 3-row Explorer sibling.
And it's not hard to understand why 2-row mid-size SUVs have lost some of their appeal. Compact SUVs—which aren't as "compact" as they used to be—provide family-size room in thriftier, less-expensive packages, and 3-row midsizers offer more seating and cargo capacity at very little extra cost. So what's the draw to Edge and its remaining direct competitors?
Compared to compact SUVs, much of it comes down to a little added cargo and passenger space (particularly rear-seat shoulder room), and the fact that some people just feel more secure in a larger vehicle. But towing capacity is also generally higher—3500 lb. in the case of the Edge—and vehicles in this class usually offer more upscale features, such as the Edge's memory seats. An available V6 engine might also be a draw; Edge offers two different ones, though the standard engine is now a turbocharged four.
Speaking of engines, two of the three offered for the 2015 Edge are new. The base engine is now a 2.0-liter EcoBoost 4-cylinder with new "twin scroll" turbocharger rated at 245 horsepower; last year, a similar engine with a different turbocharger and 240 hp was a $1000 option. Optional is the previously standard 3.5-liter V6, now rated at 280 horsepower. Replacing a 305-horsepower 3.7-liter V6 in the Sport model is a new turbocharged, 315-hp, 2.7-liter EcoBoost V6. All are mated to a 6-speed automatic transmission with standard front-wheel drive; all-wheel drive, which wasn't offered with the former 2.0-liter EcoBoost four, is now optional across the board. In front-drive form, the EPA ratings for the 2.0 EcoBoost are 20 mpg city/30 mpg highway, for the 3.5 they're 18/26, and for the Sport's 2.7-liter EcoBoost they're 18/27; all-wheel drive lowers those by 1-3 mpg.
Four trim levels are offered: SE ($28,995 including destination), SEL ($32,995), a new luxury-equipped Titanium ($36,495), and the aforementioned Sport ($38,995).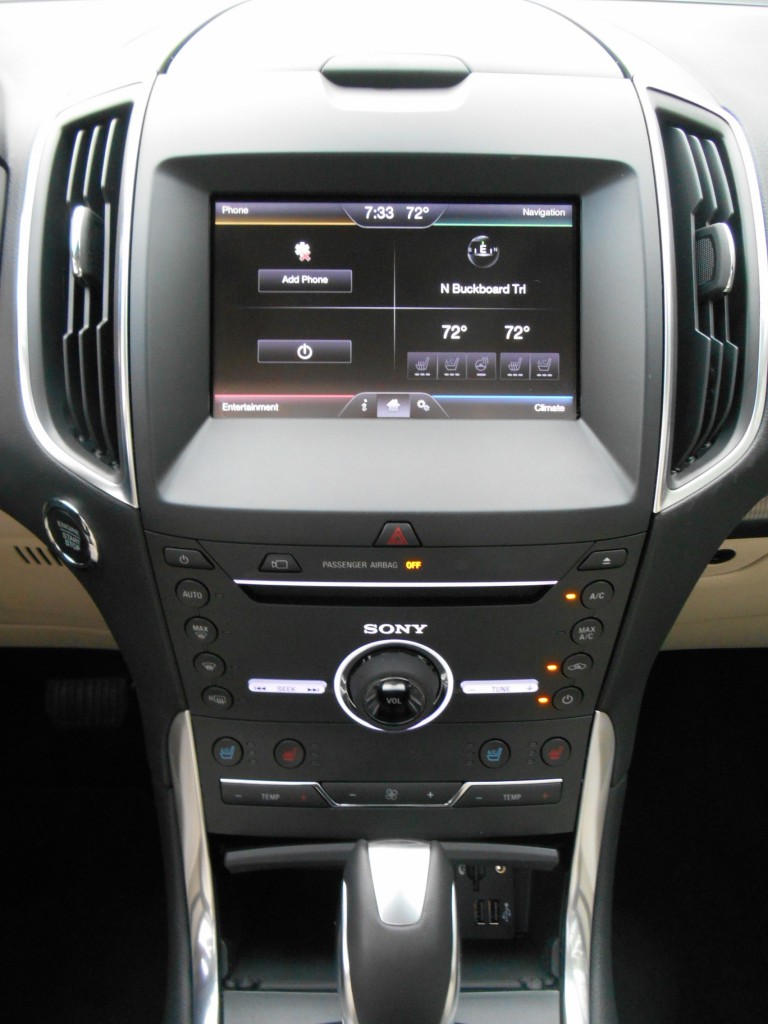 As Edge's last major freshening was for the 2011 model year, it had grown a bit long in the tooth in terms of available features—particularly when compared to other, more modern models in the Ford family. But this redesign brings it completely up to date, and even introduces some "first time" items.
Among the catch-up elements, the 2015 Edge adds available cooled front seats, heated rear seats, heated steering wheel, hands-free liftgate, front obstacle detection, lane-keep assist, and inflatable rear safety belts. New to the Ford fold are enhanced active park assist (which not only assists in parallel parking, but also perpendicular parking), side parking sensors, and a 180-degree front camera with washer. The company says the Edge is now "a showcase of Ford innovation," and indeed, it seems to be.
It's also a pretty darn good SUV. On our Phoenix-area preview, it showed itself to be quiet at speed (except on some of the pebbly roads down there) with little engine noise under acceleration, and have a fairly comfortable ride and good road manners. Both EcoBoost engines (the 2.0-liter four in an AWD Titanium driven, and the 2.7-liter V6 in an AWD Sport) suffered just a bit of typical turbo lag in a full-throttle start, but power came on within about 10 feet—sooner than with most turbos—and the lag wasn't noticed at all in normal acceleration. Even the 2.0-liter four provided stout power, and the 2.7-liter V6 felt downright quick. Furthermore, the transmission kicked down fairly quickly for more passing power, which was surprisingly strong, even with the 4-cylinder engine. We didn't get an opportunity to drive the carryover V6, but previous versions have suffered a bit more engine noise when worked, and though it's the only engine in the line with Flex Fuel capability, it's expected that it won't be very popular as an option.
Test Drive: Toyota Highlander XLE
Inside, the Edge is nicely appointed, with lots of padded surfaces (including the door tops, which weren't previously) set off with rich-looking trim and available two-tone color schemes. There's plenty of space up front for tall drivers. Legroom in the rear is fine even if the front seat is all the way back, though headroom is limited for those over about 6-feet tall, at least beneath the available dual-pane panoramic sunroof (which was fitted to both vehicles tested). Egress is easy front and back thanks to large door openings and a reasonable step-in height. The bottoms of the doors wrap under the car a bit to avoid soiling pants legs on the rocker panels–a nice touch–but that leaves a sharp edge that can hurt if the door accidentally closes on your shin.
Visibility is fine to the front left, a bit less so the front right due to the angle of the roof pillar. But it's very restricted to the sides and rear corners due to thick roof pillars, and the mirrors aren't wide enough to compensate. Also, the sun visor—when rotated to the side—leaves about a 3-inch gap for light to shine through. The view straight back is aided by the fact that the rear-seat headrests retract over the seat back, keeping them out of the line of sight. Also helping is that a rearview camera is now standard, though it only displays about a 140-degree arc, not the 180 degrees of the best. The newly available front camera, however, does give a 180-degree view, and can be manually turned on with a handy dashboard button to help when exiting an alley or moving between two tall vehicles. It also includes a neat, pop-out washer to keep it clean.
Audio and climate controls aren't the easiest to use. The former has an individual power button and a center-mounted volume knob (why they're not combined as in most vehicles is a mystery), but all source and station selection is done through the touchscreen, which requires multiple steps using small, sometimes difficult-to-access buttons. Climate controls consist of tedious, repetitive-step pushbuttons for temperature and fan speed, while mode selection is done—in multiple steps—through the touchscreen.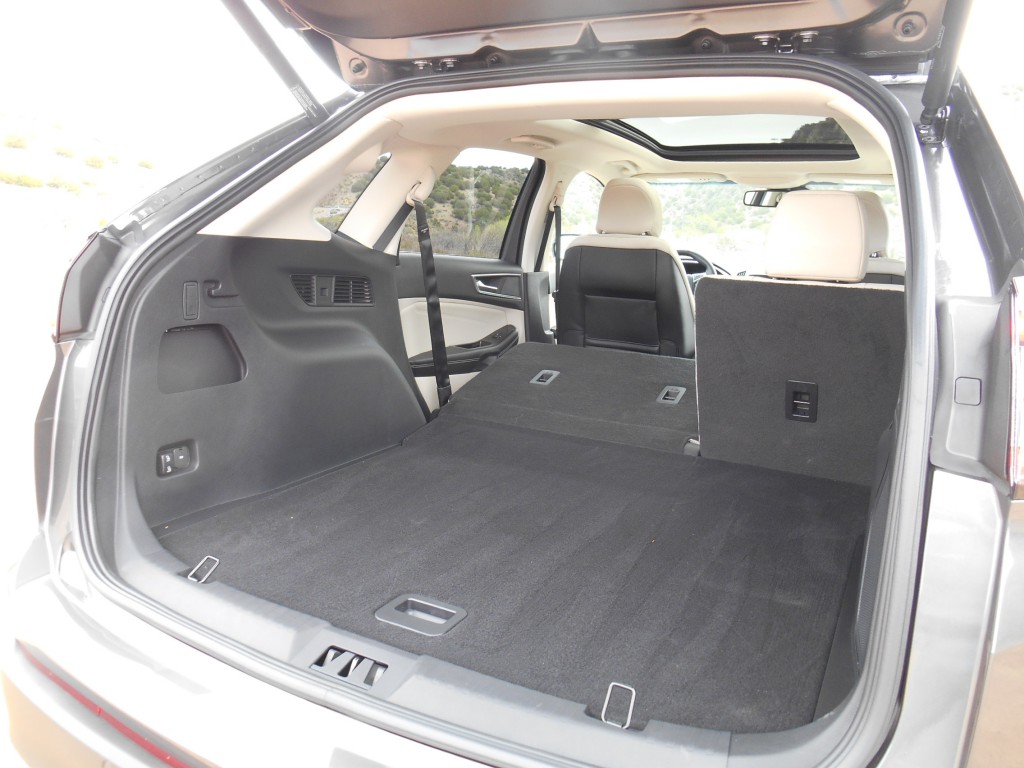 Far more impressive is the interior storage. While the glovebox is only modest in size, it's augmented by a deep, 2-tier armrest console box with 12-volt plug, a covered forward console bin with SD/Aux/2 USB plugs, two open console cupholders, a side-accessed bin beneath the forward console (not particularly convenient, and hard to see the contents) with 12-volt plug on the right, a left-side flip-down dash bin, a flip-up dashtop bin, and map pockets in the doors.
There's also a good amount of cargo space, though the area is fairly narrow at the back, and the angled rear roofline means the space above isn't very "boxy." However, the rear seat backs fold level with the cargo floor and nearly flat—and they can be power operated, a handy touch—while there's additional storage space in side bins and a large, segmented underfloor bin. There's also the option of Ford's clever hands-free liftgate, which opens and closes by swiping your foot under the bumper. (And unlike in the smaller Escape, it will work even if you install a trailer hitch.)
While small families that don't tow a trailer would probably be adequately served by a lower-cost compact SUV, those wanting something more in terms of space, power, and features would do well to check out the 2015 Ford Edge. Thanks to its skillful redesign and added available amenities, it's an even stronger choice in the 2-row midsize segment.