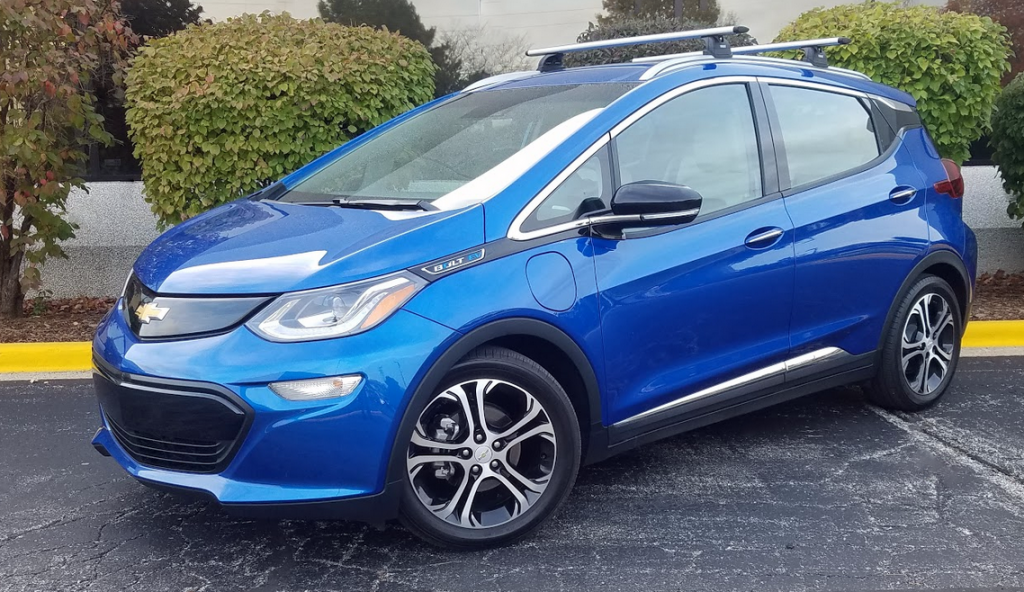 2017 Chevrolet Bolt EV Premier
Class: Electric Vehicle
Miles driven: 587
Fuel used: N/A
Real-world fuel economy: N/A
Driving mix: 55% city, 45% highway
EPA-estimated fuel economy: 128 MPGe city/110 highway/119 combined
Base price: $40,905 (not including $875 destination charge)
CG Report Card
Big & Tall comfort ratings are for front seats only. "Big" rating based on male tester weighing approximately 350 pounds, "Tall" rating based on 6'6"-tall male tester.
Room and Comfort
B
Power and Performance
B+
Fit and Finish
C+
Fuel Economy
A
Value
B+
Report-card grades are derived from a consensus of test-driver evaluations. All grades are versus other vehicles in the same class. Value grade is for specific trim level evaluated, and may not reflect Consumer Guide's impressions of the entire model lineup.
Big & Tall Comfort
Big Guy
B+
Tall Guy
B+
Options on test vehicle: Level 3 DC fast-charge capability ($750), Driver Convenience II Package ($495; includes automatic high-beam headlamps, following distance indicator, forward collision alert with low-speed automatic braking and pedestrian detection, lane keep assist with lane-departure warning), Infotainment Package ($485; includes wireless device charging, Bose 6-speaker audio system, rear-seat USB charge ports), special paint ($395)

Price as tested: $43,905
Quick Hits
The great: Outstanding real-world driving range for an electric vehicle, satisfying acceleration

The good: Surprisingly spacious interior, pleasant ride and handling
The not so good: Some cheap interior materials
More Bolt price and availability information
John Biel
After driving the Chevrolet Bolt EV for a few days, this driver couldn't help but remember his first experience with an electric car. It was a Mitsubishi i-MiEV, a demonstration vehicle with right-hand drive and a metric speedometer. It was tiny, cramped, and sparsely appointed. The electric motor made 66 horsepower and had a projected range of a little more than 60 miles—barely enough for the reviewer to make a single work-home round trip with just a little bit of juice to spare as a cushion.
That was in July 2010, a little more than seven years before the Bolt test drive. Was that all?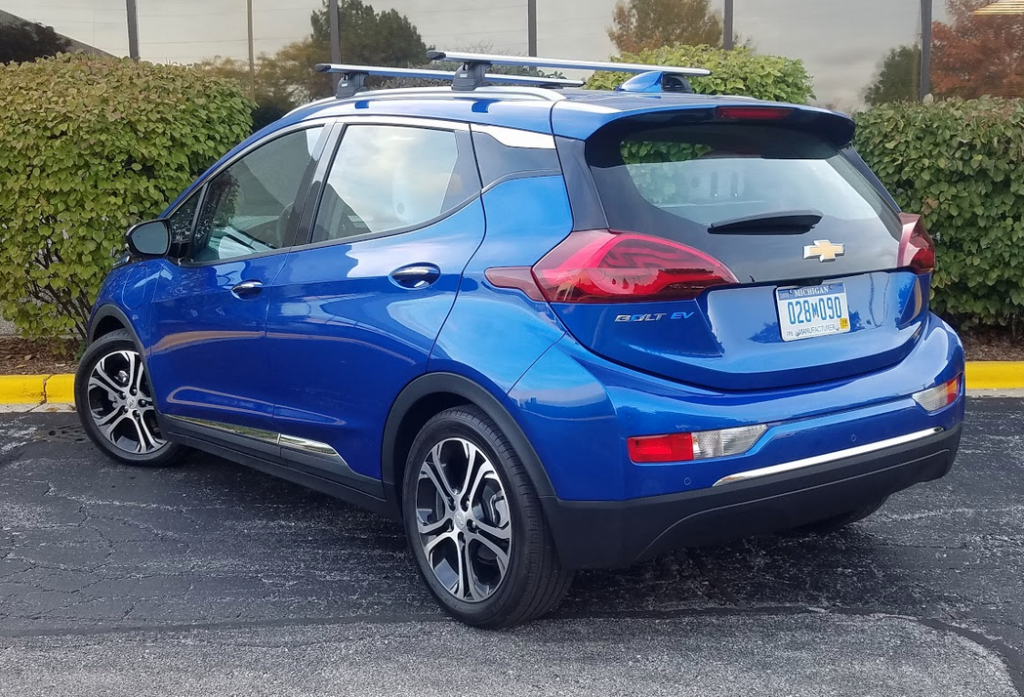 Chevy's new subcompact hatchback shows how quickly and how far the electric car has advanced—quite literally in terms of driving range, but in overall execution as well. While still not as cheap to buy as petroleum-fueled small cars, the Bolt manages to have anxiety-allaying range that can be exceeded only by spending twice as much (but not for twice as much range). Plus, it is usefully configured, and it can be had with many of the features on which drivers have come to rely and enjoy—though you'll have to spend for them.
The Bolt makes its debut in 2017 at two trim levels, LT and Premier. Consumer Guide® tried out a top-line Premier, which starts at $40,905; our test vehicle had an additional $3000 in options and delivery tacked on to the sticker. Of course, this is before $7500 federal electric-car tax credit is applied. To LT standard equipment like the Chevrolet MyLink touchscreen infotainment system, Apple CarPlay/Android Auto functionality, a 4G LTE WiFi hotspot, rearview camera, keyless access and starting, and GM's Teen Driver monitoring system, the Premier adds heated leather seats front and rear, heated leather-wrapped steering wheel, surround vision, rearview-camera mirror, blind-spot alert, rear cross-traffic alert, and rear obstacle detection. A number of other electronic safety assists are available at extra cost, and were in the Driver Confidence II Package added to the test car.
Living With an Electric Car: Our Year With the Kia Soul EV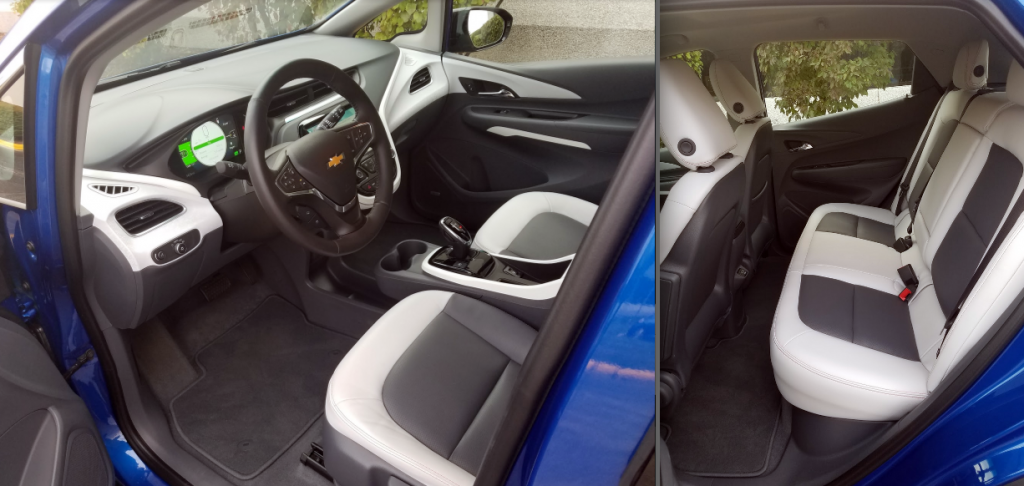 Getting back to the driving experience, the Bolt has a 200-horsepower electric motor fed by a 60 kWh lithium-ion battery pack that delivers lively small-car performance with enough range to keep concerns over when and where to charge at bay. With 266 lb-ft of instantly available torque, the 3563-pound Bolt gets off the line swiftly—and silently, of course—and can happily cruise the Interstate at speed. It will do that for quite a while, too. Chevrolet touts a maximum estimated range of 238 miles on a full charge, and that's within the realm of the believable. In his three days with the car, this driver had a full charge only once, accomplished with outside temperatures in the high 30s and low 40s, and in that case the max range was reported at 230 miles.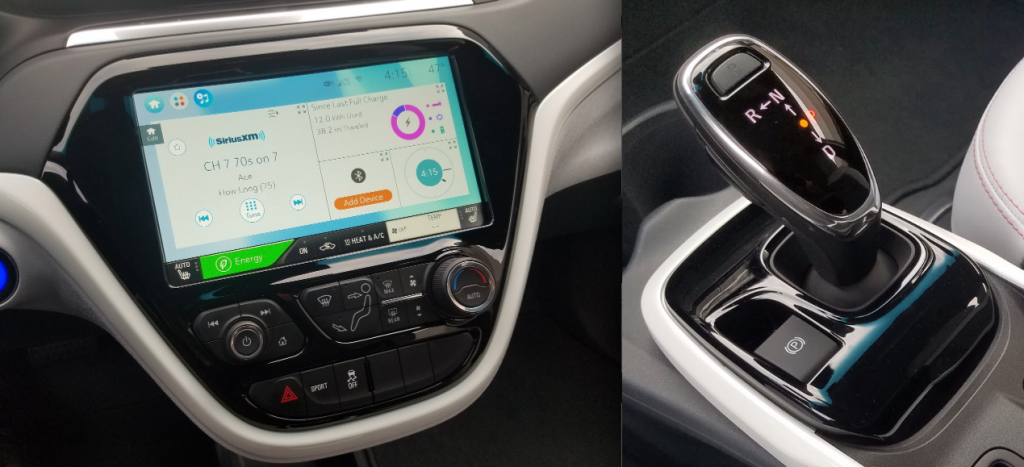 No matter what the battery level, each of my approximately 57.5-mile two-way commutes, with a majority of city-type driving, consumed a quarter of the available charge, this with heat, audio, and sometimes lights and wipers in use. Thus, had I received the car with a topped-off battery, I could have gone my entire 3-day turn in the Bolt without having to plug in, and still have had an ample charge reserve on hand. Given the big battery, even a 240-volt level-2 full "fill up" takes roughly nine hours, but it's a good bet most Bolt users will find opportunities to plug in well before running dry, even if for just a little while. (An hour of level-2 charging restores up to 25 miles of range.) A $750 option is fast-charge capability that allows the Bolt to amass 90 miles of range from a 30-minute session with a commercial DC charger. The EPA rates the car at 119 MPGe.
Regeneration, the capture and return of energy from coasting and braking, helps to extend battery levels. In the Bolt, "Regen on Demand" lets drivers slow without using the brake pedal by pressing a paddle on the steering wheel, which converts the energy into electricity. Additional regenerative capability comes in the form of "one-pedal" driving: In low-speed operation and with the electronic transmission set in "Low," letting off the accelerator will appreciably slow the car, or even bring it to a complete stop, again without using the brake.
Test Drive: 2017 Hyundai Ioniq Electric

Electrics rely on aerodynamics and weight-saving measures to make the most of what power and range they have. A drastically raked windshield and a flat underbody are among the Bolt's wind-cheating techniques. At just 13.7 feet long it occupies a small space, which helps to make it very nimble and maneuverable. Steering is quick, if maybe a little short on feel, and braking—"traditionalists" will insist on using the pedal—is more positive than in many electrics and hybrids, which can have an odd, unsure feel when stopping. Lane changes and cornering display good control of body lean, and ride is firm but rarely jarring.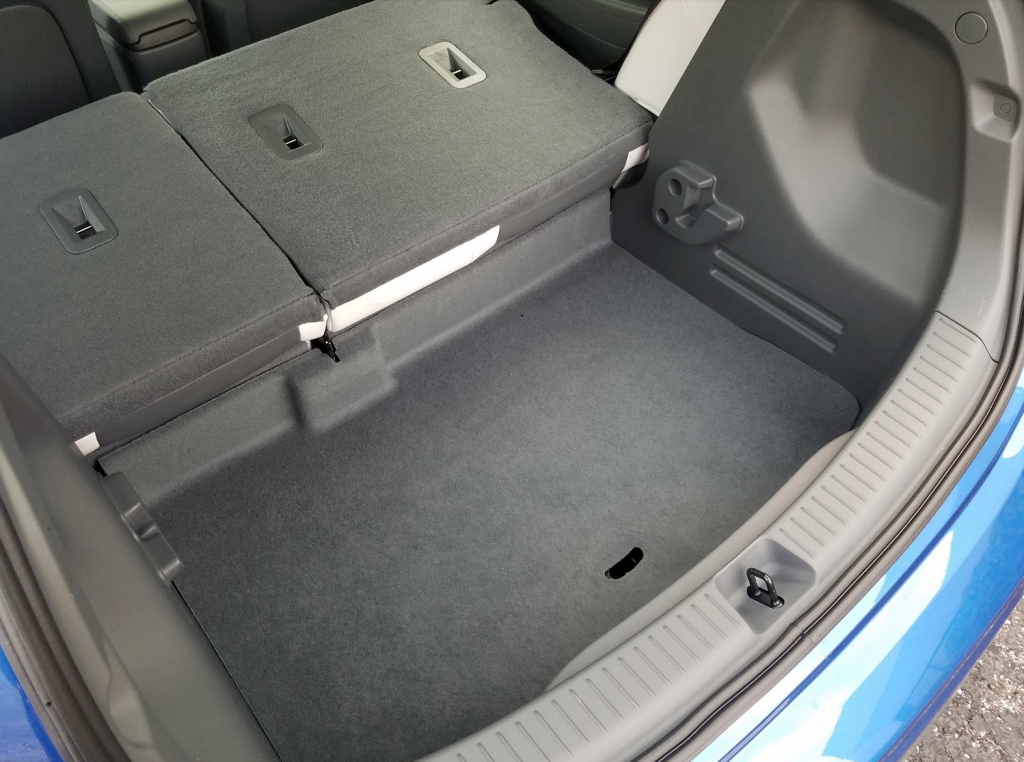 Interior appearance imparts a "bold future" vibe, but there's a paucity of soft surfaces, even in the Premier. The Bolt is happy to share information about its energy use with the driver, and the big 10.2-inch color touchscreen for the MyLink system is ideal for presenting charts and graphics—though it's great for audio and connectivity features, too. There's surprising passenger room, even in back, for a car of its size, and cargo room is flexible. Rear seats are split 60/40, and fold flat to extend the cargo floor. In Premiers, the bumper-level cargo floor rests above a hidden storage space, but can be removed to add to overall cargo capacity. Personal storage is good, but not great.
Fully electric cars have come a long way in just a few years. The Bolt shows they can go a pretty long way, too.
Damon Bell
No matter how you slice it, the Chevrolet Bolt EV is a landmark vehicle. Based on our test-drive experience, the Bolt not only performs as advertised in terms of driving range, but also excels in other areas that make it a likable vehicle even before its game-changing powertrain comes under consideration.
First off, the interior is amazingly spacious for a vehicle that is this small on the outside. Chevrolet engineers did a fine job of eking out every last bit of cabin space; the interior floor is surprisingly low, and there is no center floor hump to intrude on rear foot space. The front seat backs are perfectly comfortable, but they are extra-thin…this helps free up as much rear legroom as possible. Headroom is excellent in the front row even for XL occupants, but the sloping roofline intrudes a bit on rear headroom for tall folks. And, the narrow cabin means plus-sized people can rub shoulders when sitting side by side. Still, four average-sized adults can be very comfortable in this car, and that's no small feat for a subcompact.
The interior is definitely built to a price… there is plenty of hard plastic, but somehow the futuristic design and the clever texturing of some of the trim inserts makes the cost-cutting a bit more palatable. The straightforward control layout and large, easy-to-use touchscreen interface are other strong points. My only real ergonomic complaint is the somewhat awkward action of the shift lever when selecting reverse.
Test Drive: 2017 Chrysler Pacifica Hybrid Platinum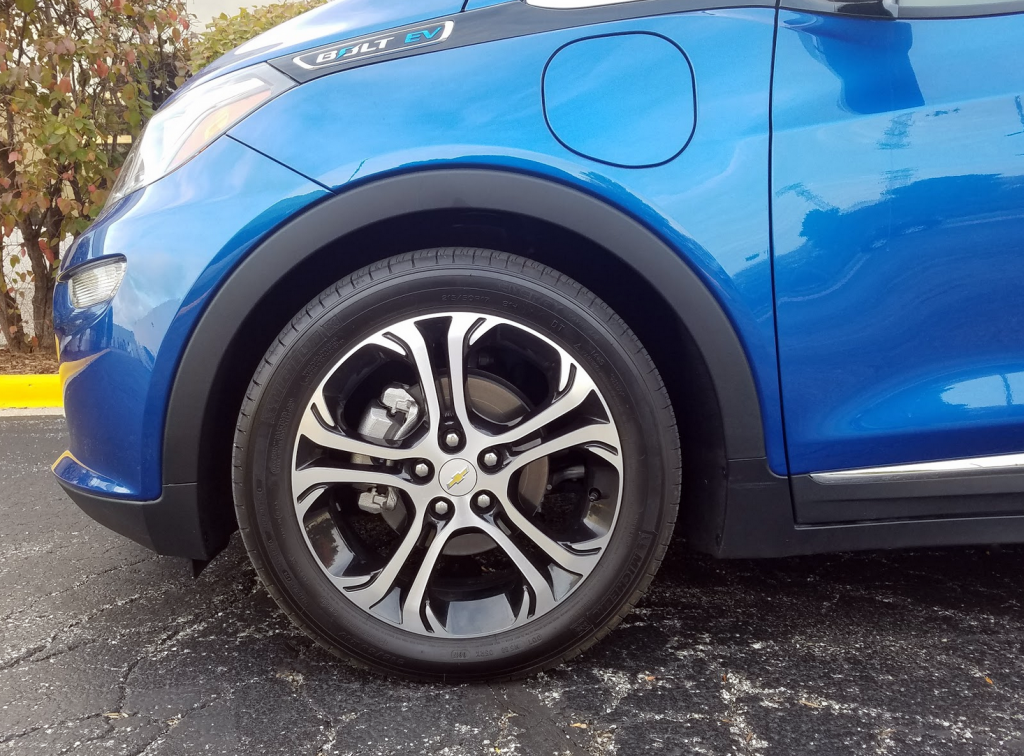 The Bolt EV is much more dynamically satisfying that you might expect a tree-hugging pure-electric hatchback to be. There is smooth, robust power from most any speed, with instantaneous (and torquey) throttle response. It's certainly no sports car, but the Bolt's tidy dimensions, low center of gravity (thanks in part to that heavy, low-mounted battery), and nicely weighted steering contribute to handling that's actually fairly engaging. Also, the smooth brakes are free of the sometimes clunky, non-linear feel that's present in many EVs we've tested. For a green commuter vehicle, this is a really fun-to-drive car.
In addition to the well-sorted handling, the ride is impressively smooth for a subcompact. Among similarly sized vehicles, a Bolt EV puts a 2018 Honda Fit to shame in terms of bump absorption and overall ride quality…and quietness, for that matter. When we took the Bolt EV out on the highway, a bit of wind noise and whir from the electric motor were about all we heard.
There are lots of consumers and auto journalists waiting for Tesla to solve its alleged production bugaboos and start pumping out the heavily hyped Model 3 in real volume. Meanwhile, the Chevrolet Bolt EV is available right now…and it feels like the future is already here.
Tom Appel
To say that the Bolt is unspectacular is to miss the point of this car entirely. There's nothing flashy about Chevy's new EV, and nothing wrong with it, either. In fact, it is this lack of newsworthy talking points that I fear could result in the Bolt going under-discussed in the coming months and years—and that would be a crime.
The 2017 Chevrolet Bolt EV is roomy, fun to drive, and utterly conventional in almost every way–it just doesn't use gasoline. Bolt is the first EV I have spent an entire weekend with that didn't require charging at some point. And it is exactly the freedom to go three days or so without plugging in that makes this car so special.
Yes, Tesla products are faster and more luxurious, but they are also far more expensive than the Bolt. (Yes, the Model 3 costs less on paper–please contact me when Tesla actually builds one with a sticker price under $50,000.) And yes, the Hyundai Ioniq Electric rivals Bolt for drivetrain refinement and dollar value. But no car matches Bolt's combination of range and affordability.
To call the Bolt EV a 21st-century Model T borders on hyperbole, but you can come close to making that case. As an affordable mass-produced EV with serious driving range, the Bolt may become the mainstream electric car's first true proof of concept. All we're waiting on here is public acceptance, and early sales are encouraging.
Cold-weather note: My turn in the Bolt EV came during a period of sustained temps right around 30 degrees. During that period, the Bolt's dashboard display indicated about 180 miles of driving range on a full charge. While that's well below the vehicle's claimed potential of 238 miles, that range represents less of a cold-weather range drop than we've seen with other pure-electric vehicles, including our long-term Kia Soul EV.