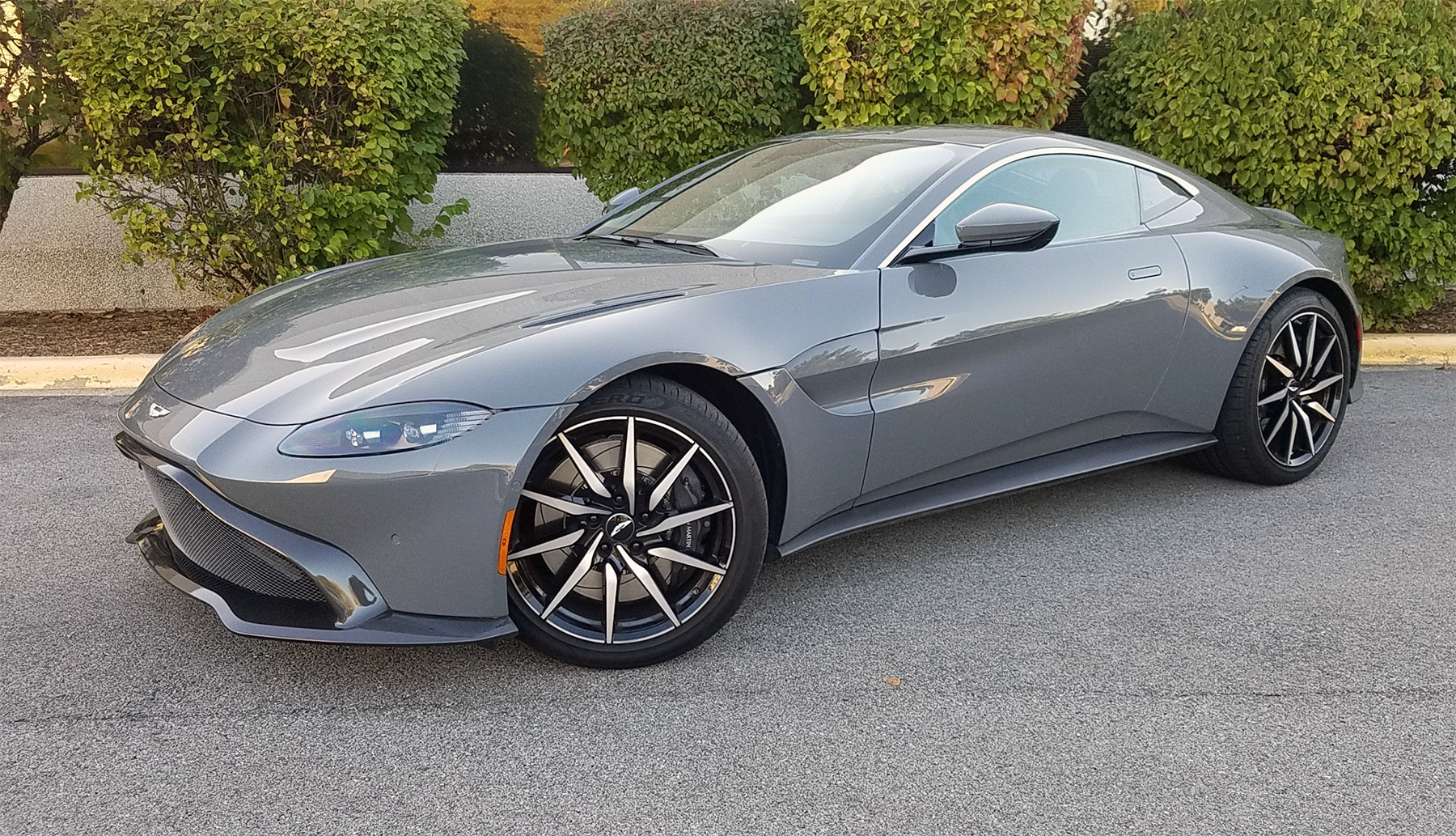 2020 Aston Martin Vantage Coupe
Class: Premium Sporty/Performance Car
Miles driven: 254
Fuel used: 15.1 gallons
Real-world fuel economy: 16.8 mpg
Driving mix: 60% city, 40% highway
CG Report Card
Room and Comfort
B-
Power and Performance
A-
Fit and Finish
A
Fuel Economy
C
Value
C+
Report-card grades are derived from a consensus of test-driver evaluations. All grades are versus other vehicles in the same class. Value grade is for specific trim level evaluated, and may not reflect Consumer Guide's impressions of the entire model lineup.
Big & Tall Comfort
Big Guy
C+
Tall Guy
C+
Big & Tall comfort ratings are for front seats only. "Big" rating based on male tester weighing approximately 350 pounds, "Tall" rating based on 6'6"-tall male tester.
Drivetrain
Engine Specs
503-hp 4.0L
Engine Type
Turbocharged V8
Transmission
8-speed automatic
Drive Wheels
Rear-wheel drive
EPA-estimated fuel economy: 18/24/20 (mpg city, highway, combined)
Fuel type: Premium gas required
Base price: $152,995 (not including $3086 destination charge)
Options on test vehicle: Aston Martin Premium Audio ($2270), Comfort Collection ($2595), Tech Collection ($3000), headrest embroidery–Aston Martin wings ($750), black hood mesh ($1595), smoked rear lamps ($750), 10-spoke directional gloss-black wheels ($3190)
Price as tested: $170,231
Check out our Premium Sporty/Performance Car Best Buys
Quick Hits
The great: Outstanding acceleration, braking, and handling; jaw-dropping looks; lusty exotic-car exhaust note

The good: Poshly appointed cabin; surprisingly compliant ride
The not so good: Fuel economy; steep pricing; grabby brakes; compromised rear visibility; limited cargo room
John Biel
Living and working in a major metropolitan area, Consumer Guide Automotive editors are adjacent to a moneyed class large enough to keep more than a few luxury and exotic auto dealers in business. Ply our expressways or prowl the right streets and in the course of a year you'll come across examples of lots of things you thought existed only in the pages of a monthly magazine or on a website.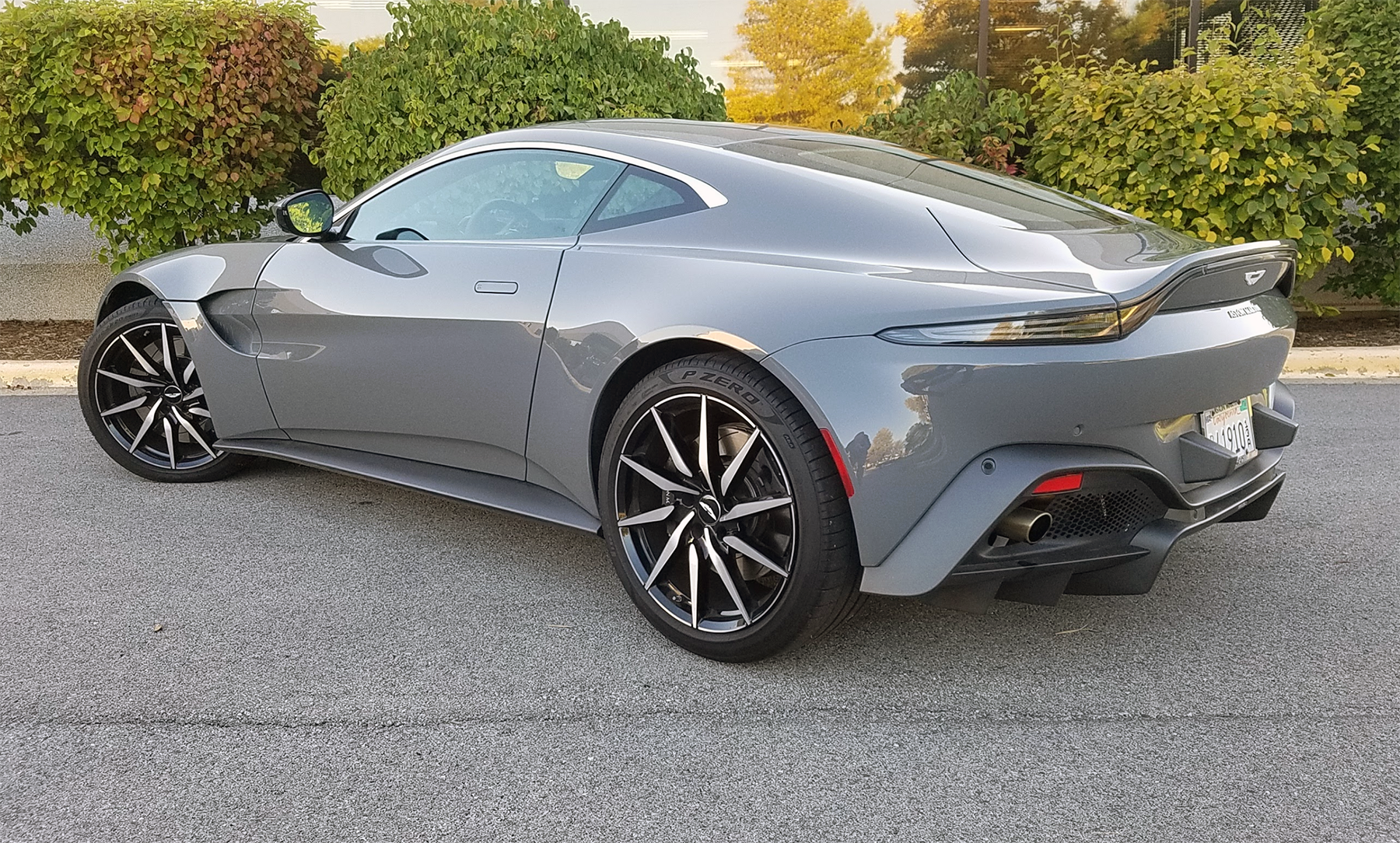 That said, one of the rarer sights is Aston Martin. The brand of Bond—you needn't ask which Bond—is scarce in these parts. That's no surprise considering, as industry weekly Automotive News reported, AM sold just 1164 cars across the USA in all of 2019. That was roughly half the business that Ferrari—even McLaren—reportedly did in the same period. Maybe that's why when this tester slipped an Aston in ahead of a Ferrari in evening rush-hour traffic, the ferrarista felt compelled to pull alongside for a check-out. (Certain that no one he knew was behind the wheel—and that would be me all right—he didn't linger.)
Test Drive: 2020 BMW M8 Competition Convertible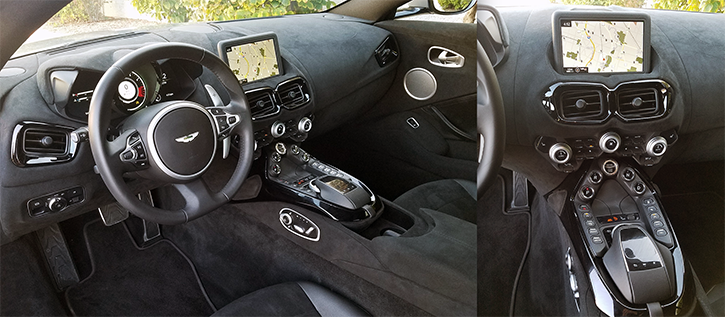 What Mr. Ferrari (not Signor Ferrari—he's dead) was eyeballing was a 2020 Vantage, the Aston Martin "starter car." It clocks in at $156,081 with delivery, but Consumer Guide's China Grey tester punched out at $170,231 with two option "collections" and five stand-alone extras. It is a sleek and strikingly beautiful machine—and the beauty isn't just skin deep. The driving is quite attractive, too.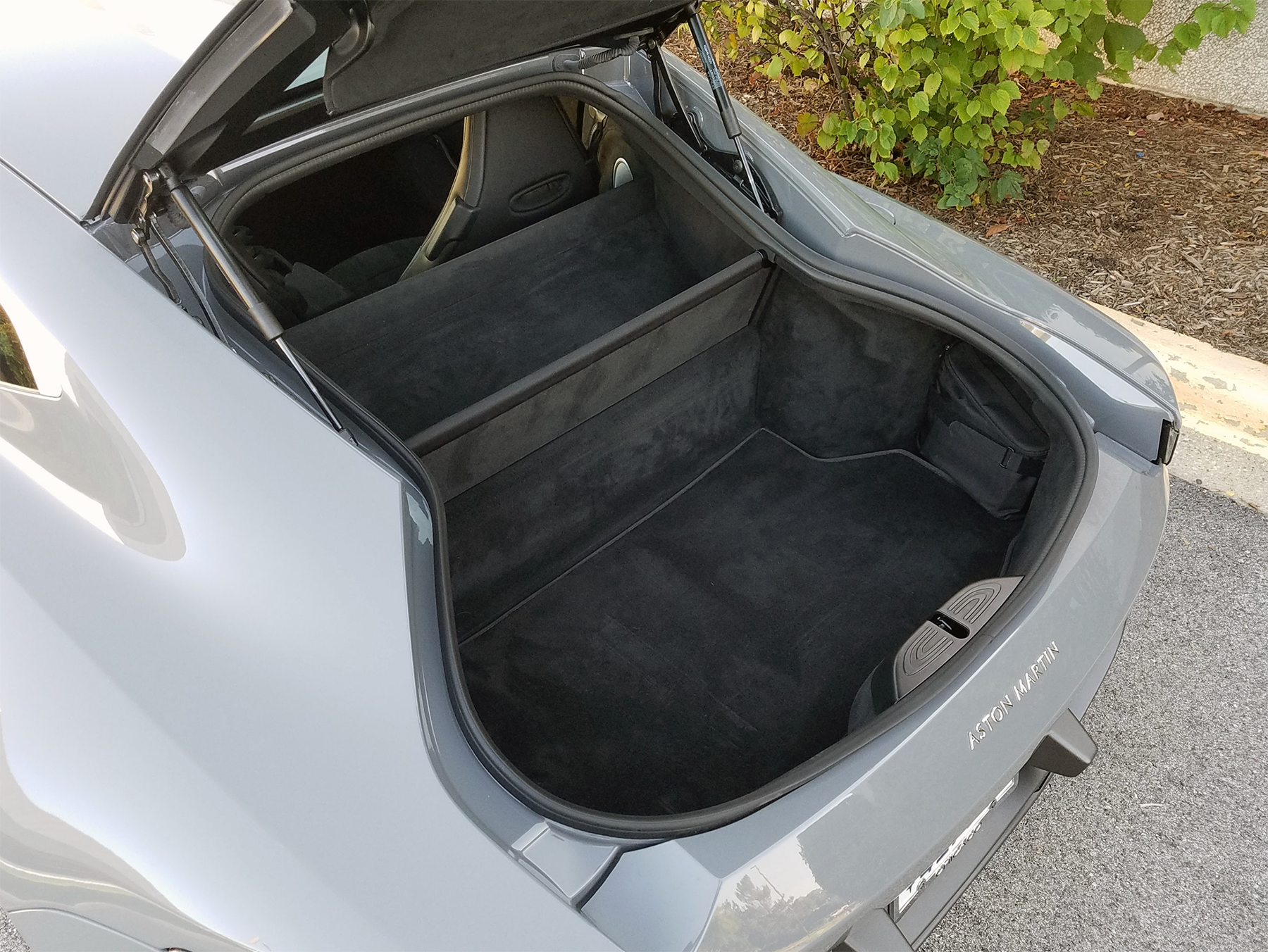 Rumbling away beneath the aluminum clamshell hood is a Mercedes-AMG-sourced 4.0-liter twin-turbocharged V8 that makes 503 horsepower at 6000 rpm and 505 lb-ft of torque at 2000 rpm. (Variations of this engine serve the Mercedes-AMG GT.) Even in default "Sport" driving mode the Vantage is an intense accelerator from a standing start. Clomp the pedal on the highway and the 8-speed ZF automatic transmission mounted at the rear drops a couple of gears in a hurry and you are off and gone.
This base setting is excellent for around-town driving or Interstate cruising with responsive steering and a surprisingly compliant ride for the type. Cornering is very flat with fine roll control, and standard electronic anti-slip differential and dynamic torque vectoring aid power delivery. Brakes are on the grabby side—it took some awareness and practice to keep each side-street stop-sign braking event from being unpleasantly abrupt—but you can't find fault with the stopping power. These were the standard brakes, by the way. A new-for-'20 carbon-ceramic brake option is said to be much more attuned to track driving than street use. "Sport+" mode delays upshifts and tightens steering and damping, but you have to engage "Track" to bring out a truly stiff ride. Left to its own devices in Track mode, the ZF snaps off upshifts at around 2000 rpm versus 1500-1750 or so in Sport, and very perceptible automatic downshifts coax loud howls from the exhaust. For more personal control, there are highly responsive paddle shifters.
Fuel-economy estimates from the EPA are 18 mpg in the city, 24 mpg on the highway, and 20 combined. This reviewer's 117-mile stint—55 percent of it under city driving conditions—averaged only 17.4 mpg.
Test Drive: 2020 Mercedes-AMG GT C Roadster

How comfortable drivers and passengers feel and how well served they are by the Vantage's features may depend on a lot of personal factors like their size and expectations. Seating position is quite low but seats are comfortable and well bolstered at the sides for great grip. Legroom is fairly generous, but headroom for tall drivers might start to feel close, even with the seat cushion down all the way, and ducking under the roof to enter will take some care. Though a blind-spot monitor was included in the Tech Collection option, it doesn't register in the power-folding mirrors. Over-the-shoulder vision isn't great, and the view through the coupe's extremely raked back window is limited but not completely pointless.
Test Drive: 2021 Lexus LC 500 Convertible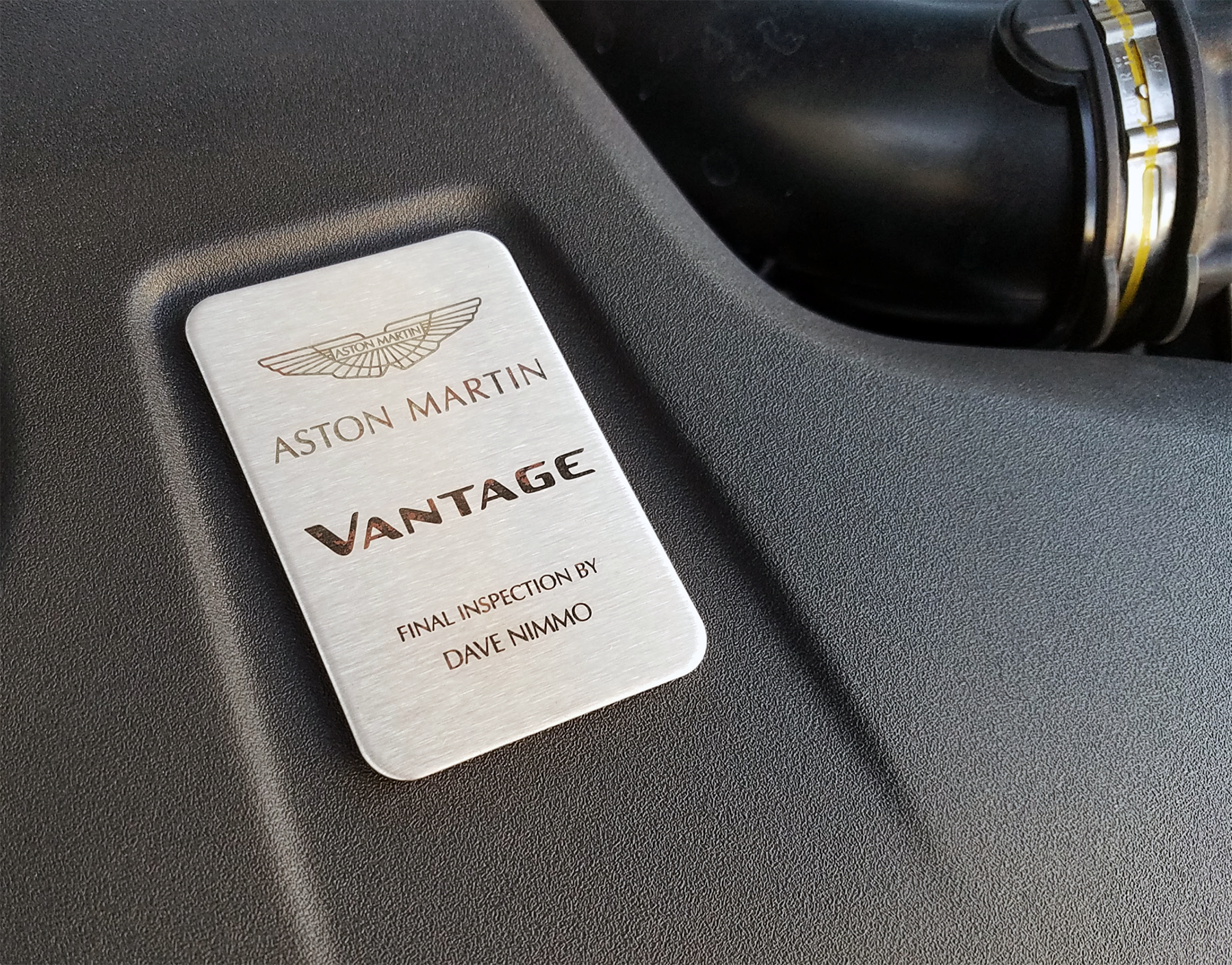 Controls take some acclimation. The trans is activated by push buttons arrayed in a horseshoe shape on a platform at the head of the console, with the starter button at top center. Two rows of buttons for other functions complete the horseshoe. Infotainment is essentially the old Mercedes-Benz COMAND with a central control dial. Information appears on the 8-inch display screen in boxes that are rotated by turning the controller. Inputting radio presets reminded me how much I disliked this system in older M-Bs. Seat-adjustment controls are on the sides of the console. There are handy dials for temperature and fan speed, but other dual-zone climate controls rest with layers of buttons tucked between the dials. Driving gauges show up well. Graphics change with driving mode in the large, electronic display centered by the tachometer.
There isn't much in-cabin storage space: a small console bin, door pockets, a narrow tray that runs behind the two seats—but no glove box. Twin cup holders in the console aren't very deep or very wide, so that 64-ounce morning pick-me-up is not a good idea. You wouldn't want to spill it on the Alcantara that is everywhere on the seats, dash, and door panels. A nice touch is Alcantara-covered "biscuits" on the sides of the console that serve as knee pads. Heated seats and premium audio cost extra.
Cargo space is similarly limited to 10 cubic feet. You'll probably get a couple soft-sided weekend bags under the hatch lid. At least liftover is low in a car that stands just 50.1 inches tall.
CG has driven 2020 cars like the Mercedes-AMG GT C and BMW M8 Competition with final prices higher than this Aston Martin—though they were convertibles that tend to be pricier to start with, and they were more powerful. (Note that the Vantage adds a convertible for 2021.) For some, the ability to turn heads with a car hardly anyone sees may have a value that negates those advantages. If so, the Vantage could be for them.
Photo Feature: 1951 Jowett Jupiter Convertible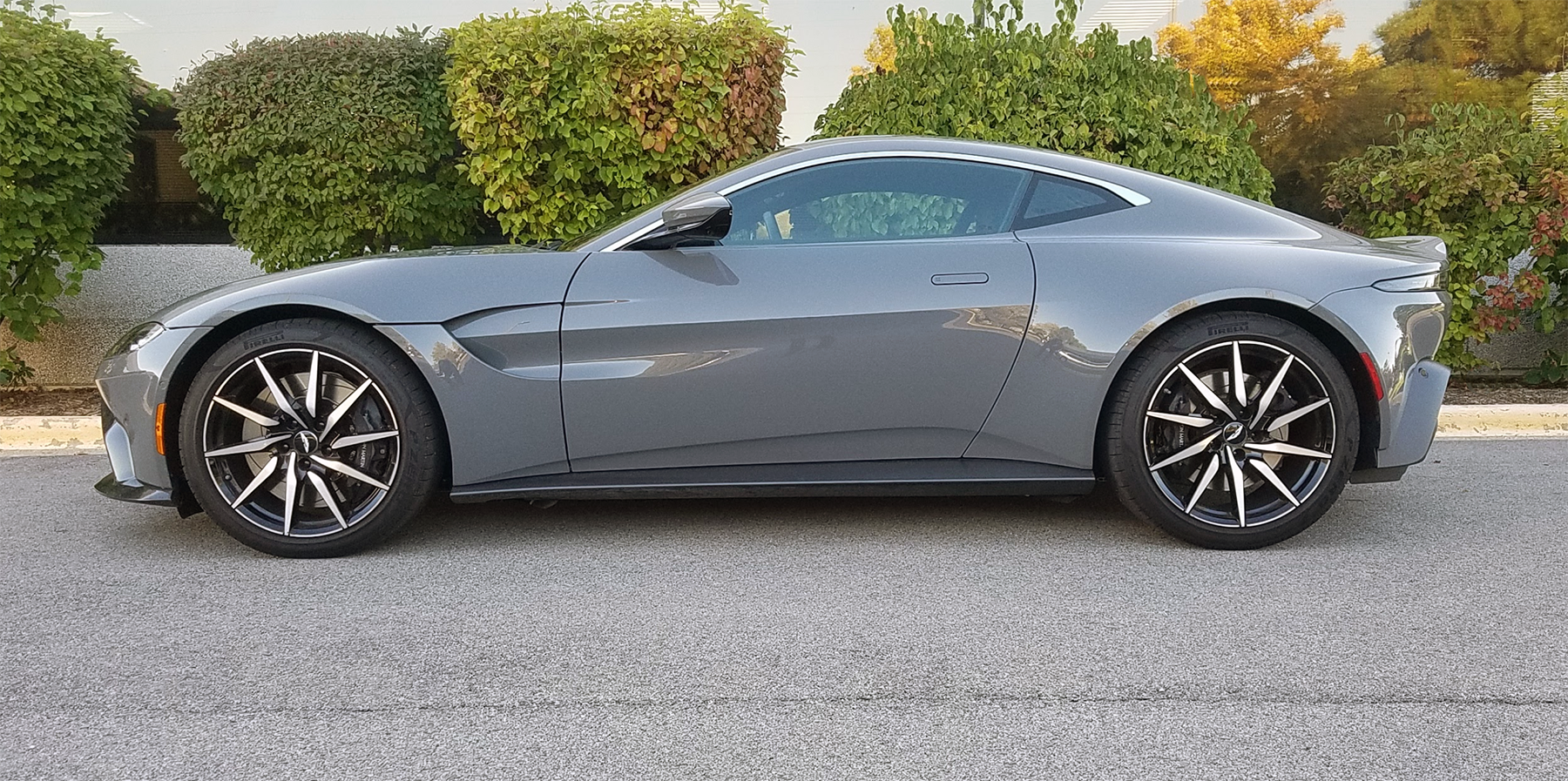 Click below for enlarged images
Listen to the very entertaining Consumer Guide Car Stuff Podcast
2020 Aston Martin Vantage Coupe Gallery
2020 Aston Martin Vantage Coupe