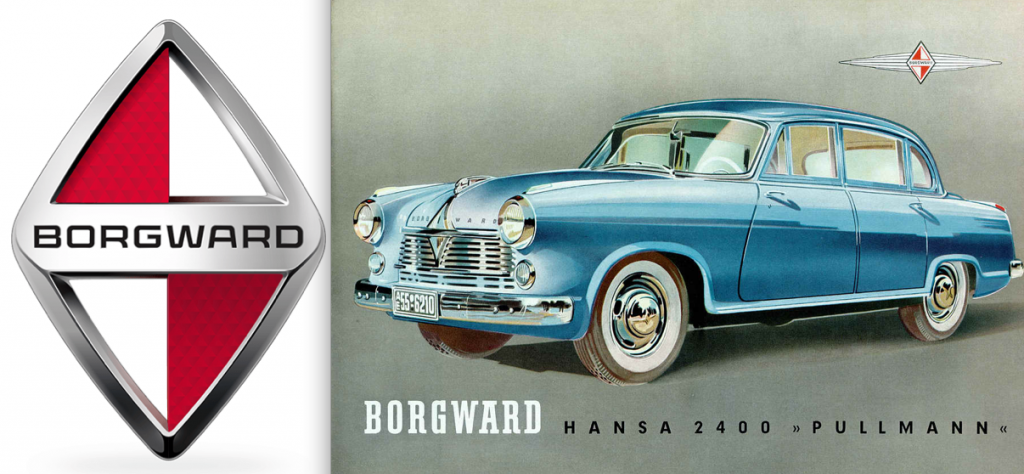 GENEVA – Pssst! Borgward is back.
Borgward. . . . Borgward. . . . I know that name. Wait—don't tell me. Ah! It's that old, weird poem I had to study in high school, right?
No, that's Beowulf. Borgward is not the heroine of an opera, a Visigoth chieftain who plundered Rome, or a sorcerer from The Lord of the Rings, either. What it is is a German car company that went bankrupt in 1961 but is coming back to the market. The reconstituted concern—which counts a grandson of the marque's namesake founder among its leaders—announced at the Geneva International Motor Show that it will unveil the first of what is says will be "a range of innovative new cars" later this year.

The March 3 announcement provided few clues to the kind of vehicle that the new Borgward AG expects to introduce at the Frankfurt motor show in mid September. Based on what the company did say, the car likely will have some sort of electric-assisted powerplant, and will incorporate a telematics system it has dubbed "Multiple Interaction" through which "[t]he Borgward will become your personal assistant, companion, entertainer, information provider, and caretaker—wherever you are."
According to the company's statement from Geneva, the revival of the marque has been percolating since 2005, when entrepreneur Christian Borgward—grandson of Carl F. W. Borgward, a founder of the original automaker by that name—discussed the idea with auto-industry executive Karlheinz Knöss. Christian Borgward, 49, serves as president of Borgward AG. Knöss, 53, is vice president and CEO. Knöss is founder and president of an international strategy and executive-advisory firm, but held positions with Saab, General Motors, and the former DaimlerChrysler AG beginning in the early '90s.

Carl Borgward got his start in the auto industry as a partner in a small firm that made tires, then radiators. The reorganized company built its first vehicle in 1924—a small 3-wheel electric that found favor with the local post office. This led to larger commercial vehicles and automobiles, but the name Borgward did not appear on one until 1939. The Borgward Hansa 1500 of 1949 with a modern slab-sided "envelope" body was the first new design from a German automaker after World War II. Another European first for Borgward was the self-developed automatic transmission it introduced in 1953. However, the company began to founder financially in 1960 and was declared bankrupt in 1961. (Borgward cars continued to be made through the '60s by subsidiaries in Argentina and Mexico.)
OK, but why do I know the Borgward name?
The highly successful Borgward Isabella did a fair amount of business in the U.S. from 1955 to 1961. (According to Borgward AG, America was the second-largest market for Isabellas after West Germany.) The 102.4-inch-wheelbase 4-cylinder 2-door sedan and station wagon were later joined by a stylish close-coupled coupe and convertible, which featured a Buick-like midbody fenderline dip. Sporting TS versions of the Isabella had a higher-compression engine that made about 15 more horsepower than the base engine.
The 1958 Borgward Isabella Was "First in Sales"**
Whether Borgward intends to try to repeat that success is something of a question. The company said its initial focus will be on Germany and "emerging markets where Borgward intends to set up local production centers."
The original Borgward firm called Bremen its home but the headquarters for its successor—including research and development, design, engineering, and marketing and sales—will be in Stuttgart. The company says it expects to release 2 or 3 new models a year after the brand's reintroduction with the intent of creating a complete product range.
Borgward, huh?
Yep, Borgward. It's back.
Is Checker Back? You Be The Judge