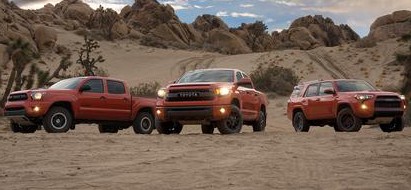 CHICAGO — Toyota's new TRD Pro Series  packages combine rugged looks with an impressive array of off-road equipment. The TRD Pro package arrives for 2015 and can be ordered on 4Runner, Tacoma, and Tundra models.
2018 Chicago Auto Show: 2019 Toyota TRD Pro Models
TRD Pro Series package equipment and specifications vary by model, but all three trucks will feature increased ride height, Bilstein-brand shock absorbers, underbelly-protecting skid plates, and unique black wheels.
No word yet on package pricing, but the TRD Pro package will becomes available this fall on 2015 models.
CG Says:
Toyota is the last manufacturer to offer the triumvirate of a large pickup, a midsize pickup, and a midsize body-on-frame SUV. We can think of no better way for the brand to exploit the rugged capability of these three trucks than to help buyers explore their off-road potential. For the record, we like the black wheels.
Note: Toyota Racing Development (TRD) has been an in-house engine and chassis developer for successful Toyota racing activities around the world for nearly four decades.  It also develops motorsport-derived accessories for Toyota, Lexus, and Scion street cars and trucks.  TRD's U.S. operations were first established in 1979 and are headquartered in Costa Mesa, Calif., with an additional facility in Salisbury, N.C.
More from the Chicago Auto Show