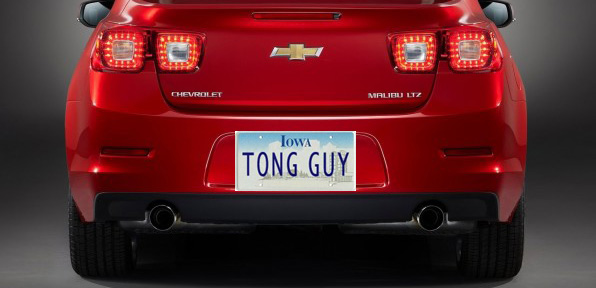 Overwhelmingly, vanity plates that tout professions represent three particular callings: coaching, sales, and teaching. This conclusion is based entirely on personal observation, but let's call the results scientific anyway.
Plates along the lines of "I COACH M," "SELLR," and "TCH KDS" are a dime a dozen. How, one wonders, a plate like "I SELL U" helps close a deal is beyond me, but I have seen that exact message on a realtor's car. One wonders also if the driver of a car with the plate "TEACHIR" appreciates the irony inherent in the casual spelling.
To encourage folks who might be less likely to share their chosen career paths with the general public to consider vanity plates, I have included some fun examples below. These are free for the taking. If you have your own career-based vanity plate message that you'd like to share with us, let's hear it.
Also, feel free to suggest professions for which you'd like to see some custom license plates. Happy to add them to our list. Who knows, maybe we'll crank out another list.
More Vanity Plates for Under-Represented Professions
Vanity Plates
Cheese Maker
EDAM 2U      GD GOUDA      CHDR LDY      PEPR JCK
Fast Food Restaurant Employee
MAC 4U      WPR MKR      SPC SAUC      FRS W THT
Mortician
CASKT SLR      WKE HOST      RIP GUY      HRS DRVR
Phlebotomist
MK A FST      DRAIN U      NDL DUDE      FND UR VN
Proctologist
LKN LOW      LTX GLV      BTM DOC      COLN CHKR
Salad Bar Attendant
1K ISLE      TONG GUY      CROUTON3      FRE RFILL
Listen to the very entertaining Consumer Guide Car Stuff Podcast
Vanity Plates
Vanity Plates
Coronavirus Word Search: Engine Parts
Doctor Tom Explains: What Your Car Says About You
Learning to Drive Stick: A Sordid Tale of Intrigue, Deception, and Personal Triumph