On September 18, 2015, the Environmental Protection Agency and California Air Resources Board notified Volkswagen that certain 2.0L 4-cylinder TDI vehicles do not comply with applicable emissions regulations.
Over the past several weeks, we've apologized to our loyal customers about the 2.0L TDI emissions issue. As we work tirelessly to develop a remedy, we ask for your continued patience.
In the meantime, we're providing affected 2.0L TDI® owners with a $500 Volkswagen Prepaid Visa® Loyalty Card, a $500 Volkswagen Dealership Card, and no-charge 24-hour Roadside Assistance for three years*. We sincerely hope you see this as a first step toward restoring your invaluable trust.
Here's How Much Money Volkswagen Diesel Owners Are Getting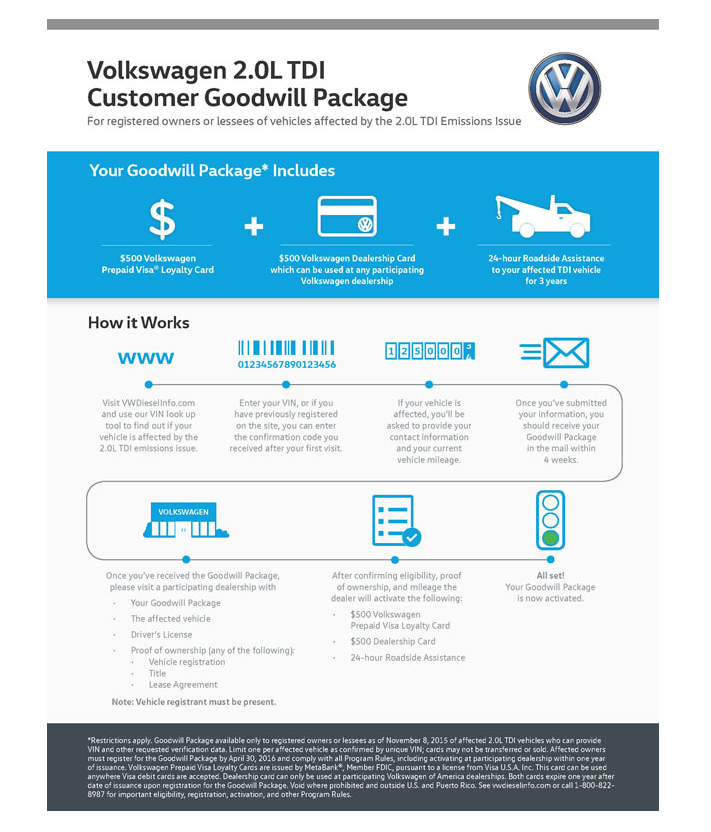 Find out if your vehicle is affected by the 2.0L TDI emissions issue and whether you are eligible to receive the Goodwill Package.