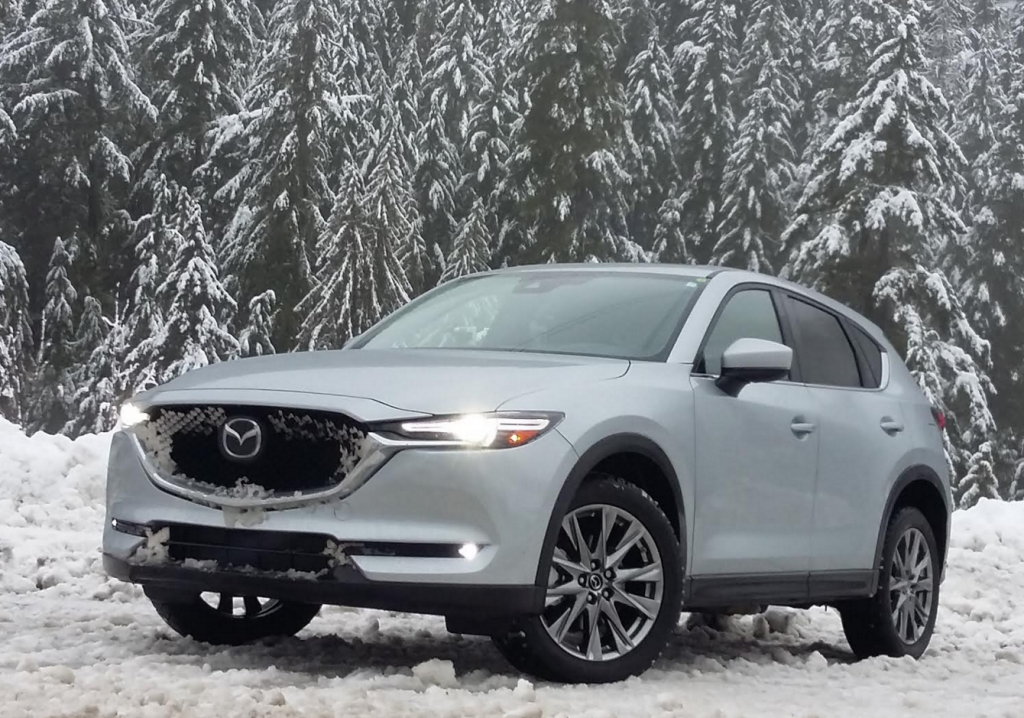 This preview didn't go entirely according to plan.
Mazda flew us up to Whistler, British Columbia — site of the 2010 Winter Olympics — to demonstrate its "predictive" i-ACTIV all-wheel-drive system, introduce a newly available turbocharged engine in the CX-5 line, and let us experience all three of its crossovers in slippery, snowy conditions. The first and last, of course, depended on the cooperation of Mother Nature, and she accommodated — a little too generously, as it turned out.
What was supposed to happen was that we'd start from our base in Whistler and drive new turbo CX-5s north to a higher-altitude test facility where cones outlined a course that would allow a little slippin' and slidin' without fear of damage to property — or egos. (Crunching a cone being considerably lower on the humiliation scale than driving off into the grass … or a wall.)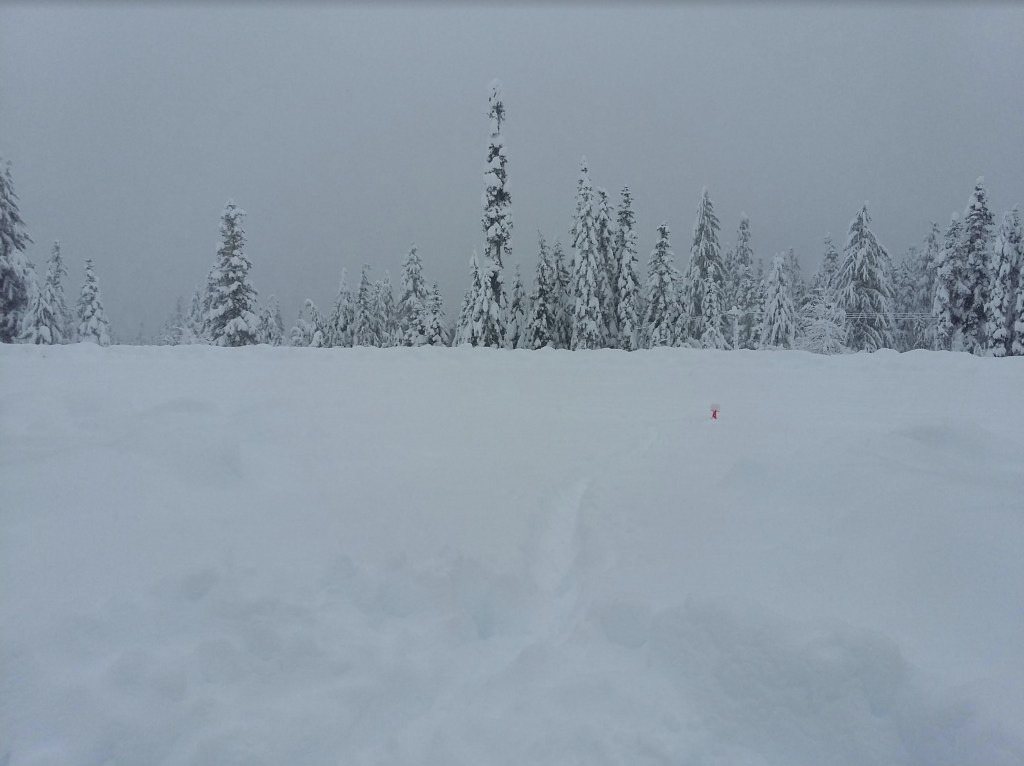 Trouble is, after the cone course had been carefully laid out, Mother Nature took advantage of the overnight hours to dump four-and-a-half feet (yes, feet) of snow on the area, meaning that our test-track drive was off the schedule — and that nobody was going to see those cones again until March.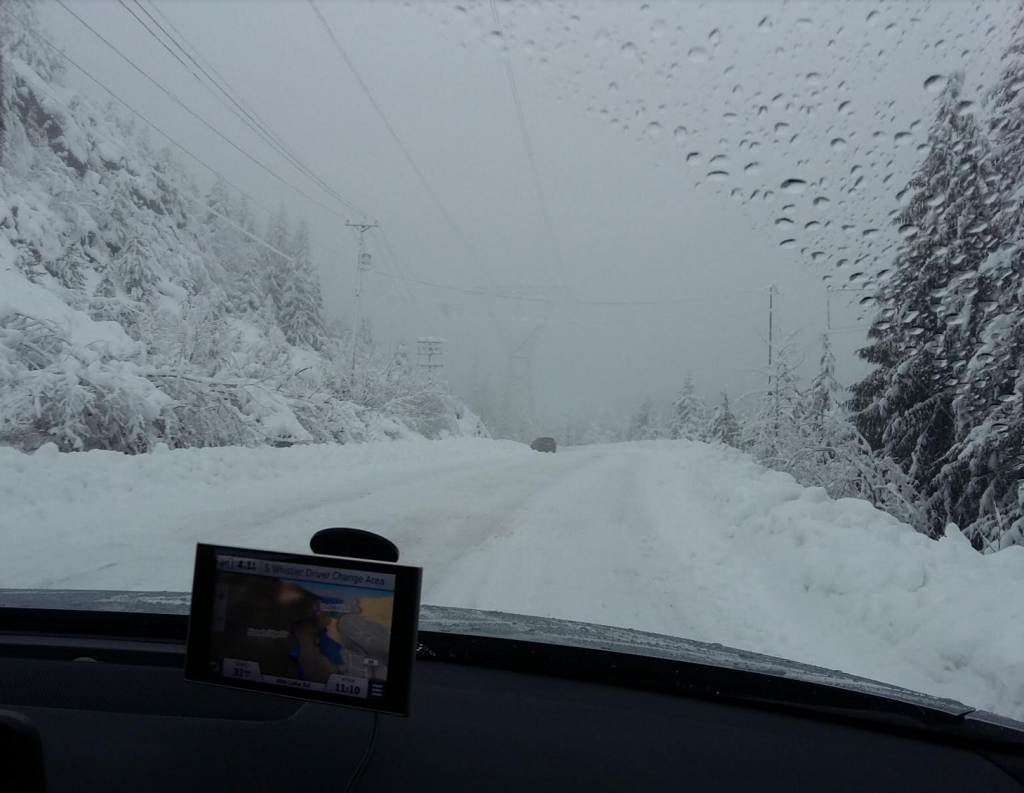 However, that also meant the roads going to the track were covered, and since plows had been keeping up with the onslaught all night, our "test drive" became a beautiful trip up the mountain through varying depths of snow — which proved to be a perfectly adequate test in itself.
Mazda calls its i-ACTIV all-wheel-drive system "predictive" because it doesn't wait for the front wheels to slip before engaging the rear wheels, which can lead to some instability. Instead, the system looks at inputs from various existing sensors, such as whether the wipers are on (meaning precipitation), temperature (below freezing could mean snow or ice), the fore/aft angle of the car (nose up meaning it's going uphill), and amount of steering effort needed (less = slick surface) to determine whether some power should be sent rearward before the front tires spin. This seemed to work well, as launches were never squirrelly.
Since the roads were virtually vacant save for our caravan of CX-5s, every corner offered an opportunity to check out Mazda's anti-skid system, which is designed to allow a little more slip (some might say, "fun") than most before kicking in. And sure enough, you could coax a bit of "drift" through the corners before the nannies would pull on the leash, which really made for great — yet safe — wintertime entertainment.
Although there are notable changes to the subcompact CX-3 and midsize CX-9 crossovers as well (see below), the star of the show was the compact 2019 Mazda CX-5 with its newly available turbocharged engine and top-line Signature trim level.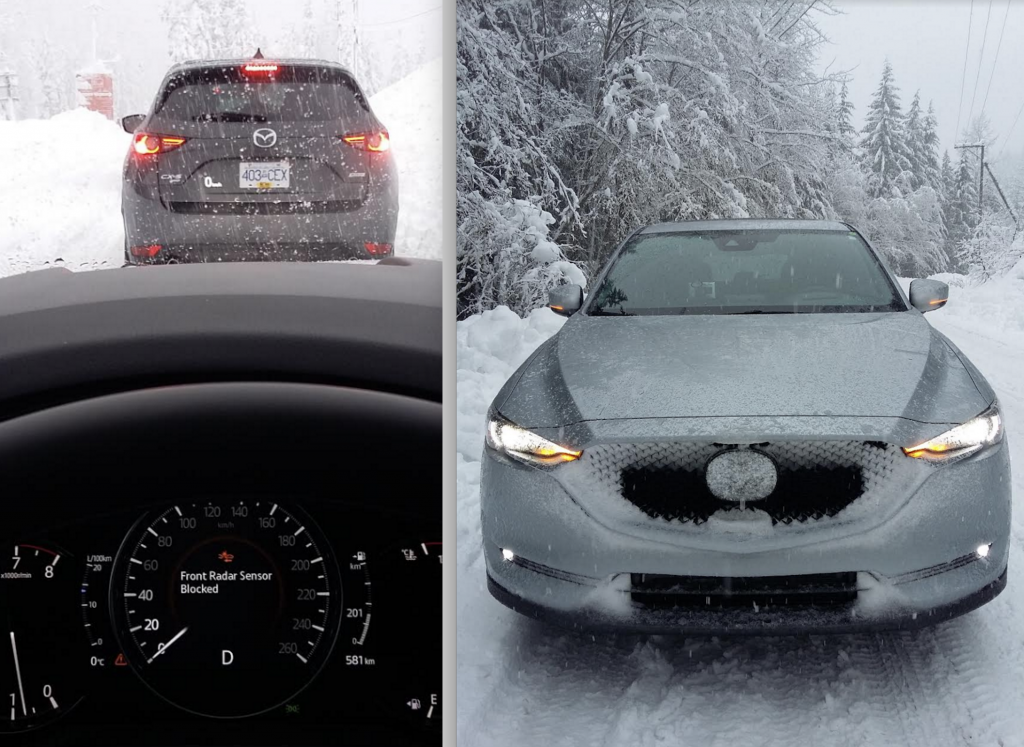 Displacing the same 2.5 liters as the "regular" gas engine, the turbocharged version — called SKYACTIV-G 2.5T — is rather large by compact-crossover standards; in fact, few rivals even offer a turbo, and most that do displace 2.0 liters. But Mazda resisted the temptation of going for high horsepower figures — which look great in advertising — to instead concentrate on low-end power, which is much more useful in everyday driving.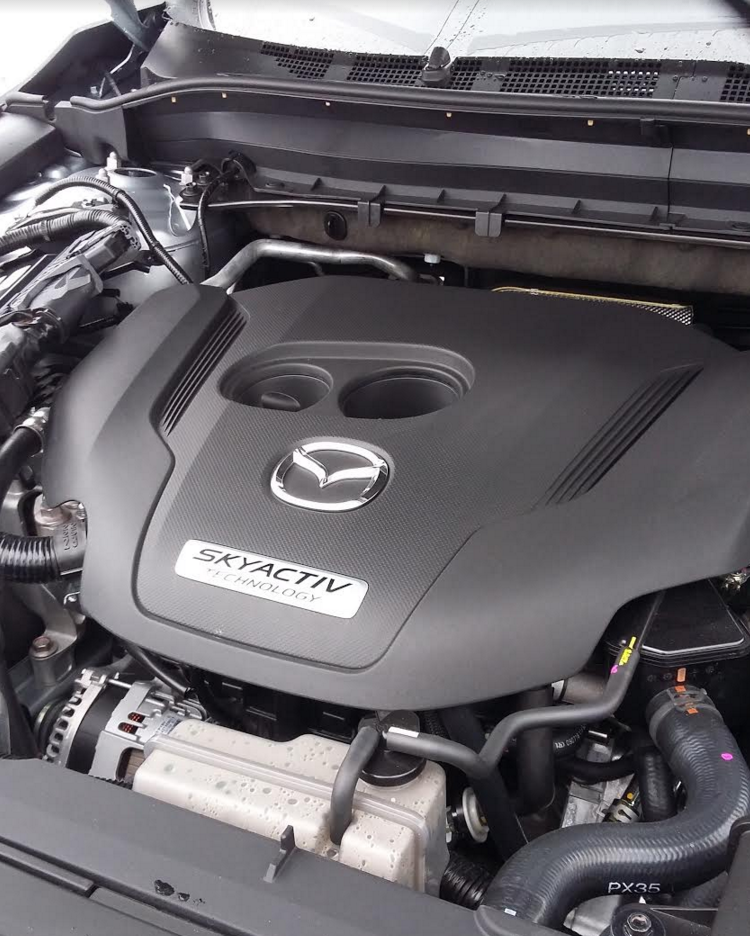 Also of note is that Mazda allows its turbo engine to run on regular-grade gas, though it makes more power on premium — and the company tells you just how much more. Peak torque of 310 lb. ft. is available at 2000 rpm regardless of which fuel is used, but peak horsepower — which arrives at 5000 rpm — is 227 on regular, 250 on premium, with all of the extra "oomph" coming above 4000 rpm. (For comparison, the "normal" 2.5 is rated at 186 lb. ft. of torque and 187 horsepower.) Under most circumstances, that's not a big sacrifice for the cost savings of using regular gas, but Mazda leaves it up to you to decide.
In either case, the turbo system is designed to provide boost — and thus power — much more quickly after the throttle is pressed than in most such systems, the delay (caused by the time it takes for the turbo to speed up enough to provide power-building boost) being known as "turbo lag." It's also designed to provide better acceleration at highway speeds without the need to downshift to a lower gear, the downshift adding a "lag time" of its own. And indeed, the CX-5s driven felt much more responsive to throttle inputs than most turbos. Note that this is the same engine that's standard in the larger CX-9 and also offered in the Mazda 6 sedan.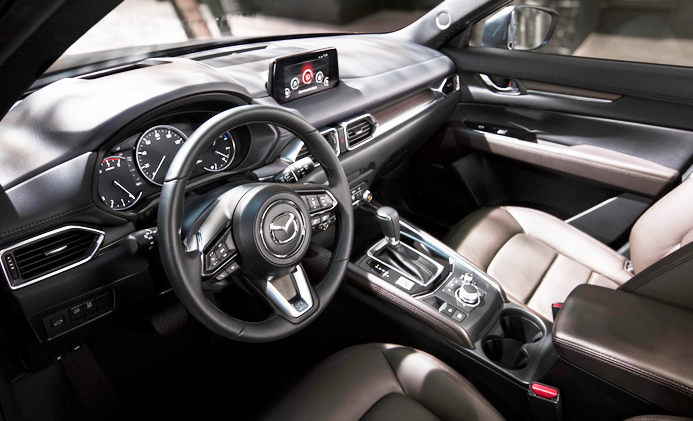 The turbo engine is only available in the new-for-2019 Grand Touring Reserve and Signature trim levels, both added above the existing Sport, Touring, and Grand Touring models. Prices range from $25,345 (including destination) for a front-wheel-drive Sport to $37,885 for the new line-topping Signature with standard all-wheel drive.
For 2019, all but the base Sport gain Apple CarPlay/Android Auto compatibility, with Mazda's system allowing the use of the vehicle's infotainment system and ACP/AA at the same time — for instance, listening to satellite radio while using Google maps through ACP. New for the Grand Touring are available ventilated front seats.
The new Grand Touring Reserve brings the turbo engine and standard AWD, along with the availability of heated rear seats, heated steering wheel, windshield-wiper de-icers, and traffic-sign recognition. Available on the top-line Signature are brown Nappa-leather upholstery, wood trim, a 360-degree camera system, and front and rear obstacle detection.
CX-3: What's New for 2019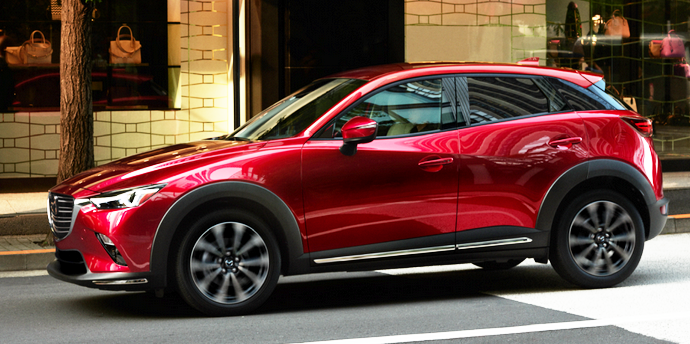 For 2019, the subcompact CX-3 gets a restyled grille and several new features. It continues in Sport, Touring, and Grand Touring trim levels with base prices ranging from $21,385 (including destination) for a front-wheel-drive Sport to $28,140 for an all-wheel-drive Grand Touring. All come with a 148-horsepower 2.0-liter 4-cylinder engine and 6-speed automatic transmission.
Test Drive: 2018 Mazda CX-3 Grand Touring AWD
Added as standard are an electronic parking brake with Brake Hold function, the latter relieving the driver of having to hold down the brake pedal during long stops. That combination also frees up space to allow for more console storage and a center armrest. The rear-seat area also gains a center armrest with built-in cupholders.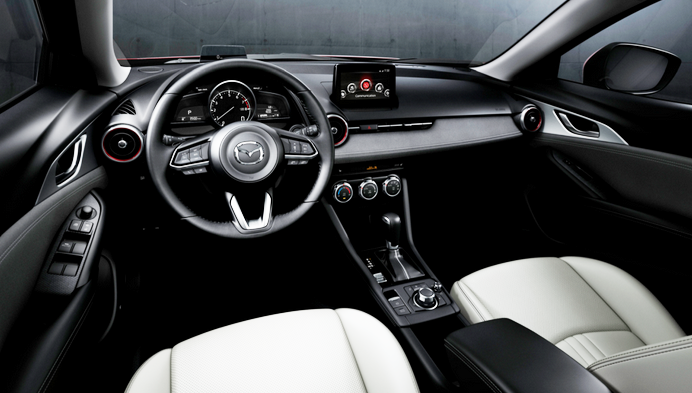 Also newly standard are blind-spot and rear-cross-traffic alert along with individual tire-pressure readouts. Newly available is adaptive cruise control that adds stop & go functionality, which handles braking and acceleration duties in stop-and-go traffic. Also available are forward collision warning, lane-departure warning, and automatic high beams. New interior features include available full leather upholstery, a manual height adjuster for the front passenger seat, and suede-like interior accents.
CX-9: What's New for 2019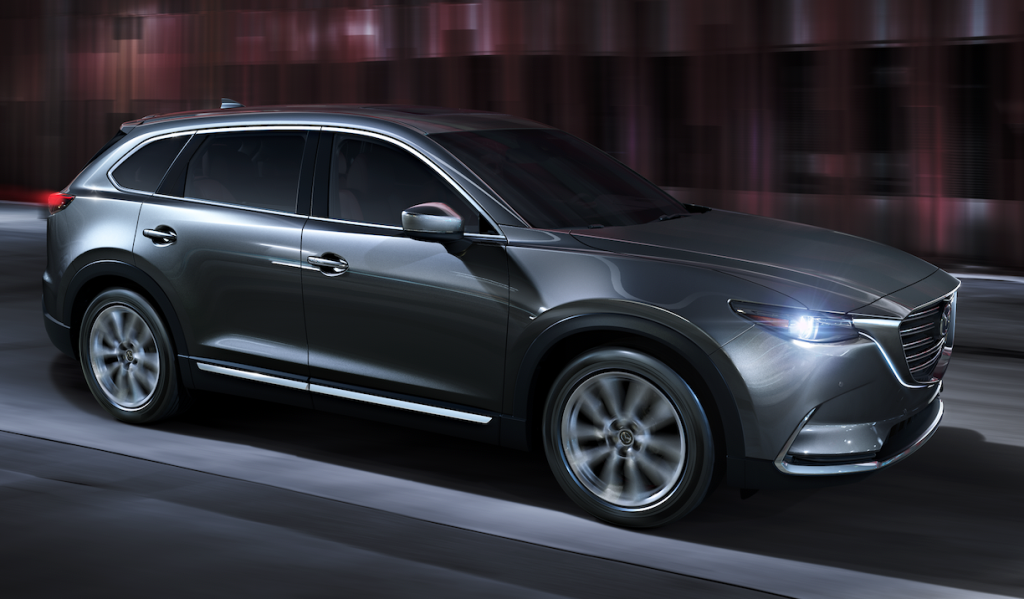 The midsize, 3-row CX-9 is again offered in Sport, Touring, Grand Touring, and Signature trim levels with prices ranging from $33,275 (including destination) for a front-wheel-drive Sport to $46,360 for a top-line Signature with standard all-wheel drive. Standard on all is a turbocharged 2.5-liter four rated at 227 horsepower on regular-grade gas, 250 hp on premium, along with a 6-speed automatic transmission.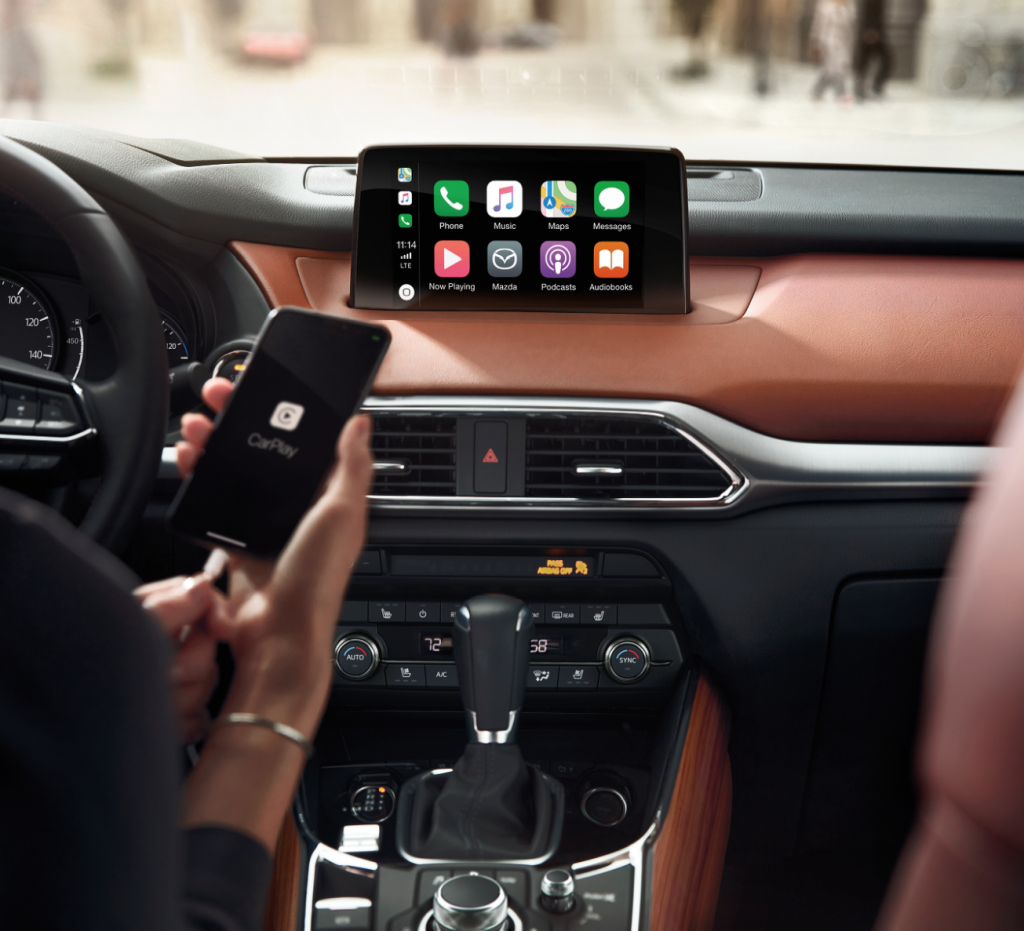 Notably new for 2019 is Apple CarPlay and Android Auto functionality, standard in all but the base Sport. Grand Touring and Signature add available ventilated front seats and a 360-degree camera system.
Test Drive: 2018 Mazda CX-9 Grand Touring
Check out our Subcompact Crossover Best Buys
Check out our Compact Crossover Best Buys
Check out our Midsize Crossover Best Buys
Listen to the very entertaining Consumer Guide Car Stuff Podcast