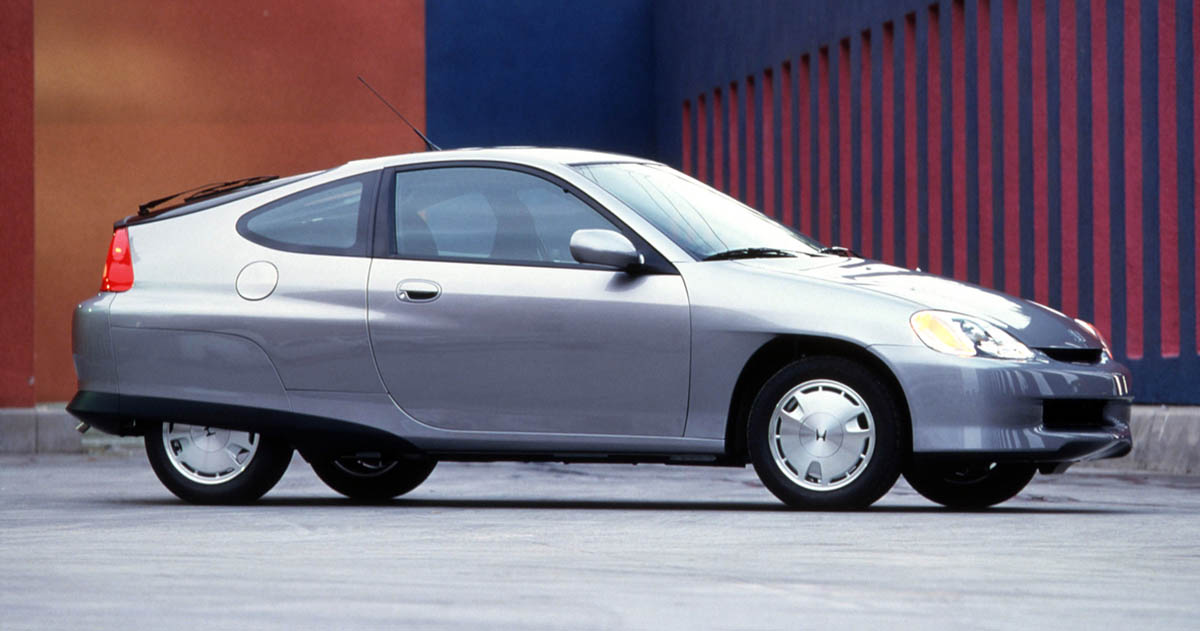 Being first to market is no guarantee of success. Social-media platform Myspace arrived on the scene almost a year before Facebook came online, but as of this week, Myspace doesn't rank among the top 2000 most-popular websites globally; Facebook ranks number 4.
There is an automotive parallel to this story. Honda's strikingly designed Insight arrived on U.S. shores late in 1999, making it the first hybrid vehicle available to American consumers. The Toyota Prius, the second hybrid available for U.S. purchase, went on sale about a year later. But being the first hybrid car in the States proved to be of little value to Honda–the original Insight saw sales of less than 19,000 units over its 7-year run. The Prius, on the other hand, racked up more than 600,000 sales during roughly the same period of time.
Part of the problem was that the Prius was more or less a conventional compact sedan, while the Insight was a subcompact two-seater which, for its first model year, was available only with a manual transmission.

In fact, after a quick look at the Insight's spec sheet, one could easily confuse it with a serious sports car. The Insight was a two-passenger hatchback which featured an aluminum-alloy monocoque frame, aluminum body panels, and aluminum suspension hardware and front calipers. The car's rakish profile and skirted rear wheel openings made it one of the most aerodynamic cars ever sold in the U.S., with a drag coefficient of just .25. For a little perspective on that number, the 2021 Chevrolet Corvette's drag coefficient is .32.
Less impressive was the Insight's performance. Road tests of the day put the pioneering hybrid's 0-60-mph time at between 10 and 11 seconds when equipped with the 5-speed manual transmission.
Honda dropped the original Insight after 2006, but revived the name for 2010 on a hybrid compact 4-door-hatchback sedan that had a profile very similar to the Toyota Prius. A excellent 2019 redesign of the Insight–this time a stylish, more conventional 4-door sedan–proved sufficiently impressive to earn a Consumer Guide Best Buy. You can read about that car here.
There are so few first-generation Insights available for sale that it is all but impossible to determine the car's value. The few we found listed were available for very little money, but were very high-mileage examples.
Below is our original Consumer Guide review of the 2000 Honda insight. If you've ever spent time with this car, please tell us about it. The place to leave comments is down below.
2000 Honda Insight Review
The first gas/electric hybrid car on the U.S. market, this new 2-seat hatchback coupe is tops in EPA-rated mileage at 61/70 mpg city/highway. Insight also qualifies as a Low Emissions Vehicle by EPA standards and is classed as an Ultra Low Emissions Vehicle in California and several other states. And it's the first car of any kind to receive the Sierra Club's "Excellence in Environmental Engineering" award. Insight is built in Japan alongside the low-production Acura NSX and uses a similar type of aluminum-intensive construction that helps make it the lightest car sold in America. Aerodynamic styling tweaks contribute to the high mileage ratings. So does the Integrated Motor Assist powertrain, where a small electric motor boosts the normal 1.0-liter 3-cylinder gasoline engine in hard acceleration. Maximum combined outputs are 73 horsepower and 91 pound-feet of torque. When coasting or braking, the electric motor becomes a generator that recharges a 44-pound nickel-metal-hydride battery pack comprising 120 D-cells. External recharging is not required. Insight comes only with 5-speed manual transmission. Air conditioning is the sole option. The sub-$19,000 base price is subsidized, Honda using the Insight to gauge public acceptance of hybrid-power vehicles. Though Insight was planned for 4000 U.S. sales, Honda recently upped availability to 6500 in response to strong public interest.

Review Flashback! 1987 Dodge Daytona Shelby Z
Acceleration
Even small hills make Insight feel sluggish, as does highway passing. But power is otherwise adequate. Honda says 0-60 mph takes about 12 seconds.
Fuel Economy
On preview drives, a trip computer indicated about 56 mpg in city/suburban driving, and 66 mpg on hilly highways with air conditioning on. Honda says over 100 mpg is possible when going 55 mph on flat roads.
Ride Quality
Insight rides smoothly, becoming harsh only over larger bumps.
Handling
There's little body lean in turns, and the steering feels quick and natural. Tires are narrow, but grip well even in rain.
Quietness
Minimal wind noise, but there's lots of road noise, and external noise isn't filtered out well.
Controls
The climate control readout is small and hard to see, but the layout is otherwise effective.
Review Flashback! 2006 Cadillac XLR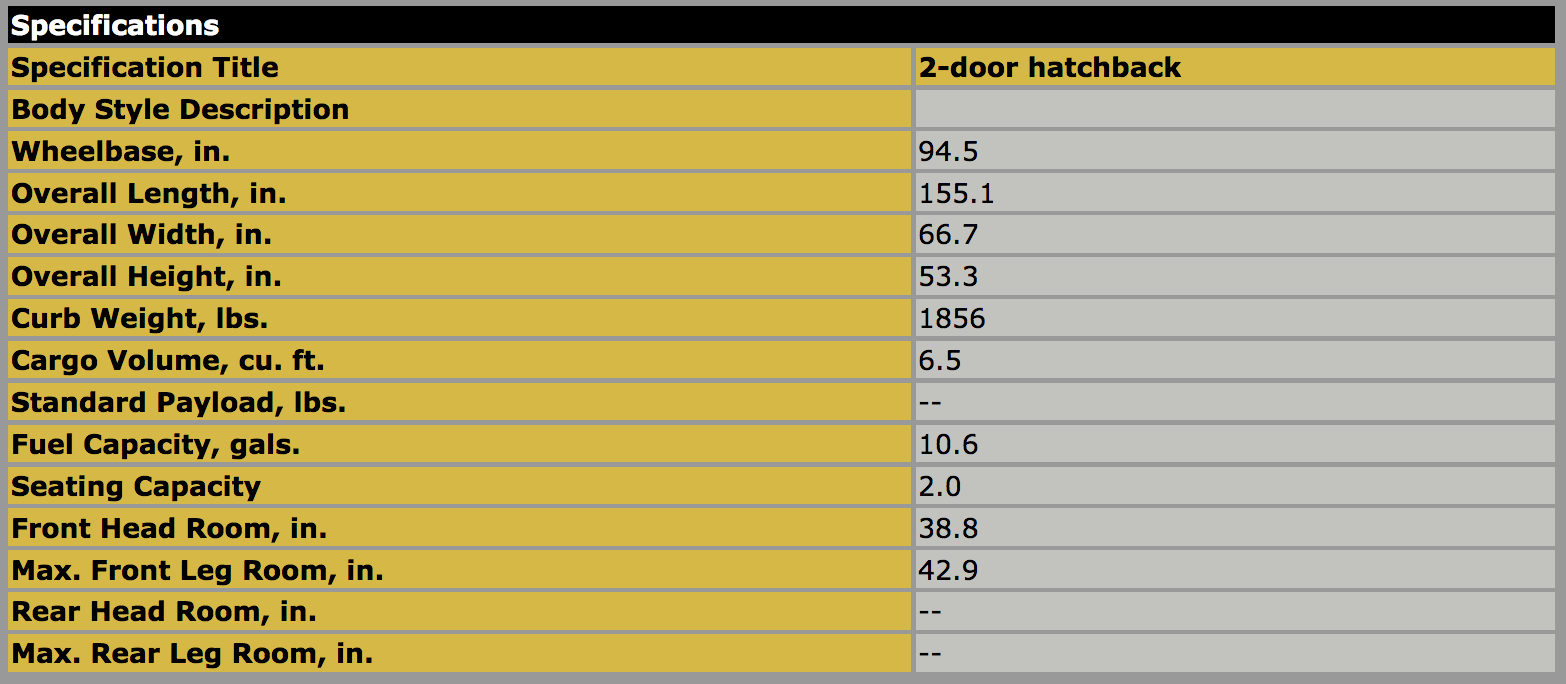 Comfort
Plenty of head and leg room for tall adults. Lightly padded seats are fairly comfortable.
Cargo Room
Beneath the hatch is a meager 5.0-cubic-foot floor and a 1.5-cubic-foot covered well.
10 Most Fuel-Efficient Cars of 1973*

Value
Insight is not Honda's final answer to the "green car" question, and it's not quite ready for prime time. The price of entry is steep for such a small, slow car, and the payback in fuel cost would take years to recoup. Still, this intriguing high-tech gas-sipper sacrifices little as real-world transportation, and it's far more practical than any pure electric vehicle.
Check out these back episodes of the entertaining Consumer Guide Car Stuff Podcast
2000 Honda Insight