There wasn't time to mourn them all. The General Motors bankruptcy that came—at least in part—as a result of the 2007-2009 Great Recession wiped out a slew of established car brands, and all of the models those brands retailed.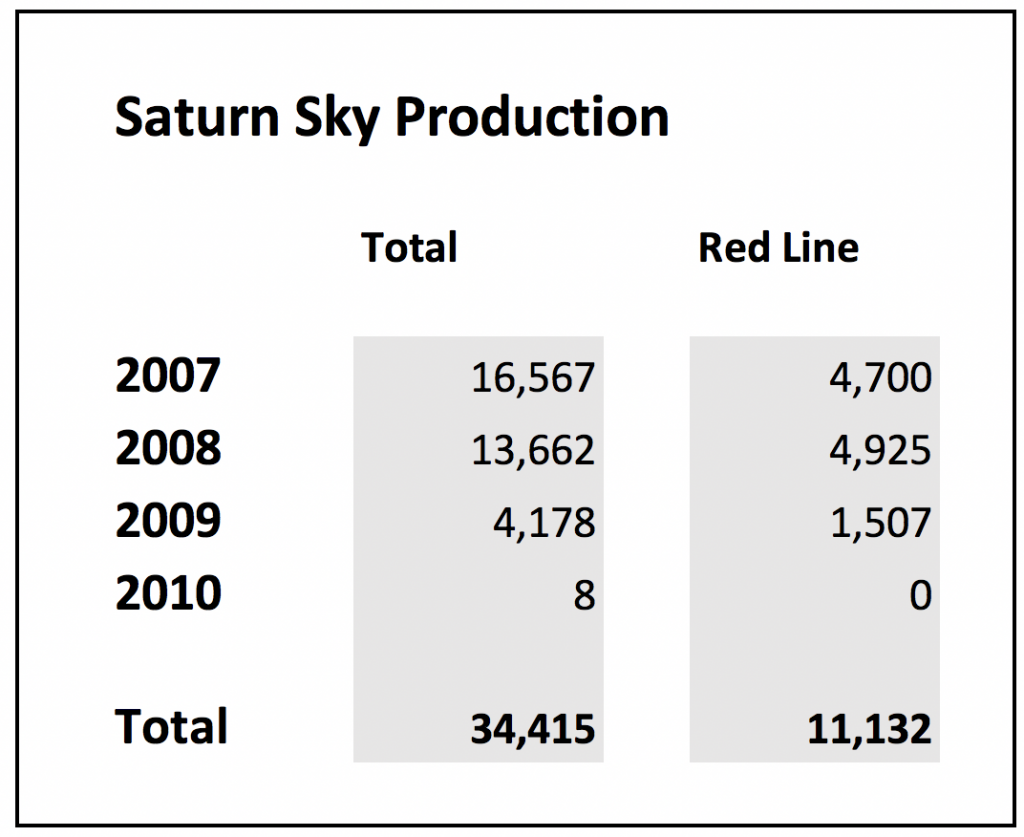 GM's Hummer, Pontiac, Saab, and Saturn nameplates were all mostly ghosts by the 2010 model year. One car that probably deserved a little more mourning time than it got was the Saturn Sky, especially the performance-oriented Saturn Sky Red Line.
The Sky was a mechanical twin to the Pontiac Solstice, though it enjoyed unique bodywork and cabin appointments. Both of these two-seat convertible sports cars were built on GM's purpose-built Kappa rear-drive small-car architecture, which also underpinned the European-market Opel GT and Asian-market Daewoo G2X. Both the GT and G2X were virtual clones of the Sky, save for grille inserts and minor fascia-trim tweaks.
An analog for the sporty Pontiac Solstice GXP, the Sky Red Line swapped its mild 2.4-liter 4-cylinder (GM code LE5) for a turbocharged 2.0-liter four (LNF) that was good for 260 horsepower—a solid 87-horse bump over the 2.4.
The Red Line also boasted unique—though not larger—wheels than the base Sky, as well as a sport suspension and unique trim elements. It is the Red Line that car collectors of the future will be seeking out.
Of the 34,407 Skys built between 2007 and 2009, just 11,132 were Red Lines. Of course, there are 8 Skys that were built in 2010, though none of those are reported to be Red Lines.
Presented here is Consumer Guide's original review of the 2009 Saturn Sky.
2009 Saturn Sky Red Line Review
Overview
The 2009 Saturn Sky lineup gains a new trim level. This two-seat convertible shares its basic design with the Pontiac Solstice, but differs in styling, features, and price. Like Solstice, Sky has rear-wheel drive, 4-cylinder engines, and a manual-folding soft top with a heated-glass rear window. The top folds into the trunk. The base Sky has a 173-hp 2.4-liter engine. The high-performance Red Line has a turbocharged 260-hp 2.0-liter engine. Both offer 5-speed manual transmission and an optional 5-speed automatic. Red Line has specific suspension tuning. Available safety features include ABS, an antiskid system, and traction control. No side airbags are offered. Both models come with air conditioning, cruise control, and power windows and locks. Newly available on the 2009 Sky is the Ruby Red model, which has leather upholstery and specific interior and exterior trim.
One and Out: The 2008 Saturn Astra
Acceleration
The base engine is slow to rev and has little power reserve for quick highway passing. Still, its performance supports GM's 0-60-mph claim of about 7.2 seconds with either transmission. Turbocharged Red Lines are punchy at any speed, though with notable turbo lag. GM says the Red Line does 0-60 in 5.5 seconds or less, which seems credible. The automatic transmission has no real penalty vs. the manual, which some testers say has notchy shift action.
Fuel Economy
In Consumer Guide testing, base Sky and Solstice models with manual transmission averaged 20.8 mpg in mixed driving, 23.0-25.2 in mostly highway driving. Test manual-transmission Red Line averaged 20.1 mpg in mostly city driving. Premium-grade gas is recommended for both engines.
Handling
Predictably agile and balanced with little cornering lean, good smooth-surface grip, and great steering feel and response. Fine straightline stability and crosswind resistance too. Red Line/GXP can hop and skip over large bumps but quickly regain composure.
Ride Comfort
Sky's suspension is slightly softer than Solstice's, but differences are hard to detect. The ride is supple enough for sports cars, but turns jiggly and thumpy on wrinkled pavement at highway speeds. The sport suspension used on Red Line and Solstice GXP is tauter, so impact harshness is more noticeable.
Quietness
The engines are buzzy or boomy depending on rpm and are loud enough to mask most tire noise. Several test Skys and Solstices had ill-fitting tops that allowed annoying wind rush even at moderate speeds. Top-down wind buffeting is tolerable up to 75 mph with the windows raised.
Controls
The gauges are set in deep tunnels and can be hard to read even by day. Most controls are simple and well marked but can be hard to reach in the tight confines of the cabin, particularly the ill-placed cupholders.
Details
Sky's brightwork and piano-black finishes look upscale vs. the Solstice's cockpit. Like the Solstice, however, the cabin is awash in cheap-looking hard plastic. Several test models suffered from numerous interior squeaks and rattles.
One and Out: The 2009 Pontiac G3
Comfort
Tighter for six-footers here than in the Mazda MX-5, but there's OK leg space and good top-up headroom. Low seats won't suit some shorter drivers–and impede entry and exit for all. Seats have good lateral and lower-back support, but the padding feels skimpy. Double-hump rear deck hinders vision astern for shorter drivers, but top-up rear visibility is better than in most convertibles. The top requires standing outside the car to manipulate its folding mechanism, rear-roof pegs, and trunklid–hardly convenient.
Cargo Room
The top folds into the trunk after lifting the rear-hinged lid and leaves oddly shaped space for only smaller items like briefcases. Top-up space is sufficient for one large golf bag or two small ones. Cockpit storage is meager, even for a sports car.
Value
Like its Solstice sibling, Sky offers affordable sports-car fun, but feels unfinished. The base model rivals Mazda's MX-5 for performance, handling, and style, but not for practicality and overall polish. The punchy Red Line compares more with Honda's S2000 on price and performance, but has the same drawbacks. For now, Saturn (Pontiac, too) gets an A for effort, C for execution.
Listen to the Consumer Guide Car Stuff Podcast
Saturn Sky Red Line Gallery
(Click below for enlarged images)
Saturn Sky Red Line
Custom Roof Rails: The Bizarre Saturn Ion Feature that Time Forgot