At a Volvo press-event dinner many years ago, I chanced into a conversation with one of the brand's product-planning executives. We chatted pleasantly on the topic of wagons, and of the American market's declining interesting in the body type.
I noted during our chat that Volvo didn't make available in the U.S. a manual-transmission AWD wagon, something I'd seriously consider purchasing. "Great," he responded, "We'll sell one to you, and one to Csaba Csere—that's two."
One and Out: The 2009 Pontiac Solstice Coupe
For folks who don't know, Mr. Csere is an auto-writing legend best known for his work at Car and Driver. And, apparently, like so many auto scribes, Csere is given to advocating for products that he'd like to see in production, but will likely become dealership dust collectors.
And so it was with the Acura TSX Sport Wagon. A long-roof version of the well-regarded TSX sedan, the wagon should have been a hit with young, upscale shoppers…should have been.
Like the TSX, the Sport Wagon was actually a retrimmed "Accord R," a European- and Japanese-market sedan and wagon that falls between the U.S.-market Honda Accord and Civic in size. Transforming the Accord R Wagon into an Acura didn't require too much work for Honda, as most of the trim bits required were already being used on the TSX sedan.
One and Out: The 2008 Saturn Astra
The Sport Wagon joined the TSX lineup in Acura dealerships for the 2011 model year and immediately disappointed brand fans. Unlike the sedan, the wagon was not available with either the available V6 engine or a manual transmission. Instead, all wagons were built with the standard TSX 2.4-liter four mated to a 5-speed automatic transmission.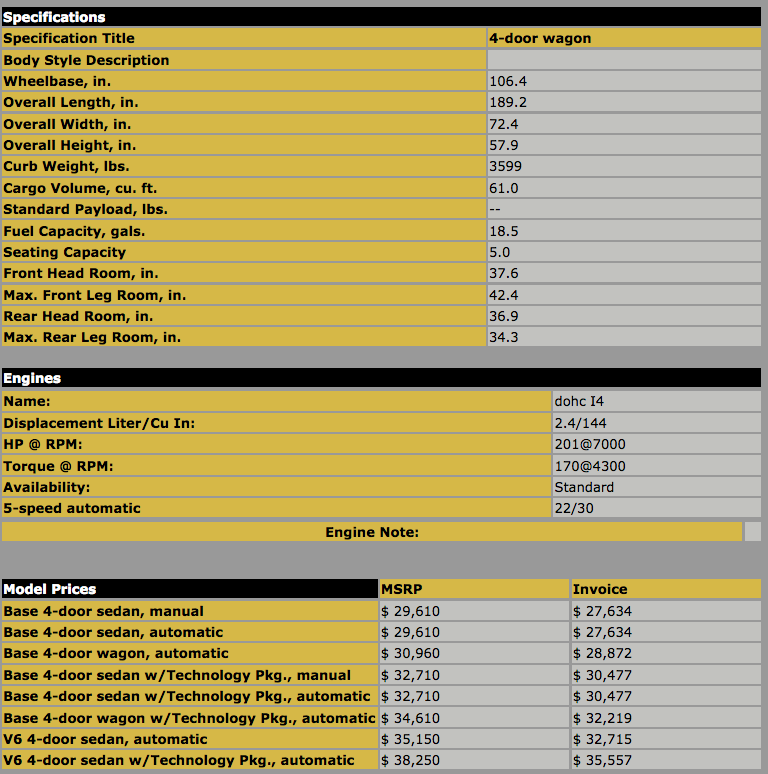 Not that this combination wasn't lively. Consumer Guide® noted in 2011, "The Sport Wagon has surprisingly good low- and mid-range punch given an engine that produces its maximum horsepower at a rather lofty 7,000 rpm. The standard automatic transmission is smooth and works well with the peaky engine."
But shoppers weren't having any of it. First-year Sport Wagon sales of about 3000 units accounted for less than 10 percent of total TSX sales.
Sales picked up somewhat for 2012, when customers laid down money for roughly 4000 of the wagons. Then sales slipped to under 2000 units for 2013, the last year of the TSX run.
As the wagon was priced only $1300-1900 more than that sedan, it seems unlikely that cost was holding shoppers back.
Acura replaced the TSX with the Civic-based ILX for 2014, and made it available only in sedan form.
The simplest lesson we take from the TSX Sport Wagon saga is that enthusiasts—and auto journalists—will clamor for things that the general public, and even they themselves, may not likely buy.
Sure, an AWD Chevrolet Spark V6 with programmable drift mode would be cool, but the actual number of such beasts Chevy could sell is likely very, very small.
And, yes, I would love to see a manual-transmission Lexus GS F wagon. Let me know when you talk a Toyota product planner into building a few.
One and Out: The 2009 Hummer H3T