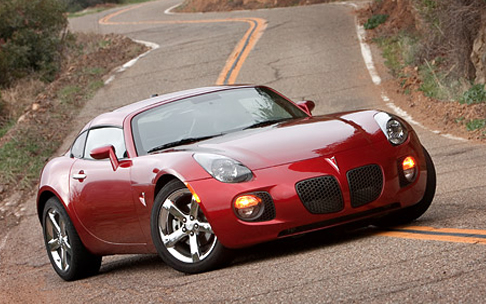 If you were one of the dozen or so people who found themselves inexplicably drawn to Steven Bochco's HBO series "John From Cincinnati," you understand what happened to the Pontiac Solstice Coupe.
Pontiac Solstice Coupe
Not knowing that "John" was about to be capped as a single-season effort, the show's writers introduced new characters very late in show's run. As it turned out, the show's transfixed audience never found out why Howard Hesseman was tossed into the mix with but a single episode left on schedule.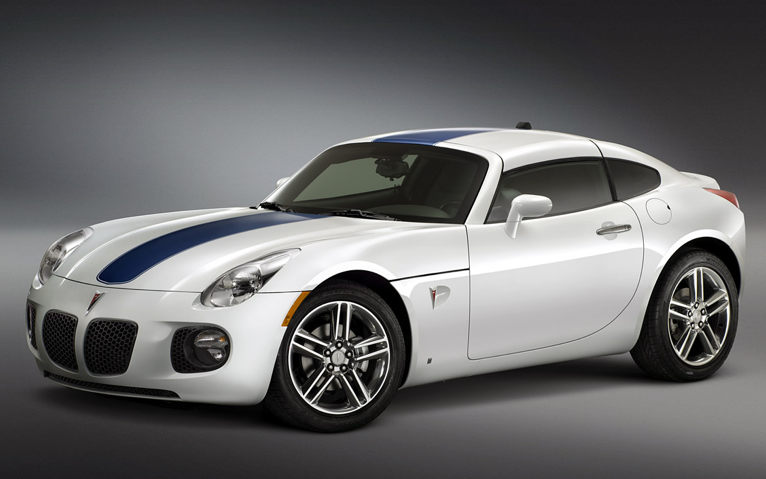 In many ways, the Pontiac Solstice was a lot like Howard Hesseman. By the time a coupe version of the affordable little sports car was in production, Pontiac's future had been called into doubt.
The Solstice and its mechanical cousin, the Saturn Sky, were introduced as convertibles for the 2006 model year. Both received mostly positive reviews for their sporting nature and affordability, though many media outlets–including Consumer Guide–dinged them for their lack of drivetrain and cabin refinement. Per our 2009 review:
"The cabins in both these convertibles are awash in hard plastic that looks extremely cheap. Sky compensates slightly by offering a few glossy, piano black panels. Several Sky and Solstice test cars suffered from poor assembly quality and a variety of squeaks and rattles."
Still, the public embraced the duo, and both sold surprisingly well.
For 2009, a targa-roofed coupe was introduced, though only on the Pontiac side. Unfortunately, the coupe's arrival was obscured by General Motors' tenuous financial position, not to mention the generally dismal economic climate following the 2008 banking crisis.
With new-car loans difficult to obtain and consumer confidence shaken by the meltdown, car sales tumbled in '09, with sales of impractical sporty vehicles being hit especially hard. All told, just 1152 2009 Coupes were built, about 20 percent of total Solstice production.
By the end of the 2009 model year, Pontiac's fate as a soon-to-be discontinued General Motors' sales division had been made public. The Solstice was dropped from future production plans.
Still, a total of 20 Solstices were built for 2010, all of which were used by GM employees instead of being made available for retail sale. Of the 20 Solstices built that year, 12 were coupes, all of which were GXP models.
It's unclear how many 2010 Solstice coupes were eventually resold to the public. However, one GXP in special (and now ironic) Heritage Edition livery, crossed the Barrett-Jackson auction podium in 2011, commanding $55,000.
Of the 2009 Solstice, Consumer Guide summed up its review thusly:
"The base Solstice and its Saturn Sky sibling match Mazda's MX-5 Miata for performance, handling, and style, but not for practicality or powertrain polish. The turbocharged Solstice GXP and Sky Red Line are notably faster but suffer the same drawbacks as the base versions. Still, Solstice and Sky are affordable, fun-to-drive American sports cars–even if they don't always impress for refinement, decor, or design detail."
See also:
One and Out: The 2008 Saturn Astra
One and Out: The 2009 Hummer H3T