Dealing with legacy product is probably one of the most challenging parts of an automaker product planner's job. What does a brand do with aging, unhip product that still sells relatively well, but compromises a marque's image with the younger buyers that marketers so desperately want to attract?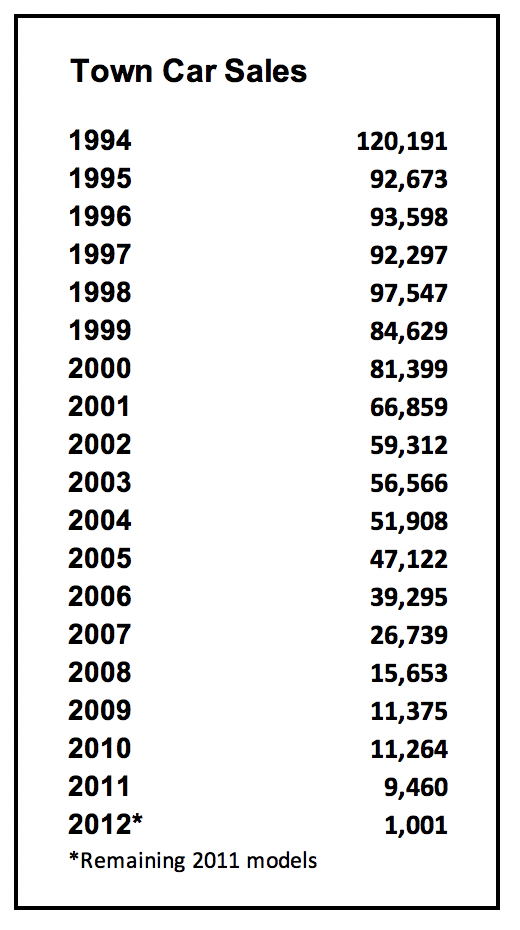 In some industries, new marketing channels are developed to help retail viable older technology. Folks familiar with Consumer Cellular know that the company specifically targets senior citizens with its advertising, and offers old-school flip phones and "simple" smartphone options as part of its plans.
Ford Motor Company's Lincoln division, however, was not in a position to develop a new marketing channel when it came time to redesign its aged-but-still-popular Town Car. The big sedan's aging buyer base was unlikely to respond well to any sort of rebranding, and with sales likely to taper off in the not-too-distant future, Ford wasn't willing to foot the bill for any sort of expensive new sales channel.
Instead, Lincoln designers put together the most modern-looking Town Car they could that would not alienate the model's traditional buyers. By most accounts, the new Town Car did an excellent job of appealing to is older buyer base without looking out of place in what Lincoln wanted to be a modern showroom.
Coincidentally, the last generation of the Town Car arrived for the 1998 model year, the same year another of Lincoln's legacy products, the Mark VIII, was phased out. For the record, the huge American luxury sedan outlasted the large American luxury coupe, at least at Lincoln.
Surprisingly sleek and aerodynamic looking, the 1998 Town Car was 215 inches long overall–about three inches shorter than its predecessor. The Town Car remained on Ford's Panther body-on-frame platform, sharing its architecture and drivetrain components with the more common Ford Crown Victoria and Mercury Grand Marquis. The most interesting element of the new Town Car's design may have been its rakish roofline. One wonders if the roof was contoured intentionally in a manner to discourage the application of aftermarket vinyl tops.
The redesigned model sold well initially, but demand quickly trended downward. In only its second model year on the market, production fell at least 10 percent, and some year-to-year drops approached 20 percent.
By the time the Town Car was discontinued after the 2011 model year, most of the car's sales were going to fleet and livery services. Dealers had largely stopped inventorying the vehicle several years early.
Especially rare—and kind of cool—is the Touring Package. This attempt to sport the Town Car up a bit was available between 1998 and 2002; it included a sport suspension, true dual exhaust, a performance rear axle, specific trim elements, and upgraded wheels and tires. Finding a Town Car so equipped amounts to nothing short of a unicorn sighting.
What follows is Consumer Guide's original review of the 2011 Town Car, the big Lincoln's swan-song edition. If you spent time with a Town Car, please tell us about it. The place to leave comments is down below.
2011 Lincoln Town Car
Overview
The 2011 Lincoln Town Car remains the only American-brand premium-large sedan with rear-wheel drive. It comes in Signature Limited and limousine-like Signature L with a 6-inch-longer wheelbase. All use a 239-horsepower 4.6-liter V8 engine that can run on E85 ethanol-blended fuel. The sole transmission is a 4-speed automatic. Available safety features include ABS, traction control, and front-side airbags. Standard features include power-adjustable pedals, dual-zone automatic climate control, and leather upholstery with heated front seats. Signature L models add rear audio and climate controls and heated rear seats. Among the few options are xenon headlamps and polished alloy wheels. Optional on the Signature Limited is a Continental Edition Package, which includes specific interior and exterior trim. Note that most dealers do not stock Town Cars as part of their regular inventory. They must be special ordered for retail delivery.
Acceleration
Town Car trails the Cadillac DTS for overall performance but is quick enough. A Signature L did 0-60 mph in 9.5 seconds in our test. The transmission hesitates to kick down for passing but is otherwise responsive and smooth despite only having four speeds.
Fuel Economy
In Consumer Guide testing, a Signature L averaged 16.0 mpg. Town Car uses regular-grade gas and can also run on E85 ethanol.
Ride Quality
American-luxury traditional. This large sedan has a plush, absorbent feel, yet exhibits decent body control over humps.
Handling
Town Car leans more in turns than any rival. The steering has good accuracy and road feel but is slightly overboosted. The standard traction control tends to kill power at just the wrong moment for maintaining speed on slippery surfaces. Braking is short and stable for a heavyweight, though sudden stops induce some nosedive.
Quietness
The engine is quiet even at full throttle. Tire thrum is noticed only on very coarse pavement. Wind rush rises above 60 mph, but it doesn't intrude.
Controls
The dashboard design is straightforward with simple, handy switchgear.
Singular Stretch: 1979 Phaeton Chrysler New Yorker Limousine
Comfort
Three on the standard bench seat, but the middle rider must straddle the transmission hump. Headroom and outboard legroom are abundant. Power-adjustable pedals are a benefit for shorter drivers. Over-the-shoulder visibility is hampered by thick roof pillars.
Plenty of headroom and legroom, and Signature L's 45.4 inches of legroom is tops in class. But three adults need to squeeze here, too, and the rear bench isn't as sofa-comfortable as it looks.
Cargo Room
Most trunk space is concentrated in a deep center well, so shifting heavy objects is a strain. The spare tire stows vertically inside the right rear fender. The optional removable cargo bin contains a lid and partitions, making it rather handy.
Cheap Wheels: 1987-1988 Cadillac Fleetwood Sixty Special
Value
Town Car blends old-school American luxury, space, and isolation with surprisingly good road manners, all things considered. Most rivals offer much newer designs with better overall performance and handling, but this elderly Lincoln still makes sense to some buyers.
Nicely Suited: The Designer Series Lincoln Mark V Models of 1977