Last year, Chevrolet and Mattel teamed up for a wild-green Camaro Hot Wheels  concept car. The idea was to take a full-size Camaro and make it look like one of Mattel's Hot Wheels toy cars. You know, the little cars you can buy on a blister card at the local MegaLoMart.
2013 Chevrolet Camaro Hot Wheels Edition
It debuted at the 2011 SEMA (Specialty Equipment Market Association) Show in Las Vegas. Now at the 2012 SEMA Show, Chevrolet is introducing a production version of the car, the 2013 Camaro Hot Wheels Edition. It's scheduled to go on sale during the first quarter of 2013.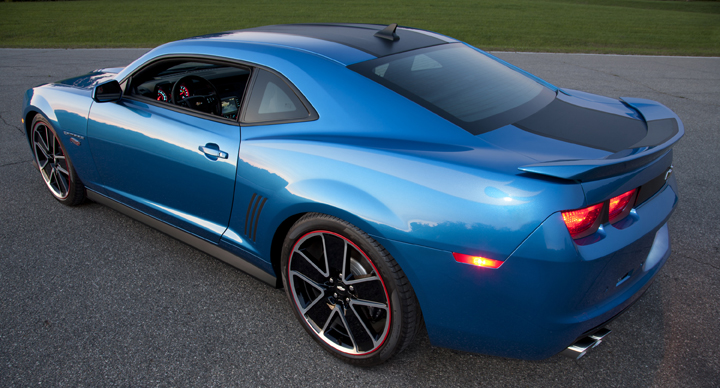 The new Camaro variant is available in coupe and convertible versions, each in V6-powered 2LT and V8-powered 2SS trim levels. The only color is Kinetic Blue, and all will have unique exterior graphics.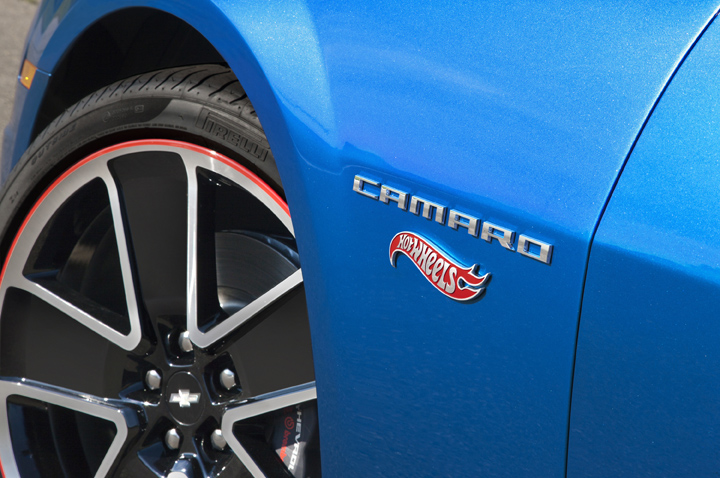 Other exterior styling touches include a ZL1-style upper grille, a ground effects package, black 21-inch wheels with red stripe outlines, a two-tone matte hood/roof/trunk stripe, a blackout taillight panel, rear-fender flame graphics, and Hot Wheels logos. Coupes will also wear a ZL1-style rear spoiler. Inside, the black-leather interior gets more Hot Wheels logos and Hot Wheels Edition sill plates.
The Hot Wheels Edition package will be $6,995 on top of the Camaro. You weren't expecting it to cost 97 cents, were you? No word on how many will be produced.
From the pictures, this looks like a well-thought-out special-appearance package. The highlight for me is the red accent striping on the wheels, which really gives the impression that the car has redline tires—a classic Hot Wheels styling touch. The blue color isn't as attention-grabbing as the concept's green, but I'm guessing there are plenty of deep-pocketed Hot Wheel collectors who are going to want one of these Camaros.
Upwardly Mobile: Ford Pinto Rallye Pack