Dodge unveiled the 2018 Challenger Demon earlier this month via an hour-long, live-streamed press event that put P.T. Barnum and company to shame. Rock-concert pyrotechnics, Metallica's "Fuel" (an oft-used, hard-rocking tune that might as well be the official theme song for automotive ass-kicking), a full dragstrip-style burnout and launch on the stage, and Vin Diesel were but a few elements of the over-the-top ceremony. The Demon's final unveiling was the culmination of a full three months of hype. The first of 13 official Dodge teaser videos was posted in mid-January, and there were also plenty of clues trickling out in social media about the Demon's co-starring role in The Fate of the Furious, the eighth installment in the cash-cow Fast and Furious movie franchise.
By now, most every car enthusiast knows about the Demon's jaw-dropping, seemingly world-beating numbers—840 horsepower on 100-octane race fuel, 0-60 mph in 2.3 seconds, and a quarter-mile elapsed time of 9.65 seconds when properly equipped. The subsequent salivation among gearheads was palpable, and was followed not long after by some hand wringing and finger wagging over the fact that Dodge is making an 800-plus-horsepower, barely street-legal drag car available to the general public—well, at least the 3300 members of the general public (3000 in the U.S. and 300 in Canada) who are willing and able to foot a sticker price that could very likely top $100K all in.
First Spin: 2018 Dodge Challenger SRT Demon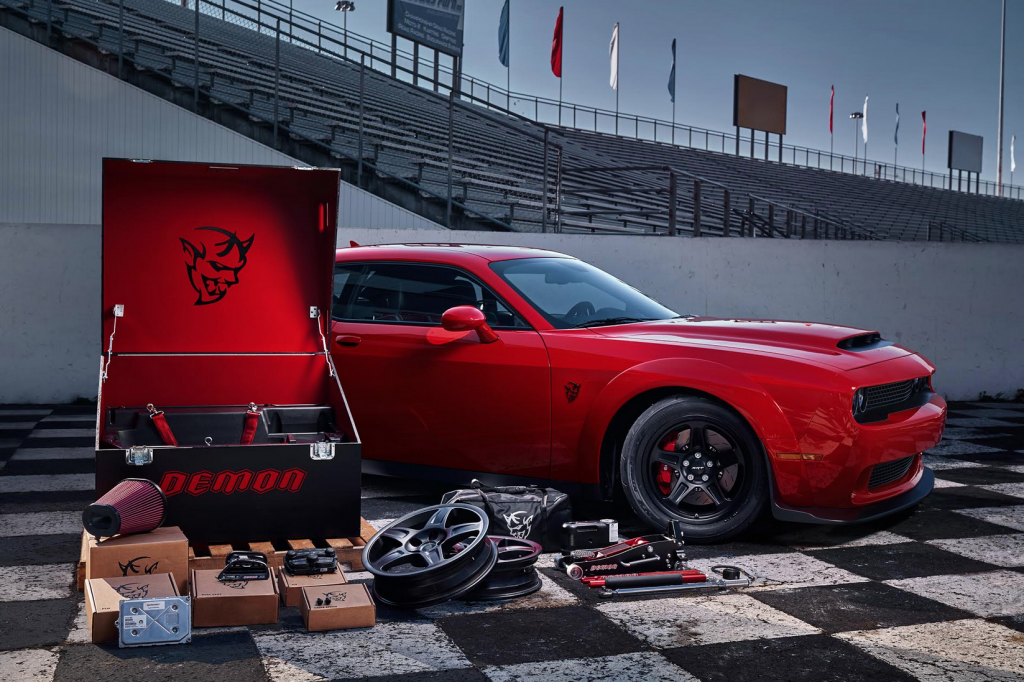 I guess I'm as giddy as any fan boy over the Demon's insane specs and wicked looks, but… is it really that much of an engineering achievement? To achieve the Demon's numbers, it seems to me that Dodge has relied more on audacity than true innovation. Most of the Demon's key features—ultra-wide, ultra-sticky rear tires; vastly increased air flow; a trans brake; a high-stall torque converter; extreme weight-reduction measures; high-octane race gas—are commonplace on the average NHRA Super Stock- or Stock Eliminator-class drag car.
And, Chevrolet and Ford (as well as Dodge itself) have been offering their own limited-run, turn-key drag machines to grassroots racers for at least half a decade or longer. The COPO Camaro and Cobra Jet Mustang programs are well established, and both have been carried over to the latest generations of their respective host pony cars. Granted, the production runs of these dragstrip-only race cars are very small—typically 50 or 70 units every year or two—and they benefit from specialized assembly procedures that are much more involved than a typical production-line car. However, they are also based as much as possible on off-the-shelf production parts—Ford boasts that the latest Cobra Jet engine is comprised of 75 percent production Mustang GT components, and is capable of eight-second quarter-mile times as delivered.
Dodge Charger SRT Hellcat: Reining in 707 Horses
Both Ford and Chevy could easily dip into the same bag of drag-racing tricks that Dodge used and work up similar street-legal, over-the-counter versions of the Cobra Jet and the COPO that could match or top the Demon's specs and stats. But that strikes us as a questionable use of resources when your brand has a full lineup of compact and midsize cars and crossover SUVs—each of which sells more than 100,000 units per year—to attend to. Both Ford and Chevrolet have those robust product rosters, but Dodge is biding time with a small lineup of aging platforms that date back to the DaimlerChrysler era. Sometimes audacity is just desperation in disguise.

FCA Just Killed the 200 and Dart. Is the Dodge Brand Next?