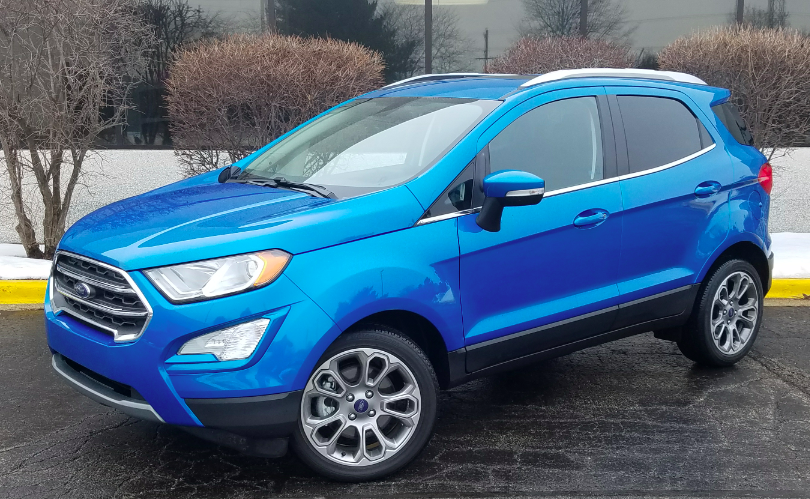 2018 Ford EcoSport Titanium FWD
Class: Subcompact Crossover/SUVs
Miles driven: 224
Fuel used: 9.0 gallons
Real-world fuel economy: 24.9 mpg
Driving mix: 45% city, 55% highway
EPA-estimated fuel economy: 27/29/28 (city, highway, combined)
CG Report Card
Big & Tall comfort ratings are for front seats only. "Big" rating based on male tester weighing approximately 350 pounds, "Tall" rating based on 6'6"-tall male tester.
Room and Comfort
C-
Power and Performance
C-
Fit and Finish
B-
Fuel Economy
B-
Value
C+
Report-card grades are derived from a consensus of test-driver evaluations. All grades are versus other vehicles in the same class. Value grade is for specific trim level evaluated, and may not reflect Consumer Guide's impressions of the entire model lineup.
Big & Tall Comfort
Big Guy
C-
Tall Guy
B
Base price: $25,740 (not including $995 destination charge)
Options on test vehicle: Blue Candy Metallic paint ($395)
Price as tested: $27,310 (note that a $1750 incentive is available in some areas–at least at the time of the EcoSport's launch)
Quick Hits
The great: Compact dimensions, comfortable seating postion

The good: Cargo flexibility
The not so good: Acceleration (with 1.0-liter turbo engine), rear-seat legroom, lacking some commonly available high-tech safety features
More EcoSport price and availability information
Rick Cotta
"Something old, something new, something borrowed, something blue."
Although it's a combination rumored to give a bride good luck on her wedding day, that time-honored saying also happens to describe the 2018 Ford EcoSport that arrived at our doorstep for a week-long test.
While the photo above and the temporary status of our exposure might explain half of that statement, the rest may take some clarification.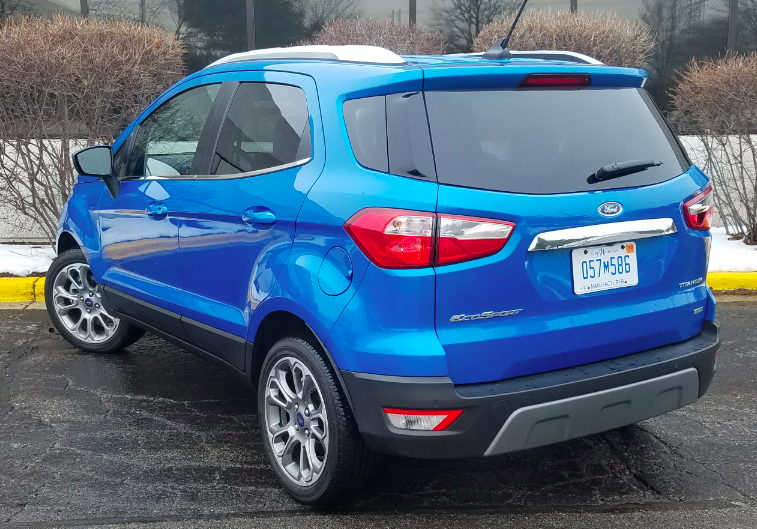 Although the new 2018 EcoSport (pronounced "Echo Sport") — just now going on sale — seems late in arriving to the subcompact-crossover party, it's only late in arriving here; the current vehicle has been on sale in other countries since 2012, and the original version debuted way back in 2003.
EcoSport enters the U.S. market as the most compact of subcompact crossovers. While that title was previously held by the original Mini Countryman, that vehicle grew substantially in its 2017 redesign, and the Nissan Juke that was next in line has been dropped (at least temporarily) for the 2018 model year. And in fact, the EcoSport is fractionally smaller than either of them. At 161.3 inches stem-to-stern, the EcoSport is more than five inches shorter than the runner-up Jeep Renegade, and nearly eight inches shorter than the sales-leading Honda HR-V.
Test Drive: 2018 Mazda CX-3 Grand Touring
Four trim levels of the EcoSport are offered: S, SE, SES, and the tested top-line Titanium. All are available in both front- and all-wheel-drive form except the SES, which comes standard with AWD. Front-drive models come with a 123-horsepower 1.0-liter turbocharged 3-cylinder engine, while AWD models come with a 166-horsepower 2.0-liter four; both are equipped with a stop/start feature and are mated to a 6-speed automatic transmission. Of note is that EcoSport is unique in the subcompact-crossover class in having a side-hinged rear door in place of a conventional top-hinged liftgate.
Standard on the entry-level S are all the expected features–it starts at $20,990 including destination.
The SE starts at $23,900 and adds Sync 3 infotainment system, sunroof, rear obstacle detection, automatic climate control, heated front seats, 6-way power driver seat, and keyless access and starting. Available options include 110-volt AC outlet, blind-spot and rear-cross-traffic alert, navigation system, and heated mirrors/steering wheel/wipers.
The SES comes standard with AWD for $27,735 and adds navigation system, blind-spot and rear-cross-traffic alert, sport suspension, rain-sensing wipers, 110-volt AC outlet, and 4G LTE WiFi hotspot.
Titanium starts at $26,735 and essentially trades the SES's AWD for leather upholstery and a premium audio system.
Note that in some areas there's an introductory $1750 incentive that brings down the bottom-line price.
On all models but the SES (where it's standard), AWD — which includes the 2.0-liter engine — is a $1500 option. Notably absent from the list of available features is forward collision warning and mitigation, lane-departure warning and mitigation, adaptive cruise control, and automatic high beams — most or all of which are now offered on many rivals.

While the EcoSport's small size translates into great maneuverability, it takes its toll on interior room. There's a decent amount of front-seat space, though really tall drivers may be short of both headroom and legroom. On the plus side, however, the driver seat can be raised really high — a boon to shorter folks — and the driver seat on our Titanium, at least, included a knob to adjust lumbar support. In back, headroom should be sufficient for those up to about 5'10", but while legroom is OK behind a normal-size driver, setting a front seat far back essentially eats it all up. At least the high-set seats and decent-size door openings make entry and exit a breeze.
Visibility is a mixed bag. It's very restricted to the front corners due to inverted "Y-shaped" roof pillars, decent to the sides, and just fair to the rear, and then only thanks to tiny quarter windows that provide a peephole through very thick pillars. A rearview camera is standard, but it only "sees" in about a 160-degree arc. Although the sun visors extend when swung to the sides, they still leave five inches of the window uncovered. A nice touch is that rear-seat headrests can be flipped down, clearing the view straight back.
Quick Spin: 2017 Chevrolet Trax Premier
The Sync 3 infotainment system standard on all but the base S includes satellite radio and Apple CarPlay/Android Auto functionality. It also boasts an easy-to-reach 8-inch dashtop touchscreen with volume and tuning knobs underlined by a few physical buttons. Other adjustments are made through the screen and are quite easy to figure out. So all good.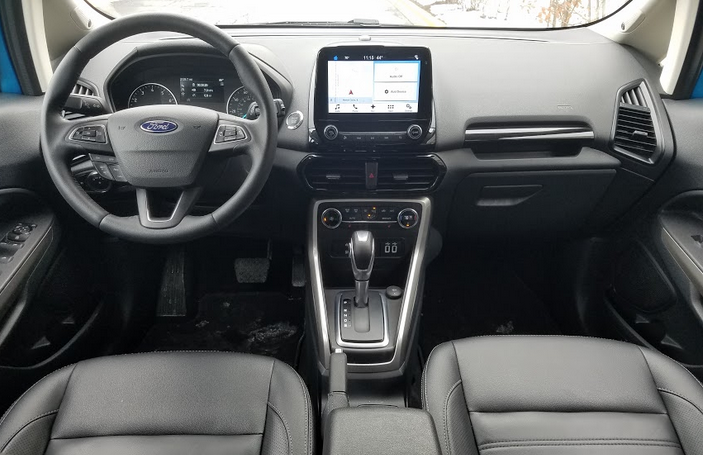 That's not entirely the case with the climate system, however. While the Titanium, at least, has automatic temperature control, some of our testers complained that the physical controls are mounted very low, far out of easy sight or reach. But on the positive side, temperature and fan speed are adjusted with easy-to-use rotary knobs, and mode is selected through three physical buttons, with the unusual ability to activate defrost, dash vents, and floor vents all at the same time.
While there are a fair number of interior storage cubbies, "small" describes almost all of them. There's a small dash tray over a small glovebox, a small 2-tier console box (with no USB or 12-volt plugs inside), a small console bin and two cupholders, a forward console bin next to a 12-volt and two USB plugs, and small map pockets with cupholders in the doors.
Cargo space in back is narrow but versatile. With the rear seat backs up, there's only a relatively small space behind them, and the sides aren't any wider than the door opening, except for small pockets on each side that are about a foot above floor level. But the area is fairly tall and the roofline "square" at the back, and the floor can be set at three levels; the top one leaves it flat with the folded rear seat backs and provides a lot of hidden storage beneath it. The seat backs themselves can be folded part way to rest at an angle, or will lay flatter if you flip up the seat cushion first. Note, however, that the front seats must be adjusted about halfway forward to free up enough space for the rear-seat cushions to be flipped forward. After those rear-seat cushions are flipped forward and the rear seat backs folded down, the front seats can be adjusted rearward again, but you probably won't want to put them all the way back, since the front seat backs will "squash" the flipped-forward rear-seat cushions–and, of course, the front seats will need to be adjusted forward again to flip the rear-seat backs and seat cushions back into place.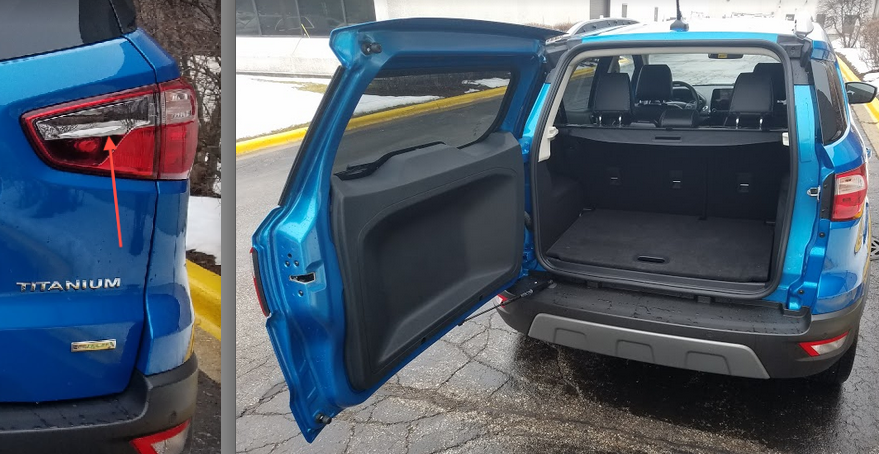 Our jury's still out on whether the EcoSport's unique side-opening cargo door is a good idea or not. While it's probably easier for some people to open than a top-hinged liftgate, it doesn't serve as rain cover while loading groceries, it can't be left ajar while driving so that long items can stick out the back, and it may not be able to open fully if another vehicle is parked close behind.
Ironically, at least in front-drive form, the EcoSport is neither "Eco" nor "Sport." You'd think such a small vehicle with a tiny 1.0-liter engine would at least be the former, but even the EPA figures for it are just 27 mpg city/29 mpg highway/28 combined, with the highway number, at least, being far shy of most rivals. And we averaged just 24.9 mpg in about 55 percent highway driving, though the "city" portion included a number of full-throttle 0-60-mph runs. Which brings up the "Sport" aspect.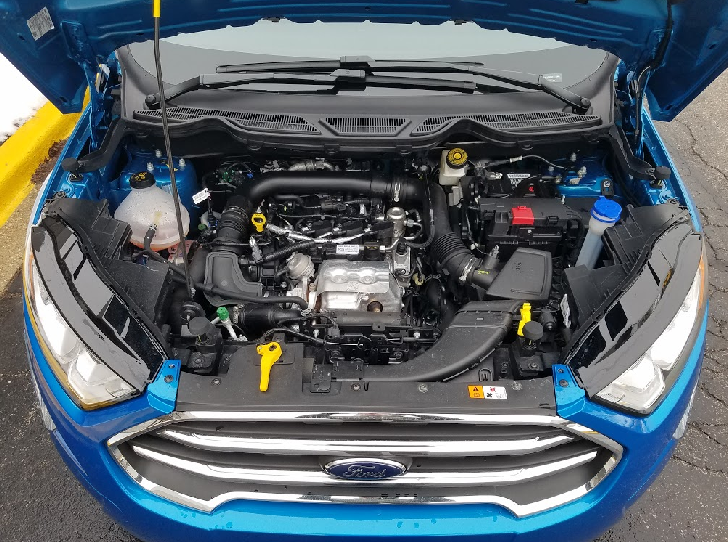 Our tester averaged 10.2 seconds in the 0-60 sprint, making it one of the slowest vehicles in the class. Floor the gas from a stop, and the little turbo provides a surprisingly decent jump off the line, but though speed increases linearly, it doesn't increase very rapidly. Stab the throttle from speed, and the transmission usually kicks down fairly quickly, but again, there's not much oomph there, making highway passing and merging a bit tricky. The shifter includes a Sport mode, and though engaging it keeps the transmission in a lower gear, we didn't notice that it made a big difference in response. Though the AWD/2.0-liter combo is EPA rated at just 23/29/25, we suspect it will at least be somewhat quicker and thus more satisfying. Ford says it also allows for up to 2000 lbs towing capacity, quite high for the class.
EcoSport's short length also means a short wheelbase, and that probably doesn't help ride quality any. Reactions to bumps are somewhat abrupt and hoppy, though the ride is fine on smoother roads and on the highway, where wind and road noise are reasonably subdued. Handling is nimble and the turning circle tight, but again, it doesn't quite live up to its "Sport" moniker — though that may be different with the SES's sport suspension.
The fact that the EcoSport has long been available in other countries is no secret here, and while it's also no secret that changes have to be made to bring a vehicle up to U.S. specs, it's still surprising it's taken Ford this long to do it. But the subcompact-crossover segment has only recently exploded in popularity, so maybe that explains it.
What the EcoSport has going for it is its small, "parkable" size, and great cargo space considering those trim dimensions. Being able to get AWD with the stronger 2.0-liter engine for just $1500 only adds to the appeal. Yet this "cute ute" is not without some drawbacks — particularly in front-drive form — and it's surprising that more high-tech safety features aren't offered.
Still, we wish our Candy Blue Titanium wasn't merely on loan.