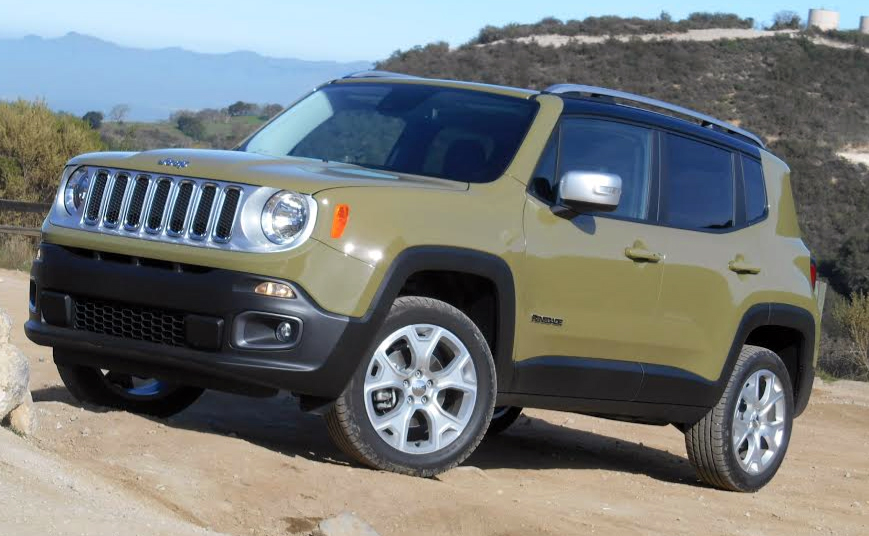 You can't accuse Jeep of ignoring its legacy.
While other automakers seem to continually pull new model names (or letters) out of thin air, Jeep has recycled some well-worn monikers for its latest models. For instance, "Cherokee" first appeared in the 1970s on a full-size SUV, was adopted for the company's early '80s midsize SUV, and then was dusted off for a new compact SUV introduced last year. Now another blast from Jeep's storied past has been revived for the company's newest entry, which joins the rapidly expanding "mini-SUV" segment.
So if "Renegade" sounds familiar, there's a reason. Jeep has previously used the name to designate special trim levels of the CJ, Wrangler, and most recently, Liberty. It then sat dormant until being elevated to proper model-name status for this latest Jeep, which is built on a new "small wide 4×4" platform that will also host the upcoming Fiat 500X.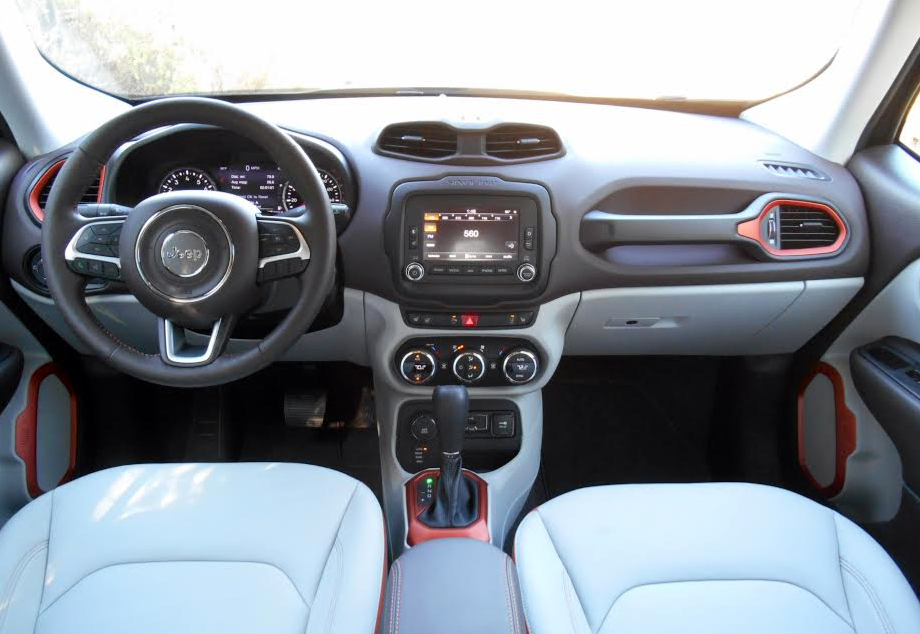 But it's doubtful anyone who sees or drives a Renegade will ever detect its relationship to the 500X—even though both are built on the same production line in Italy—as Jeep has gone to great lengths to make it … well … a Jeep.
First, there's the look. Renegade carries several traditional Jeep styling cues, including a 7-slot grille and round headlights. It also has rugged-looking, squared-off contours where the 500X will be more rounded. Ground clearance is higher, and the front and rear overhangs are minimal to increase the approach and departure angles. Jeep claims the body is torsionally stiffer with the goal of providing the stronger structure needed for severe off-road work.
Test Drive: Jeep Cherokee Limited
Suspensions are also different, with the Jeep's predictably aimed at off-road capability. Ditto for some other features, such as available tow hooks, underbody skid plates, lower axle gearing, and hill-descent control.
However, this off-road focus does not come without its tradeoffs.
First, the need for a stiffer structure may be what's behind the Renegade's unusually thick roof pillars, which don't do much for visibility. More on this later.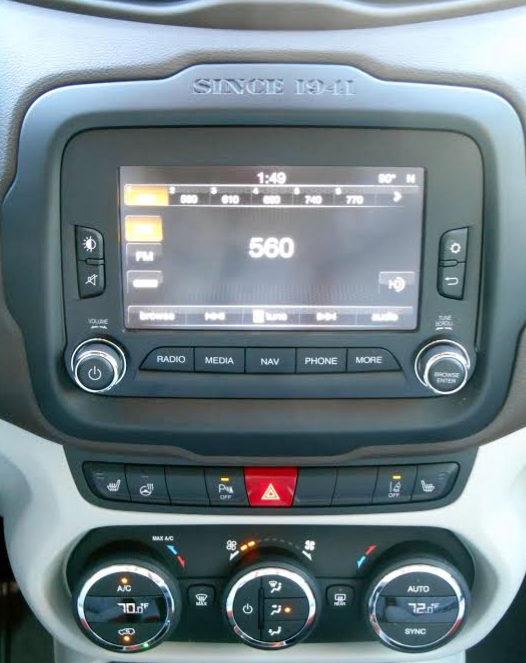 And then there's the suspension. While there's a good amount of wheel travel and bigger bumps were soaked up with little fanfare—exactly what you want for off-road work—there's a subtle but noticeable high-frequency jiggling at highway speeds on roads that appear fairly smooth. Countering this is that the Renegade proved surprisingly agile and even "sporty" on some tight twisties found on our test route, which is probably why we were on those roads in the first place.
When it goes on sale in late February or early March, the Renegade will be offered in four trim levels with two powertrains in either front-wheel drive or 4-wheel drive form.
The standard powertrain is a 160-horsepower, 1.4-liter turbocharged 4-cylinder engine mated to a 6-speed manual transmission. It is offered with both front- and 4-wheel drive, but not an automatic transmission. Also available is a 180-horsepower 2.4-liter four paired only with a 9-speed automatic transmission, also offered with front- or 4-wheel drive.
The base front-drive Sport, which comes standard with the 1.4-liter turbo and manual transmission—but not air conditioning—starts at $18,990 including destination, and offers a limited palette of options. Next up is the Latitude, which comes with the same powertrain but offers more standard and optional features for its $22,290 starting price. On both, the 2.4-liter four with automatic transmission is optional, while it's the standard (and only) powertrain on the leather-trimmed Limited ($25,790) and off-road focused Trailhawk ($26,990). The Trailhawk carries Jeep's "Trail Rated" seal of approval, being fitted as it is with standard tow hooks, underbody skid plates, a lower final-drive ratio, and higher ground clearance. And indeed, it proved itself on some rather rugged off-road trails during the press preview. Furthermore, Trailhawk comes standard with 4WD, while all others come standard with front-wheel drive, offering 4WD as a $2000 option. It's worth noting that the availability on the Sport and Latitude of a manual transmission with 4WD—a combination often preferred by off-roaders—is rare for the segment.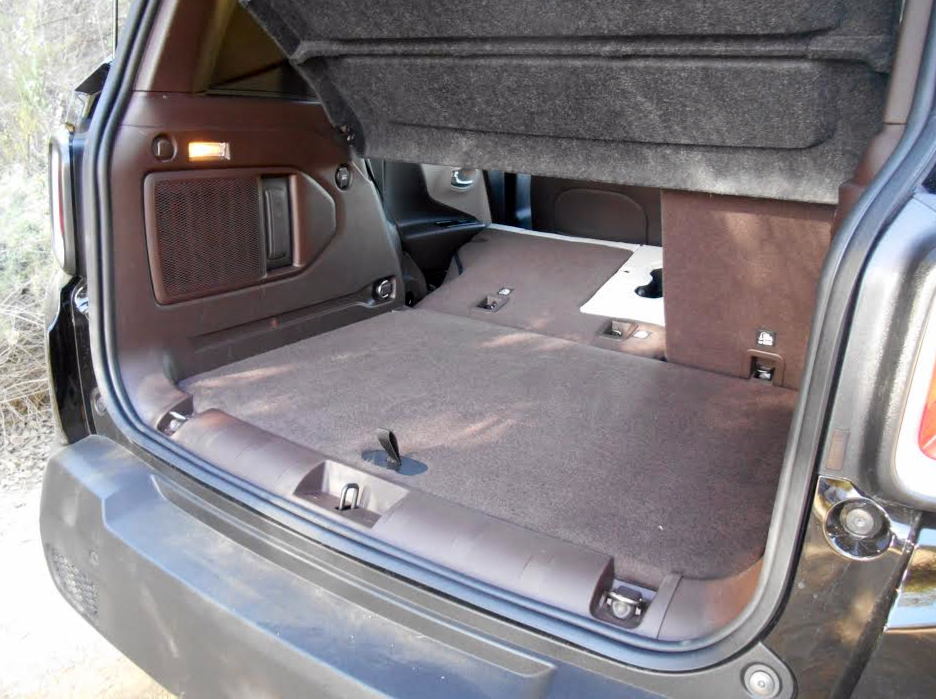 We had the opportunity to test both powertrain combinations. The 2.4 with automatic—likely the most popular choice—proved a mixed bag. It provided a good full-throttle jump from a stop and decent (though hardly "brisk") acceleration, but when we hit the throttle at speed, the transmission would usually take its sweet time before downshifting. We've noticed the same problem with this transmission in other Chrysler-family vehicles, so it was more disappointing than surprising.
By contrast, the little turbo four with manual worked fairly well. There's not a bunch of power on hand, but acceleration is lively enough, and the manual transmission boasts a smooth shifter and light, easily modulated clutch.
The Renegade's tiny turbocharged engine and 9-speed automatic are both nods to fuel economy. While official EPA figures had not been set at the time of this writing, Jeep estimated that both powertrains would be rated at 30 mpg or better in highway driving. Supporting this is that after covering nearly 100 miles of about 75 percent highway driving, the trip computer on our test turbo/manual Renegade read 28.9 mpg.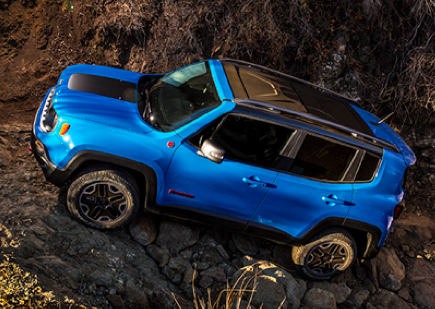 Renegade offers some "surprise and delight" features along with some that are unusual for the class. In the former category are what Jeep terms "Easter Eggs"; little design flourishes that play off the company's heritage, including embossing that reads "Since 1941" (Jeep's inaugural year) on the audio-system surround, and a 7-bar grille and round headlights engraved on the door's speaker housing.
On a more functional note, the Renegade will offer some upscale (and in some cases, first in class) safety features. These include blind-spot monitoring, rear-obstacle detection, rear cross-path detection, rearview camera with dynamic grid lines, forward collision warning, and lane-departure warning. Due later in the year is Uconnect Access, which includes a direct connection to 911 services, along with operator assistance and the ability to announce, read, and send voice text messages.
Other features offered include heated mirrors, heated front seats, heated steering wheel, driver-seat power lumbar adjustment, 115-volt power outlet, a navigation system, and My Sky dual removable sunroofs, the forward one being available with a power-sliding feature.
Photo Feature: 1968 Jeep Jeepster Convertible
The following notes are based on a Latitude we tested; some items mentioned may have been optional (these were pre-production models and thus didn't come with a window sticker), and some may not be available on the base Sport.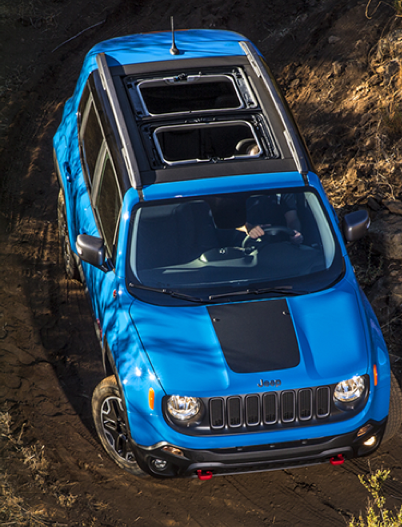 There's plenty of front and rear headroom, even with the optional My Sky sunroofs. The front seat can be moved far back to accommodate tall drivers, but doing so reduces rear legroom behind it from adequate for adults to skimpy even for kids. There's not a high step-in, so getting in and out is quite easy, even through the rear doors.
The dashboard is padded, as are all armrests, but not the door tops. While black is the predominant color, two-tone treatments are available, and some models offer brightly colored (such as red and gold) trim pieces. Audio controls are mounted high, within easy reach, and are easier to use than most. Climate controls consist of three rotary knobs—which is nice—but they're mounted low and recessed slightly, requiring a long look from the road to adjust.
As mentioned previously, visibility is a sore point. All roof pillars are thicker than the norm, with the worst areas in terms of blocked vision being the right front and right rear corners. It's not good to the sides, either, but large outside mirrors help in that regard. When flipped to the side, the sun visors both extend and have an extending panel, the combination doing a good job of covering the side windows. Removing the optional My Sky lift-out roof panels requires unlatching them from the inside and lifting them off from the outside, but they're surprisingly light and can be stored beneath the cargo floor in back. (Optionally, the front one can be powered back, just like a normal sunroof.) However, the leading edge of the opening is a good 16 inches behind the windshield, meaning shorter folks can't see sky unless they look up.
5 Most-Powerful Crossovers Under $30,000
Cabin storage consists of a decent-size glovebox, forward console tray with Aux/USB/12-volt plugs, two open cupholders, a small console armrest with USB plug, and tiny map pockets in the doors. The cargo area in back is quite narrow but fairly large overall, and some models, at least, include an adjustable-height floor panel. Depending on whether or not there's a spare tire beneath (standard is a tire-inflator kit, while both a temporary spare and a full-size one are available), there's either lots of underfloor storage or just corner pockets. Rear seat backs fold to a level that's just a bit below the cargo floor's highest setting and about 2 inches above its lower setting. Standard on all but the Sport is a forward-folding front-passenger seat back, which allows a lengthy channel for long items.
Renegade joins a class of vehicles that is small (in both physical size and number of entries), but rapidly expanding. Its first members were the Mini Countryman, Mitsubishi Outlander Sport, and Nissan Juke, the last of which many—including Consumer Guide—class as a "sporty performance car," though it meets the tall wagon/available all-wheel drive requirements of a small SUV. During 2015, that class is due to more than double in size, with newcomers to include the Chevrolet Trax, aforementioned Fiat 500X, Honda HR-V, Mazda CX-3, and the Jeep Renegade.
Among these, however, the Renegade is the only one capable of anything close to severe off-road use, all the others primarily being all-weather on-road vehicles. That sets the Renegade apart, but also means it might not be the best choice if an "all-weather runabout" better fits your needs.
But that's the price Jeep is seemingly willing to pay to follow its battle-forged legacy.