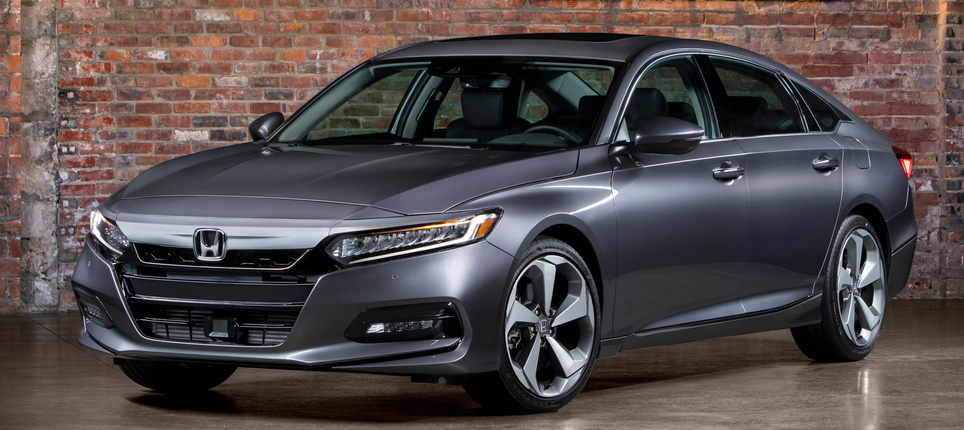 When it goes on sale late this year, the redesigned 2018 Honda Accord may well represent the model's most radical redo in its storied 40-year history.
2018 Honda Accord Reveal
Through nine generations, the Accord has often sat at the top of the midsize-sedan sales charts, racking up a host of accolades along the way. So it seems a bit risky to make wholesale changes to a winning formula, but Honda has chosen to do just that, fitting the 10th-generation Accord with racier proportions, a host of new features, and three new engines. Yet it will also suffer some losses.
Although a bit shorter in overall length, the Accord's wheelbase has been stretched by two inches, resulting in less "overhang." Combined with a windshield set back farther than before, it blesses the Accord with nearly rear-wheel-drive (read "BMW-like") proportions, affording it a sportier look — something that's amplified by a fastback profile and deeper bodyside creases.
Most notable among newly standard features are Apple CarPlay/Android Auto functionality, along with the previously optional Honda Sensing suite of safety features. While the former is becoming almost expected nowadays, the latter is not; in fact, many cars — even far more expensive ones – only make those items available as an option or on higher-line trim levels. So that's a real selling point. Newly available for 2018 are a 12-way power driver seat with adjustable lumbar support, ventilation (to go along with heat) for the front passenger seat, wireless cell-phone charging, and a head-up display.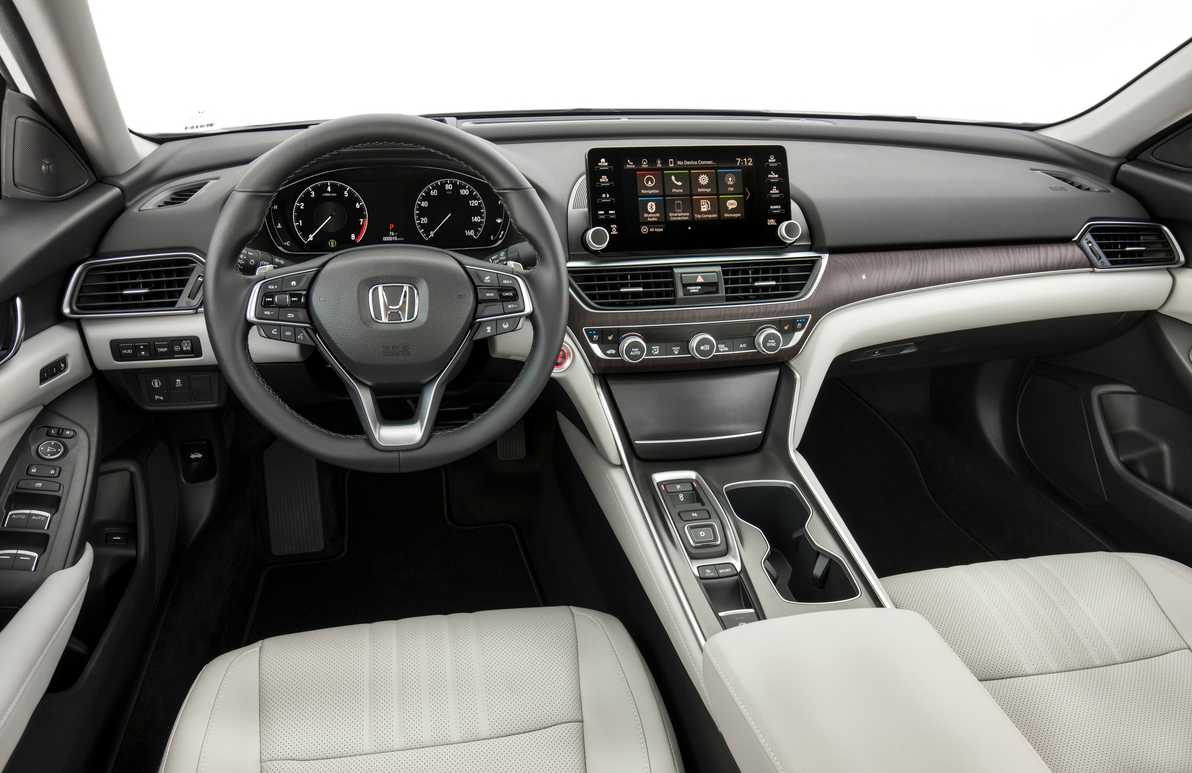 Newly standard on the 2018 Accord is the turbocharged 1.5-liter 4-cylinder engine that's lately been optional in the smaller Civic, here making 192 horsepower and 192 lb. ft. of torque – both up some from figures for the previously standard 2.4-liter four. Newly optional is a 2.0-liter turbocharged four boasting 252 hp and 273 lb. ft. of torque. Both engines can be backed either by a 6-speed manual transmission (a rare offering in the class) or an automatic: the 1.5 with a CVT, the 2.0 with a new "conventional" 10-speed. Returning to the lineup is a Hybrid model, which is powered by a pair of electric motors and a new non-turbo version of the 2.0 specially tuned for increased fuel economy.
Test Drive: 2017 Ford Fusion Sport
But a couple of traditional Accord offerings are not returning. Most obvious is a 2-door coupe bodystyle, which has long been in the Accord lineup. The second is the V6 engine previously offered, a move that's becoming increasingly common in the class. So if you've been yearning for a V6-powered Accord coupe, better get one before they're gone.
It's rare so much is revealed about a new car this far ahead of its debut – especially by Honda, which is typically rather tight-lipped about upcoming models. But seeing as the Accord will be coming to market well after most rivals have introduced their 2018s, perhaps the company wants to get out ahead of the curve.
Or maybe the Accord is so bursting with "newness" that Honda just couldn't keep it in.

Listen to the very entertaining Consumer Guide Car Stuff Podcast
2018 Honda Accord Reveal