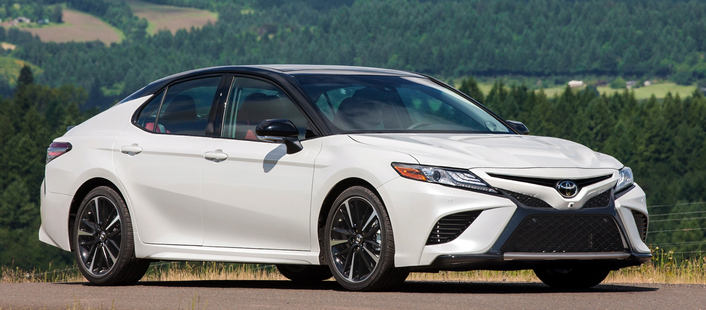 Toyota's Camry has been the best-selling car for most of the past couple of decades, and its 2018 redesign brings it thoroughly up to date with leading class rivals. Yet it probably won't tally the kind of sales numbers it has managed to amass in the past.
That's not due to any failing with the new Camry itself, however. Rather, it's a sociological thing.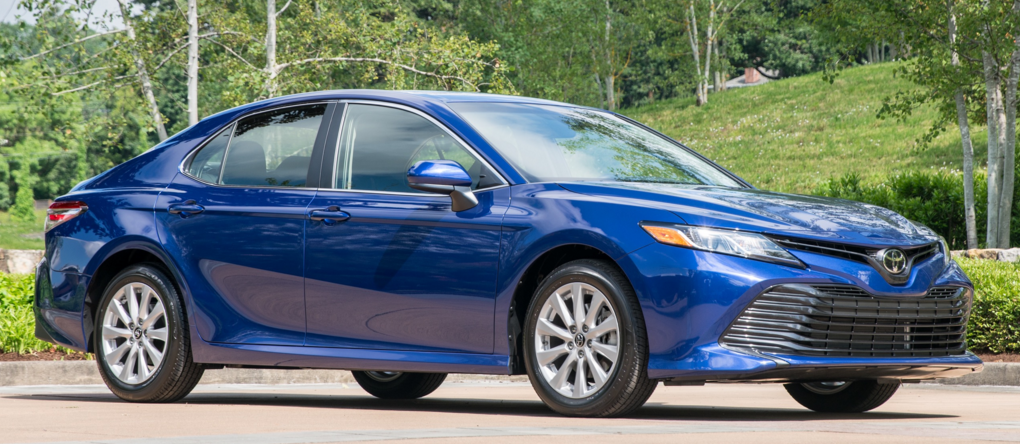 Unless you've just crawled out of a cave, you're probably noticed that crossovers are all the rage nowadays. In fact, compact crossovers surpassed midsize cars as the best-selling segment a couple years back, with many of those sales coming out of midsize-cars' pockets. So the years of Camry selling at its recent 400,000-unit annual pace are probably history.
But many folks still prefer cars, and our preview drive of the 8th-generation Camry — due to go on sale next month — revealed that it's still a stellar vehicle.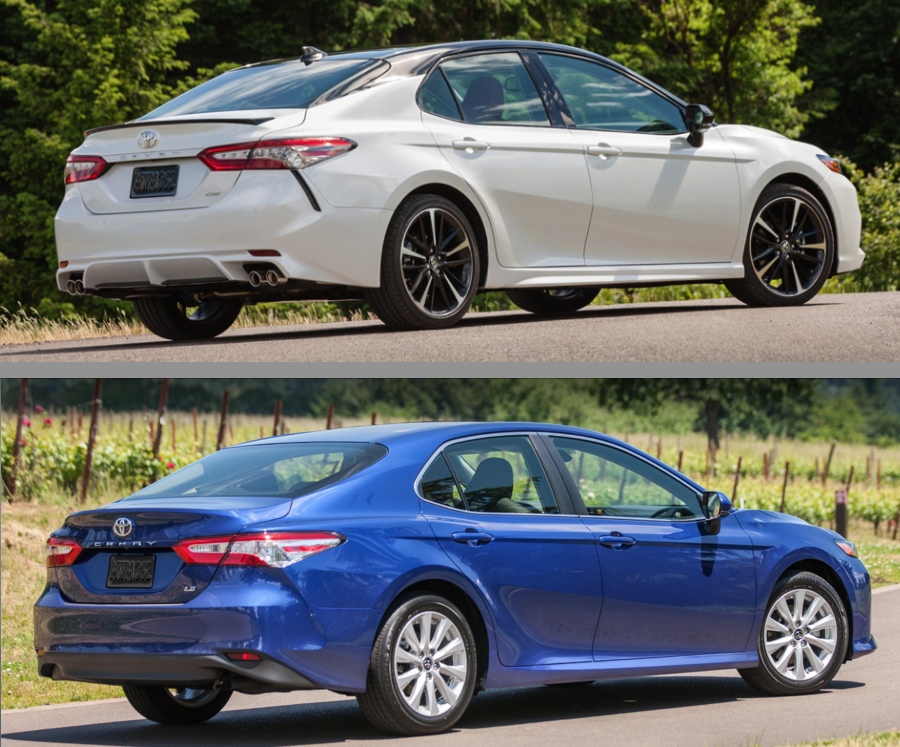 Dimensionally, the 2018 Camry is about an inch longer on a 2-inch-longer wheelbase. Styling is all new, with more creases around the body, the overall goal being a more aggressive presence. Front-end appearance differs between models, with the "standard" L, LE, and XLE versions getting a wide lower grille, while the sportier SE and XSE get a narrower lower grille flanked by black "scoops."
One unusual aspect of the Camry was touched on in the product presentation. While most vehicles are targeted at a fairly narrow audience, Toyota says it's going after buyers "from 16 to 86." And indeed, with three different drivetrains and 10 different trim levels, there seems to be a Camry for just about anyone.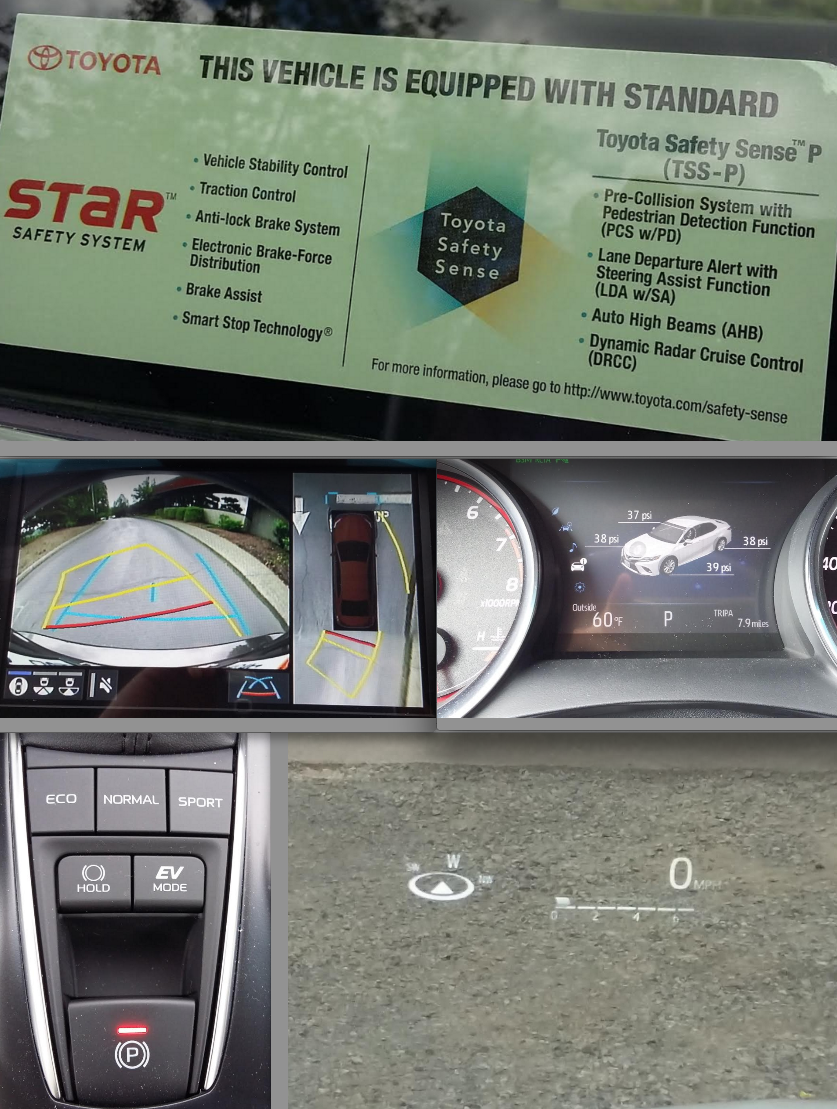 The newly added base L model starts at $24,380 including destination. While that's a bit more than the base LE listed for last year, the L's standard-equipment list is quite impressive. Besides what have now become expected features, it notably adds Toyota Safety Sense–P, a suite of high-tech items that includes forward collision warning and mitigation with pedestrian detection, lane-departure warning and mitigation, automatic high beams, and adaptive cruise control. It also comes with a 7-inch touchscreen, Toyota's Entune 3.0 infotainment system, a rearview camera, and 6-way power front seats – for both driver and passenger – with the driver seat getting power lumbar adjustment. However, unlike the other models, the L lacks a folding rear seat back and offers no options.
Added on the LE ($24,885) are 17-inch alloy wheels to replace the L's 16-inch steel ones, along with an 8-way power driver seat (adding a tiltable cushion), and a 60/40 split rear seat. But the real appeal is that it also makes available a number of desirable options, including a Convenience Package (keyless access and starting, Homelink transmitter, and auto-dimming rearview mirror with compass), Audio Package (Qi wireless charging, 8-inch touchscreen, CD player, and WiFi hotspot), power moonroof, and blind-spot and rear-cross-traffic alert.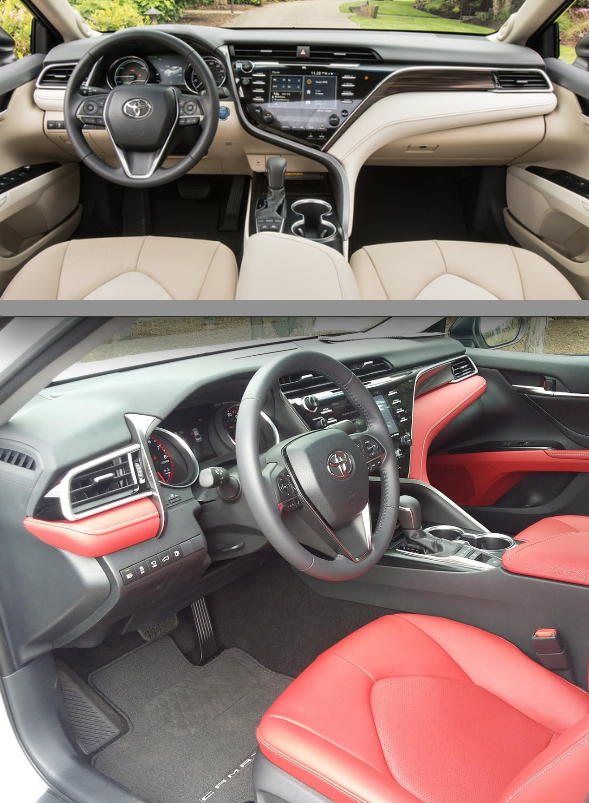 The $26,085 SE is a sport-themed model that gets a distinctive front fascia, 18-inch wheels, chrome dual exhaust tips, and automatic climate control, and offers the same options as the LE.
Above that, the new XSE extends the SE's sports focus, while the XLE is aimed at luxury buyers. Both are available with the 2.5-liter 4-cylinder engine that powers all other models, but exclusively offer versions with a 3.5-liter V6. (More on these engines in a bit.)
XSE ($29,885 for the 4-cylinder, $35,835 for the V6) adds features in the aforementioned Convenience Package plus dual-zone automatic climate control, leather upholstery, heated front seats, 8-way power front passenger seat with lumbar adjustment, Eco/Normal/Sport modes, a head-up display, and brake hold, which allows the driver to remove their foot from the brake with shifting out of Drive– convenient while waiting in long lines (the brake is automatically disengaged when the gas pedal is pressed). V6 versions also add elements of the Audio Package, and exclusively offer twin dual exhaust outlets and optional "overlapping" black roof (the color runs down into the rear roof pillar) and two-tone red interior.
XLE is priced and equipped similarly to the XSE, but without the XSE's "exclusive" features.
Test Drive: 2016 Honda Accord Touring Sedan
Test Drive: 2017 Honda Accord Hybrid Touring
As before, a 2.5-liter 4-cylinder engine is standard, but output increases from 178 horsepower to 203 (206 in the XSE), while EPA fuel-economy ratings jump from 4-8 mpg to 29 city/41 highway on the L model, 28/39 on the LE, SE, XSE, and XLE.. The 3.5-liter V6 likewise gets more power, output jumping from 268 horsepower to 301, and EPA ratings rise slightly to 22/33 (22/32 on XSE). On all gas models, an 8-speed automatic transmission replaces a 6-speed unit.

Hybrids remain in the lineup — offered in LE, SE, and XLE trim levels — and they also get improved power and fuel economy: a combined 208 horsepower (up from 200) and EPA ratings of 51/53 for the LE model, 44/47 for the others (up by 2-11 mpg). The LE model uses a lithium-ion battery pack; the others have a nickel-metal-hydride battery.
Test Drive: 2016 Nissan Altima 2.5 SL
As before, Camry is very roomy inside, though lanky drivers might wish for more headroom. Visibility is very good to the front corners, good to the sides and back corners. Interior materials suit the price, with many padded surfaces and available two-tone color combinations.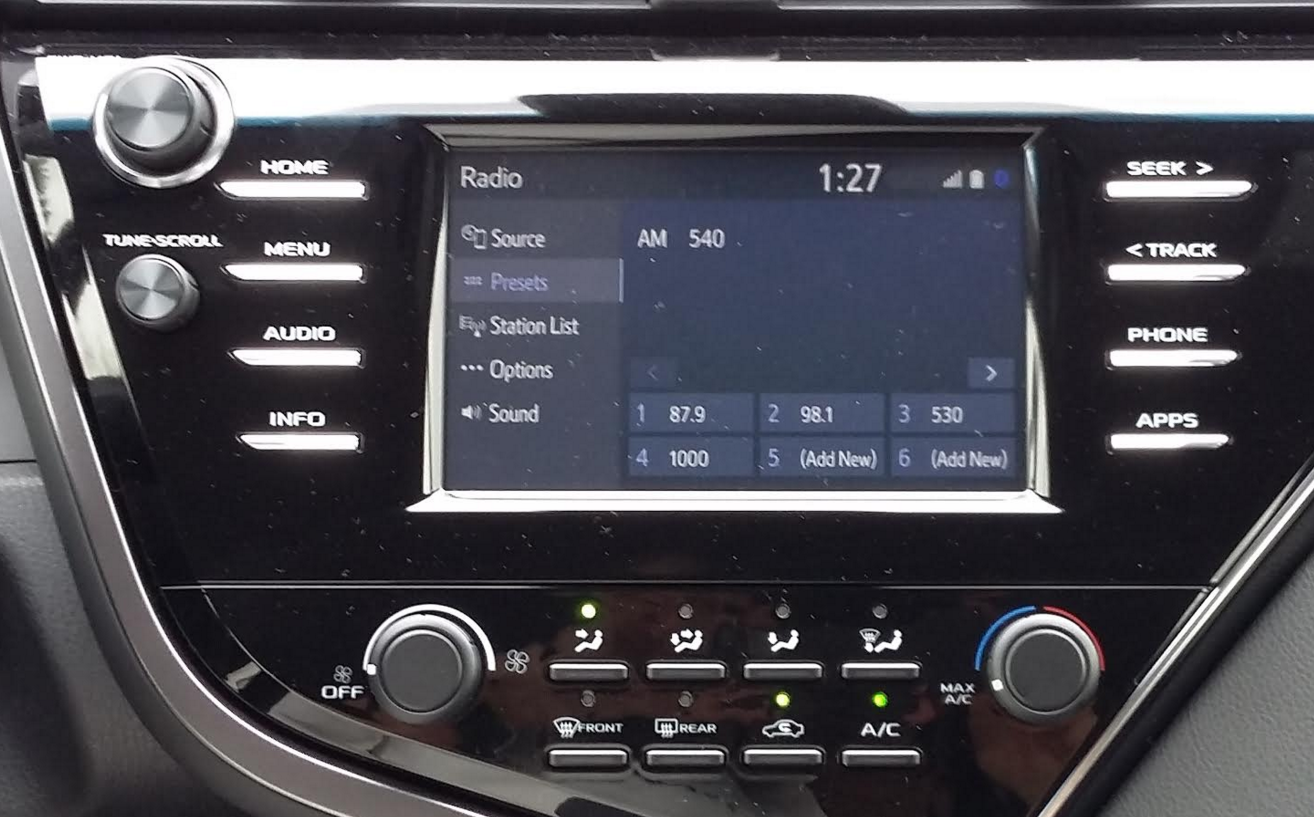 The base audio system uses a 7-inch touchscreen surrounded with volume and tuning knobs along with eight buttons, and there are 36 virtual station-preset buttons that can be scrolled through on the touchscreen.  The standard Scout navigation system uses your connected cell phone, and thus requires a cell-phone signal to function. Standard on V6s and optional on all other models but the L is an upgraded infotainment system that includes a CD player and GPS-linked navigation. Both were found to be fairly easy to operate, which can't be said for all such systems. Climate controls were also easy to use.
Test Drive: 2017 Ford Fusion Sport
Interior storage space is quite good, highlighted by a large console box, large (covered) forward console tray under Aux/USB/12-volt plugs, and a flip-down left-side dash bin.
Test Drive: 2016 Chevrolet Malibu Hybrid
The trunk is wide at the rear and quite roomy, and though the trunklid opens wide to create a large opening, its sickle-shaped hinges dip into the load space a bit. Also, the folded rear seat backs rest about seven inches above the level of the trunk floor, making it tougher to slide long items forward. Although the previous Hybrid model sacrificed some trunk volume and most of the trunk pass-through area to its battery, the 2018 version has essentially the same trunk space as the gas models, as the battery is mounted in the center tunnel.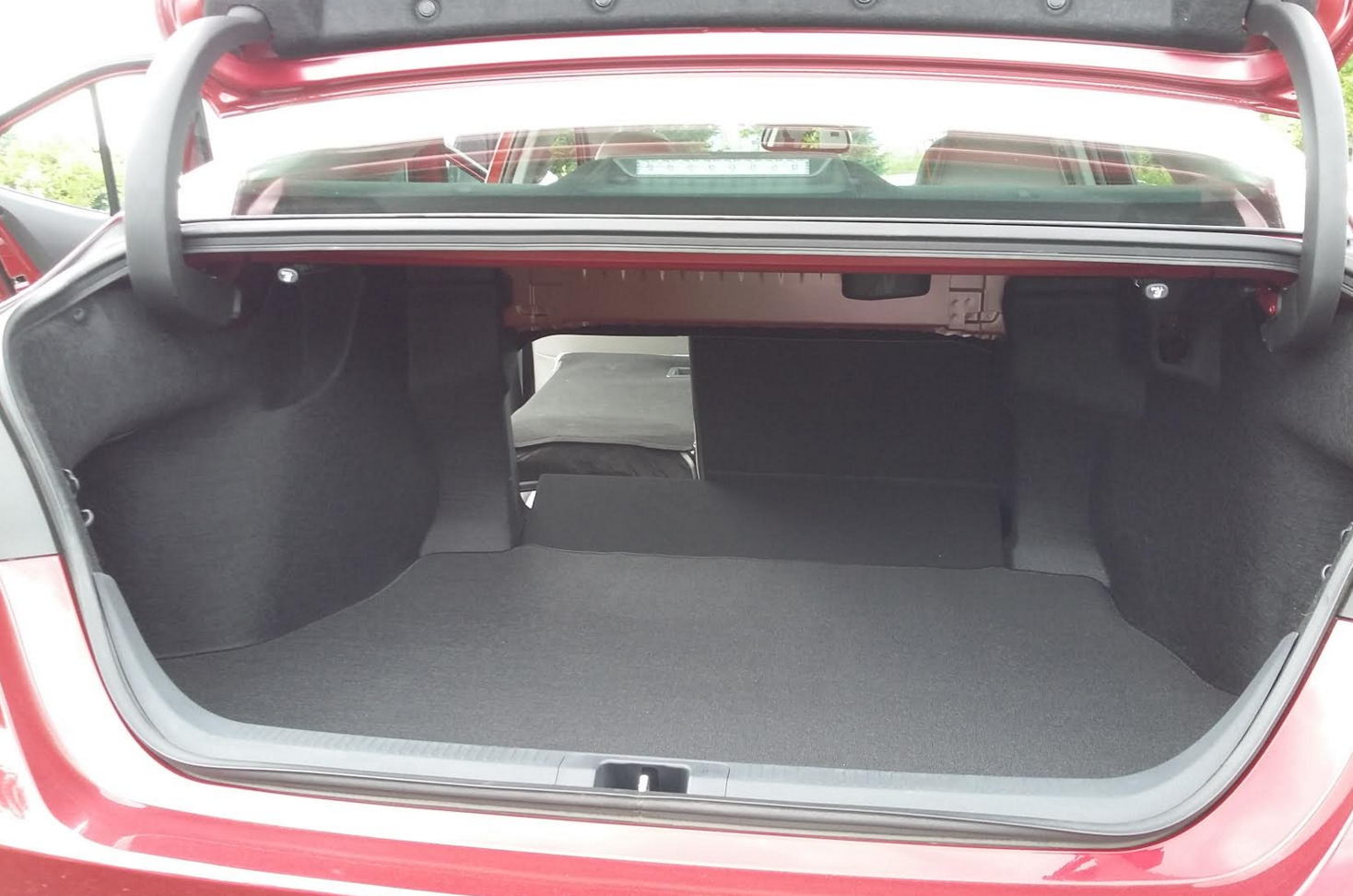 Four-cylinder models get a good full-throttle jump off the line, and the transmission kicks down fairly promptly for more passing power; most folks will probably find this powertrain perfectly adequate. For those who want more, the V6 versions are noticeably quicker — quite stout, actually — but that power is paid for at the pump (and in the initial price). A brief drive in a Hybrid showed it to be a little less energetic in a full-throttle start than either of its gas brothers, but it responded well to throttle inputs at speed–though the results didn't always come seamlessly. We didn't get an opportunity to check fuel economy, but the EPA estimates — especially for the base LE Hybrid — are stellar.
Although sedans are a hard sell these days, those still in the market for a midsize one should find the Toyota Camry to be an excellent example that offers a lot of value for the money. And though sales volumes might not match those of the past, the Camry will likely continue to enjoy its number-one ranking.