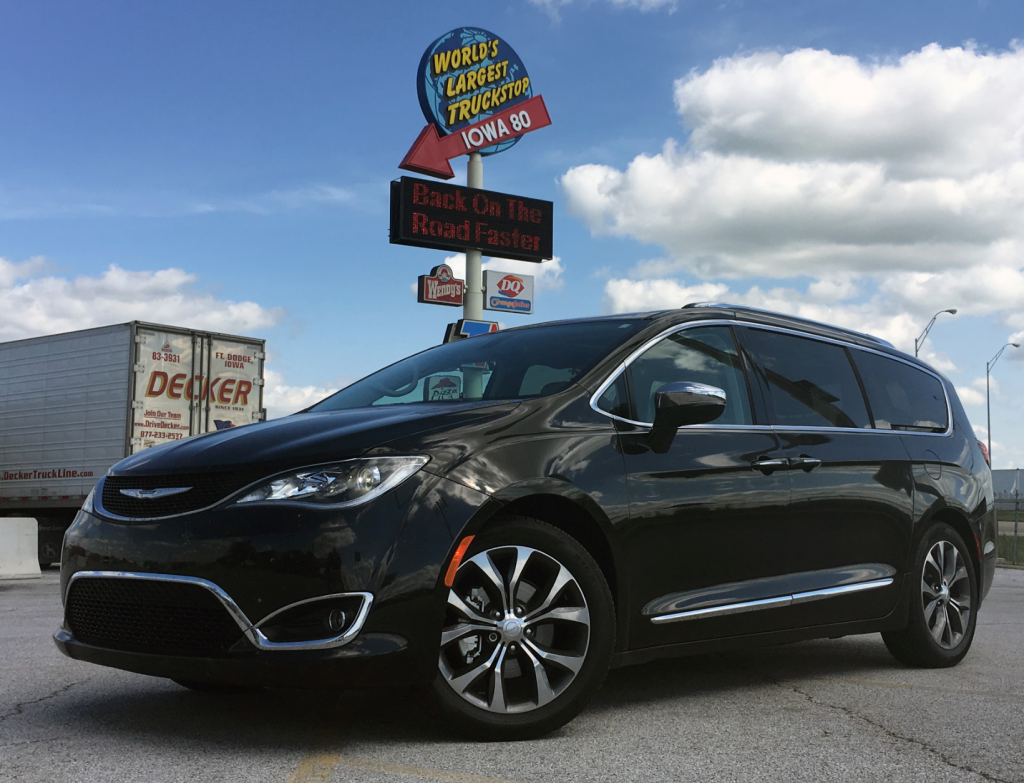 It was the summer of 1974. Having spent the day at the amusement park then known as Six Flags over Middle America, my family and I hit the swimming pool at the Safari Camp Ground at which we were staying for the week.
It was during a rather spirited session of Marco Polo involving several families that someone's mother—not mine—interrupted the aquatic merriment. She had brought a radio poolside, and yelled for everyone to shut up and listen.
Earnestly, party-pooper lady set the radio down next to the water and cranked it up as loud as it would go. I recall my father, at first annoyed by the interruption, taking on a stern look and making his way toward the radio.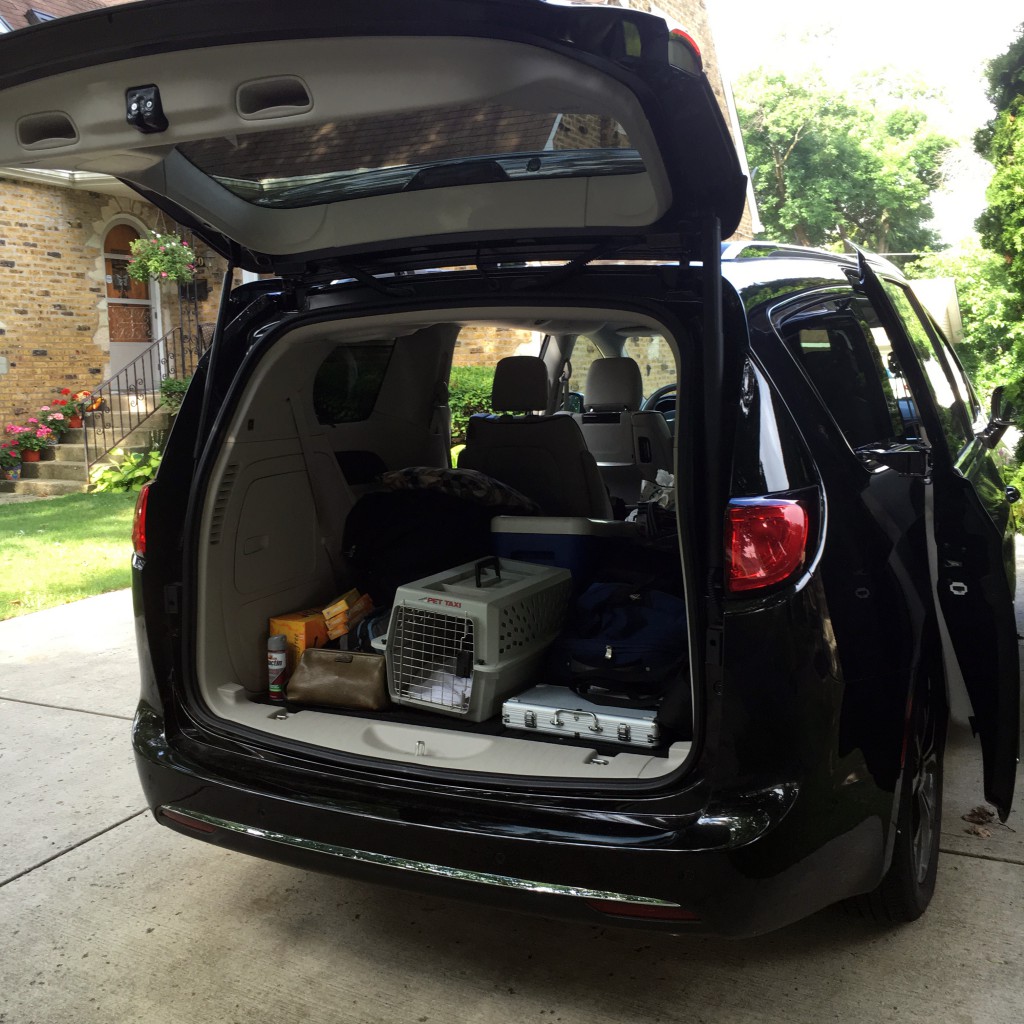 A deep, measured voice echoed out over the still-sloshing pool water. The adults in the pool listened silently and intently, speaking only to hush the kids who hadn't yet grasped that something profound was taking place.
That voice on the radio belonged to President Richard Nixon. I was in a pool in St. Louis when he resigned from office. I remember almost nothing else from that trip—but I will never forget having been in St. Louis that summer.
Prior and subsequent vacation road trips took my family from Chicago to California, Florida, and a number of less-ambitious locations. And from each trip I recall a highlight or two that will stick with me for life. I also recall that my dad's 1970 two-door Chevrolet Nova, though a fine vehicle by most measures, didn't exactly offer tour-bus levels of rear-seat space and outward visibility. It did, however, pull a Coleman pop-up camper with authority.
Stashed in the rear seat, my sister and I would go through the motions of counting trucks, playing travel checkers, and logging license plates, but after about 20 minutes of the parent-approved amusements, our attentions turned to more primal engagements, including squabbling over our staked-out turf on the bench seat, and poking each other in the shoulder.
Some forty years later, I realize that I've never embarked on a road trip of any serious length with my wife and kid. Sure, we've driven places, but we've never headed off for a location so distant that we'd need to sleep someplace en route. As my wife and I had plenty of vacation time left to burn, and as my kid was finally able to locate a gap in her summer-school, water-polo-club, saving-kittens schedule, we committed to an early August blast through the American Heartland. Because my wife's brother lives there, and because we understand it's cool, we chose Denver as our road-trip destination. That's a trip of approximately 14 hours and roughly 900 miles each way.
Family Madness! 6 Classic Car Ads Featuring The Entire Clan
Because my father's Nova is long gone, we needed to locate a substitute vehicle for our adventure. As luck would have it, our mid-continental sojourn coincided nicely with the availability of Chrysler's all-new Pacifica minivan in Consumer Guide's press-fleet schedule. Our vacation test vehicle was a Brilliant Black Crystal example in topline Limited trim, optioned up with the 20-inch Wheel and Tire Package and the perfect-for-vacation Uconnect Theater Package. Unlike my dad's Nova, the Pacifica included such modern indulgences as air conditioning, FM radio, and windows that second-row passengers can see out of.
Folks unfamiliar with my wife's gift for (over)packing may suggest that a minivan is a rather large vehicle for a family of three. Actually, we did a fine job filling the cargo bay with things from our home. Near as I can tell, the only items we didn't pack were the hot-water heater, aquariums, and the snow blower I still need to have repaired.
Day One: Iowa, Zombie Burger
The strange thing about our Sunday departure was the on-time part. I am a notoriously slow riser, and am easily distracted by virtually anything that is not involved in what I should be doing. Still, we hit the trail around 9:00 AM and started west.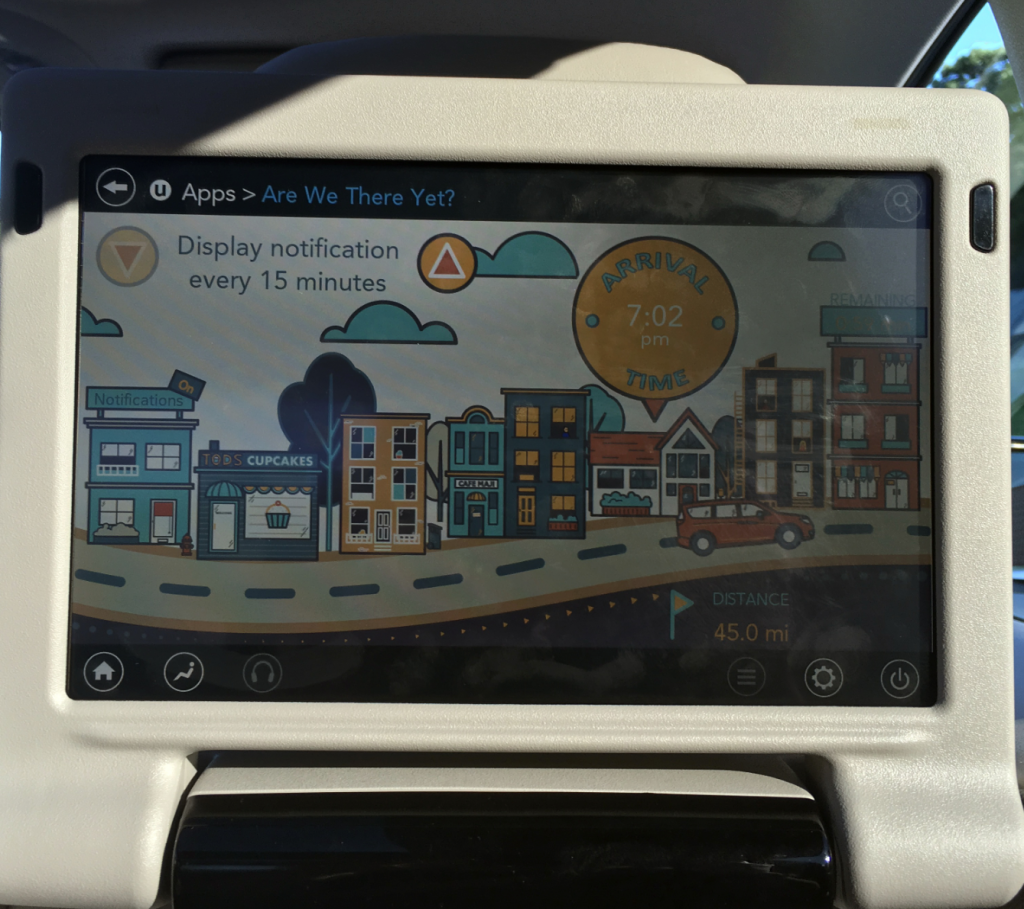 As my daughter is well acquainted with Illinois, she took immediately to watching episodes of Daria on one of Pacifica's headrest monitors while my wife took the wheel. I had planned to read, which I did a little of, but instead I found myself enjoying watching the road as a passenger.
Our only day-one goal, apart from shrinking the distance between us and Denver, was to stop in Des Moines, Iowa, for lunch at the famous Zombie Burger restaurant.
We're all vegetarian, and as Zombie Burger offers two distinct veggie patty options, we were pretty psyched about the visit. Though painfully hipsterish, and very busy, the place did not disappoint. The house french-fry cheese sauce is about as different from typical restaurant cheesy topping as the Mona Lisa is from a Bazooka-gum cartoon. I seriously considered ordering more and drinking it through a straw. If you're ever in the Des Moines area, make a point of visiting Zombie Burger–you won't regret it.
We made it into Nebraska before calling it quits for the day. Over 580 miles we averaged better than 26 mpg, this in supreme comfort. The Pacifica settles in on the highway like a big Mercedes and rides nearly as well, limiting road fatigue.
Connectivity note: The Uconnect 3G Wi-Fi hotspot is nice to have, but it is no substitute for true high-speed web access. Video streaming is out of the question, and the system slows down quickly when more than one device is in use. Consider this a condensed version of all my kid's notes on the topic.
Day One Notes:
Me: Didn't know Iowa was this hilly.
Wife: Stow 'n Go easy to use and super convenient. Brought everything but the kitchen sink and we have space to spare.
Kid: The sliding side doors take too long to close.
Day Two: King Bings and Coal Trains
The nicest thing I can say about the Best Western in York, Nebraska,  is that it's clean. The mattresses offered less support than my parents did when I began selling cars for a living, and the pool water was hot enough to blanch asparagus. Speaking of food, the eggs at business-hotel breakfast bars are never very good, so the clumpy yellow chunks I tumbled onto my plate didn't come as much of a surprise—texture- or flavor-wise.

We hit the road by 9:30 and continued our trek west. Inspired by Iowa native and fellow Consumer Guide editor Damon Bell, we began scouring gas stations and truck stops for regional treats of his recommendation. Thus, the Appel family enjoyed its first ever King Bing chocolate bar.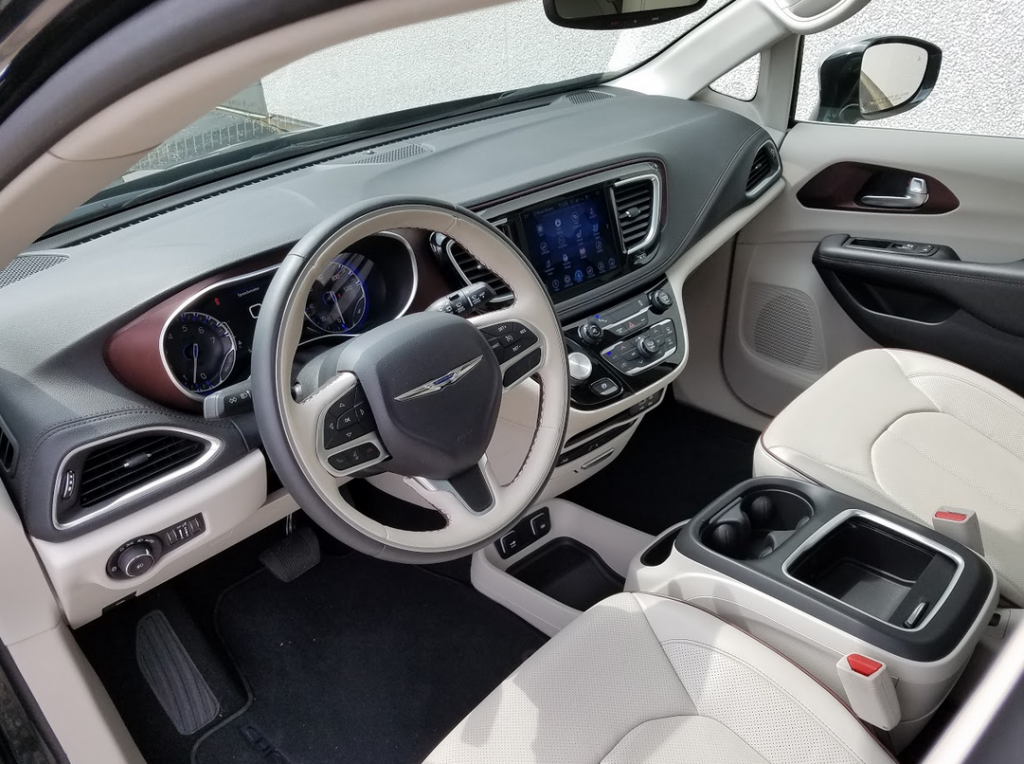 The Bing bar is best described as a Clif Bar molded around a cherry-ish center section. While I didn't find it immediately delicious, I did find myself seeking out subsequent Bing action during our trip. For the record, a King Bing breaks into three sections. Also available, though seemingly never at the same store, are smaller Twin Bing bars, which predictably break into two sections. Much preferred by my family is the related Cherry Mash, which consists of more-traditional milk chocolate and a tarter center section.
I'm not entirely sure why, but shortly after lunch I felt it necessary to download the song Convoy. I learned quickly that 16-year-old girls are pretty much immune to parental reminiscences of the Seventies, and that no amount of explanation would ever justify my having paid for that album twice–once in 1975, and then again today.
On a subsequent misguided lark, I purchased a hand-held CB radio at a truck stop. I was sure that if my kid heard some lively trucker banter over the airwaves, she'd warm up to the appeal of the whole Convoy/CB-radio thing. Turns out that hand-held CBs don't work very well—not enough antenna—and we heard very little chatter anyway. Later attempts at using the radio to convince the hotel staff of a gerbil invasion on the fifth floor also fell flat. We didn't use the radio again after that.
While my wife drove, I quickly became aware that I had no idea what Colorado actually looked like. Dipping down out of Nebraska towards Denver on Interstate 76, the landscape grew increasingly barren. Nebraska's corn gave way to scrub grass and sparse clusters of cattle.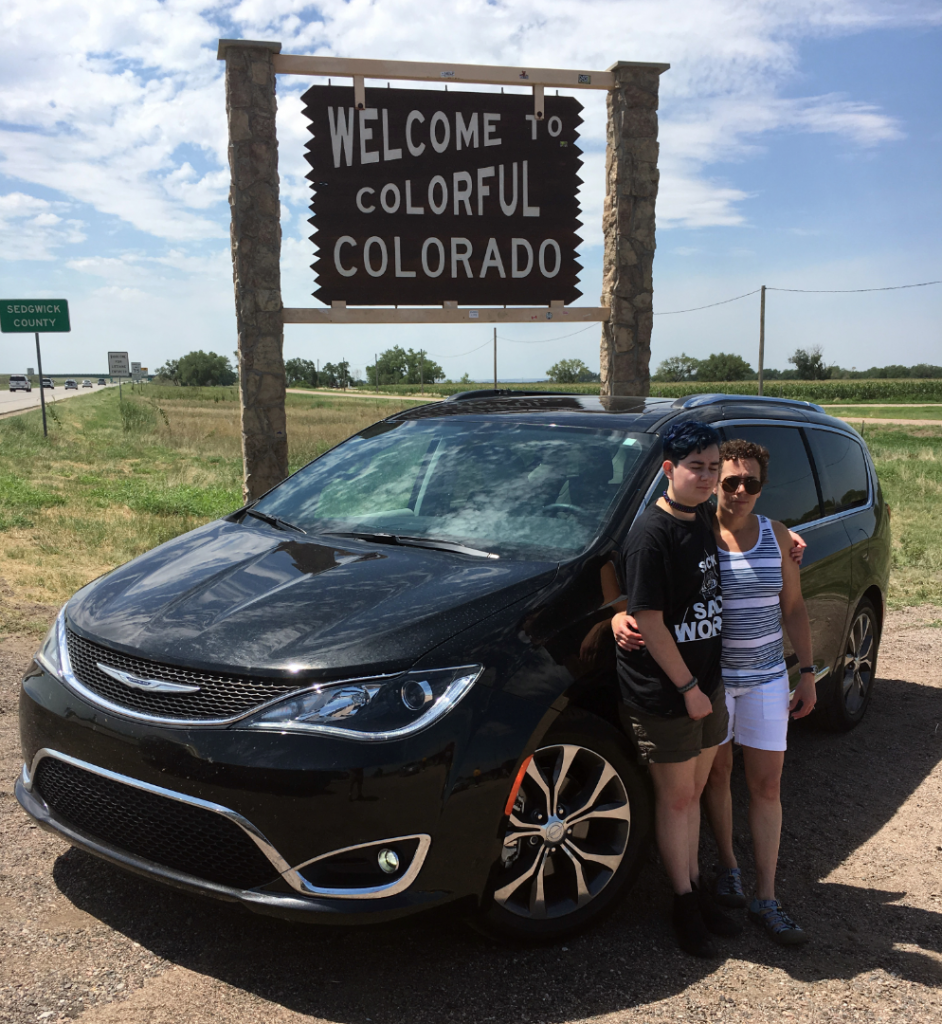 While Colorado isn't officially "big sky" country, the vista relative to what Chicagoans typically see is massive. Most impressive were the mile-long coal trains that ran parallel to the highway, the entire lengths of which were visible at a single time. Other than the trains, the only evidence of human existence along the route were scattered wind farms, often incorporating dozens of windmills in close proximity.
We arrived in Englewood, Colorado, a Denver suburb, in time to meet my wife's brother, his wife, and their kid for a quick dinner–and still watch an episode of Fargo before hitting that sack. The Englewood Drury Inn would be our home base for the next two days. Englewood, by the way, sits about 5800 feet above sea level—this becomes important on day three.
At this point we had traveled 1067 miles in two days, and we felt pretty good about our progress. We were still averaging a solid 26+ mpg, which is impressive given my wife's slightly alarming obsession with "making good time."
Day Two Notes:
Me: Drury Inn beds MUCH nicer than Best Western beds.
Wife: I wish Tom would stop playing with that stupid CB radio.
Kid: Gordon Lightfoot is not acceptable road music.
Day Three: Pacifica Climbs, I Wobble
After a night of restless sleep, I awoke feeling very much like I had the flu. Some quick internet-assisted self-diagnosing suggested I was dealing with altitude sickness—a condition I have endured before. Though not common at Denver altitudes, it happens, and it was about to mess with my vacation. Unfortunately, we were going to climb way past 5800 feet today–way, way, past.
On the agenda: an assault on Mount Evans, home to highest paved road in North America. Joining us today were my brother-in-law and his charming 2nd-grade daughter. Mount Evans is about an hour's drive west of Denver. For that ride, my 6' 1" brother-in-law assumed the far-aft position in the Pacifica, reporting that the third-row was plenty comfortable. The youngsters kept busy in the second row, making use of Pacifica's built-in license-plate game for part of the drive.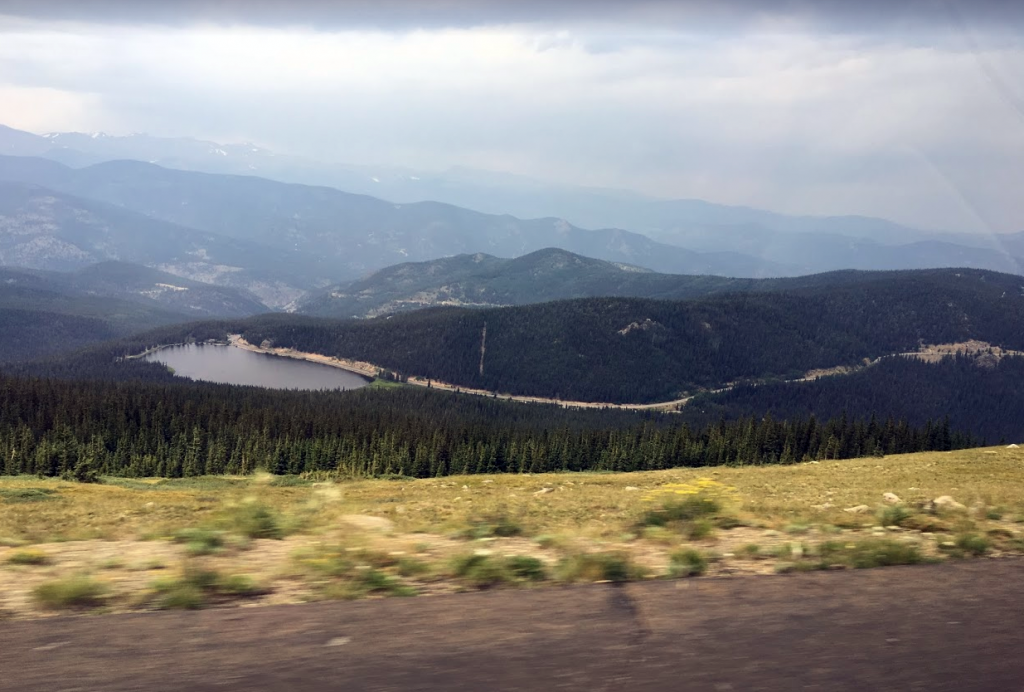 We stopped for gas at about 7000 feet, just before entering the park. Fuel economy for that last tank dropped to just 23 mpg, this due largely to our shift from highway to city driving. It was here, while pumping gas, that I realized that I felt fine as long as I was sitting. Driving was no problem, but walking around was. Thus, I chose to pilot our trusty minivan up Mount Evans, up another 5000 or so feet.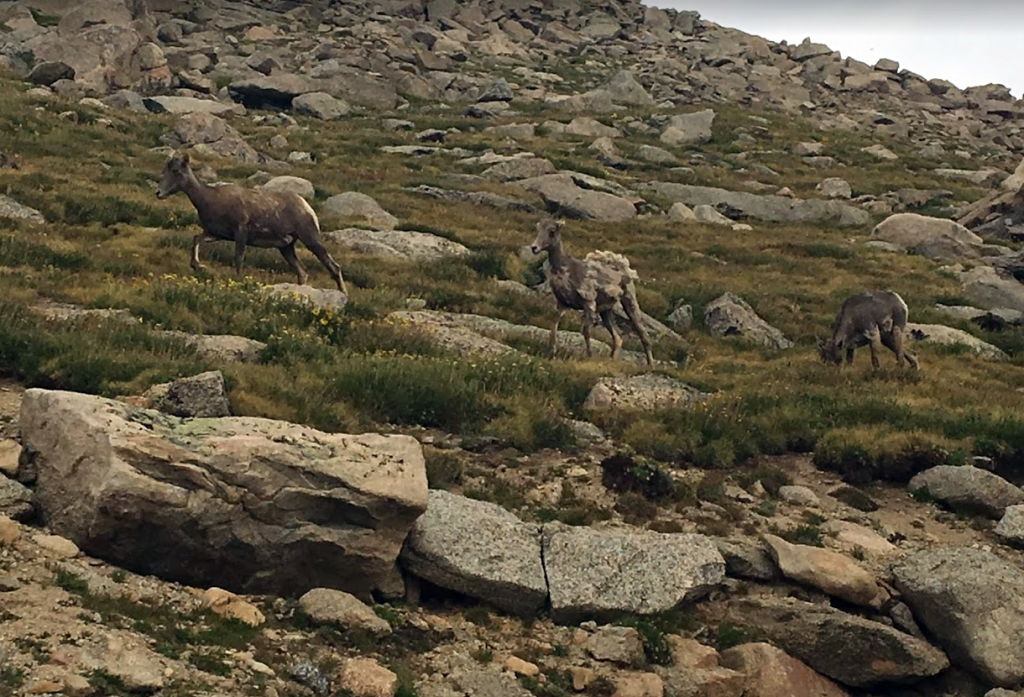 There's a $15 fee per vehicle to make the mountain assault. What there isn't is any sort of warning regarding just how treacherous the drive actually is.
I say treacherous not because the road is rough—though it isn't in great shape—but because there are stretches of the drive where a misplaced wheel will result in your vehicle going off a cliff. Really.
Thus, the going is slow, as careful drivers plod along at single-digit speeds, holding up equally safety-conscious drivers willing to drive just a little faster.
Going slow is OK though, as the view is breathtaking. Our Pacifica was equipped with a massive sunroof, which provided an amazing panorama of trees, boulders, and the occasional drove of mountain goats. The tree line, at about 11,500 feet, is amazingly definite. Quite suddenly, the landscape is tree-free.
Through all this, the Pacifica performed well. Though the 9-speed transmission did a little more shifting than seemed necessary, the drivetrain was never caught off guard. And even in the thin air, power was never a problem–this despite a load of five passengers and grades exceeding six percent. Additionally, Pacifica's super-tight turning radius proved a boon while negotiating twisty switchbacks with oncoming traffic in the adjacent lane.
We reached the 14,000-foot summit with no difficultly, though I was breathing rather deeply. I passed on the last leg of journey, a foot climb up another 200 feet or so.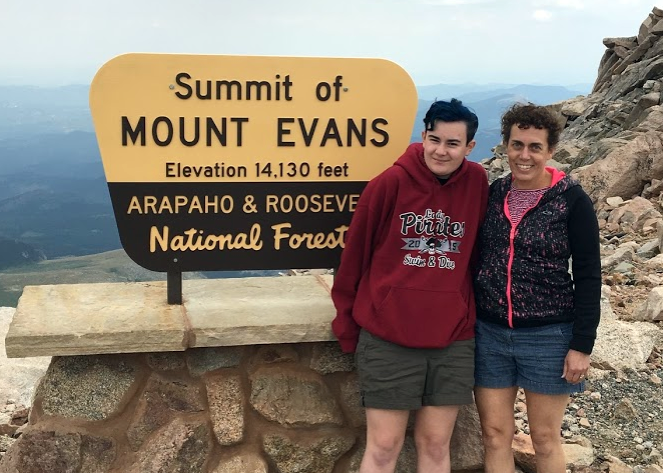 Descending the mountain, I came to wish the Pacfica offered greater transmission control. Forward options are limited to "D" and "L," neither of which provided the engine braking needed to roll down steep inclines without excessive brake usage. That said, the brakes held up just fine. Based on the toasty metallic smell at rest stops along the descent, the same could not be said for every vehicle visiting Mount Evans that day.
From Mount Evans we made our way to Colorado Springs, where my wife had arranged for us to—wait for it—hang out with wolves. Really.
We met representatives of Wolf Walk, a company that takes in and cares for wolves in need (I don't know much about needy wolves, either). Our wolf-meeting took place in Colorado Springs' Garden of the Gods nature preserve. We met with a 90-pound killing machine named Ghost, which, despite its evolutionary station on this planet, proved to be a friendly beast that did not, in fact, consume any of the members of our party.
To celebrate me surviving my first day of altitude sickness without vomiting, we all stopped at Pizzeria Rustica, which is located in an artsy corner of Colorado Springs. The outside dining area is very relaxing on a warm night, and the stone-oven personal pizzas are excellent. The fonduta smoked-mozzarella appetizer earned my kid's stamp of approval.
A Road Trip Through Horse Country
It was in front of the restaurant that I would parallel-park the Pacifica for the only time during the trip. Kudos to Chrysler for the high-resolution and wide-angle viewing area of the rear-view camera—the nighttime functionality of the camera is excellent as well.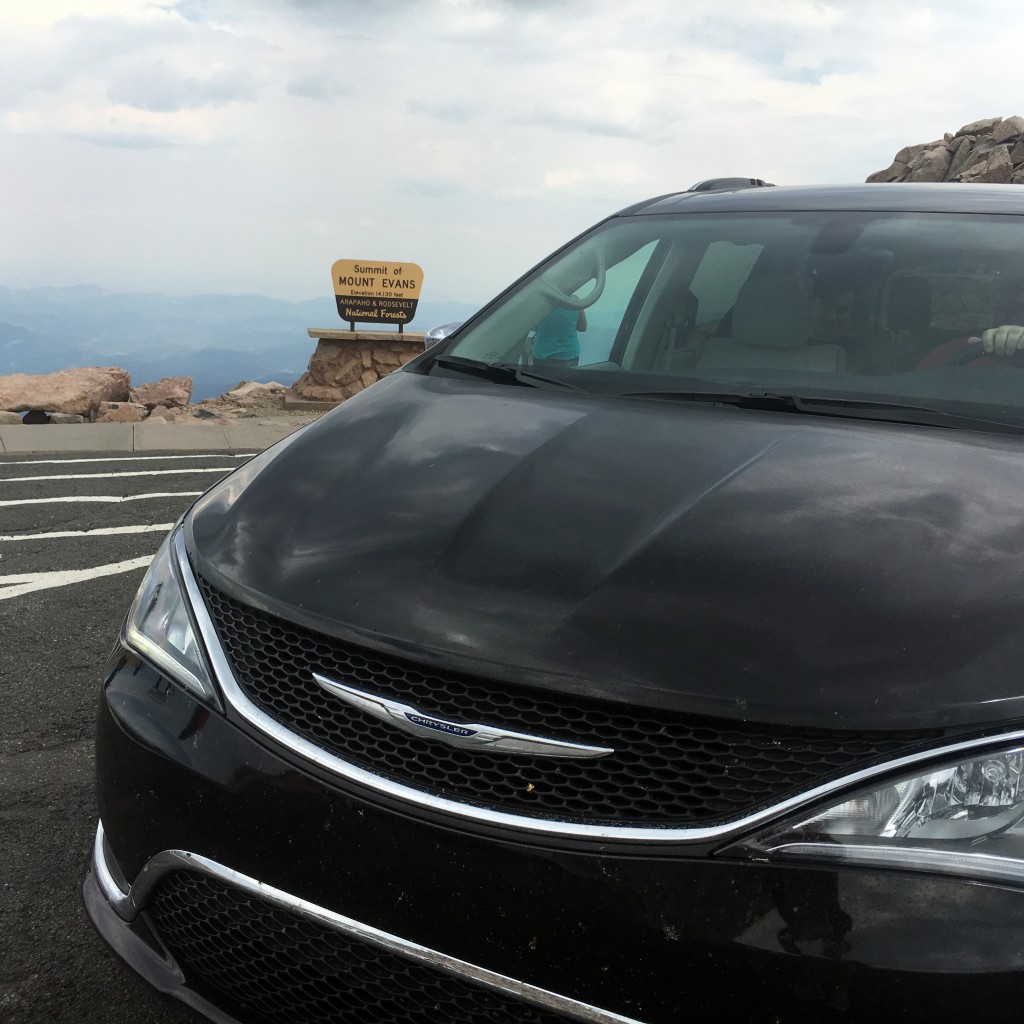 Day Three Notes:
Me: Why does the radio come on every time I start the van? This, even when the last media mode employed was Bluetooth—and the sound system had been turned off. Also I was pretty sure that wolf was going to eat a child.
Wife: Tom amused us all by using the turn signal on several occasions around Mount Evans switchbacks, as if turning was somehow an option.
Kid: I mentioned Gordon Lightfoot, right?
Day Four: Stanley Kubrick and Cherries
Having recently watched Stanley Kubrick's The Shining, and subsequently reading the Stephen King book, my kid was hell-bent on visiting the Stanley Hotel.
In summary, the hotel itself is gorgeous, but the official tour—at $23 a head—is a big waste of time and money. The folks running the Stanley are keen to play it off as haunted, and the tour is little more than a commercial supporting that effort. Know this: the Stanley brothers did much more than establish a hotel way back when. They built steam cars—you've heard of the Stanley Steamer—and were involved in the company that eventually became Kodak, so I learned something from the tour.
The trip was not a loss, however, as the drive to and from Estes Park, Colorado, took us past the Colorado Cherry Company. It was at this strange roadside distraction that I ate one of the best pieces of cherry pie I have ever enjoyed. The joint is packed with cherry preserves, juice, wine, and other tempting consumables, as well as peach- and apple-derived snacks.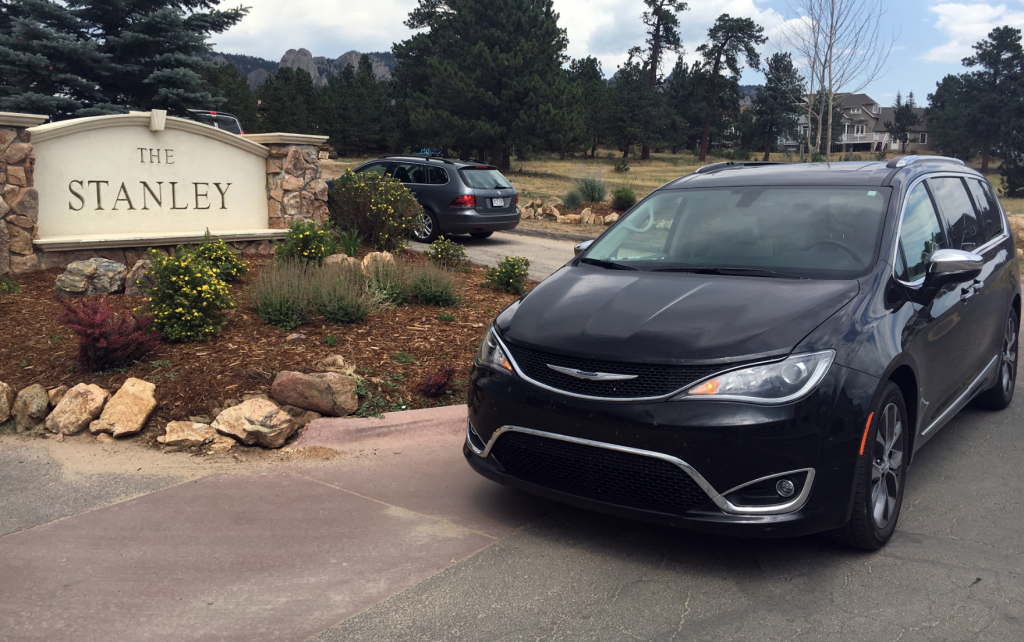 Note: cherries don't grow in the area. The fruit used by the Colorado Cherry Company comes from orchards at lower elevations south of Colorado Springs.
That evening was spent at my brother-in-law's house. He and his wife made us dinner, and treated us to a Colorado view of a thunderstorm, the likes of which one never sees in Illinois. The storm never seemed to hit–it just rolled past in every direction. Until that day, I didn't know that thunder echoed off mountains—or that lightning could originate from the stray clouds trailing a storm. In Chicago, storms just behave more predictably—though less interestingly.
We made it an early dinner, as we were heading back to Chicago in the morning. We did squeeze in one more episode of Fargo before bedtime, however.
Day Four Notes:
Me: I could live in Colorado—if I ever stopped feeling sick.
Wife: What is it with all the traffic around Colorado Springs? This is no quaint community–it's a fully grown city with fully grown traffic issues.
Kid: The Stanley Hotel folks really want you to believe there are ghosts there.
Day Five: How Big, Nebraska?
We would have gotten an early start back to Chicago had my wife and daughter not caught sight of Shepler's, a Western apparel and boot store. I am not quite sure what is Western about Harley-Davidson motorcycle boots, but my daughter now owns a pair. My wife scored too, though her boots are actually for riding horses.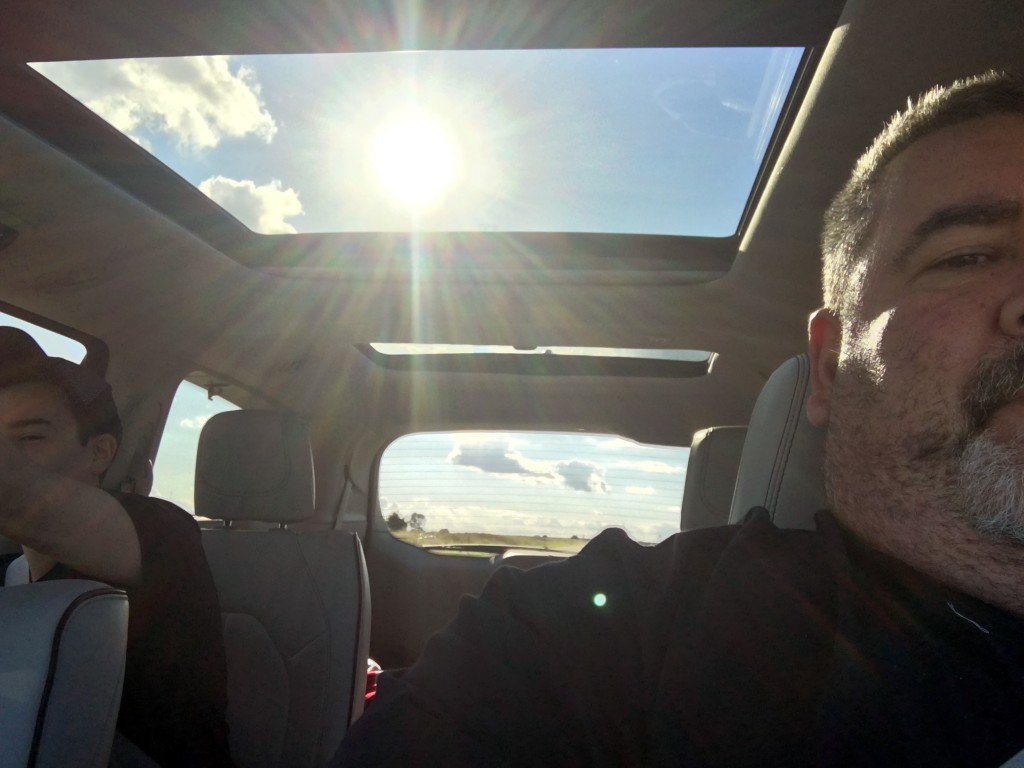 Since we were less excited about the return ride than we were coming out–and roughly 90 minutes behind schedule–the drive became something of a grind. Though the Pacifica was no less comfortable that it had been all week, the wife and kid did a little nitpicking. First, my wife took notice of the navigation system's periodic sluggishness. Indeed, we nearly missed several turns as the system informed us too late of upcoming actions.
Also, the kid bemoaned the lack of space between second-row passengers and the front-row seats. Though even large folks fit comfortably, my kid was unable to lay a large Atlas or a drawing pad in her lap. She also suggested that wind noise was greater towards the rear of the cabin—making it difficult for her to hear front-seat conversations.
It was during the endless hours of sailing through Nebraska that my wife again noted how much shifting the transmission does. While never harsh, or even obtrusive, gear changes at highway speed may seem strange to folks accustomed to five- and six-speed automatics.
Our first fill of the day netted us just under 24 mpg, our poorest showing of the trip. Note that this tank included our drive up Mount Evans. A second tank this same day would return us to almost 27 mpg.
As the endless swath of land known as Nebraska rolled by outside the van, we took note of the good things, too. The Pacifica settles in at highway speed like few other vehicles do. It is seemingly impervious to wind gusts and the drafts behind semi trucks. And, despite all the shifting, the drivetrain is supremely smooth. The 3.6-liter V6 is especially refined, sounding much like a Mercedes-Benz V6 when pushed. And in spite of some lengthy stints behind the wheel, road fatigue was never an issue. Indeed, the leg, back, and neck strain normally associated with long-haul driving were for the most part not an issue.
We drove late into the night, trying to recover the time lost wandering around a store full of Stetson hats and large belt buckles. We ended up at a Holiday Inn Express in Council Bluffs, Iowa. Though late, we were keen to watch another episode of Fargo, but that was not to be. Though the TV in our room was equipped with input jacks, that external media function was blocked because, according to the front-desk person, "people were breaking the TVs." I tried to explain that impeding people from binge-watching Fargo isn't going to improve the longevity of the in-room TVs, but to no avail. We went Fargo-less that night.
Day Five Notes:
Me: The area around the Horseshoe Casino in Council Bluffs is pretty nasty.
Wife: I want my own bed.
Kid: Where are we? Why is this (Nebraska) a state?
Day Six: Overrated Tacos and Our Own Beds
As we lunched our first day on the road in Des Moines, Iowa, it seemed only reasonable we would do so on our last day as well.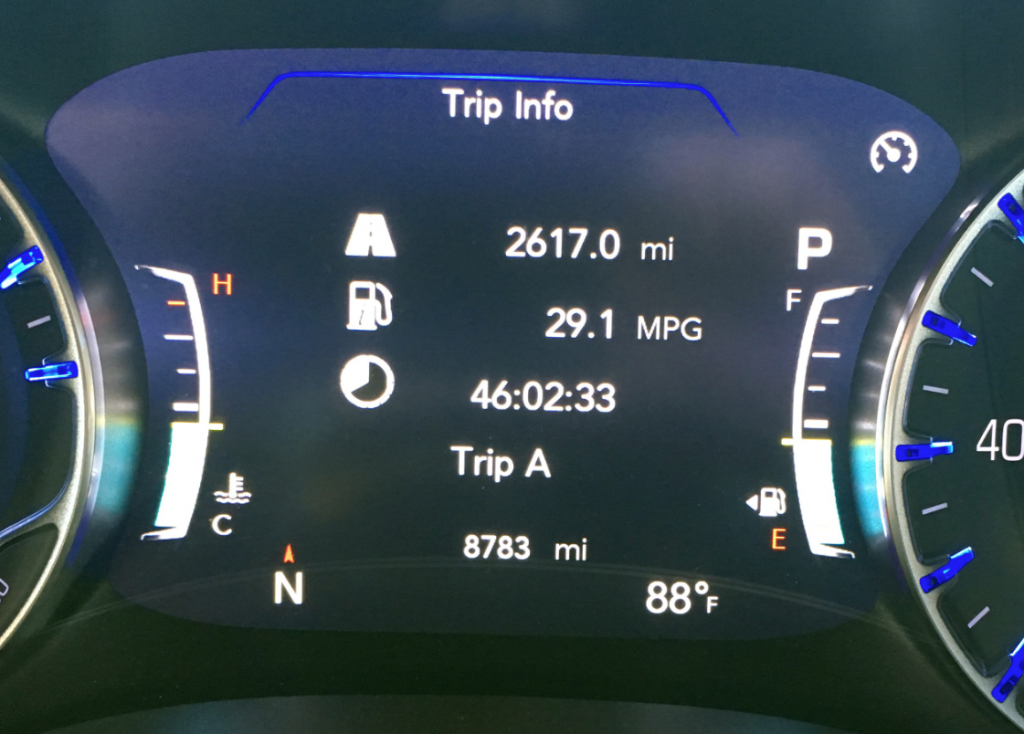 Having been delighted by Zombie Burger, we tried our luck at another trendy (and dive-y) place with plenty of vegetarian options: Tacopocalypse.
We arrived just before the lunch rush, and ordered one each of the four veggie taco options. While good, none of the four blew us away, and the hipster décor—or lack thereof—was kind of a deal breaker.
Nothing says "whatever" like a unisex restroom that is accessed only through the kitchen. Toss in dirty walls and a garbage receptacle located under the beverage fountain, and you have a decidedly nasty dining environment. Additionally, the homemade hot-pepper kiwi ice cream seemed designed more to annoy than to satisfy.
Still, downtown Des Moines is a charming place, and we enjoyed a couple of delicious brownies from the Scenic Route Bakery right around the corner. A few hours of Iowa and Illinois later we were home, with enough time to take a swim before the local pool closed.
The next day, just to be sure we used the Pacifica to its capacity, we filled the van with seven folks and caught Suicide Squad at the McHenry Outdoor Theater, located about 20 miles north of our suburban residence.
Day Six Notes:
Me: Multi-tiered center console holds a lot of stuff–very useful on long trips.
Wife: Love the in-door storage pockets. Now I have to clean them out.
Kid: I missed my cats.
So, had we rediscovered the great-American family road trip?
Yes and no. My kid is a little old to be filled with awe by anything, though she didn't seem overly troubled by all the time she was forced to spend with her parents.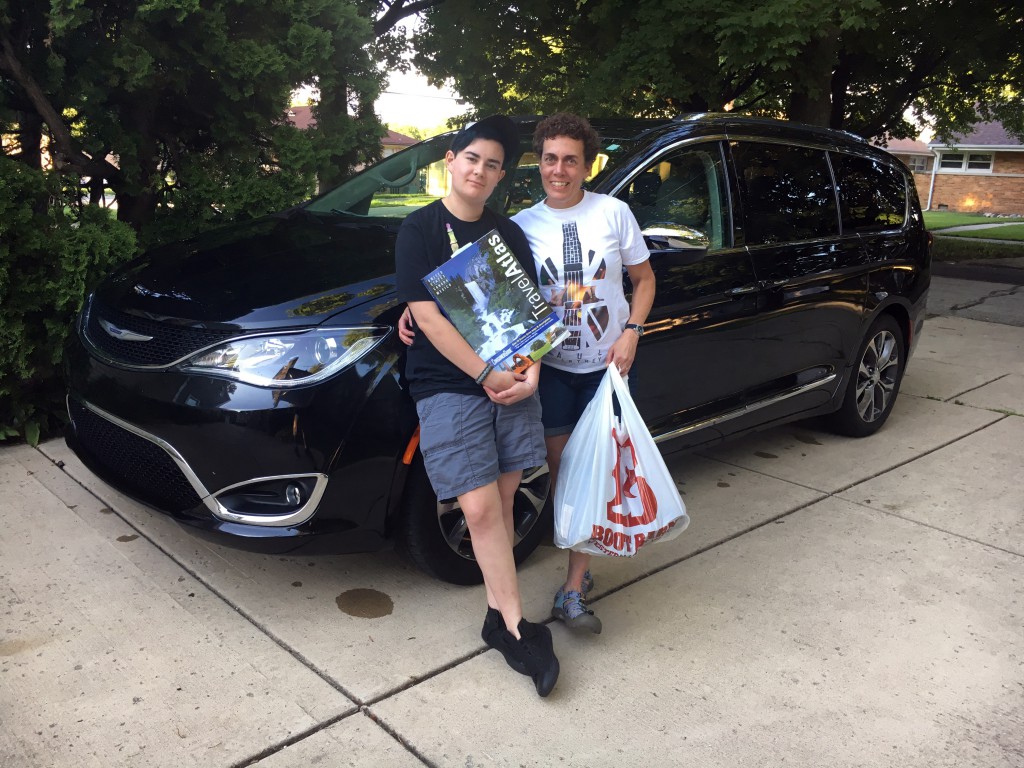 Sadly, this vacation's major failing falls on my shoulders. I only took a week off work, and didn't want to commit the entire time to this trip. Truth is, you can't spend 43 hours on the road over six days and expect to feel completely relaxed when you return. Lesson learned.
That said, there is real value in arriving someplace after you've traveled there by land. You don't learn much about a destination going from airport to airport. But, when you feel the landscape change mile-by-mile, when your hear the accents gradually change, when the houses and business slowly start to look different, it's then that you start to appreciate how big this country is.
As for the van, I cannot imagine a better vehicle for our journey. The Pacifica is roomy, comfortable, luxurious in Limited trim, and surprisingly fuel-efficient. The van is also a highway star, eating miles effortlessly.
If your brood of youngsters is approaching traveling age, and your plans include long-distance road trips, you'll want to add the Pacifica to your next-vehicle short list. And when you take that cross-country vacation, you'll want to allow enough time to really enjoy the trip. There's no point in taking the clan someplace if they don't get enough time to enjoy it.
On a personal note: There's little point in trying to get your kids to listen to the music you enjoyed when you were their age—we had gone 50 miles listening to Gordon Lightfoot before I realized the kid had headphones on.
---
2017 Chrysler Pacifica Limited 

Class: Minivan
Miles Driven: 2617
CG Report Card
Big & Tall comfort ratings are for front seats only. "Big" rating based on male tester weighing approximately 350 pounds, "Tall" rating based on 6'6"-tall male tester.
Room and Comfort
A
Power and Performance
A-
Fit and Finish
A-
Fuel Economy
B+
Value
A-
Report-card grades are derived from a consensus of test-driver evaluations. All grades are versus other vehicles in the same class. Value grade is for specific trim level evaluated, and may not reflect Consumer Guide's impressions of the entire model lineup.
Big & Tall Comfort
Big Guy
A
Tall Guy
A
Fuel Used: 103.9
Real-world fuel economy: 25.2 mpg
Driving mix: 15% city, 85% highway
EPA-estimated fuel economy: 18/28/22 (city, highway, combined)
Base price: $42,495 (not including $995 destination charge)
Options on test car: Tire and Wheel Group ($995), Uconnect Theater Package ($1995)

Price as tested: $46,480
Quick Hits
The great: Roomy and comfortable cabin, luxury-car ride quality
The Good: Unexpectedly good fuel economy for a vehicle of this size and power

The not so good: Sometimes-erratic transmission behavior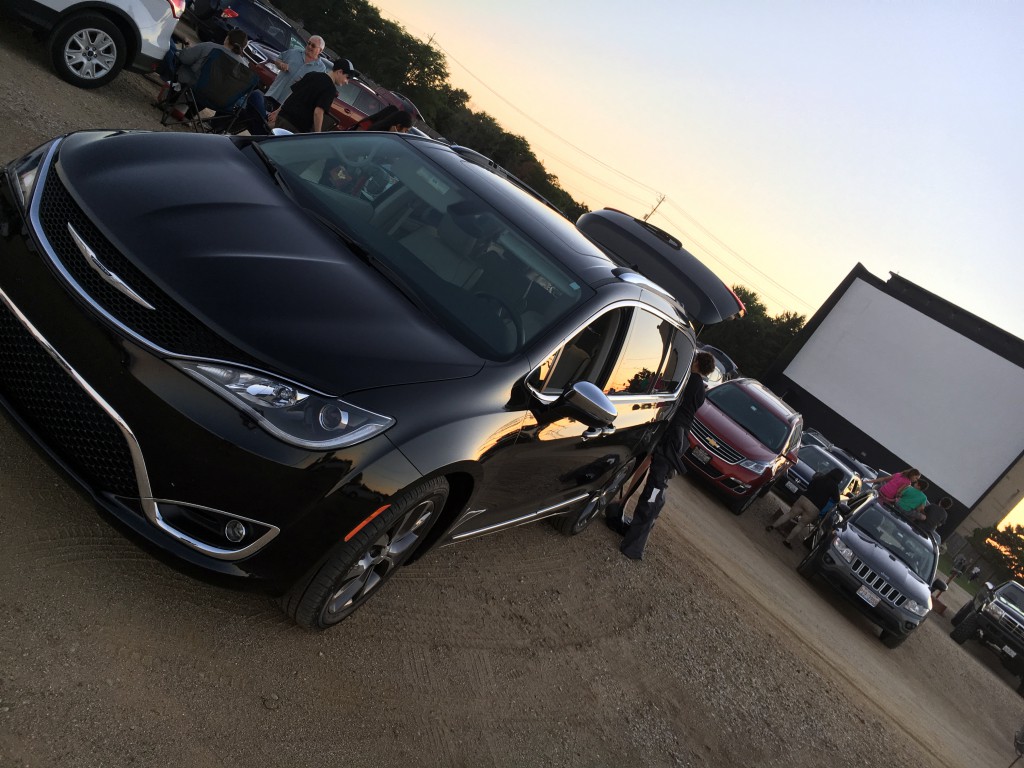 My Dad, Lousy Navigation, and the 11-Point Turn: Driving a Bus Through Serbia