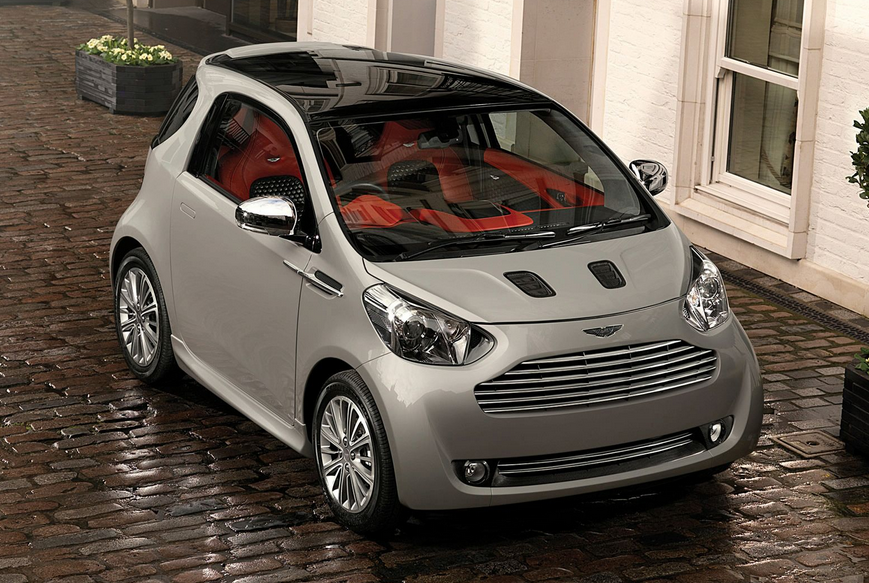 Why would Aston Martin, a British company known for building ultra-luxury high-performance coupes, contract with Japanese automaker Toyota to build an Aston-branded version of one of the smallest, least-powerful Toyota-built cars on the market? Turns out there's a good answer to that question, but it gets a little complicated.
Check out Aston Martin's historic-model Cygnet page
Unlike luxury brands such as Bentley, Lamborghini, Porsche, and Rolls-Royce, Aston Martin is an independent concern, and does not operate under the umbrella of a larger parent company. Here are two reasons why that matters: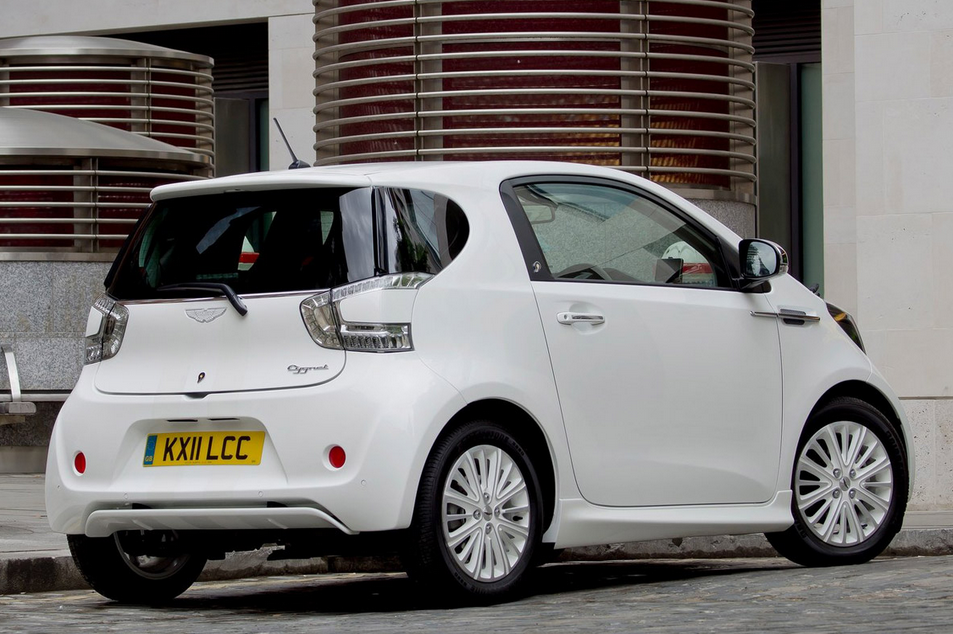 First, the cost of developing new technology has risen exponentially in recent years. For the aforementioned Aston Martin competitors, the expense associated with developing something like a new transmission can be amortized over potentially millions of vehicles—not just those under a single brand.
For example, the Volkswagen Group, which is the corporate parent of Bentley, Lamborghini, and Porsche, manufactured almost 11 million cars in 2017. Independent Aston Martin sold just over 5000.
While not all Bentley, Lamborghini, and Porsche parts and systems are shared with other VW brands, many are. Plus, those luxury channels benefit from the awesome purchasing power of their massive parent organization.
The second reason that being part of a large, multi-brand corporation matters is not far different from the first. When it comes to regulatory compliance—especially on emissions and fuel economy—it's very handy as a luxury/performance-car purveyor to have a high-volume small-car brand in your portfolio as well.
The Volkswagen Group, for example, can avoid going afoul of government regulations regarding the emissions and fuel consumption of its Bentley, Lamborghini, and Porsche products by offsetting them against the sales of cleaner, more-fuel-efficient products from its Seat, Skoda, and Volkswagen brands.
Likewise, the BMW Group can offset Rolls-Royce's impact on overall corporate compliance with its MINI lineup and roster of eco-focused BMW products.
Aston Martin, however, has a portfolio filled only with high-performance V8- and V12-powered vehicles, and has no sister brand to turn to when it needs to offset its emissions and fuel-economy numbers.
By now, you know where this is heading. When Aston Martin needed to lower its average carbon-dioxide numbers in Europe to avoid paying penalties, with no mainstream corporate parent to help out, the company chose to build its own efficient small car…sort of.

Aston Martin brass had no intention of creating a new car from scratch; the company didn't have the money or the staff to undertake such a project. Instead, Aston chose to purchase a small car from another company and modify it extensively enough that it could be sold as an Aston Martin.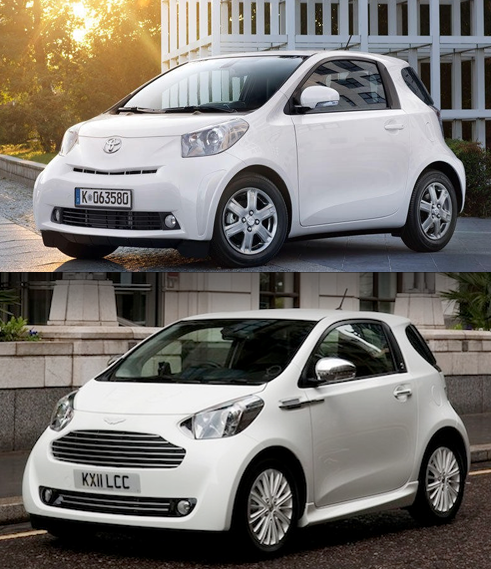 While the notion of an "Astonized" Honda Civic might sound sort of appealing, Aston chose to go smaller—and much less entertaining to drive.
Classic Model Car Kits: James Bond 007's Aston Martin DB-5 by Airfix
For the 2011 model year, Aston Martin launched the Cygnet, an ultra-luxury commuter car that was based on a micro-sized, Toyota-built two-door hatchback named iQ. (The iQ was marketed in the U.S. as a Scion product, and globally as a Toyota.)
The upgrades required to convert an iQ into a Cygnet were extensive. Per Aston Martin, 175 hours were spent upgrading the exterior trim and interior appointments of each Cygnet. By most reports, the cabin fit and finish of the Cygnet was not inferior to that of other Aston models, and from any front angle, the car presented as an Aston as well. Thank the trademark grille for making the Cygnet a recognizable member of the Aston Martin family.
Chris Poole's Test Drive: 2012 Scion iQ
And, like other Aston Martin products, the Cygnet was not cheap. Prices in 2011 started at £30,995 (roughly $50,000 at the time). While that was less than half the price of Aston's next cheapest model, it was almost three times the price of a Toyota iQ.
And while the Cygnet didn't look too much like an iQ, it did drive like one. Aston Martin made no changes to the iQ's drivetrain or suspension. British car magazine Autocar reported 0-100 kph (roughly 0-60 mph) times of 11.6 seconds on models equipped with the CVT transmission, and 11.8 seconds on models with a manual transmission. All Cygnets were powered by the same 97-horsepower 1.3-liter four as the iQ.
Aston Martin's CEO at the time, Ulrich Bez, claimed that the Cygnet "…demonstrated the company's commitment to innovation and integrity, whilst respecting the need to satisfy demands of emissions and space."
Car shoppers were not impressed. Aston Martin had hoped to sell as many as 4000 Cygnets a year, and those only to existing Aston customers in the UK. When the established customer base proved unresponsive, sales were expanded to include all of Europe, and all shoppers, regardless of whether or not they were returning Aston Martin customers. Expanding sales beyond the UK meant making available left-hand-drive cars in addition to the British-market right-handers.
All told, about 300 Cygnets were manufactured over the 2011 to 2013 model years, just 147 of which were sold in the UK. Clearly, those numbers are well shy of the 12,000 or so cars Aston Martin had originally hoped to sell in the period.
As with so many automotive oddities, initial sales have little to do with later interest. Used examples of the Cygnet are now selling in England for roughly the original asking price—and the car has built a strong following among the country's younger enthusiasts.
Sweet Speed: Cars That Score a Perfect 10 for Acceleration
Especially sought after is the "Cygnet & colette" edition of the car, which featured a unique silver paint treatment with colette blue accents and special stainless-steel cabin appointments. The car was collaboration with high-end Parisian boutique store colette (the lower-case "c" is intentional), and listed for a breathtaking £48,995 (about $78,000). Only 14 examples of this über iQ are said to have been built.

Odds are you'll never see a Cygnet tooling around the States. As none were federalized for U.S. import, it won't be until 2036 that the first Cygnets can be gray marketed into the country. And, even then, how many Americans even know that this bizarre, sybaritic commuter car exists?
What was the Vixen Motor Home?