The mention of a diesel-powered full-size pickup truck might not make you look up from whatever it is you're doing. After all, haven't there been diesel pickups like forever?
Not at the light-duty end of the spectrum, where Ram is planting its flag with a 3.0-liter turbodiesel V6 available in a number of its 2014 half-ton 1500-series models. This first-of-its-kind engine application is intended to provide stout towing capability while delivering projected fuel savings.
Ram, and its predecessor, Dodge Truck, is no stranger to diesel pickups. As it has since 1989, it still offers a turbocharged Cummins inline 6-cylinder option in its heavy-duty models. The new EcoDiesel in Ram 1500s is something different. A 60-degree dohc design with a cast-iron block and heat-treated aluminum heads, the engine is produced by Italy's VM Motori, a Chrysler supplier since 1992 that's now partially owned by Chrysler Group parent Fiat. The EcoDiesel is fueled via a MultiJet II common-rail injection system with high-dispersion nozzles and metering that allows for up to eight injection "events" per cylinder cycle in an attempt to strike a balance between economy and power as driving conditions dictate. The water-cooled turbocharger, with electronically controlled variable-geometry innards, is designed to increase turbine power at lower speeds in order to reduce turbo lag.
Test Drive: 2015 Ram Laramie 1500 EcoDiesel
The numbers for the EcoDiesel look like this: 240 horsepower at 3600 rpm and 420 pound-feet of torque at 2000 rpm—the most torque from a V6 in the segment and 10 more pound-feet than even the Ram 1500's optional 5.7-liter Hemi V8 generates (at almost twice the revs to boot). Ram says the engine can propel a 1500 pickup from 0 to 60 mph in just under 9 seconds. Maximum towing capacity with the diesel is 9200 pounds, a good 1750 pounds more than Rams with the standard 3.6-liter gas V6 can pull.
The manufacturer is claiming class-topping "high 20s" highway fuel economy for the EcoDiesel V6. That remains to be seen. Official EPA-estimated figures for the engine aren't out yet and our preview test drives in 2- and 4-wheel-drive crew cab models didn't allow us to make our own mpg calculations. Ram has worked a number of angles to maximize the EcoDiesel's fuel efficiency, starting with the use of an 8-speed automatic transmission. Also in the mix are active grille shutters, a four-corner load-leveling air suspension (for Quad Cab and crew cab models) that reduces ride height by an inch at highway speeds, and load-reducing alterations to the alternator and air-conditioning compressor.
In our test drives of EcoDiesel-equipped Ram pickups, the TorqueFlite 8 transmission did its best to keep the engine in its "happy place" in steady-state cruising, which was between 3000 and 4000 rpms. The autobox, which is controlled by a rotary dial on the instrument panel's center stack, operated crisply and smoothly, without jerky or delayed shifts.
Engine clatter, virtually synonymous with diesel-engine pickups, is surprisingly well stanched in the Ram 1500. Clatter is subtle when it's heard. We're told that engine mounts were tuned specifically for the EcoDiesel, and dash-panel insulation, a silencer in the transmission tunnel, and a sound-deadening engine cover were employed to dial down the racket.
Here's How Much Money Volkswagen Diesel Owners Are Getting
In addition to conventional low-sulfur diesel fuel, the EcoDiesel engine can run on B-20 biodiesel. It meets 50-state emissions requirements, thanks to its use of a diesel oxidation catalyst, particulate filter, and selective catalytic reduction (SCR). The SCR incorporates a diesel exhaust fluid system that alerts the driver when the level of the urea-based exhaust-treatment fluid is getting low while allowing the engine to maintain full power. The exhaust-fluid tank holds 8 gallons; its fill point is located next to the capless fuel port found in the left side of the cargo bed.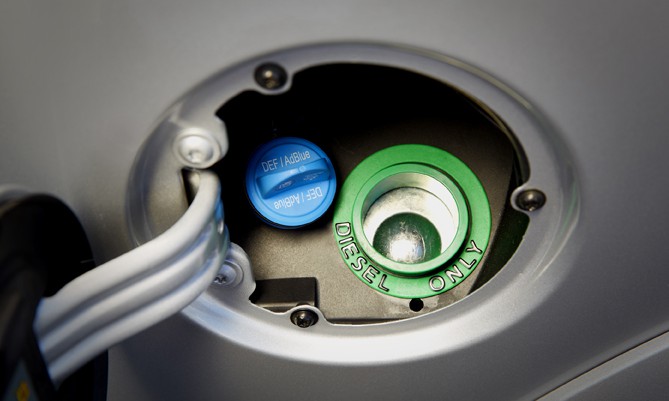 The EcoDiesel engine is available with all Ram 1500 trim levels except the Express, HFE, and Sport. It's also not available with the regular-cab short-bed model in base Tradesman trim. The option will present potential buyers with a bit of a cost-benefit consideration. It sells for $4000, which Ram points out is $2850 more than what a buyer spends to get the Hemi with the 8-speed transmission. The question will be for customers to determine if they'll hold on to their trucks long enough to make the fuel savings worth the difference in cost.
The Five Most Important Vehicles of 2014
Test Drive: 2015 Ram ProMaster City Wagon