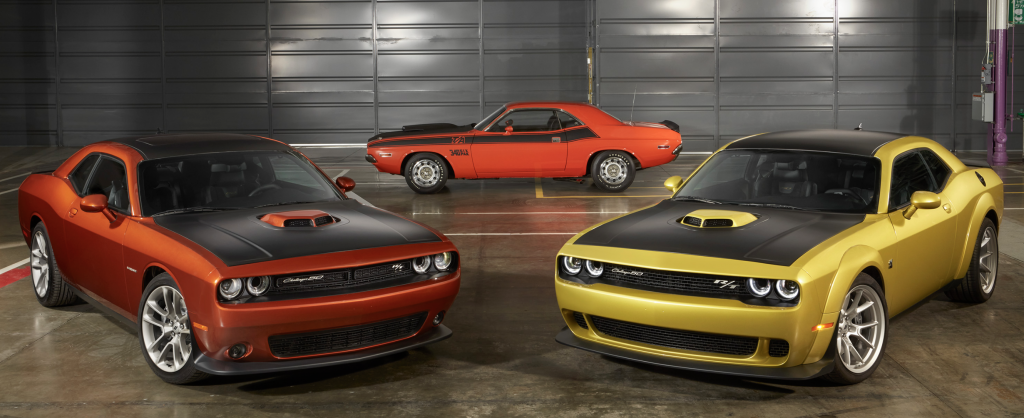 Dodge introduced 50th Anniversary Edition Challengers with available "retro" colors at the 2019 Los Angeles Auto Show.
Offered on the rear-drive Challenger GT (V6), R/T, R/T Scat Pack, and R/T Scat Pack Widebody, the 50th Anniversary package includes a Shaker hood scoop (on all but the GT) and a choice of high-impact colors: "Blast from the past" TorRed, F8 Green, and Go Mango, along with new Frostbite, Hellraisin, Sinamon Stick, and Gold Rush. Each 50th Anniversary model includes gold badging, black-painted hood, roof, and deck, Nappa leather and Alcantara interior with carbon-fiber accents, and a unique gauge cluster with body-color badge.
2020 Dodge Challenger 50th Anniversary Edition
Only 70 of each model in each color will be built (the "70" denoting the first Challenger model year, 1970), resulting in a total of just 1960 units. Each will get a passenger-side dashboard badge identifying the vehicle as "X out of 70."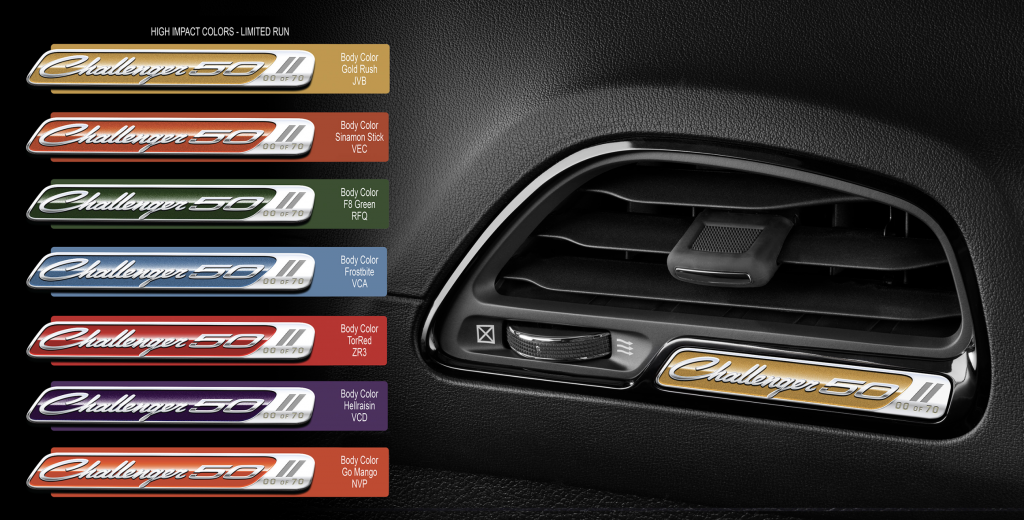 The Shaker hood fitted to all but the GT model is another retro touch. As was the case with the hood scoop offered on the original 1970 Challenger, the hood scoop bolts directly to the engine and thus shakes along with it. Although offered previously, this is the first time a Shaker hood is available on the R/T Scat Pack Widebody.
Although not 50th Anniversary Editions, all 2020 model-year Challenger SRT Hellcat and Challenger SRT Hellcat Redeye models will carry 50th Anniversary badges.
The 50th Anniversary Edition package will be priced at $4995 for the GT, $5495 for the R/T, and $5995 for the R/T Scat Pac and R/T Scat Pack Widebody. Orders will begin next month, with deliveries to begin arriving in early spring.
CG Says:
Although these 50th Anniversary Editions are more flash than dash, there's an awful lot of "flash" here. And since only 280 of each color will be produced (four models x 70 in each color) it's unlikely you'll mistake your car for someone else's in a parking lot.
Check out the Consumer Guide Car Stuff Podcast
Challenger 50th Anniversary Editions