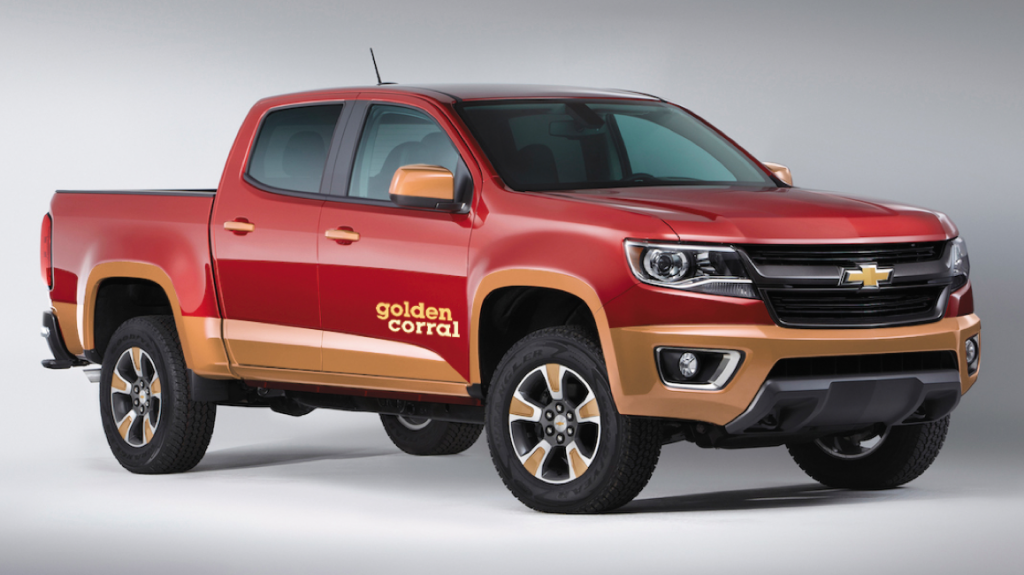 At a private event held in conjunction with the 2015 New York Auto Show, Chevrolet unveiled an unusual special trim edition of its recently redesigned Colorado midsize pickup. The 2016 Chevrolet Colorado Golden Corral Edition is a limited-production package inspired by the popular buffet-and-grill restaurant chain, and it's available exclusively on the 4WD Z71 Crew Cab Short Box model.
The matchup of a midsize pickup truck and one of America's leading family-buffet restaurants might seem like an odd one, but Chevrolet Communications Manager Tom Wilkinson insists that the pairing was a natural. "The idea for the truck grew out of our successful partnership with Golden Corral on the #36 Chevrolet SS driven by Reed Sorenson in the NASCAR Sprint Cup series. We all said, 'We've got a great thing going here. How can we expand on it?' And the conversation grew from there. It's a perfect fit. The Golden Corral name suggests the rugged Old West and wide-open spaces, and it captures the true spirit of the reborn Chevrolet Colorado. Plus, it obviously calls to mind some truly enjoyable family dining experiences."
Pickups on Steroids: 1990 Silverado Versus 2015 Chevrolet Colorado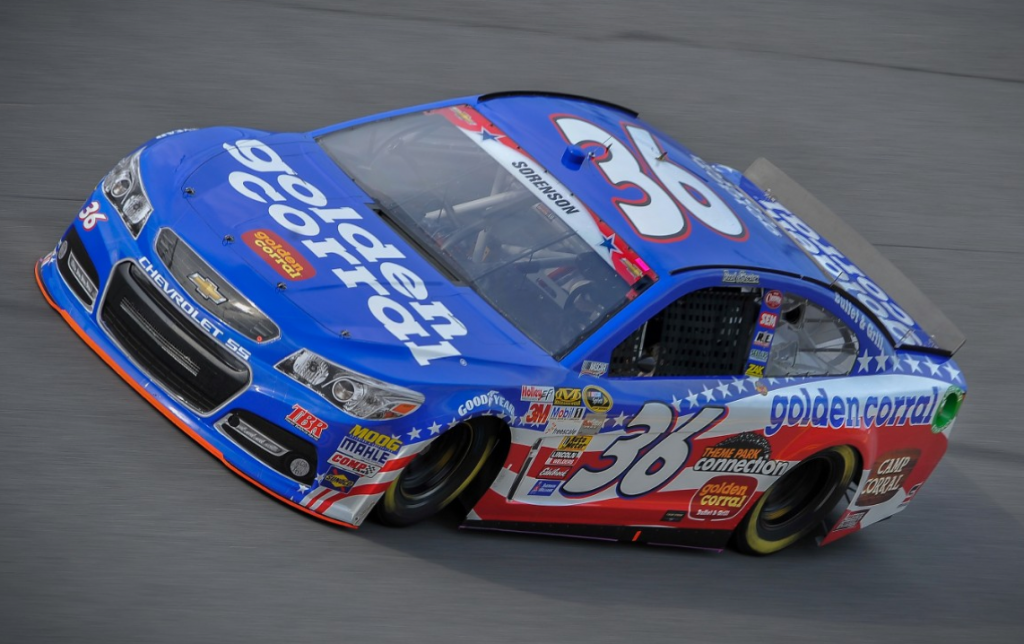 "At Golden Corral Buffet and Grill, we're all about quality and value. We're 100% dedicated to giving our customers more for their money, and so is Chevrolet," said Golden Corral President and CEO Lance Trenary. "That's why we're all proud and excited to team up to introduce this great-looking limited-edition truck. Chevrolet puts the same care and attention to detail into each Colorado that we do with all our food, including our grilled-to-order USDA sirloin steaks, our delicious Timberline Chili, and our beloved Bourbon Street Chicken."
5 Really Bad Cobranded Special Edition Vehicle Ideas
The Golden Corral Colorado is available solely in Red Rock Metallic with an exclusive "Corral Gold" hue on the lower body, rearview mirrors, and door handles. The standard 17-inch cast-aluminum wheels also receive unique Corral Gold accents, in addition to the Dark Argent Metallic color on other Z71 Colorados. The familiar Golden Corral logo is emblazoned on the front doors and stitched into the headrests of the front seats. The standard Chevrolet MyLink navigation system is programmed with every Golden Corral location in the U.S. Buyers of the Golden Corral Edition also receive preferred parking at select locations and a coupon booklet with special deals, such as a free unlimited-refill beverage with buffet purchase, or 15% off the total bill.*
* Restrictions apply. 15% discounts not available in Puerto Rico, Hawaii, and U.S. Virgin Islands.
Ford "Cooks Up" New Hybrid: Meet the 2015 C-Max Energi Kingsford Edition