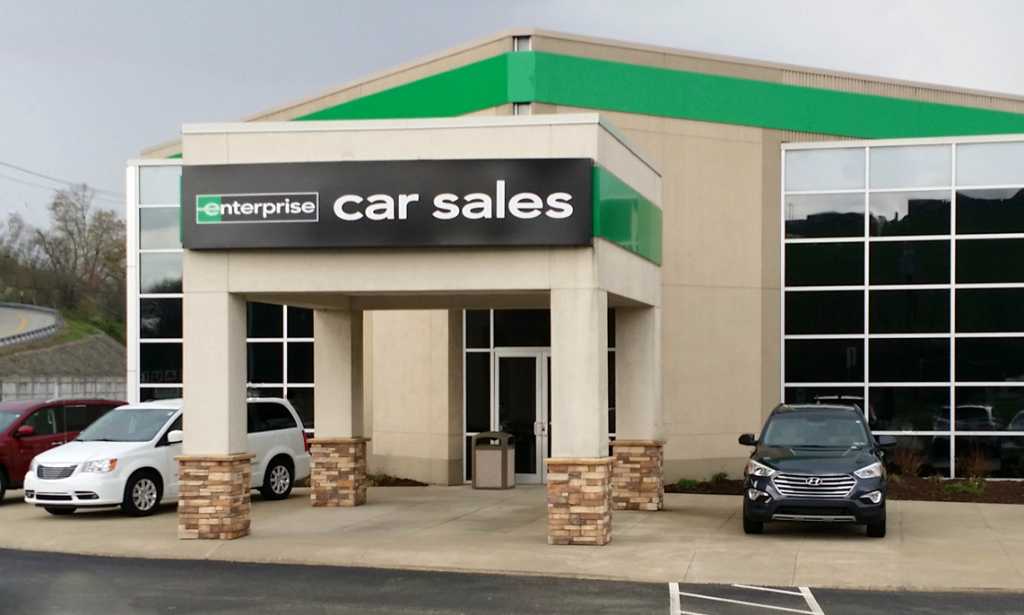 One of the primary advantages of buying a new vehicle instead of a used car or truck is confidence—confidence that the vehicle you're buying has not been neglected, abused, or in an accident, and is not otherwise prone to problems.
Should I Buy A Used Car From Enterprise?
Still, with the average new vehicle retailing for more than $35,000, the lure of a depreciated one-to-two-year-old vehicle can be compelling. So compelling, in fact, that for every new vehicle sold in the United States, three used-car transactions take place.
While most of those used-car sales take place between private parties, many shoppers—especially those looking for newer vehicles–turn to commercial operations to find their pre-owned cars and trucks. New-car dealerships often sell as many used vehicles as they do new, and used-car chains such as CarMax and AutoNation have become popular pre-owned-vehicle shopping options.
Another option used-car shoppers have is to purchase a used rental vehicle directly from the rental company. A number of larger rental chains now market their used inventory directly to consumers through company stores. Among these companies are Avis, Enterprise, Hertz, and Thrifty.
Because rental companies only loan out relatively new vehicles, they need to constantly refresh their car and truck inventory. For this reason, rental companies are endlessly purchasing and selling vehicles—often in large volume.
The most common way for rental companies to dispose of their used vehicles is to sell them at large wholesale auctions that are not open to the public. At these auctions, the cars and trucks are typically purchased by car dealers looking for extra inventory, as well as used-vehicle retailers like CarMax and AutoNation.
Dangerous Dealers: Servicing Car Potentially as Perilous as Purchasing One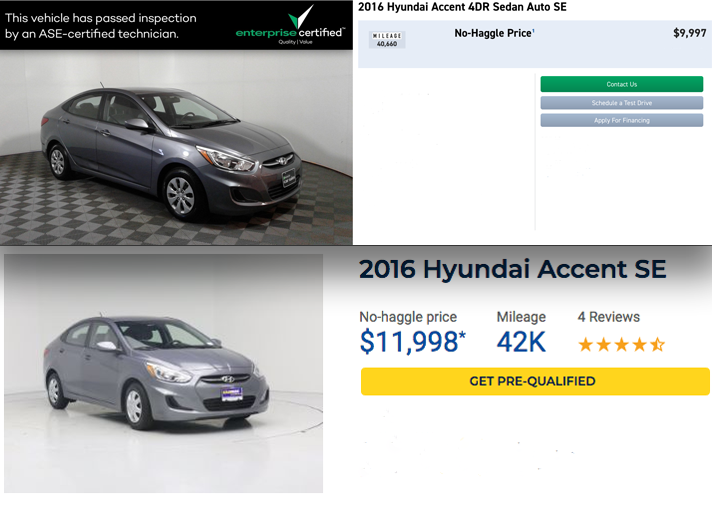 You're on Your Own: How Your New-Car Salesman Gets Paid
The auction process is not inexpensive to participate in as a seller—the auction company has to take their cut, of course—but the income from selling retired rental cars has a real impact on a rental company's bottom line. It is for these reasons that the aforementioned rental outfits sell some of their used rental units directly to the general public.
So, is buying a used rental car an option for you? The short answer is: possibly. We were recently involved in a used-vehicle purchase from an Enterprise Car Sales store, so we'll take a closer look at that operation here.
Our experience involved shopping with a friend's 22-year-old daughter for her first car. Our local Enterprise location had three vehicles of interest, each of which was priced near our $10,000 target budget.
We inspected and test-drove a Nissan Versa sedan, then a Hyundai Accent sedan, and then a Nissan Versa Note hatchback. All were 2016 models, and all had between 40,000 and 50,000 miles on the odometer.
Should I Buy A Car From JD Byrider?
To my chagrin, I was unable to make my ward care that the Versa's interior was lined with hard plastic, or that the Accent didn't have cruise control. Instead, she focused on the Versa's steering-wheel audio controls and the Note's functional cargo area. But I digress. The insights gained from shopping for a car with a member of Generation Z are fodder for a separate story.
Because she would be living a somewhat transient life for a few years, and because fuel economy was a priority, my friend's kid opted for the Versa Note, citing its efficiency and functionality as key selling points, and ignoring my concerns that the drivetrain was especially noisy.
Apart from a few paint chips and one fender ding, the car was in excellent shape. It's also worth noting that the car was silver—as are many of the cars on the Enterprise lot. In fact, based on what I could see, most of the cars Enterprise sells are white, black, or silver, with a few reds thrown in for good measure. This makes sense, as these are popular colors and will make the cars easier to sell, but the lack of color choices may scare away some shoppers.
Enterprise has more than 130 sales locations nationally, and claims to have more than 7000 vehicles available for sale at any given time. All of the inventory comes from the rental operations of Enterprise, as well as from Alamo and National rental fleets (both of which are also owned by Enterprise Holdings).
Should I Buy an Extended Warranty?
Should I buy a used car from Enterprise?
Pros
Competitive, no-haggle prices—generally lower than CarMax
Large inventory of well-maintained vehicles priced between $10,000 and $15,000
Vehicles are safety-inspected and serviced
Seven-day return policy
Enterprise one-year powertrain warranty
Simple purchase process
Cons
Limited brand options
Vehicles tend to be lower trim levels
Vehicles tend to be high-mileage for their age
AWD crossovers in short supply
The Enterprise sales inventory is currently rich with Nissan and Hyundai products, and a fair number of Dodge minivans are in the mix as well. Other brands aren't as well represented. Toyotas, for example, are rare, and Hondas are not to be found (Honda typically does not place its vehicles into rental fleets).
Something else worth noting: While the Enterprise inventory includes a fair number of popular crossover models, very few of them are equipped with AWD—a point that may frustrate some shoppers.
Ultimately, where to go to purchase a used vehicle becomes a question of what you're looking for. A rental-car reseller like Enterprise may work well enough for shoppers who are content with a somewhat-limited vehicle selection—and who live close to such a dealership.
New-car stores will appeal to shoppers who are looking for newer or lower-mileage vehicles, and/or are keen to do their own negotiating. New-car stores are also the only source of certified pre-owned vehicles—a compelling class of lightly used vehicles augmented by factory-backed warranties.
"Buying a used vehicle can be more challenging than buying new. Not only do you have to find the right vehicle, but you have to make sure it will be reliable," said Dave Sloan, President of the Chicago Automobile Trade Association. "Shopping for a manufacturer-certified used vehicle from a new-car dealer can help reduce the reliability fears, leading to a better buying experience." You can read more about certified pre-owned vehicles here.
Our recommendation is to take your time and consider all of your purchase options. Check inventories, compare prices, and visit showrooms. For some shoppers, a used rental car could just do the trick.
Should I Buy a Certified Pre-Owned (CPO) Vehicle?
Should I Buy A Used Car From Enterprise
Should I Buy A Used Car From Enterprise