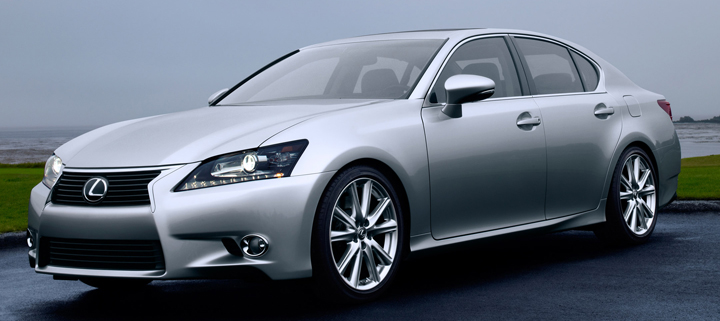 Note: This report supplements Consumer Guide Automotive's full report on the 2013 Lexus GS, a premium-midsize sedan that starts at $46,900.
2018 Geneva Auto Show: 2019 Lexus UX
Test car came equipped with: Luxury Package (includes adaptive suspension, 18-inch wheels, heated/cooled front seats, 3-zone climate control, various trim upgrades); Mark Levinson premium audio;  Navigation Package (includes Lexus Enform system); blind-spot monitor; front-/rear-obstacle sensors; cargo mat; trunk net. Total MSRP with $875 destination = $57,809.
Powertrain: 306-hp 3.5-liter V6, 6-speed automatic transmission, rear-wheel drive
Acceleration: The main report cites strong all-around performance, and my experience confirms that. For reference, Car and Driver clocked 0-60 mph at 5.5 seconds, which should be more than adequate for most buyers. The Luxury Package brings normal, Eco, and Sport/Sport+ driving modes, selected by a center-console knob. The Sport settings have no effect on acceleration. Sport merely sharpens throttle, steering, and transmission responses and activates a valve that lets in a bit more engine noise for a sportier cabin ambience. Sport+ firms up the suspension a little. We didn't use the Sport modes much, as their effects seemed minimal. Eco mode dulls throttle action and causes the transmission to upshift earlier and downshift later for the sake of maximizing fuel economy. We didn't use this much either, as it can make town driving rather tedious. The automatic transmission is Lexus' usual ultra-smooth operator in regular Drive, but the tester suffered curious minor clunking on changing gear in manual mode, whether using the console lever or steering-wheel paddles.
Fuel Economy: We averaged 24.2 mpg over 131 miles of Phoenix-area driving split almost evenly city/freeway. That aligns well with EPA estimates of 19/28 city/highway and especially the 23-mpg combined rating. Too bad premium-grade fuel is mandatory.
Ride Quality: My comments echo the main report's. Though I, too, drove mostly on smooth pavement—albeit in and around Phoenix—my test GS showed the same tendency to fidget on the highway and noticed sharp bumps and divots, which it muffles but doesn't completely smother. Body motions are otherwise well controlled, but the ride lacks the plush feel we expect from comfort-oriented Lexus models like this. One possible factor: the tester's optional 18-inch wheels with fairly low-profile tires (all-season V-rated P235/45R Dunlop SP Sport 5100s).
Steering/handling/braking: Though this GS Luxury isn't meant to be the sportiest of the redesigned 2013s, it feels a bit sharper and more agile than its predecessor, thanks in part to a number of weight-reduction measures. Even so, the car lacks the crisp, poised cornering responses of a lower-line BMW 5-Series, aggravated by fairly numb, over-light electric-assist steering. Sport and Sport+ mode increase steering effort, but not feel. I haven't tried the optional F-Sport Package, but it presumably trims the Luxury's moderate body roll in tight, fast turns, even if it does little for steering feel.
Quietness: As the main report implies, the new GS is a bit noisier than the old one—which is deliberate, by the way—but it's nevertheless a very quiet car by absolute standards. Coarse-pavement tire thrum is noticed, but not irksome, and there's minor wind rustle at highway speeds, but that's all. The V6 virtually vanishes in normal highway cruising; full throttle causes only a muted but primo-sounding growl.
First Spin: 2018 Lexus LS 500 and Lexus LS 500h
Controls: I agree with the report comments, but I absolute hated the test car's infotainment system. For starters, the little joystick knob on the console "computer mouse" had frustratingly imprecise action—odd, as I hadn't experienced this on previous test Lexuses with the same basic setup. Second, some simple settings—like turning the A/C on or off—require too much strolling through screens and menus—a real distraction while driving. Why, oh why isn't there a "hard" button for A/C on/off? Equally amazing, there's no "back" button for returning to a prior screen. Well, there is, actually, but you have to select it on-screen using the joystick—another needless step. The system programming and the split-screen capability allow displaying, say, the navigation map and audio info together, but that doesn't simplify operation very much. In all, this is one of the least likable infotainment designs I've come across. Audi MMI and BMW's iDrive are far superior for useability. As long as I'm griping, the engine-start and trip-odo buttons require an awkward reach around the steering wheel. And it's about time the Lexus brand got its own cruise-control switchgear instead of using the same Toyota corporate stalk you find in a humble Yaris.
Details: The cabin of our full-production test car was up to usual Lexus standards, with handsome, quality materials and careful assembly throughout. The tester also boasted a super-solid driving feel and evidence of ample sound insulation—two more typical Lexus traits.
Room/comfort (front): As the main report says, the GS has plenty of room, comfortable seats, and ample adjustments for driving position. I will add that the styling—especially the thick, triangular rear roof pillars—impedes visibility a bit directly aft and to the right-rear, though the test car compensated with the available rearview camera and obstacle sensors.
Room/comfort (rear): Yes, the redesign seems to have trimmed some headroom and toe space versus the previous GS. Cabin width, a highish center tunnel, and a raised seat-cushion center preclude comfortable three-adult travel except for short hops.
Cargo room: Not the biggest of trunks, as the main report notes, but what space it has is quite usable.
CP Says . . . The GS has always seemed neither fish-nor-fowl among midsize luxury sedans, which may explain why it has been a consistent slow-seller. This new one injects a dose of sportiness in the styling and dynamic repertoire in an attempt at greater youth appeal, but it's not enough to make a genuine sports sedan like the rival BMW 5-Series. Worse, the ride is more unsettled than in the old GS, let alone the Mercedes E-Class, which can be sports-sedan involving when suitably equipped. And let's not forget the eminently likable near-midsize Cadillac CTS. So, with all due respect to my colleagues, the latest GS is not so much "a solid improvement" as a rerun of the previous model, albeit with a slightly different set of priorities. And the infotainment system couldn't be worse. With all that, I predict that this Lexus will keep on struggling for sales.