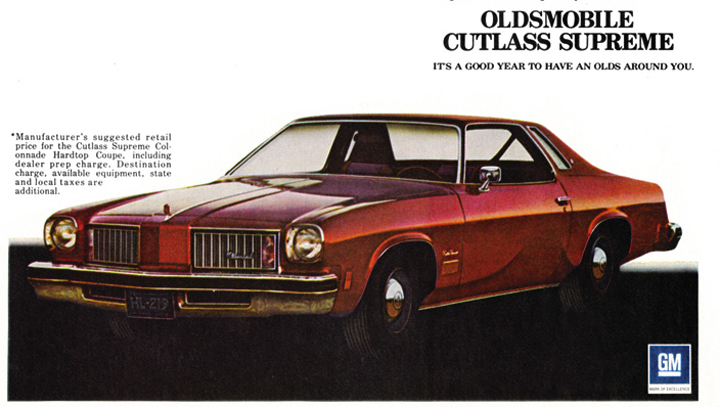 Many members of the Consumer Guide Automotive staff also work on Collectible Automobile magazine. A few days ago, a small collection of vintage automobile advertisements and dealer brochures landed on CA Editor-in-Chief John Biel's desk, courtesy of a reader in Wisconsin. Most of the ads were from non-automotive magazines, so they weren't the typical pieces for muscle cars and such that were placed in the "buff books."
One advertisement that caught my eye was for the 1975 Oldsmobile Cutlass Supreme coupe. The mid-Seventies was the era of the personal-luxury 2-door coupe, and one of the most popular was the Cutlass Supreme. The interesting twist to this ad was that it was selling the car on low price rather than luxury. Placed in the February 1975 issue of Sunset, the main theme of the copy was the $4,048 base price and all the features that the money bought you.
Four photos showed what was presumably a zero-option Supreme coupe. It would have come with a 250-cubic-inch inline 6-cylinder engine and a 3-speed manual transmission. Other standards included blackwall tires, small "dog dish" hubcaps, and manual wind-down windows. The bench-seat interior was finished in velour. Power steering and front disc brakes were part of the deal, and GM's new-for-1975 high-energy ignition system was included, too. EPA estimated fuel economy was noted at 16 mpg city/21 mpg highway.
But, we can't help but wonder how many of the 150,874 Cutlass Supreme coupes that Oldsmobile built in 1975 were actually ordered in base form. Consider some of the items the options list included: air conditioning ($487), automatic transmission ($237), power windows ($149), power seat ($116), AM radio ($73), and AM/FM stereo radio ($329). Also offered were 350-cubic-inch ($180) and 455-cubic-inch ($298) V8 engines. The incredibly popular vinyl top cost extra, too.
On most of today's cars, many of these options are standard equipment that buyers just expect. We suspect that most 1975 Cutlass Supreme buyers couldn't live without much of this stuff either, which kinda makes that $4,048 base price a rather strange selling point.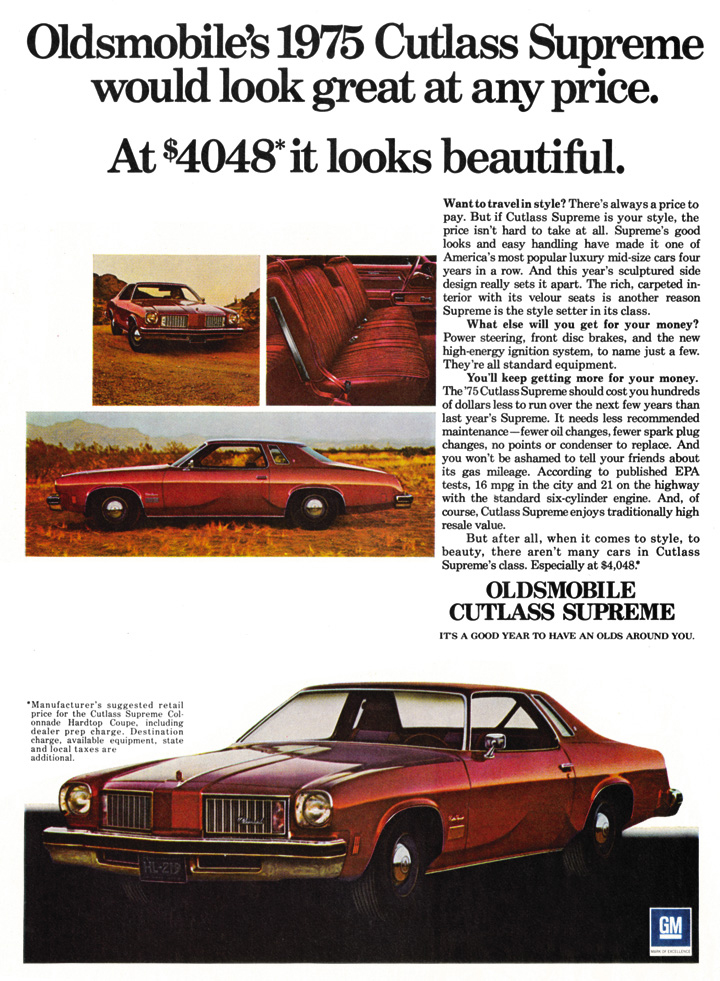 Price of a 2013 Ford Pinto: $17,375