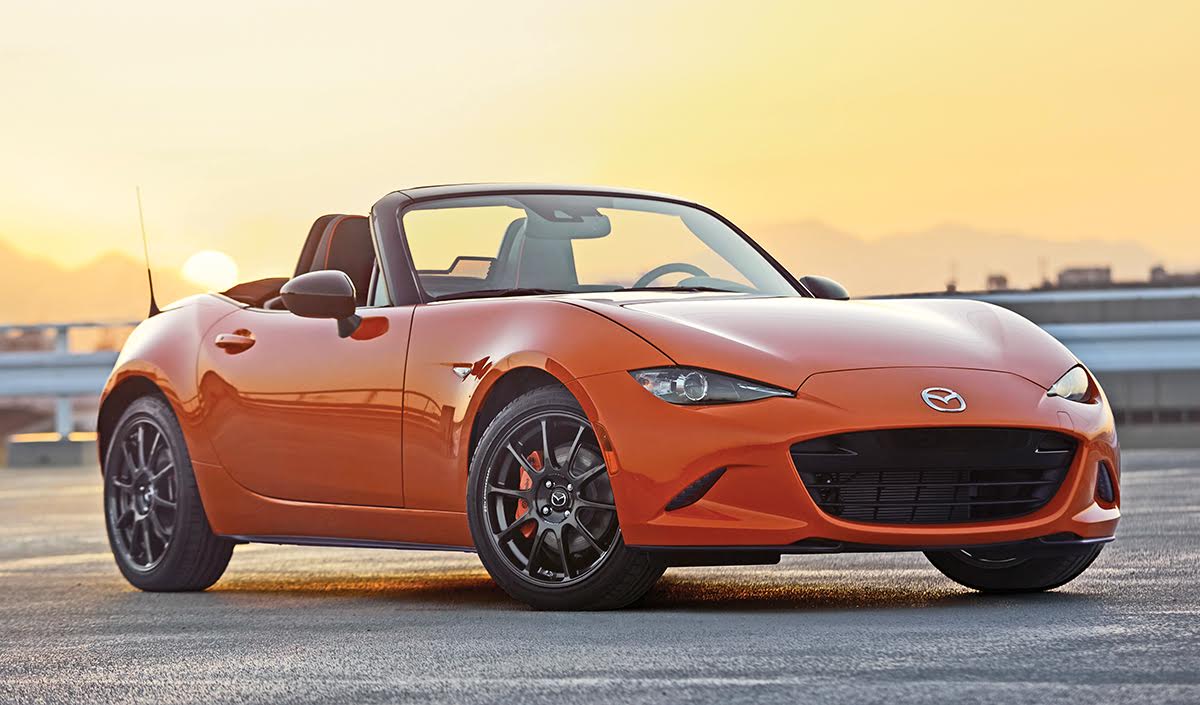 by Don Sikora

Note: The following story was excerpted from the August 2019 issue of Collectible Automobile magazine.
Since its debut at the 1989 Chicago Auto Show, Mazda's MX-5 Miata has become an enthusiast favorite. Three decades later, Mazda came to the 2019 Chicago show with the MX-5 Miata 30th Anniversary limited-edition special. We think it's worth checking out as a future collectible.
More Collectible Automobile fun
Today's well-regarded Miata is the fourth-generation model. It was new for 2016 and available in two body styles. The traditional soft top roadster has a cloth roof that can be manually lowered and raised. The RF model substitutes a power-retractable targa-style hard roof panel. When the panel is open, the vertical rear window is stowed, but the "flying-buttress" rear roof structure remains atop the bodywork. Our office mates at Consumer Guide advise a buttoned-up RF provides a quieter highway ride and improved all-weather usability compared to the roadster. Downsides included added weight and complexity, reduced headroom, and a slightly stingier trunk.  
All 2019 MX-5 Miatas benefit from mechanical updates, but exterior styling remains intact. The naturally aspirated 2.0-liter four-cylinder engine was extensively tweaked, with horsepower jumping from 155 to 181. There is also a revised exhaust system, and a new tilt/telescopic steering column. As before, the rear-drive sportster has a six-speed manual transmission or optional six-speed automatic. CG, for one, praises Miata's "pure sports-car personality," and fun-to-drive nature.
The 30th Anniversary special started with this thoughtfully reworked base, and adds visual differentiation. Most obviously, the 30th Anniversary model sports was what Mazda calls "exclusive" Racing Orange exterior paint said to recall the yellow Miata Club Racer concept from the '89 Chicago show. The soft top's cloth is black, but the RF roof assembly wears Racing Orange paint. 
Inside, the predominantly black interior is highlighted with Racing Orange sections at the top of the door panels and orange rings on the dashboard's air vents. Driver and passenger sit on heated Recaro-brand sport seats covered in Alcantara and accented with orange piping. More black Alcantara covers door-panel inserts and the lower section of the dashboard. To our eyes, these touches deliver a look that is suitably sporty without going over the top.
Outside, the cars wear new Rays-brand "ZE40" forged alloy wheels. These are 17-inch jobs with a Dark Gunmetal finish. The final touch is a subtle 30th Anniversary badge mounted just behind the driver's door that notes the car's number out of a worldwide edition of 3000 units. 
Mazda announced only 500 examples of this collectible Miata would be sold in the United States, with prices starting at $34,995 for the roadster and $37,595 for the RF. The cars were put up for order on a company website on February 7, 2019—the day of the Chicago debut. Mazda later advised that all 500 cars were reserved within four hours, and a waiting list was being kept for further hopefuls. The company said 60 percent of American buyers chose the soft top model and deliveries would take place, appropriately enough, during summer 2019.
Quick Spin: 2019 Mazda MX-5 Miata RF Grand Touring
Pros: 
• Vibrant Racing Orange paint helps make this special edition stand out.
•  Mazda gave all 2019 MX-5 Miata models worthwhile mechanical upgrades.
Cons:
• If you haven't already reserved one, acquisition could prove challenging.
• Passenger and cargo room in tight supply—hey, it's a Miata.
Final Drive:
While the original Miata leaned on fondly remembered sports roadsters made by other companies for inspiration, with this new special edition Mazda celebrates its own history. Miata fans will probably be happy with any 30th Anniversary MX-5, but our pick would have a soft top and the slick six-speed manual.
First Spin: 2019 Mazda MX-5 Miata
Collectible Miata