The first generation of "America's Sports Car," known casually as C1, was rolled out for the 1953 model year. Here we track the year-by-year changes to the C1 'Vette, and pass along a few fun facts along the way.
Corvette Fun Facts C3 (1968-1982)
Corvette Fun Facts C4 (1984-1996)
Corvette Fun Facts: C1
1953
Base Horsepower: 150
Model-Year Sales: 300
Far from luxurious, the Corvette was offered with just two options for its inaugural outing. A "fully loaded" 'Vette would have been delivered with the $145 AM radio, and the $91 heater.
1954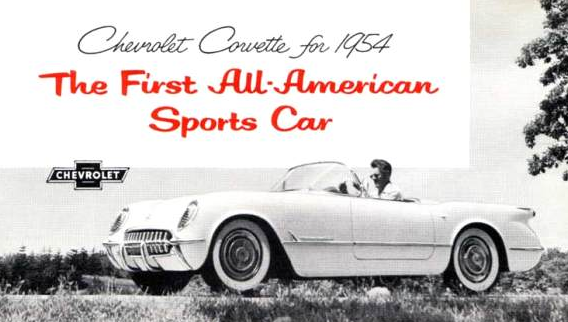 Base Horsepower: 155
Model-Year Sales: 3640
Black was the only Corvette color without a special name for 1954. Polo White returned, and was joined by Pennant Blue, and Sportsman Red. Just four black "Vettes were built, compared to 3230 Polo White cars.
1955 

Base Horsepower: 195
Model-Year Sales: 700
Three big debuts marked 1955. The Corvette got its first V8, Ford introduced the Thunderbird, and a restaurant-equipment salesman named Ray Kroc opened the first franchise McDonald's drive-in in Des Plaines, Illinois.

1956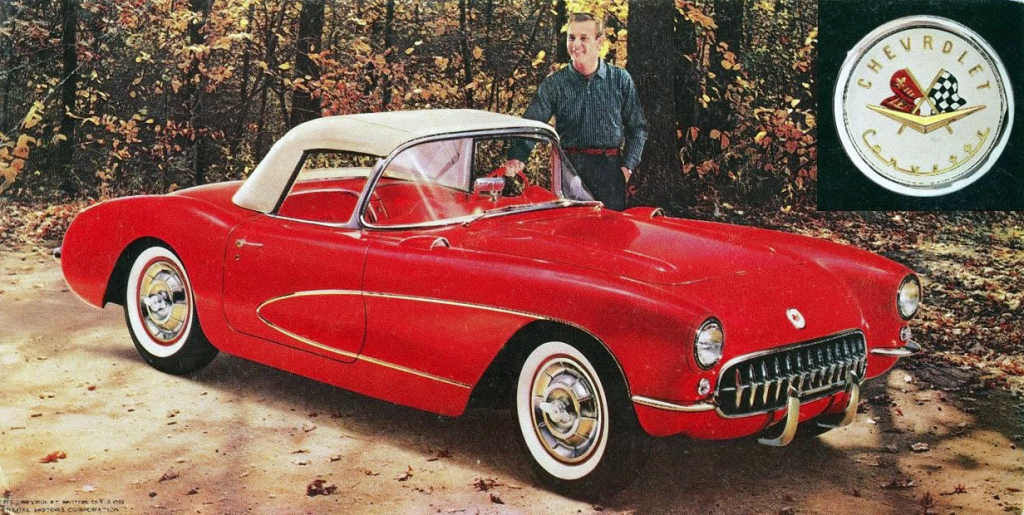 Base Horsepower: 225
Model-Year Sales: 3467
The Blue Flame six disappeared from the Corvette equipment list for 1956. From '56 on, only V8s would power Chevy's sports car. The smallest V8 was a 265-inch mill, available from 1955-56; the largest, a thumping 454-inch big-block, was available between 1971 and 1974.
1957
Base Horsepower: 283
Model-Year Sales: 6339
In the day, an engine that cranked out one horsepower per cubic inch was considered to be the real deal. For 1957, the optional fuel-injected 283-cid mill produced exactly 283 horsepower. At $726, it represented 25 percent of the 'Vette's base price.

1958
Base Horsepower: 290
Model-Year Sales: 9168
Suddenly obsolete, Polo White was booted from the Corvette order sheet to make room for Snowcrest White. Other fun colors on the 'Vette palette included Regal Turquoise, Signet Red, and the relatively unloved Panama Yellow, the least popular 1958 color after silver.
1959
Base Horsepower: 290
Model-Year Sales: 9670
For just $32, buyers could have their Corvettes delivered with whitewall tires. Though an anachronism today, nine out of ten '59s came equipped with the optional rubber. Just as popular (and a lot more practical) was the $102 heater.
1960
Base Horsepower: 315
Model-Year Sales: 10,261
Corvette drivers had more open road to hit for 1960–more than 9000 miles of the Interstate Highway System was completed by then, with another 5000 miles under construction. Coincidentally, the TV series "Route 66" debuted, featuring two guys, one Corvette, and a lot of driving.
1961
Base Horsepower: 315
Model-Year Sales: 10,939
At 325 horsepower, Corvette's most potent engine was no slouch. But for pure muscle, the 1961 Chevy Impala SS had the little sports car trumped. Ordered on just 142 cars, Impala's optional 409-cubic inch V8 boasted an impressive 360 horsepower.
1962
Base Horsepower: 360
Model-Year Sales: 14,531
Helped to some degree by rising Corvette sales, Chevrolet output tops the two-million mark. Of the nearly 15,000 'Vettes built, just 820 were delivered in Almond Beige. Other fun color names included Tuxedo Black and Honduras Maroon.
What If…1953 Chevrolet Corvette (7 Alternate-Universe Possibilities)
Corvette Fun Facts