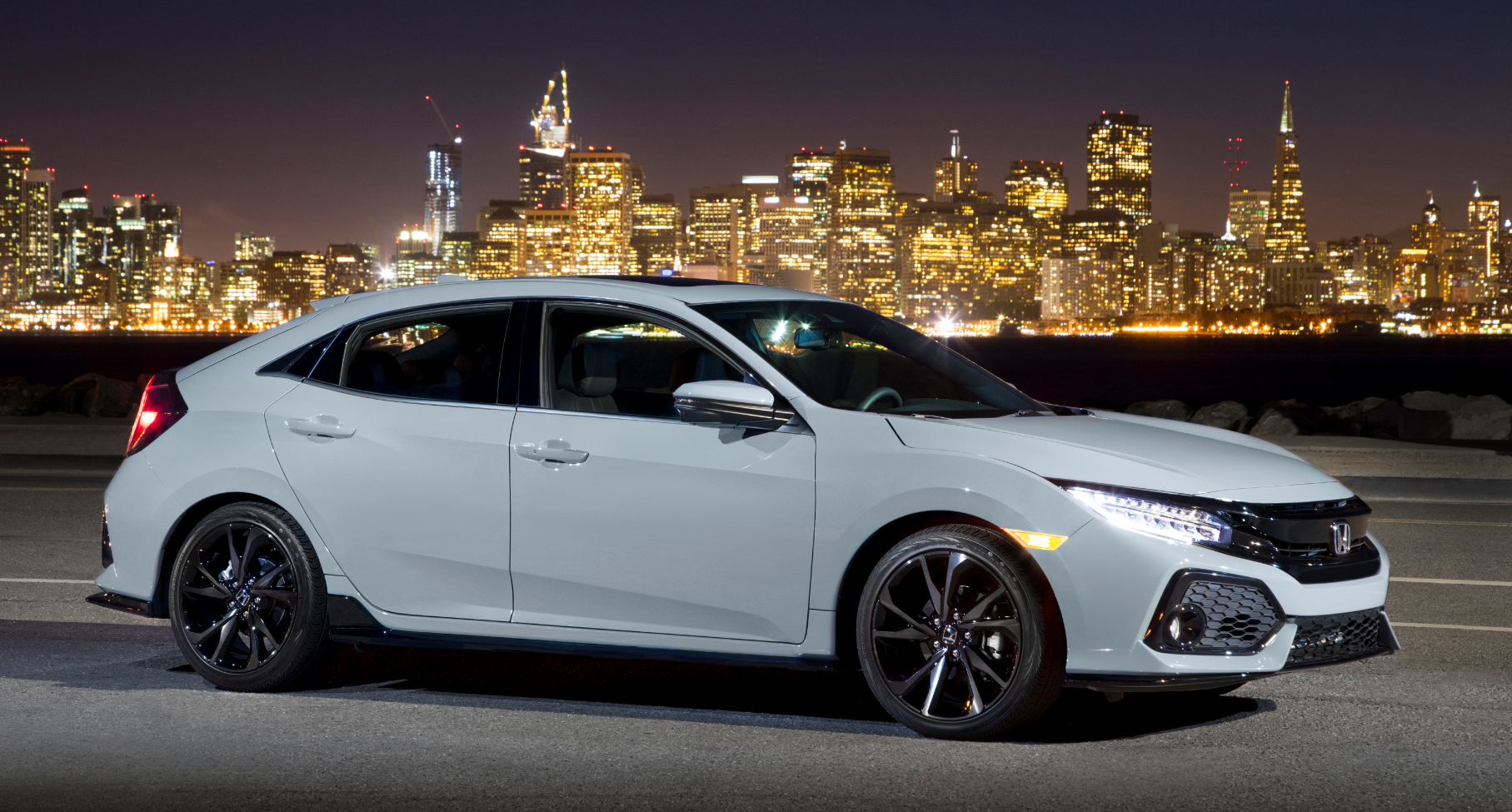 Honda's popular Civic was redesigned for 2016, arriving first as a sedan, then as a coupe, both offered in rather conventional LX, EX, EX-T (turbo), EX-L, and Touring trim levels.
Honda Civic Hatchback
This past fall, a 4-door hatchback joined the line – the first Honda Civic hatchback since 2005 – in LX, EX, and EX-L trim levels. It shared the 106.3-inch wheelbase of the sedan and coupe, but was 4.4 inches shorter, had distinctive front and rear fascias with large corner grilles, and offered a rear hatch (naturally) instead of a trunk. (Both the sedan and coupe have fastback profiles that make them look like hatchbacks, but they're not, as it's primarily for styling and aerodynamics.)
But following those are hatchbacks of a different flavor.
Test Drive: 2016 Honda Civic Coupe Touring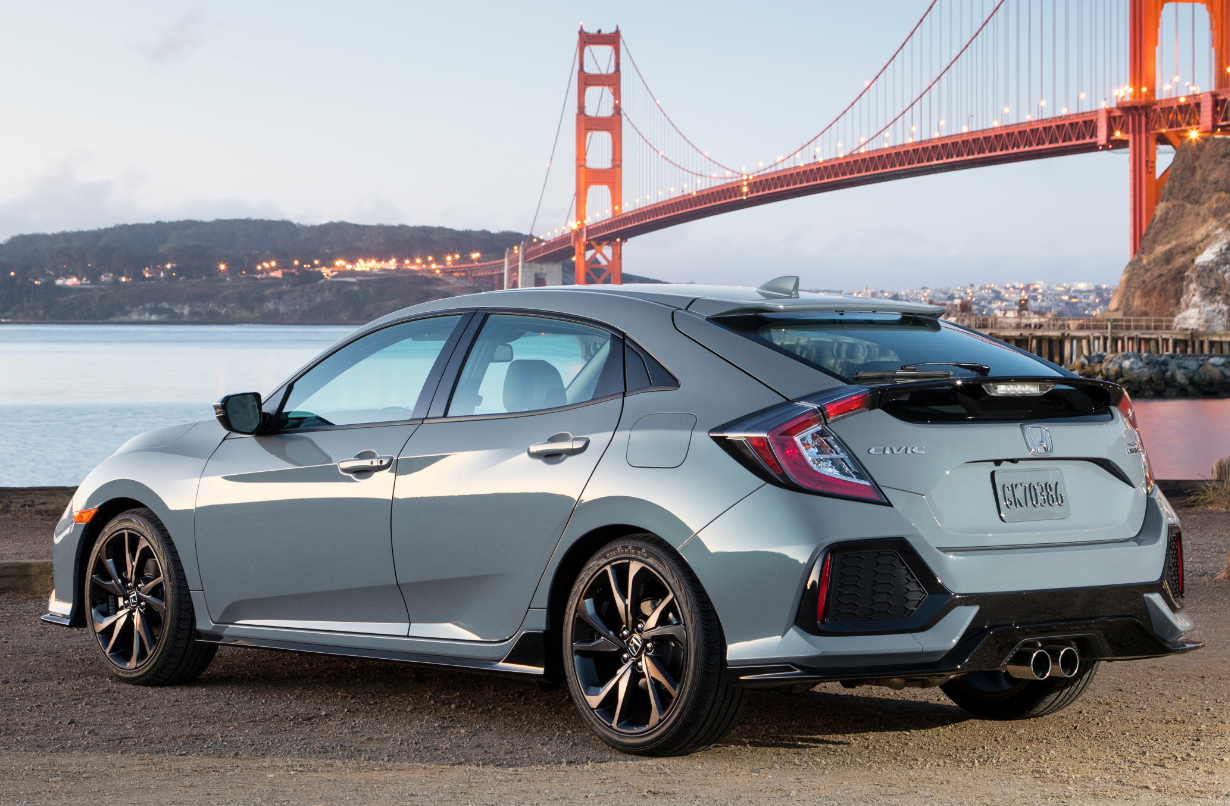 First to arrive is the Sport, which just went on sale, followed by the Sport Touring, which is due early next year. As their names suggest, they have a more sporting demeanor than their "pedestrian" counterparts, adding 18-inch alloy wheels, a rear spoiler, dual exhaust outlets, fog lights, leather-covered steering wheel and shift knob, sport pedals, red dashboard illumination, paddle shifters (with the CVT transmission), and six more horsepower (to 180) to the standard 1.5-liter turbo four, which has been modified to make that extra horsepower when using premium-grade fuel. In terms of equipment, the Sport mimics the base LX trim level, while the Sport Touring matches the top-line EX-L. The Sport will start at $22,135 with manual transmission (about $1600 more than an LX), $22,935 with CVT automatic, while the Sport Touring – which comes only with CVT – starts at $29,135. (All prices include the $835 destination charge.)
Their appeal for many is that they not only look the sporty part, but back it up with the aforementioned hardware. And since the suspensions are the same as for regular Civic hatchbacks, they ride about the same as well – something that will be especially appreciated in areas (like Chicago) where roads aren't the smooth, twisting ribbons they are in California (where the preview was held).
Steering and handling exhibit a rather sporting feel, though the upcoming Si and Type R will likely dial that up a notch or two – in the latter case, likely into sports-car territory, though at the expense of ride comfort. For most folks, the ride/handling balance of the Sport and Sport Touring is probably about right for daily commuting, at least where roads aren't the best.
Honda says that hatchbacks with the 1.5-liter turbo and CVT transmission accelerate from 0-60 mph in about 7.8 seconds. (The Sport Touring may be a bit slower due to added weight.) That's quite good by compact-car standards. However, nail the gas from a stop, and the car moves away rather leisurely at first, though acceleration picks up about 20 feet out. Hit the gas while underway, and the CVT kicks down rather quickly for more passing power. And that's power you don't mind using, because unlike some 4-cylinder engines, the little turbo is fairly quiet and composed even at higher rpm; in fact, we would have appreciated a little more exhaust noise under throttle. The 6-speed manual, which is only offered on the Sport (and the base LX), has very smooth shift action and a light clutch. However, there's not much passing power below 3000 rpm in the higher gears, so you'll be using that sweet shifter quite a bit at higher speeds.
Although the Sport comes fairly well equipped (including a 180-degree rearview camera, which is both handy and rare) there's a big gap in feature offerings and price between it and the Sport Touring, which tops the Hatchback lineup. And since there are no options on either, some may find that "just right" combination elusive.
Test Drive: 2016 Honda Civic  Sedan EX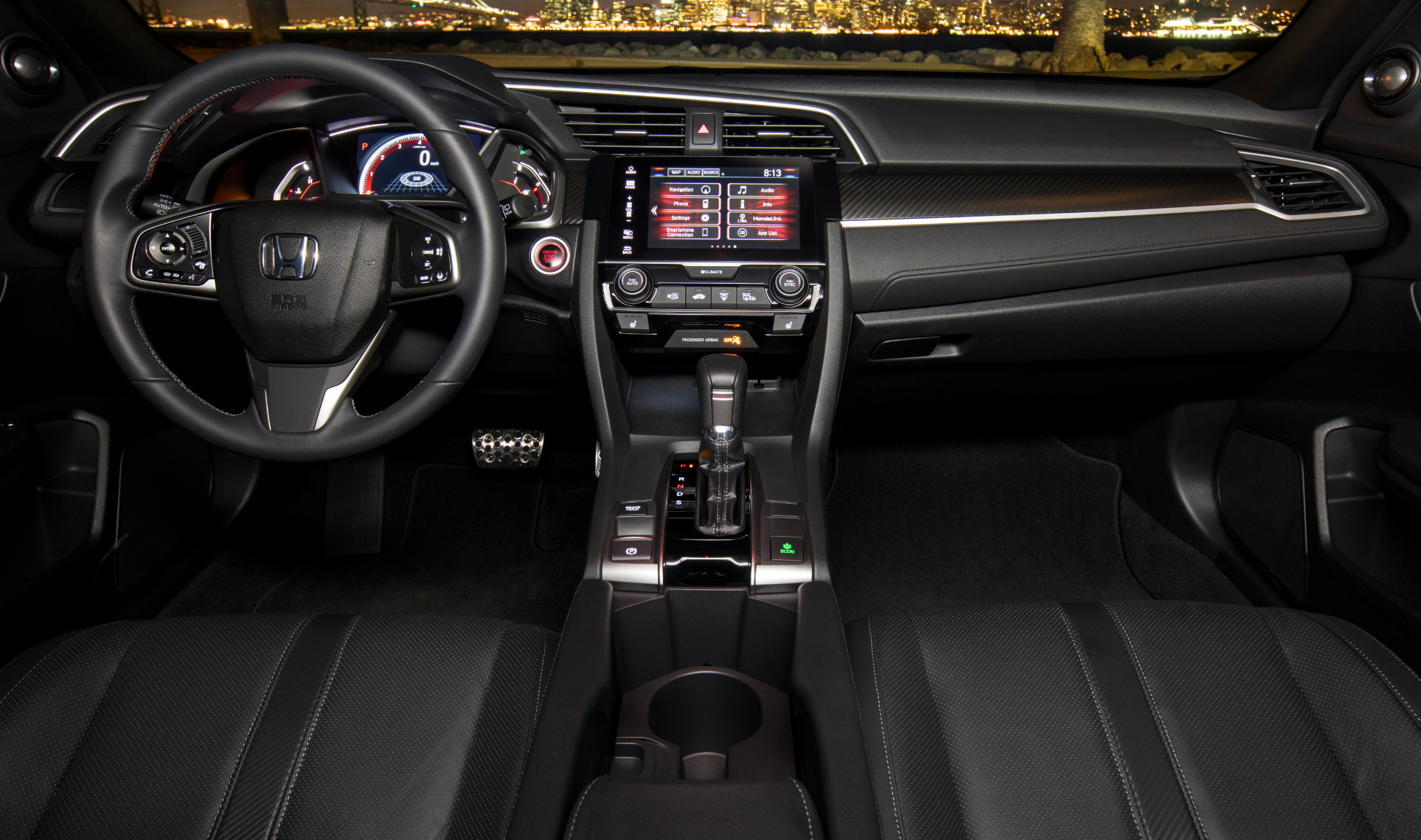 First of all, the Sport is the only Civic that doesn't offer the Honda Sensing suite of safety features, at least at launch. And even if it adds it later (possibly in early 2017), it will likely only be available with the CVT transmission. By contrast, Honda Sensing is standard on the Sport Touring and includes forward collision warning and mitigation, lane-departure warning and mitigation, lane-keep assist (keeps you centered in the lane, and we found it works quite well – as long as its camera can see stripes at the edges of the road), and adaptive cruise control. Sport Touring also has Honda Lane Watch, which turns on a right-side camera so you can see what's to the right of the vehicle when you activate the right turn signal.
Sport Touring also adds a host of comfort, convenience, and infotainment features. Comfort and convenience items include auto-dimming rearview mirror, 8-way power driver seat, rain-sensing wipers, dual-zone automatic climate control, power moonroof, keyless access and starting, remote start, heated power mirrors, and heated front and rear seats (the latter being exclusive to Sport Touring among all Hatchback models).
On the infotainment front, Sport Touring adds satellite radio, premium 540-watt audio system, HondaLink assistance system, navigation system, Apple CarPlay and Android Auto, and a 7-inch touchscreen to control it all. The last has no control buttons or knobs – something that has drawn barbs from many users – making the more conventional setup of the Sport's basic audio system something of a consolation prize.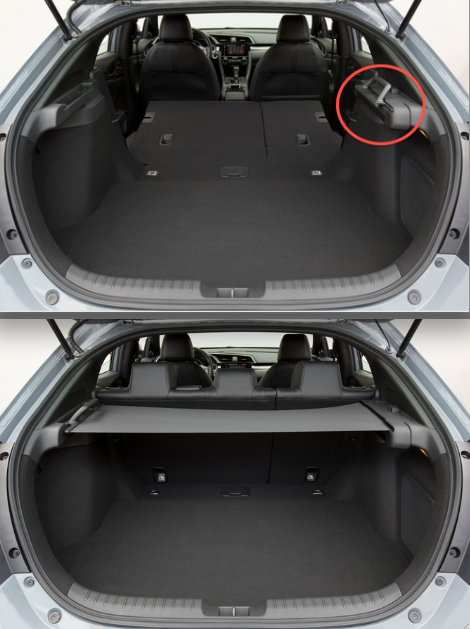 Compared to its sedan counterpart, a hatchback typically offers two advantages: a shorter overall length for easier parkability, and a more cubic cargo area with a much larger opening. The Sport and Sport Touring hatchbacks are no exception. As mentioned before, they're about 4 ½ inches shorter than a Civic sedan. And the cargo area is usefully large even with the rear seat backs up, and grows much larger once the seat backs are folded, as they leave a flat, nearly level cargo floor all the way to the front seats. While there's no "official" storage under the cargo floor, there is some empty space in the cavity of the spare wheel.
But what was particularly impressive was the cargo cover. In most hatchbacks and wagons, it scrolls out from a beam that rests laterally at mid height (just under the windows) across the cargo area just behind the rear seat backs. And that works fine – until you want to use the whole height of the area, which is one reason people buy hatchbacks and wagons in the first place. Then you have to not only go through the (often tedious) process of removing the beam, but also storing it somewhere. But neither is a problem with the Sport and Sport Touring. Instead, the cargo shade pulls out from the side wall, and the short beam that contains it can be placed on either side of the car. Very clever – and very handy.
Inside, the Civic offers surprisingly roomy accommodations for four adults. However, some front-seaters may wish for more lumbar support in the seats, and the smallish rear door opening can restrict egress somewhat, especially for larger feet or with the seat ahead moved far back. Materials fit the class, with padding on the dash, door tops, and armrests, though some is quite thin. On Sport and Sport Touring, otherwise-black interiors can have black or light tan seats and there are three choices of trim styles, while red lighting and sport pedals add a bit of flair. Visibility is very good except to the rear corners – where thickish roof pillars block quite a bit – though the standard 180-degree camera helps a lot when backing. There's also a good amount of interior storage thanks to a large glovebox and several handy bins, but with one gaffe: the 12-volt and USB plugs are placed in an under-console bin that makes them awkward to reach and use.
Although we've always liked the Civic, we – along with many others – have really missed having a hatchback version. So we wish the new Civic Hatchback a warm welcome. And particularly if you like your hatchbacks on the sporty side, you should once again add Honda's venerable Civic to your "must see" list.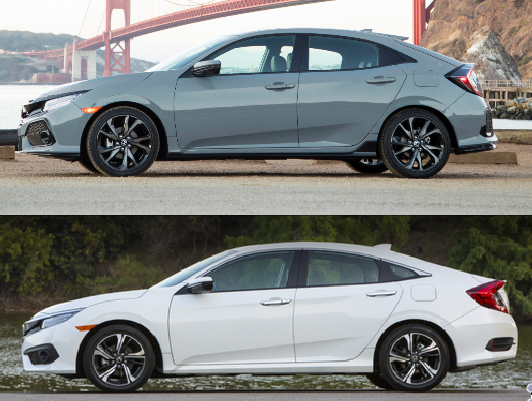 Listen to the very entertaining Consumer Guide Car Stuff Podcast
First Spin: 2017 Chevrolet Cruze Hatchback
Honda Civic Hatchback Sport Touring