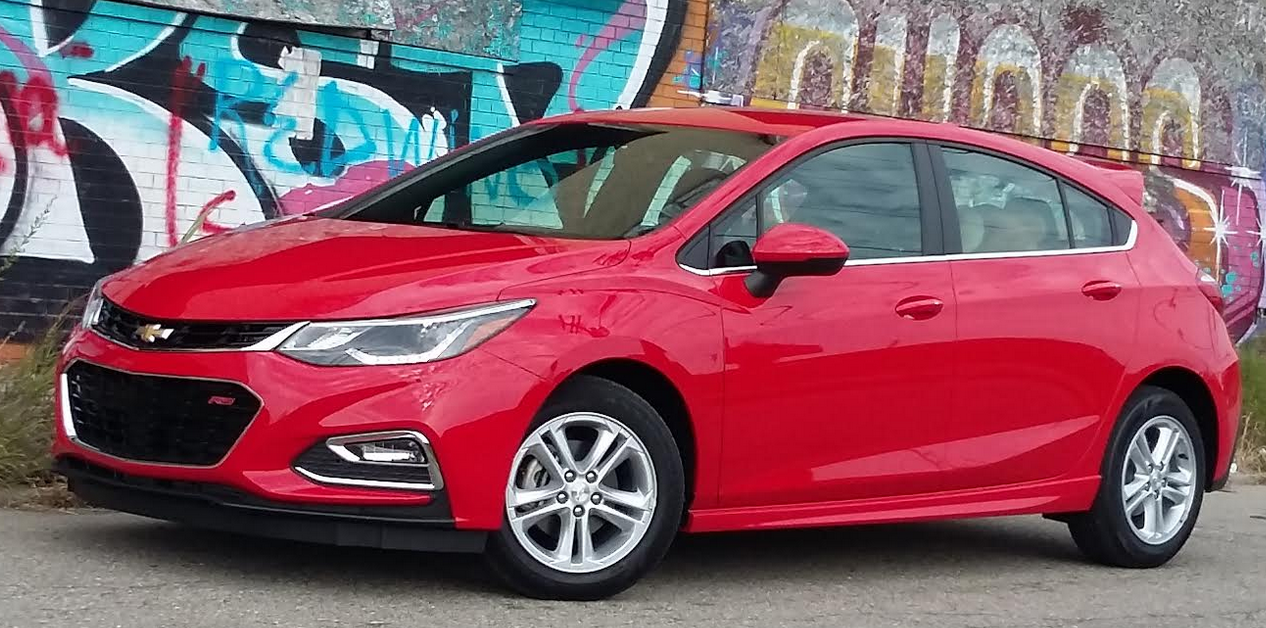 America's relationship with the versatile, practical hatchback has been a decidedly on-and-off affair.
During the '70s and '80s, it was "on." Virtually every mainstream manufacturer offered one. But they were usually the cheapest cars you could find, and thus garnered a negative image that screamed, "I bought the cheapest car I could find." Hardly a prestigious statement. As a result, their numbers dwindled during the '90s and remained low for the next couple of decades.
2017 Chevrolet Cruze Hatchback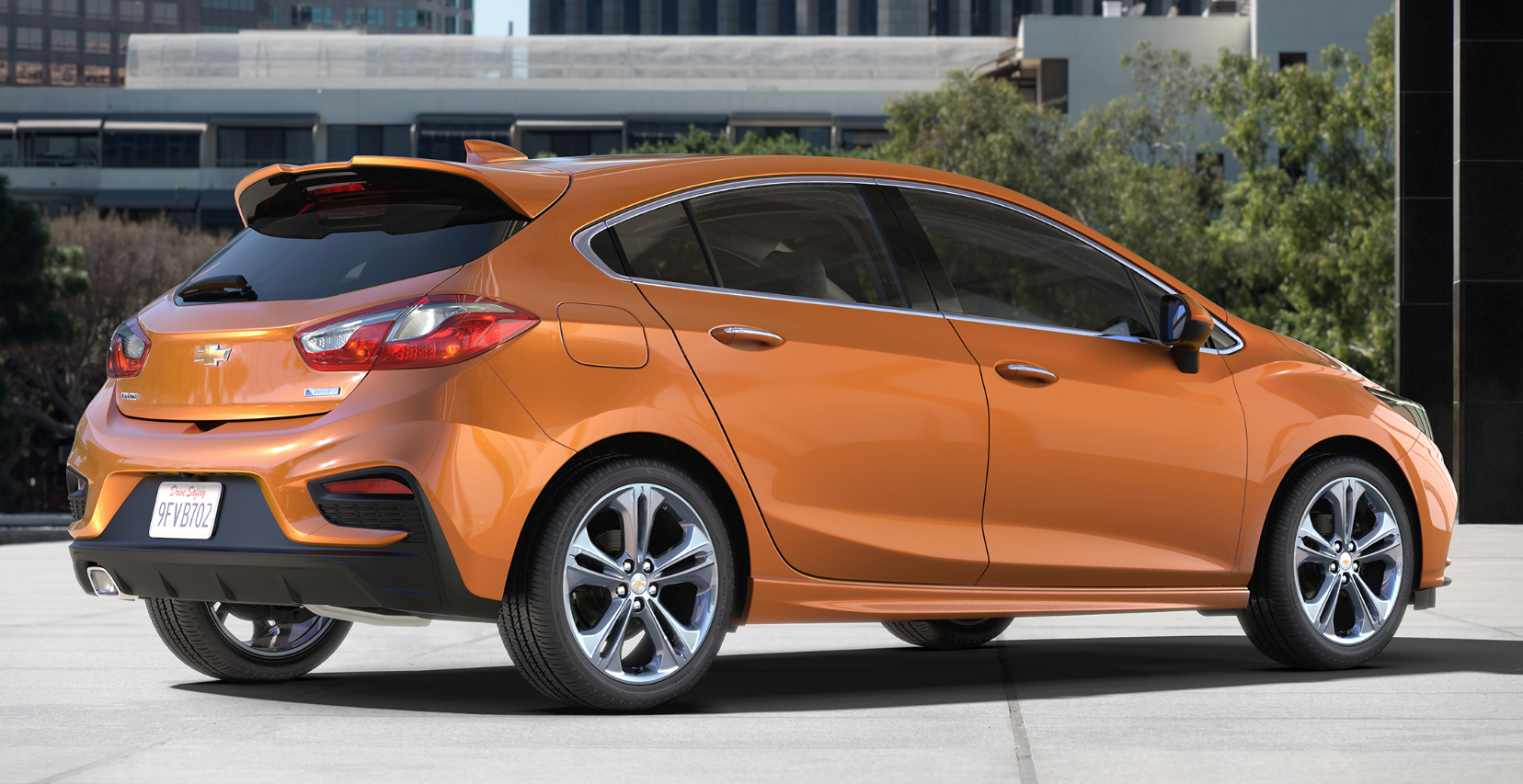 But hatchbacks have seen a resurgence of late. Whether their absence made people forget their "econobox" stigma, their practicality made buyers not care, or that younger folks saw them as something different than what their parents drove is difficult to nail down. But the number of hatchbacks currently offered – which grows with the introduction of Chevrolet Cruze Hatchback (the first hatch in Chevy's compact corral since the Toyota-sourced Nova of the late '80s, though subcompacts like the Sonic were available) and the recent re-introduction of a Honda Civic hatchback – are indications that the relationship is once again "on."
Compared to the Cruze sedan, which was redesigned last year, the Hatchback is 8.4 inches shorter but has a decidedly larger, "boxier" cargo hold and – perhaps more importantly – a much larger cargo opening. And almost in defiance of its "cheapest car you could buy" heritage, the Hatchback costs more than its sedan counterpart. Whereas the base L sedan starts at $17,850, the least-expensive Hatchback – the LS – starts at $22,190, roughly $2700 more than an LS sedan.
Like the sedan, the Cruze Hatchback comes only with a 153-horsepower 1.4-liter turbocharged four and 6-speed manual transmission, with a 6-speed automatic optional. (However, Chevrolet has announced that a turbodiesel engine will once again be available starting early next year.) EPA estimates for the manual are 28 city/37 highway, with the automatic being 29/38.

Test Drive: 2016 Ford Focus Titanium hatchback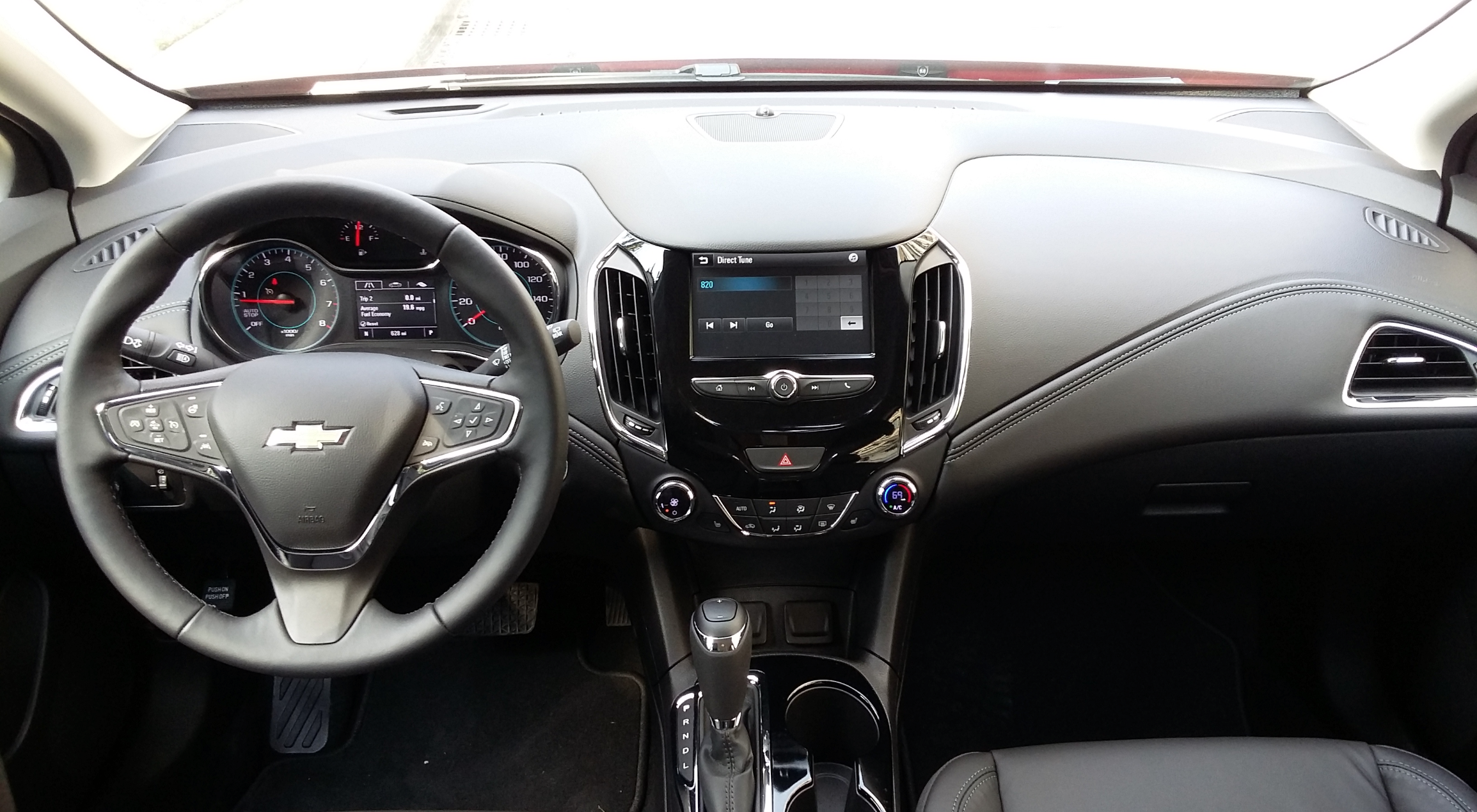 Standard features include Chevrolet's MyLink infotainment system with 7-inch touchscreen, OnStar assistance system, 4G LTE WiFi hotspot, rearview camera, satellite radio, cruise control, heated mirrors, and 16-inch aluminum wheels. Added on the top-line Premier are the 6-speed automatic, 8-way power driver seat, keyless access and starting, remote engine start, heated steering wheel and front seats, leather upholstery, Apple CarPlay and Android Auto, and 17-inch wheels, some of which are optional on the LS. Options offered on the Premier include auto-dimming inside mirror, automatic climate control, heated rear seats, wireless cell-phone charging, 110-volt outlet, power sunroof, navigation system with 8-inch touchscreen, automatic high beams, rear obstacle detection, blind-spot and rear cross-traffic alert, forward collision warning, lane-departure warning, and lane-keep assist. There's also a sporty RS package that adds fog lamps and special trim. Load a Premier to the gills, and you're at right about 30 grand.
Inside, the 2017 Chevrolet Cruze Hatchback is perhaps a bit austere in all black, but two-tone combinations of black/grey and black/brown are offered. While the dash face and armrests are padded, the dashtop and door tops are hard plastic. Controls are easy to reach and fairly easy to use – particularly the climate controls – and there's a good amount of interior storage. Visibility is good to the front corners, decent to the sides, just OK to the rear corners, but the standard rearview camera helps when backing.
Test Drive: 2016 Scion iM hatchback (which for 2017, is the Toyota Corolla iM)
Interior room is impressive for a compact. Front-seaters should have plenty of space, and even 6-footers should find sufficient headroom and legroom in back. A nearly flat floor leaves decent foot space for a middle passenger, and large door openings ease entry and exit.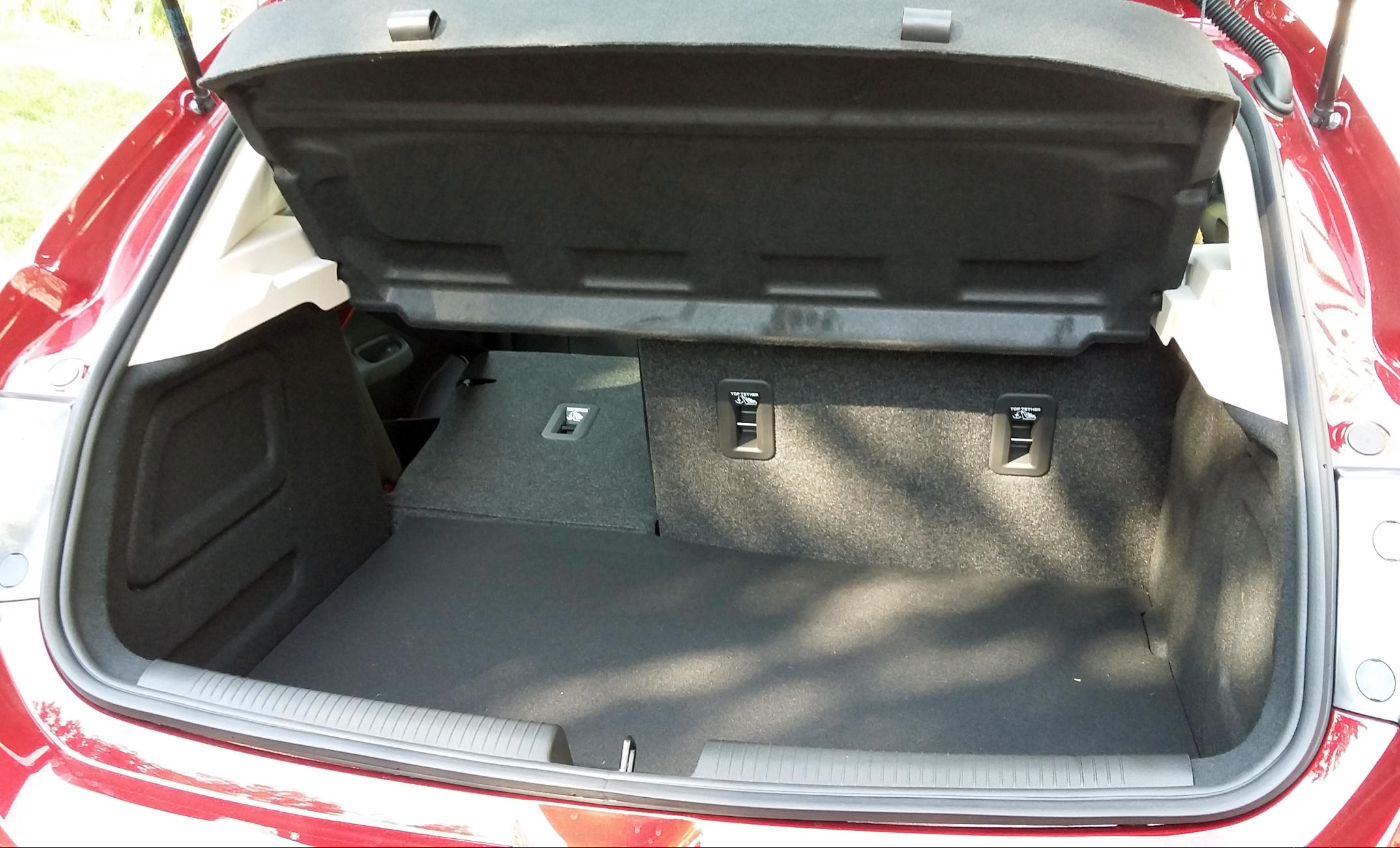 Fold the rear seat backs, and the Cruze awards you with 47.2 cubic feet of space, on par with some subcompact SUVs (including Chevy's own Trax). Although the cargo area is rather narrow, there's quite a bit of additional space under the floor. A slight rise to the folded rear seat backs is bridged with a ramp, so loading long items should be a breeze.
The LS we drove seemed to ride a bit more smoothly than its Premier counterpart we also drove (probably due to the former's 17-inch tires in place of the latter's 18s), but both were quite composed. And since the preview was held in Detroit – possibly the only city with worse roads than found around our Chicagoland headquarters – we feel quite comfortable with that assessment. Steering and handling were fine if not quite sporty.
Test Drive: 2015 Volkswagen Golf TDI hatchback
The 1.4-liter turbo is exceptionally quiet at idle (so much so that we once forgot to turn it off), but it groans rather loudly above 3500 rpm. As with most small turbos, there's a bit of lag to throttle response. With the automatic transmission, it's most noticed in full-throttle takeoffs, which are a bit leisurely until about 20 feet out, when boost arrives. Stab the throttle while underway, and the transmission kicks down fairly quickly for more passing power. But with the manual transmission — which shifts about as sweetly as any we've driven — lag is noticed at most lower engine speeds, which is what you're usually using in around-town driving.
While many folks still like the security afforded by a traditional trunk – and maybe even the look of it – it's tough to beat a hatchback for versatility. And seeing as the rest of the Cruze is quite well sorted out in either form, this is one hatchback relationship that would certainly be worth pursuing.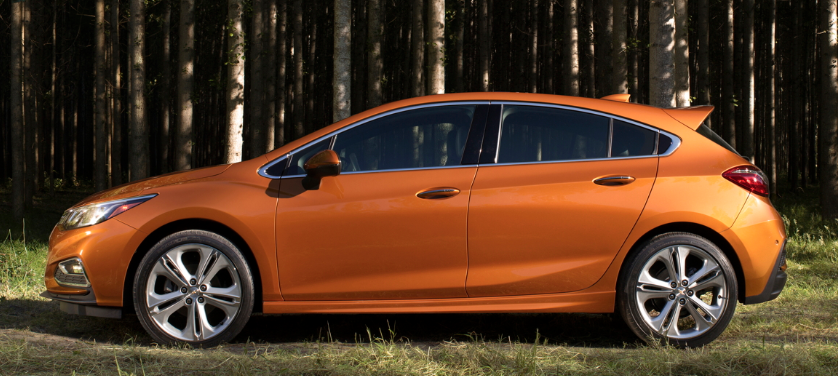 Listen to the very entertaining Consumer Guide Car Stuff Podcast
2017 Chevrolet Cruze hatchback