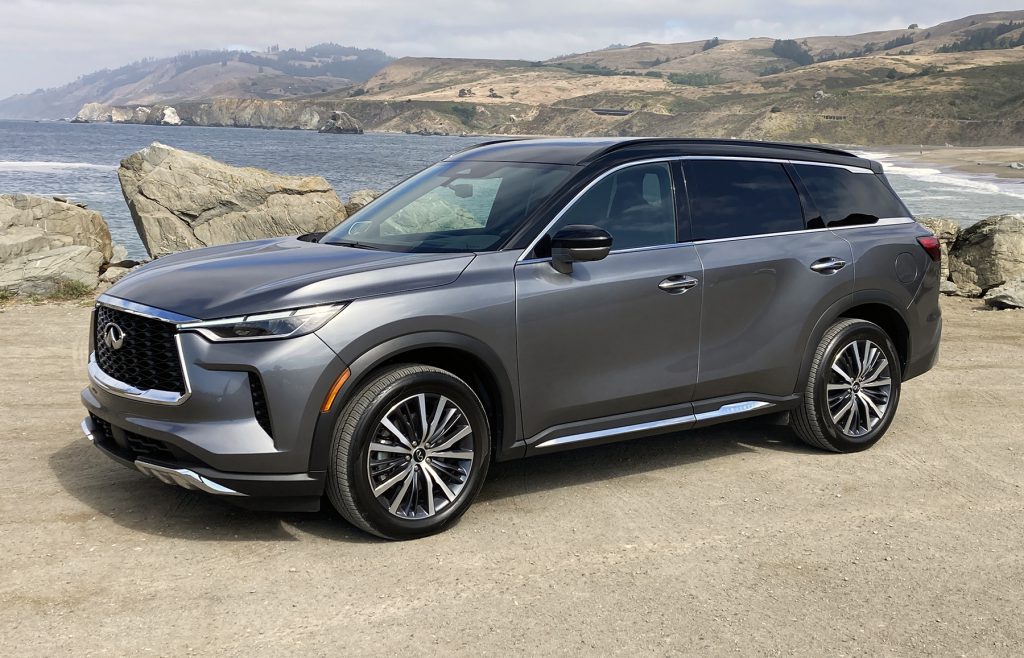 The product-planning teams at major automakers typically develop detailed demographic profiles of the consumers they're targeting with their new vehicles, sometimes going so far as to create a hypothetical ideal target customer. Infiniti has done just that with its redesigned-for-2022 QX60 three-row, 7-passenger crossover SUV. Her name is "Claire." She's smart and stylish. She's a leader at work and someone friends come to for advice. She's a mom, and like most people today, she's very, very busy.
Infiniti says the basic idea behind the new QX60 is that it's a "mom taxi" that will help Claire glide through the chaos of everyday life with serenity and style. For example, the available all-wheel drive quietly focuses on providing added confidence on snow-covered roads and delivering more traction on icy surfaces rather than boasting about off-road ability that may never be used. And there's a much better chance the QX60 owner will use a 360-degree around-view camera in a parking garage at the airport than they will exploring the woods searching for the perfect camping spot.
More Infiniti news and reviews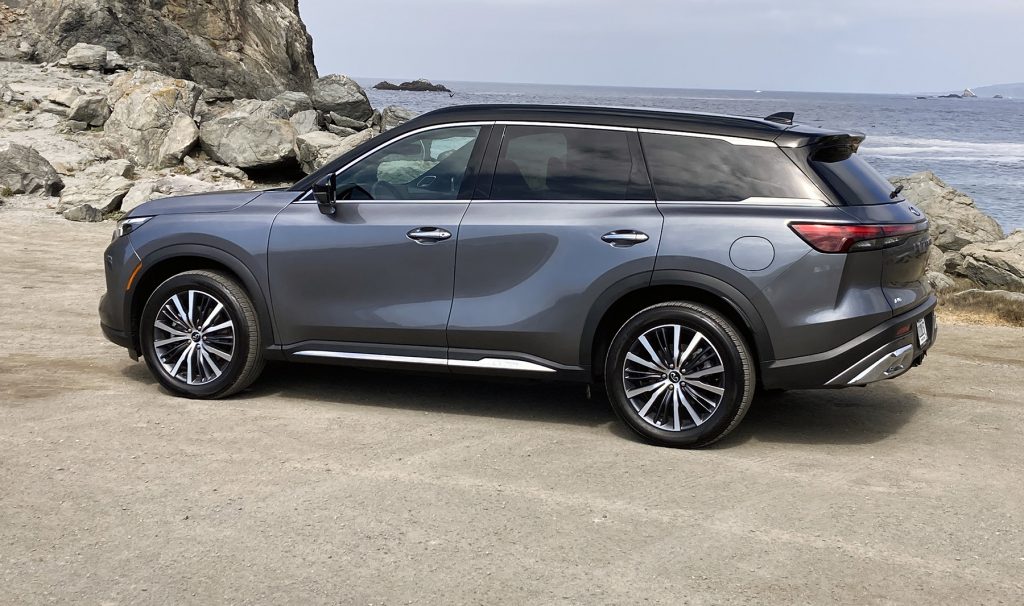 The 2022 QX60 isn't a new-from-the-ground-up vehicle; it's based on the platform that debuted under the 2013 Infiniti JX35 (which was renamed QX60 for the 2014 model year). It's also closely related to the recently introduced 2022 Pathfinder from Nissan, the parent company of Infiniti. The new QX60's overall dimensions don't change much from the previous model; it rides a 114.2-inch wheelbase and is about 198 inches long, which makes it about the same size as an Acura MDX or Cadillac XT6. The QX60's pricing is likewise right in the wheelhouse of the MDX and the XT6.
Quick Spin: 2021 Genesis GV80 3.5T Advanced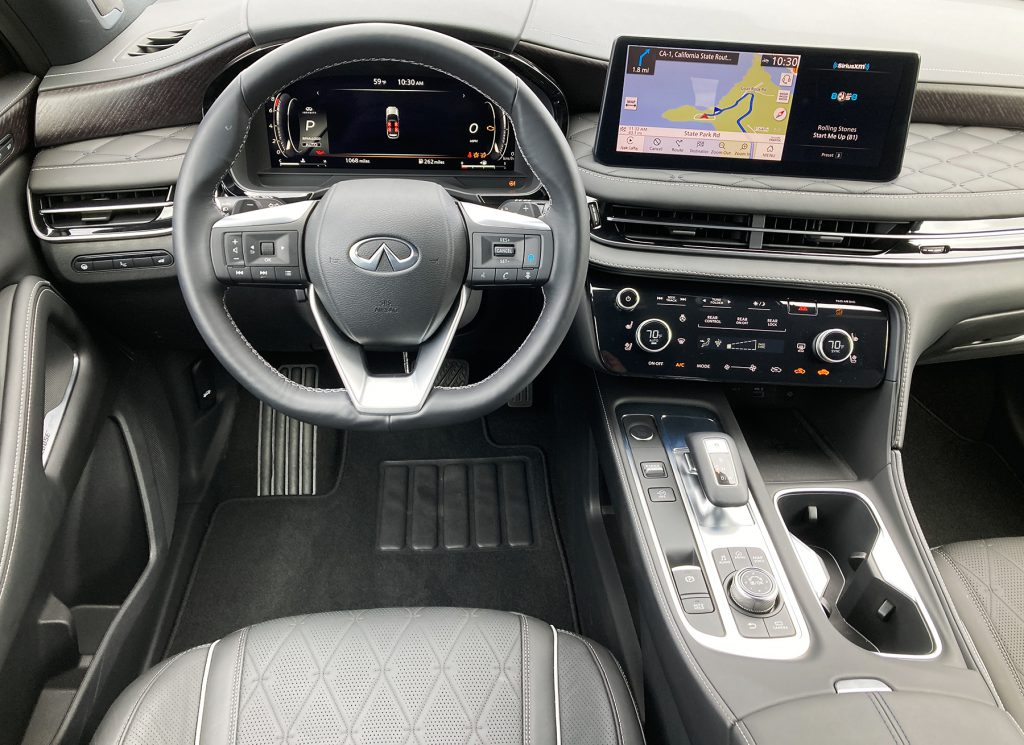 The QX60 skipped the 2021 model year, but the 2020s came in Pure and Luxe models with several available option packages. For 2022, Infiniti has bumped up the trim-level count to four, while cutting back on the options. The entry-level Pure starts at $46,850 with a roster of standard equipment that includes a 12.3-inch infotainment touchscreen, panoramic sunroof, power liftgate, leather upholstery, tri-zone climate control, six USB ports (including charge ports in all three seating rows) and 18-inch alloy wheels.
First Spin: 2022 Jeep Wagoneer and Grand Wagoneer

The step-up Luxe model starts at $52,900, and adds features such as remote engine start, a 12.3-inch digital gauge panel, climate-controlled front seats, 20-inch wheels, roof rails, around-view monitor, lane departure prevention, and traffic-sign recognition. Luxe models also come with an enhanced version of Infiniti's ProPILOT Assist system with Navi-link—a feature that pairs the ProPILOT driver-assist functions with navigation-system data, thus enabling the vehicle to "predict" future curves, junctions, and freeway exits, and proactively slow the vehicle accordingly.
Test Drive: 2021 BMW X5 xDrive45e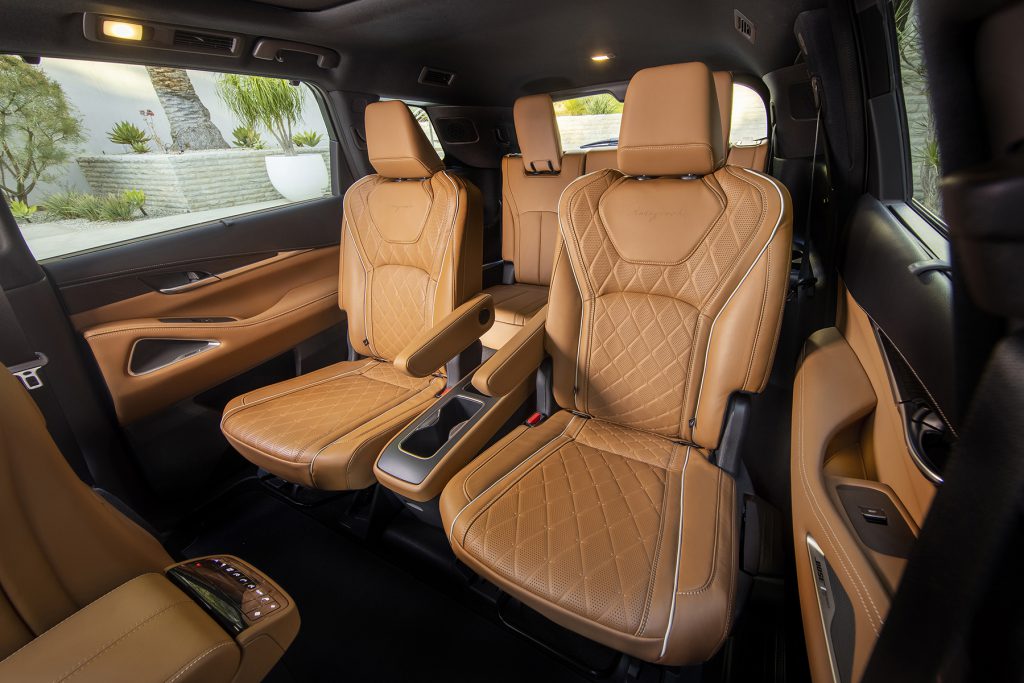 The $56,350 QX60 Sensory adds massaging front seats, heated second-row seats, advanced climate control (with a built-in air purifier and auto recirculation), wireless smartphone charger, hands-free power liftgate, black-finished ash wood trim, enhanced interior ambient lighting, and a Bose-branded audio system with 17 speakers.
The top-line Autograph starts at $60,350 and gets semi-aniline leather upholstery in the first two rows of seats, which feature contrast stitching and quilted detailing that extends to the dashboard. Other Autograph features include second-row captain's chairs (these reduce the seating capacity to six), a removable second-row center console, a "smart" rearview mirror that can display a rear video-camera view, head-up display, adaptive front lighting, and a black-painted roof for a two-tone exterior appearance.
First Spin: 2021 Jeep Grand Cherokee L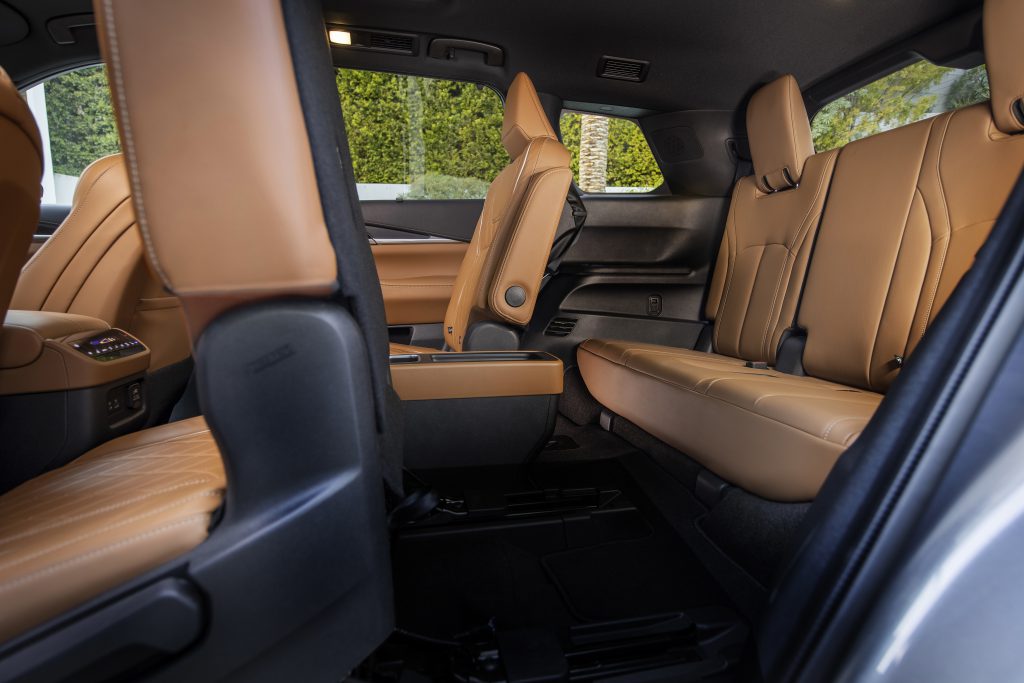 All-wheel drive is a $2000 option on all QX60s. It is a front-drive-biased system with a direct coupling that can engage the rear wheels almost instantly. In addition, the system can send up to 50 percent of available torque to the rear wheels. Luxe and Sensory grades can be ordered with a $1500 Vision Package that adds adaptive front lighting, head-up display, and the smart rearview mirror. The 17-speaker Bose audio system is a $900 extra for Luxe models.
QX60 Sensory models with all-wheel drive can be equipped with an optional $900 Tow Package that adds a tow receiver, wiring, and an upgraded transmission cooler. So equipped, the maximum braked towing capacity increases to 6000 pounds from the standard 3500 pounds.
Test Drive: 2022 Acura MDX Advance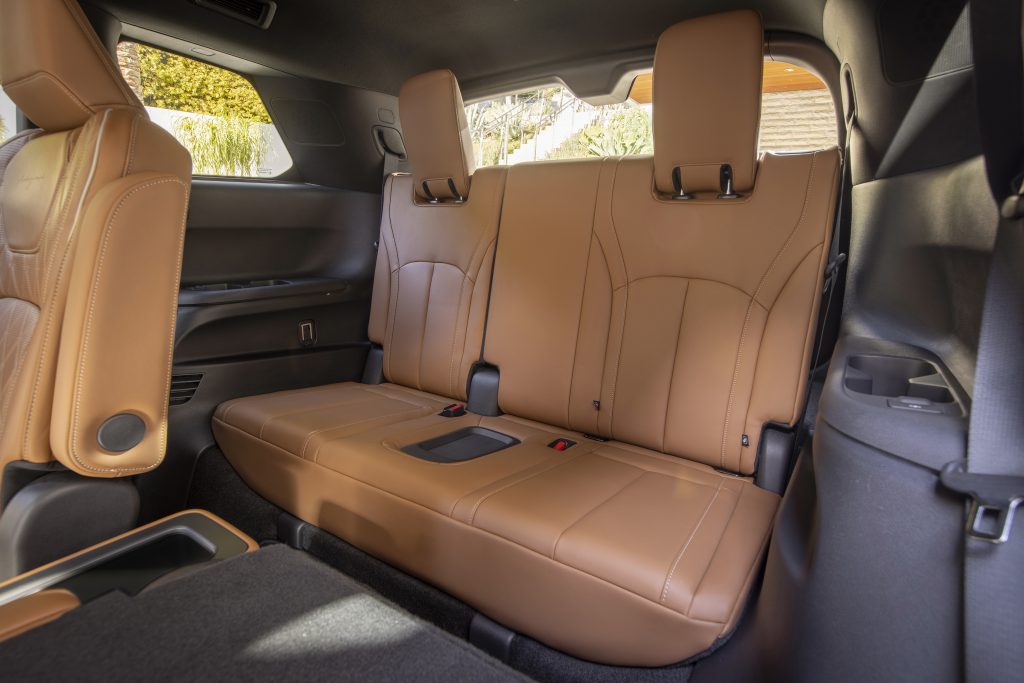 Standard safety features include automatic emergency braking with pedestrian detection, high beam assist, lane departure warning, blind spot warning, rear cross traffic alert, and rear automatic braking. Available safety features include driver attention alert, a system that monitors driver inputs and alerts the driver when it's time to take a break from behind the wheel.
At the 2022 QX60's press-preview event in California's Napa Valley region, we spent a day behind the wheel of an all-wheel-drive Autograph with a base price of $63,250 (the AWD Autograph comes standard with the Tow Package, for a $2900 jump over the FWD Autograph). The destination charge added $1025, for a total as-tested price of $64,275.
Test Drive Gallery: 2021 Lexus RX 450h F Sport

The QX60's exterior styling has been reimagined along the lines of the well-received QX60 Monograph concept vehicle. The front end is arguably the most distinctive part of the body; it follows Infiniti's signature design language, with a bold chrome-ringed grille that's filled with a complex mesh pattern (Infiniti says the mesh design was inspired by origami). The headlights are trimmer than before, and the whole front end is a bit more aggressive-looking as well. The sides look smoother and more linear than on the old model, but the new satin-black flares that frame each wheel recall the similar detailing on the latest Nissan Pathfinder. The rear styling, particularly the taillight shapes, also echoes the new Pathfinder's appearance.
Quick Spin: 2021 Volvo XC60 Recharge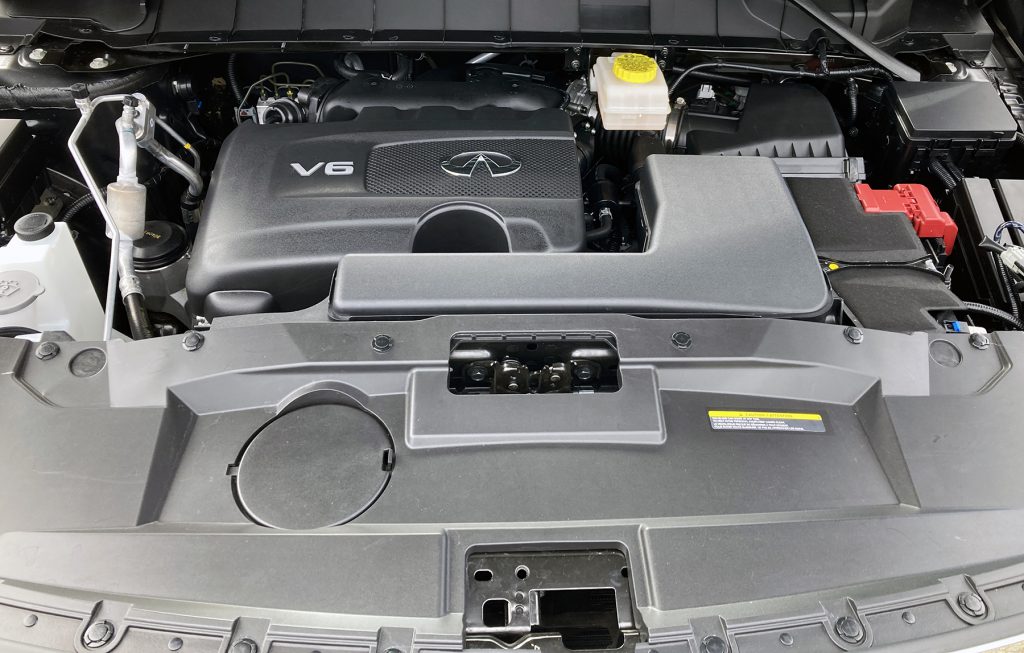 The QX60's familiar 295-horsepower 3.5-liter V-6 returns; it runs smoothly and feels lively on the road. Our only real gripe with the engine is that the standard stop/start function can be jarring on restarts. Estimated fuel economy on the recommended premium fuel is 20 mpg city, 25 mpg highway, and 22 mpg combined for all-wheel-drive QX60s; front-drive models are rated at 21/26/23. These numbers aren't much of an improvement over the 2020 QX60, which was rated at 19/26/22 with AWD and 20/27/22 with FWD, but they're still competitive with the 2022 versions of the Acura MDX and Cadillac XT6—one mpg or so better, in most cases.
The QX60's engine itself is essentially carried over, but a new 9-speed automatic transmission replaces the CVT transmission used previously. The transmission was commendably smooth during the vast majority of our drive, but in a couple of low-speed situations where we were quickly off and then back on the throttle, it was briefly caught in too high of a gear. Infiniti includes paddle shifters for drivers who want more control over gear selection. The console-mounted shifter is an unconventional push-pull "slider-lever" design that we found easy to operate. It's also notably shorter than a traditional shift lever, which makes it easier to access the wireless charging pad and the center-console cupholders from the driver's seat.
Infiniti says the QX60's body structure has been beefed up for 2022, and that the improvements have allowed the suspension engineers to recalibrate the ride and handling. We think they did their work well. On the road, the QX60 does a commendable job hiding its size, and the driver always feels in control. There's a satisfying balance of relaxed comfort/composure with a slightly sporty driving personality. On curvy two-lane roads, our QX60 was surprisingly playful, and we were also surprised at how good the steering wheel felt in our hands. It has slightly flat-bottomed shape, and it's thoughtfully contoured and thick enough in the right places that it feels more like a steering wheel you'd find in an enthusiast-friendly sporty car rather than a three-row premium SUV.
First Spin: 2021 Lincoln Nautilus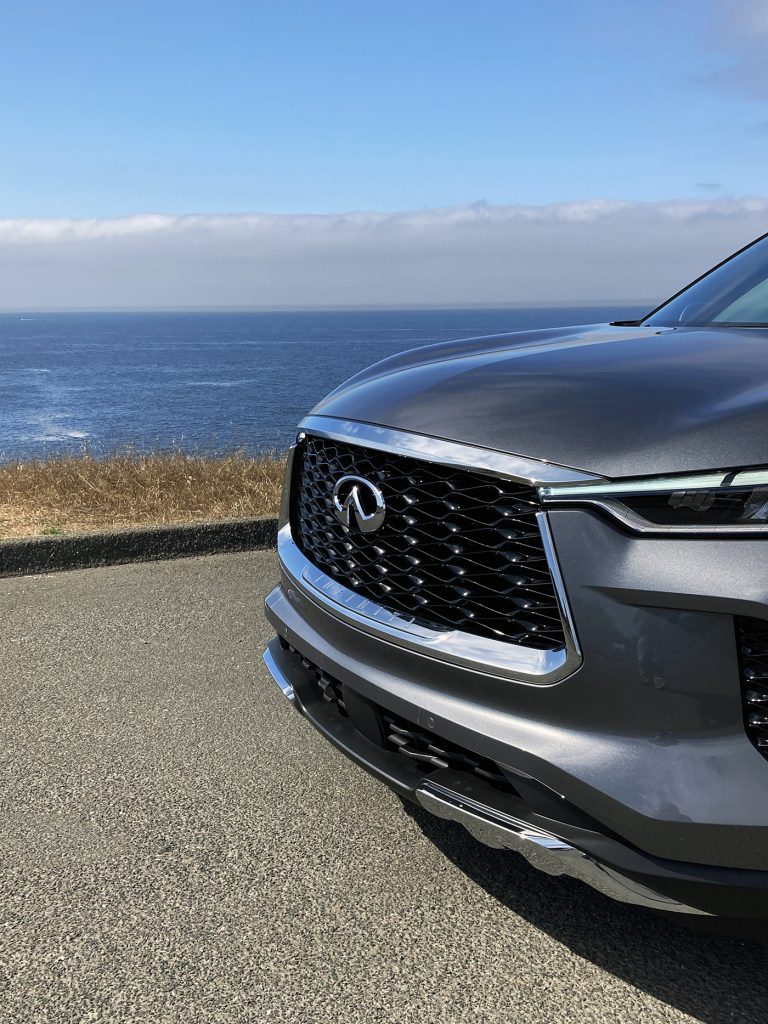 The black interior in our test QX60 was attractive and cleanly detailed, with eye-catching touches such as open-pore satin-finish wood trim and two colors of contrast stitching (light gray overall and a subtle navy blue in the quilted areas). Overall interior materials look to be of premium-brand-appropriate quality, and the ambience imparts a sense of restrained luxury.
Entry to the driver's seat is easy, and there was ample room all around for our 6'2" frame. The seat itself was comfortable and supportive, and we enjoyed the massage function that's accessed via a simple push button mounted aside the seat cushion. The configurable digital instrument cluster looks great, as does the responsive center touchscreen that includes wireless Apple CarPlay (Infiniti says 70 percent of QX60 buyers use Apple iPhones) and corded Android Auto connectivity. The head-up display is useful too, and it's height-adjustable to accommodate a variety of driver statures. Happily, the stereo power/volume and driver/front passenger temperature are controlled by simple physical knobs. However, some audio functions and most climate-control settings are controlled via a slick-looking touch-sensitive screen. The screen requires a surprisingly forceful fingertip push to activate, but we appreciated that it provides some haptic feedback once you've successfully pressed the "button."
The steering wheel and center console have some bright silver trim that looks classy, but caused some distracting reflections during our time under the California sun. In addition to being a normal, reflective-glass mirror, the smart rearview mirror houses a digital display screen that projects a real-time video feed from a rear-facing camera mounted under the liftgate's glass (where it can be kept clean by the rear wiper) to offer a view unobstructed by rear passengers, headrests, or roof pillars. The additional functionality is helpful, but we experienced a disorienting "double-vision" effect when viewing the video display. Interestingly, the blurry-screen problem went away when we donned our polarized sunglasses—then our view of the screen became crystal clear.
The rear doors open wide, and entrance to the second row is easy. Infiniti says that the QX60's second- and third-row seats have been raised a bit further from the floor for "theater-style" seating, offering more-natural seating positions and better forward sight lines for the rear passengers. We had good headroom under the sunroof in the Autograph's second-row captain's chairs, but were disappointed by the stingy legroom. We could wedge behind a front seat set for ourselves, but it wouldn't be comfortable for more than a short drive.
The second-row seats move forward and up at the touch of a button to open a passage to the third row, even with a forward-facing child seat installed. Another nice touch—the floor console mounted between the second-row captain's chairs is easily removable and can be stored in the cargo area's underfloor bin. Entry to the third row is fairly easy but requires the expected duck-and-shuffle. Once seated, our head was rubbing uncomfortably against the headliner, and the leg room wasn't adequate to fit our legs—or size-13 sneakers—comfortably behind the second-row seat. We'd say the third-row of this mom taxi is a kid-only zone.
Behind the third-row seat, the QX60 offers 14.5 cubic feet of cargo space, with an additional storage area under the load floor. The 60/40 split third-row seat can be easily folded flat manually while standing at the rear of the vehicle—and Sensory and Autograph models have power-return seatbacks that raise themselves upright again at the press of a button. With the third row down, cargo room increases to 41.6 cubic feet. The second row also folds easily, and the resulting cargo floor is relatively flat with a few small gaps around the second-row console. In this configuration, cargo room is 75.4 cubic feet.
These cargo figures leave the QX60 somewhat smaller inside than its Nissan Pathfinder corporate cousin, but generally on par with its Acura and Cadillac rivals. The MDX has cargo room of 16.3/39.1/71.4 cubic feet, so the QX60 is smaller behind the third row but offers more space with the seats are folded down. The XT6 comes in at 12.6/43.1/78.7 cubic feet, so it's smaller than the QX60 behind the third row but roomier seats down.
Since the new QX60 is not a clean-sheet redesign, it's not too surprising that there are no major breakthroughs here, and we wish those second and third rows were more spacious. Still, the thoughtful updates have resulted in an improved vehicle that's very enjoyable to drive and should excel as a casually luxurious, family-friendly SUV. That said, we keep thinking about the gorgeous interior in the posh Jeep Grand Cherokee L Summit Reserve we drove a couple months ago, especially since the very impressive, roomy Jeep cost exactly $5 (five bucks!!) more than our test QX60. So going by cost—the metric that may matter most—these two three-row midsize SUVs couldn't be closer competitors. The most important question in this story may be what Claire thinks about the outstanding Grand Cherokee L that's available for essentially the same price.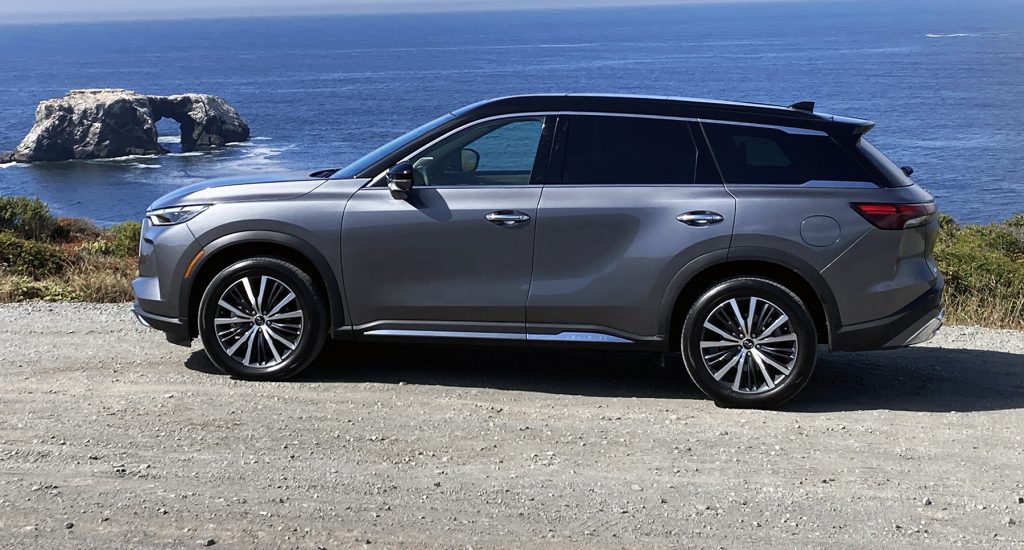 Listen to the very entertaining Consumer Guide Car Stuff Podcast
2022 Infiniti QX60 Gallery
(Click below for enlarged images)
2022 Infiniti QX60
2022 Infiniti QX60