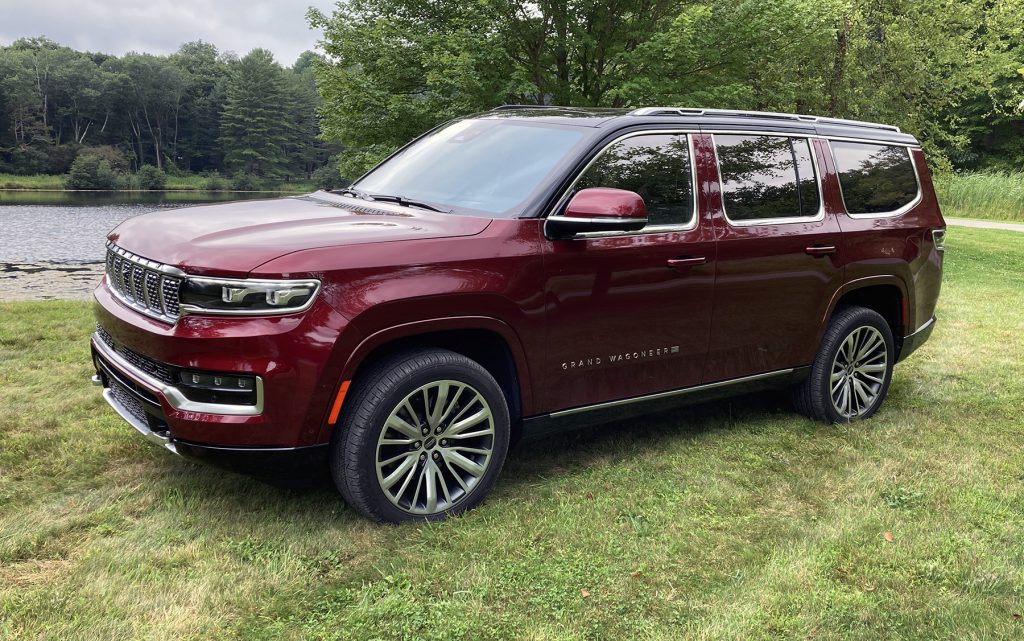 The 1963 Jeep Wagoneer arguably defined the modern SUV. Truly a trendsetter, the original Wagoneer introduced key SUV features that remain nearly universal today: a four-door wagon body style, the pairing of an automatic transmission with four-wheel-drive, and a car-like ride, to name a few. Three years later, the 1966 Super Wagoneer advanced the concept further as the first luxurious utility wagon. This basic idea was refined in the 1978 Wagoneer Limited, which itself evolved into the prestigious 1984-1991 Grand Wagoneer. A modern interpretation of Jeep's iconic Grand Wagoneer has been anticipated for years, and its intended introduction was revealed by Jeep way back in 2014.
It's taken somewhat longer than was originally envisioned, but the full-size 2022 Wagoneer and Grand Wagoneer have arrived. One unexpected development in this story is the fact that these authentically full-size SUVs are not explicitly badged as Jeeps. Rather, they are branded as Wagoneer, which parent-company Stellantis calls a "premium extension" of the Jeep brand. The Wagoneer is meant to take on the Chevrolet Tahoe, GMC Yukon, and Ford Expedition at the heart of the full-size SUV market. The more luxurious Grand Wagoneer is assigned the task of challenging premium-segment heavyweights such as Cadillac Escalade and Lincoln Navigator.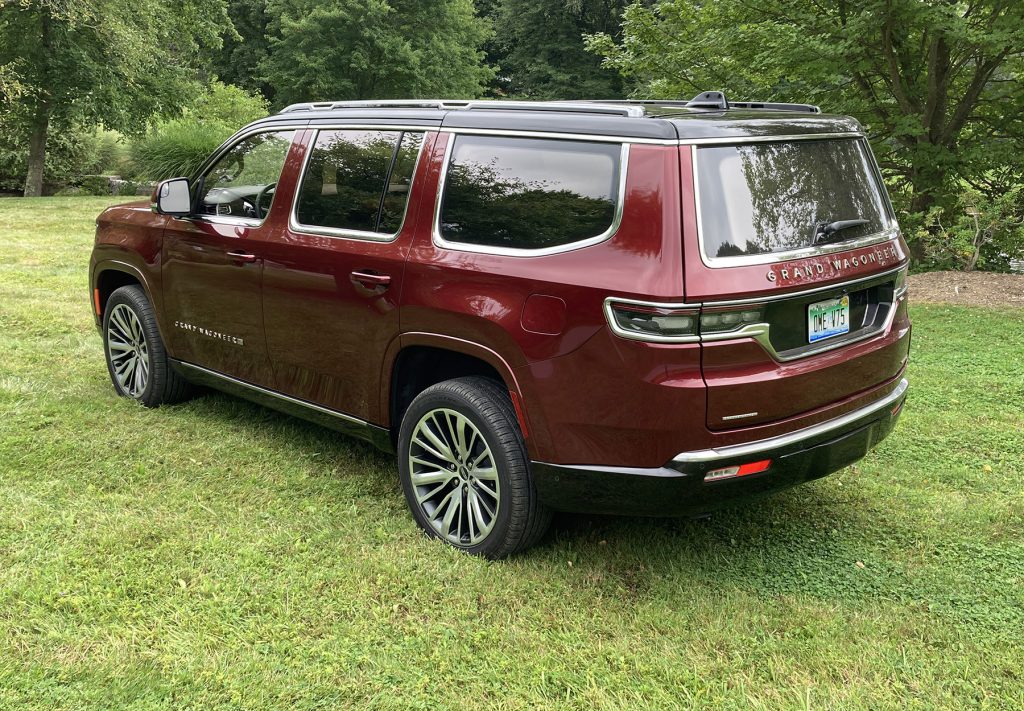 While Jeep's just-introduced Grand Cherokee L three-row midsize SUV continues with unitized construction, the new Wagoneer and Grand Wagoneer take the path of traditional truck-style body-on-frame construction—like the pair's main rivals in the full-size SUV classes. We were surprised to see that the Wagoneer's 123-inch wheelbase is only 1.3 inches longer than the Grand Cherokee L's, but at 214.7 inches long, the Wagoneer is 10.1 inches longer than its not-so-little sibling. The Wagoneer's size leaves it a couple of inches bigger than the Expedition, and nine inches longer than the Tahoe. And, even larger long-wheelbase versions of Wagoneer and Grand Wagoneer are slated to appear in the next year or so, to directly compete with the Chevy Suburban and the extended-length versions of the Escalade, Expedition, Navigator, and Yukon.
First Spin: 2021 Cadillac Escalade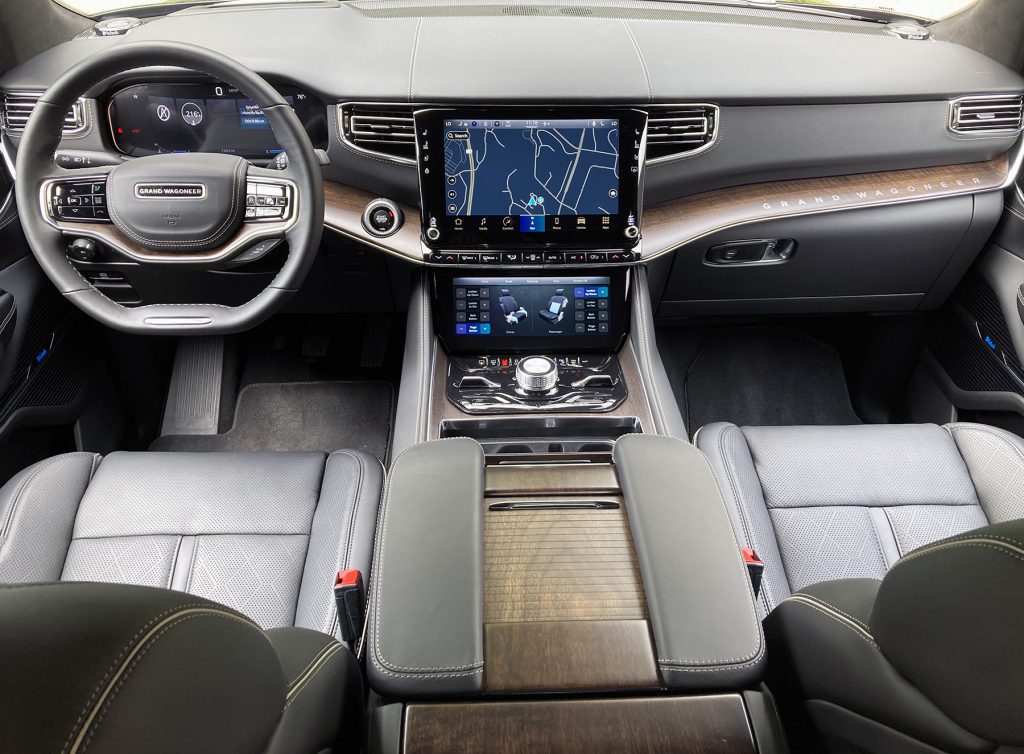 As production begins in Warren, Michigan, the entry-level Wagoneer is the rear-drive Series II at $69,995 to start; the better-equipped Series III starts at $74,995. (Add $3000 for the 4×4 versions of either.) At some point, a rear-drive-only Series I trim level will join the Wagoneer line at a starting price of $59,995, but few details have been released as of yet. Wagoneer prices start notably higher than the 2021-model-year Expedition, Tahoe, and Yukon, all of which have base models in the $50,000-$52,000 range. That gap narrows significantly at the top trim levels, with the Wagoneer Series III starting about $500 less than the top-line Expedition Platinum model. Note that Grand Cherokee L base prices range from $36,995 to $62,290, so the Wagoneer should have minimal price overlap with its smaller sibling.
Photo Feature: 1955 Willys Utility Wagon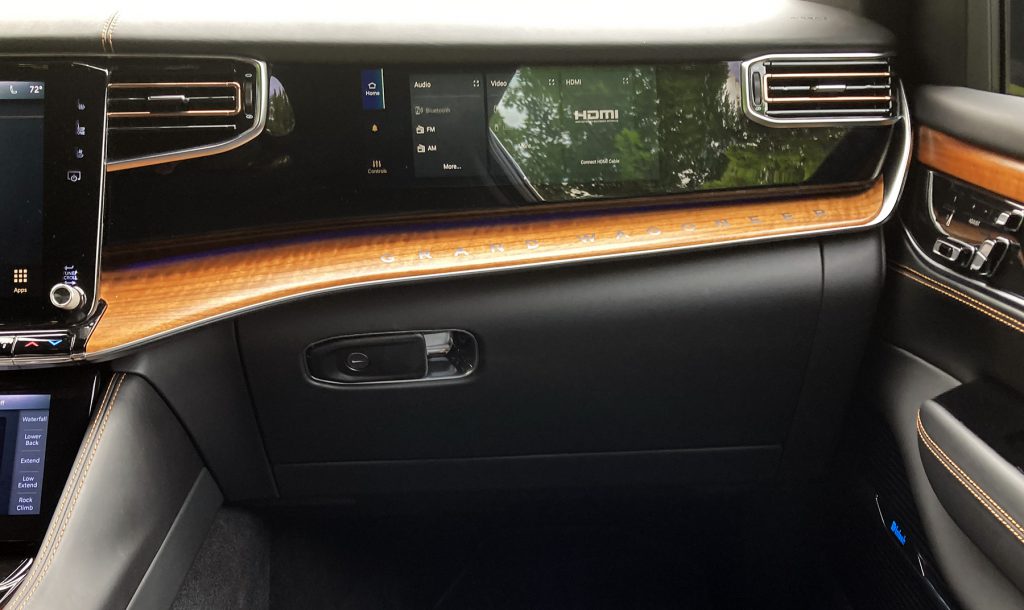 The Grand Wagoneer launches exclusively with four-wheel drive, but rear-drive variants may be added down the road. The Series I trim level starts at $88,995, and the lineup progresses through Series II ($95,995), Obsidian ($100,995), and the range-topping Series III ($105,995). All-wheel-drive 2021 Escalades and Navigators start around $80,500—the Lincoln tops out at $99,420 to start, and the priciest Cadillac starts at $104,290. All the prices we've listed here include destination charges—which is a jaw-dropping $2000 on the Wagoneers.
The Wagoneer and Grand Wagoneer's exterior styling bears a definite family resemblance to the new Grand Cherokee L. Some traditional Jeep styling cues, such as the slotted grille and trapezoidal wheel arches, are present, and—as on the Grand Cherokee L—the grille leans forward a bit at the top edge (Jeep says this styling detail is inspired by the original '63 Wagoneer). Still, these big wagons wear a contemporary rather than retro design, and they have enough height and sheer size to ensure a stately presence.
Given the Wagoneer branding, there are no prominent Jeep badges on the exterior, but we did spot engraved Jeep lettering in the headlight and taillight assemblies. As you look closer, it becomes apparent that the Grand Wagoneer's bodywork differs subtly from the Wagoneer's. Up front, there are unique headlamps and grille treatments, along with a specific bumper cover and hood. In the rear, there are subtle tailgate differences too, with the most obvious change being the intricately detailed trim in the Grand's license-plate pocket. Overall, the Grand Wagoneer's exterior styling is somewhat more understated than its flashier Yukon Denali, Escalade, and Navigator rivals.
Wagoneers are equipped with the 5.7-liter Hemi V8, rated here at 392 horsepower on the recommended mid-grade fuel. The engine includes a 48-volt "eTorque" mild-hybrid system, cylinder deactivation, and variable cam timing. Estimated fuel economy is 16 mpg city/22 highway/18 combined with rear drive, and 15/20/17 with four-wheel drive. Grand Wagoneers run a 471-hp 6.4-liter Hemi V8 with cylinder deactivation and variable cam timing, but no eTorque system. Estimated fuel economy is 13/18/15, and premium-grade fuel is recommended. All Wagoneer and Grand Wagoneer models use the 8-speed TorqueFlite automatic transmission.
Quick Spin: 2021 GMC Yukon AT4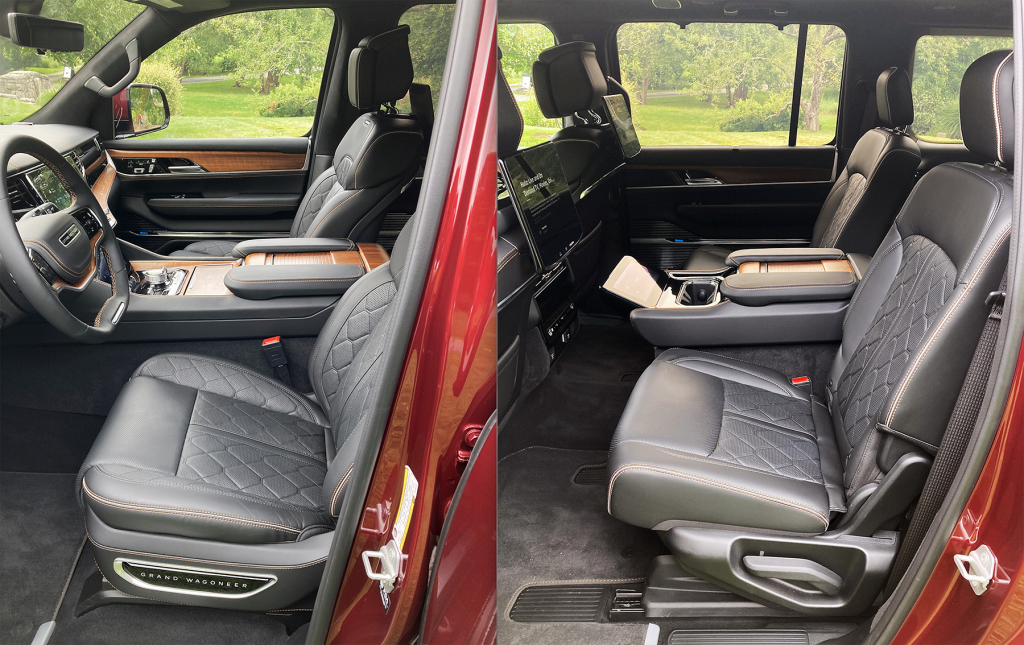 The Wagoneer/Grand Wagoneer's fuel-economy ratings are 1-2-mpg shy of their primary rivals'. Though optimal fuel economy apparently isn't high on the list of attributes full-size SUV shoppers are looking for, note that 4xe plug-in-hybrid and full-electric versions of the Wagoneer and Grand Wagoneer are reportedly on the way in the near future—perhaps as soon as the 2023 model year for the 4xe.
Test Drive: 2021 Chevrolet Tahoe Z71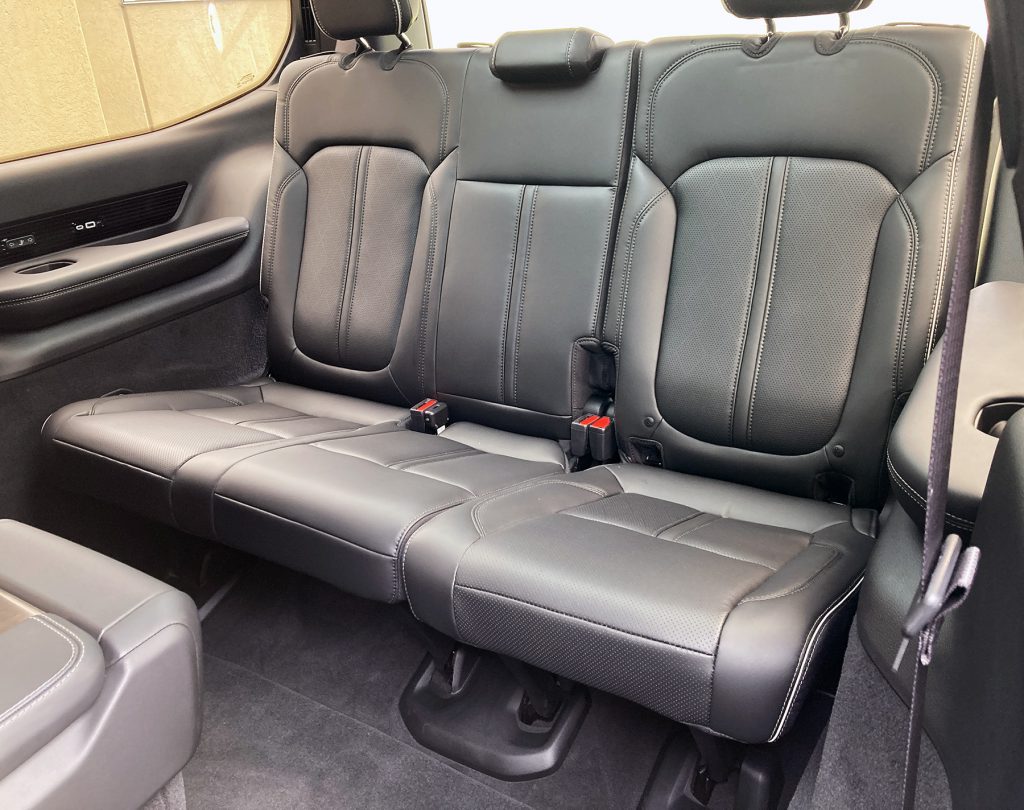 Wagoneers have a best-in-class maximum tow rating of 10,000 pounds, while Grand Wagoneers can tow up to 9850 pounds. For comparison, the 2021 Chevrolet Tahoe and GMC Yukon have a max tow rating of 8400 pounds, and the 2021 Ford Expedition can pull up to 9300 pounds.  Curb weights run from 5960 pounds for a rear-drive Wagoneer Series II to 6420 pounds for the top-line Grand Wagoneer Series III—across the board, these new Jeeps are heavier than their domestic-brand rivals, whose curb weights range from 5368 to 6015 pounds.
The available 4×4 systems vary by model. The Wagoneer Series II is offered with full-time Quadra-Trac I and its single-speed transfer case, while the Wagoneer Series III is available with Quadra-Trac II with a two-speed transfer case and hill-descent control. The top-line Quadra-Drive II system, which comes with a two-speed transfer case, hill-descent control, and an electronic limited-slip rear axle, is standard on all Grand Wagoneers, as is the Quadra-Lift air suspension. Quadra-Drive II and Quadra-Lift are also included with the optional Advanced All Terrain Group for the Wagoneer Series II and Series III. (For additional information on the 2022 Wagoneer and Grand Wagoneer lineups, check out our First Look article here.)
At the Wagoneer media preview event in New York City, we sampled two different Grand Wagoneers. Our morning was spent in a Series II that was optioned up with Diamond Black exterior paint ($595), the heavy-duty trailer tow package ($995), and the Premium Group ($3995; adds ventilated rear seats, foldable cargo shade, premium color-tinted glass, adjustable roof-rail cross bars, 23-speaker McIntosh-brand audio system, and a refrigerated front-console cooler). With the $2000 destination charge, the bottom line was $101,580.
Our afternoon ride was a top-line Series III with Velvet Red exterior paint ($595), the heavy-duty tow package ($995), and a rear-seat entertainment group ($1995; includes two color video screens for second-row passengers). With destination, the III's total was $109,580.
The 6.4-liter V8 engine is refined, and nearly silent at a highway clip. Power is ample and immediate, and more aggressive use of the gas pedal unleashes a hushed but unmistakably all-American V8 growl that we found enjoyable.
Quick Spin: 2020 Ford Expedition MAX Platinum

Our drives covered a mix of city streets, two-lane roads, and divided highways. The Quadra-Lift air suspension is tuned for a comfortable ride. It's quite absorbent, leaving smaller bumps to be more heard than felt, and any movement is well damped but controlled rather than floaty. Overall, you feel comfortable and in command behind Grand Wagoneer's wheel, but the sheer size of the vehicle is always apparent.
We also sampled the off-road capabilities of a Wagoneer equipped with the Advanced All Terrain Group. On a short course supervised by Jeep Jamboree guides, we wheeled the Wagoneer through deep ruts, motored up and over a large mound of loose rocks that helped demonstrate the big wagon's 10 inches of ground clearance, and traversed a section that highlighted the four-wheel-independent suspension's articulation.
Lincoln Navigator prices and specs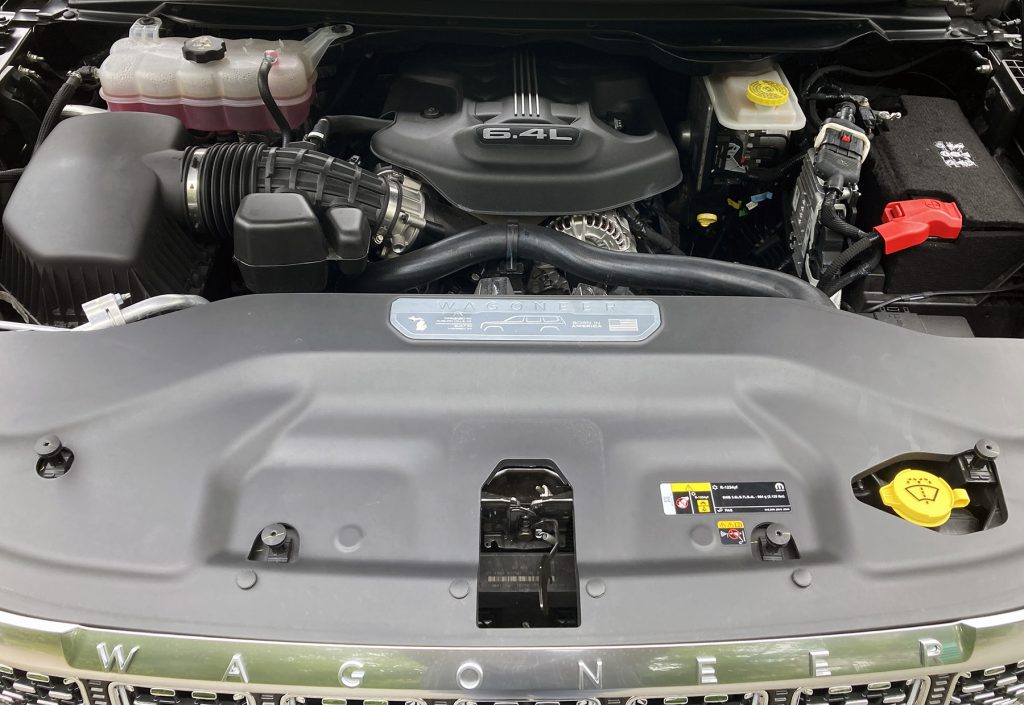 The Grand Wagoneer's defining feature is certainly its posh, impressively detailed interior. Series II and III models both feature rich Palermo leather trim that not only covers the seats, but extends onto the dash, door panels, and center-console area. Contrast-color stitching adds visual interest, and Series III benefits from quilted accents that bring depth and some flashy complexity to the seating surfaces.
Trim is an intricate blend of materials. The metal pieces feature various finishes, including silvery satin and high-gloss chrome, and some chrome elements add brushed-finish detailing on certain surfaces. We especially liked the unexpected addition of polished-copper accents on the Series III. Both of our test vehicles had beautiful real wood trim (a rich brown Dark Walnut in the Series II, and a lighter, brighter Natural Walnut in the Series III) with smooth satin finishes—embossed metal trim in place of the wood is optional. A large horizontal "structural wing" detail extends the warmth of the wood across the width of the dash, and there's additional walnut trim on the steering wheel. One standout detail is on the passenger's side of the dash, where individual satin-metal "GRAND WAGONEER" lettering is sunken flush into the wood surface. The modestly more expressive Series III interior was our favorite, but the two interiors have similarly high levels of overall luxury and material quality.
Front-seat space is generous; your tester is 6'2", and he had plenty of headroom under the sunroof housing. The 20-way power seats are roomy, and we found it easy to dial in comfortable settings. We also appreciated the standard seat ventilation and massage functions.
The Grand Wagoneer's interior has enough display screens to challenge the TV wall at a Best Buy store. The instrument cluster is a 12.3-inch multi-view display, and at the center of the dash is the 12-inch touchscreen that controls the latest version of the uConnect 5 infotainment system. Below that screen is the "front comfort display"—a 10.25-inch touchscreen that controls HVAC and other settings, including front seats' heating, ventilation, and massage functions. This screen swivels up to reveal a roomy storage bin with a wireless charging pad for smartphones. Second-row passengers get their own console-mounted 10.25-inch comfort display to control their individual zones of Grand Wagoneer's four-zone climate control.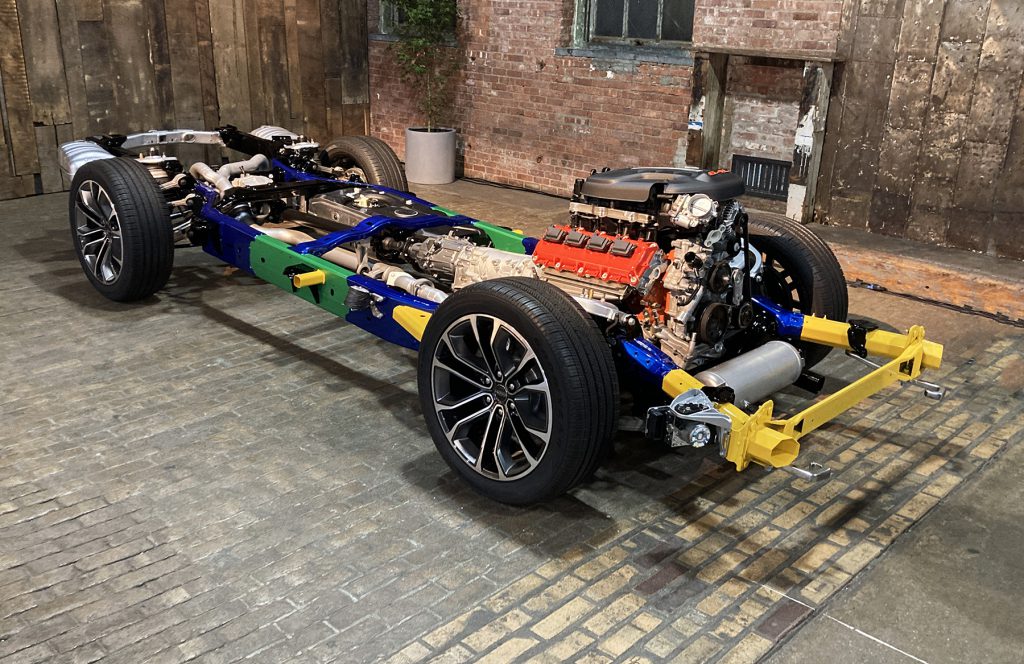 One of the gee-whiz features is an available 10.25-inch front passenger screen that's smoothly integrated into the passenger side of the dashboard. With this screen, the front passenger can act as co-pilot and control navigation and connected-device functions. This screen can also be used to view the available rear-seat monitoring system or check the exterior cameras. Additionally, it's possible for the front passenger to watch video entertainment in a variety of ways, including HDMI input, handheld-device screen mirroring, or the vehicle's built-in Amazon Fire TV for Auto system. (To avoid distraction behind the wheel, there's a film on the passenger screen that makes it unviewable by the driver.)
The available rear-seat entertainment system adds two 10.1-inch display screens for second-row passengers. These screens include USB and HDMI inputs (don't forget to pack the Roku!), as well as integrated Fire TV for Auto. In addition, each rear screen can be shared to (or monitored by) the front-passenger screen. The Grand Wagoneer's entertainment system will support up to three different video streams at once, each with its own Bluetooth headphone connection—leaving the vehicle speakers for the driver's audio entertainment.
Reaching Upmarket: The Japanese Luxury SUVs of 1996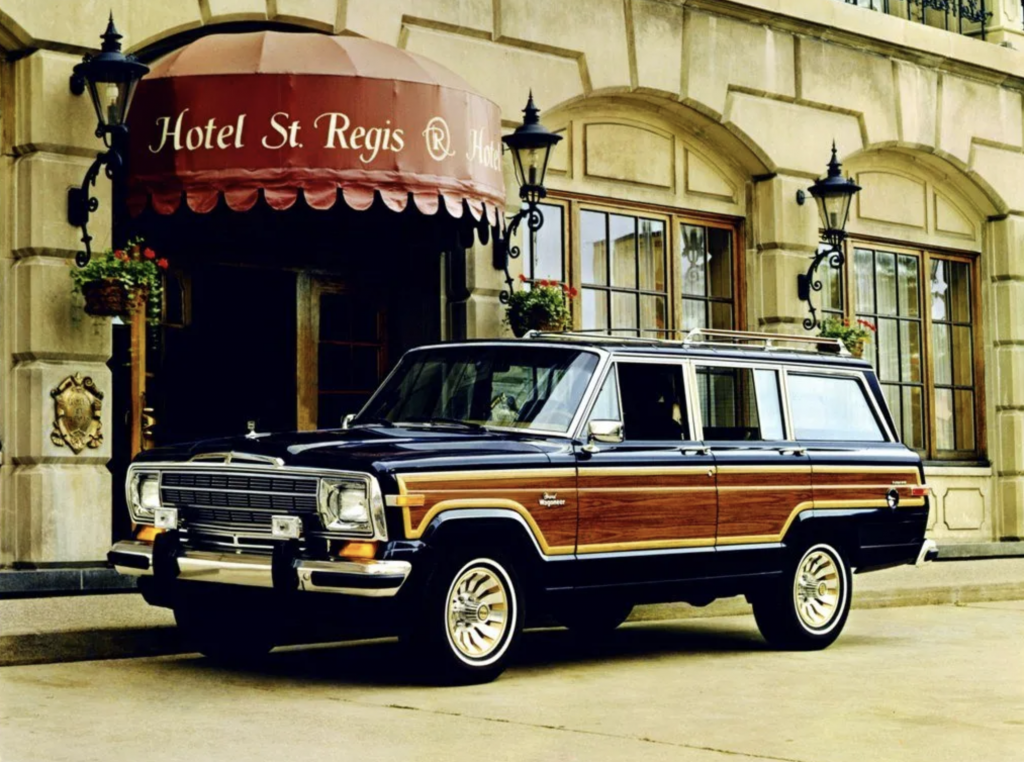 Both of our test vehicles had the available center-console cooler bin that acts as a mini refrigerator and can hold approximately 6-8 single-serve drink bottles. The bin is insulated, and our water bottles remained cold after the vehicle was parked in the sun for a couple hours on an 80-degree day. Also available is a touchpad-controlled locking console safe that's hidden under the armrest.
Other standard features on our test Grand Wagoneers included a handy head-up display and a digital rearview mirror that displays real-time video from an exterior camera. While we've appreciated the latter system on our earlier preview drives of the Ram 1500 TRX pickup and Jeep Grand Cherokee L, in the Grand Wagoneer we experienced unexpected and distracting reflections on the mirror/screen that created a kind of "double-vision" effect. We made several attempts to adjust the mirror but never fully eliminated the reflections.
Wagoneer interiors include standard three-row seating for eight with a second-row bench seat, while Grand Wagoneers get second-row captain's chairs for seven-passenger capacity. Buyers can specify either seating configuration in any model, and both of our test Grands had the seven-passenger layout. The rear door openings are generous, and the available power-deploying side steps make climbing aboard easy. The seats themselves are comfortable and room is ample all around—Jeep claims the second-row legroom is best-in-class.
The captain's chairs include a power tilt-and-slide function to open up access to the third row. Entering those seats is relatively easy, and passenger room is surprisingly generous once you're seated. We had plenty of headroom and more than enough legroom (Jeep claims the third-row head and legroom is class leading) and our size-13 sneakers found lots of wiggle room even before exploring how much space was available under the second-row seats.
Maximum cargo room behind Grand Wagoneer's third row is 27.4 cubic feet—another class-leading score versus Navigator's 19.3 and Escalade's 25.5. The third row is split 60/40, and each side can be folded flat at the touch of a button while standing at the rear of the vehicle. The second-row also easily folds flat from the rear of the vehicle or while standing at the rear doors. The second-row console in seven-passenger models is fixed in place, and it stands somewhat higher than the folded seat backs, which makes a fully flat load floor impossible. We were surprised to see that the rear-comfort display screen remains out in open, where it is vulnerable and unprotected from potentially expensive mishaps. With the seats down, the seven-passenger Grand Wagoneer trails Escalade and Navigator for total cargo room. The Wagoneer with the second-row bench seat tops the Expedition's cargo capacity, but falls short of the Tahoe.
Popular Jeep models like the Wrangler and Grand Cherokee are not known for bargain pricing—they sell on the merits of Jeep's enviable brand image and their unique blends of desirable attributes—Jeep's reputation for off-road prowess chief among those. Now, the Wagoneer and Grand Wagoneer attempt to bring this recipe to the full-size and premium-full-size SUV markets. The overall size, roomy passenger accommodations, and refinement are on par to compete in these tough segments. The beautiful and luxurious Grand Wagoneer interior is especially impressive, as is its lavish available features and the numerous connectivity options to keep the family occupied with endless video entertainment. However, we can't help but wonder if the Grand Wagoneer's exterior is visually distinct enough stand out compared to the Wagoneer, and if it delivers enough visual punch to really take on the stunning new Escalade in a market segment that doesn't appear to appreciate subtlety.
Full-Size 4WD: The Big Rigs of 1989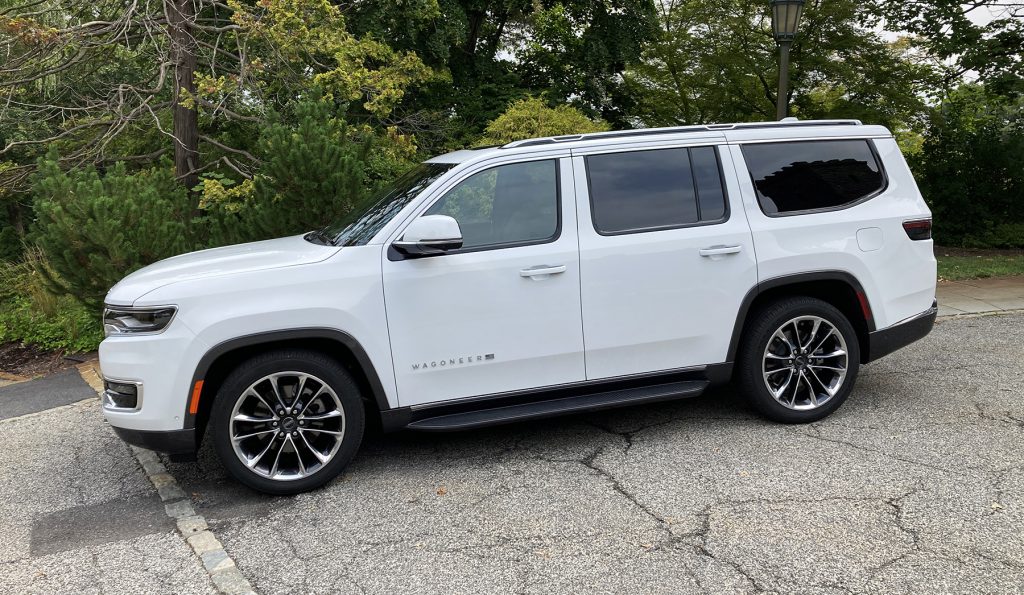 Check out the Consumer Guide Car Stuff Podcast
2022 Jeep Wagoneer and Grand Wagoneer Gallery
(Click below for enlarged images)
2022 Jeep Wagoneer
2022 Jeep Wagoneer