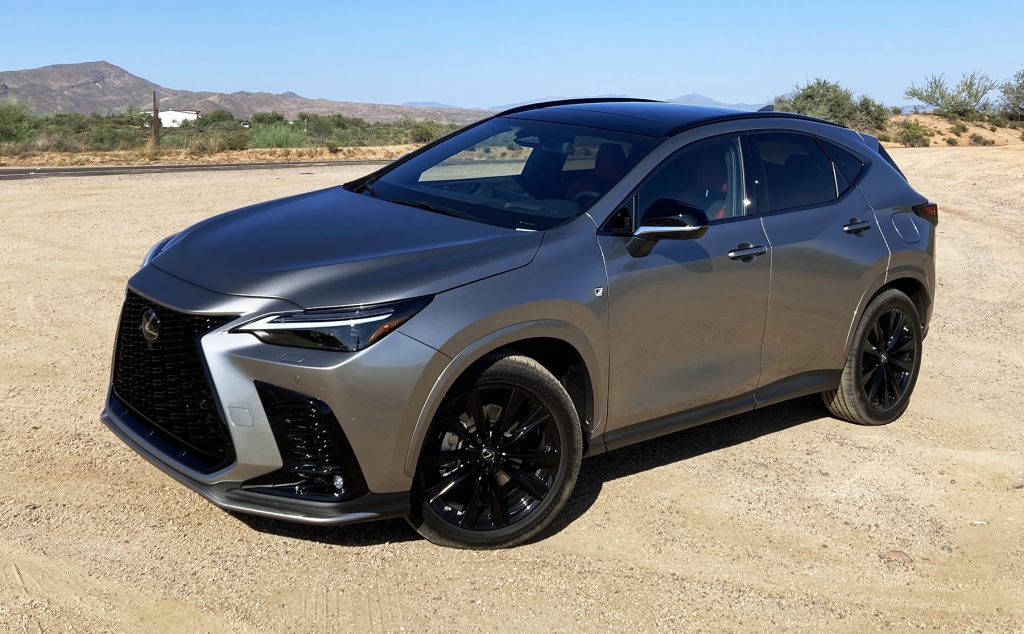 The Lexus NX has been one of the country's top-selling compact luxury SUVs, and it's the second best-selling Lexus, trailing only the RX midsize SUV. For 2022, Lexus kicks off the NX's second generation with a redesigned, slightly larger model that boasts fresh styling inside and out, an all-new infotainment system with much-upgraded connectivity features, and an expanded powertrain lineup—including Lexus's first plug-in-hybrid model.
The new NX is built on Toyota's Global Architecture-K (GA-K) platform, which also underpins the Lexus ES midsize sedan and several Toyotas, including the RAV4 compact SUV. Most exterior dimensions of the 2022 NX are within an inch or so of the first-generation model, save for a 3.2-inch increase in overall length.
The eye-catching new exterior styling is an evolution of the first-gen NX's look, and is highlighted by a fresh take on Lexus's signature spindle grille up front and a full-width taillight treatment out back. On the liftgate, simple LEXUS block lettering replaces Lexus's traditional oval-shaped L logo. As before, F Sport models get specific sporty visuals that include a different grille, black-finished 20-inch wheels, black window trim, and F Sport badging, along with unique front and rear bumper covers.
The NX's model/powertrain roster expands from two to four with the redesign. Gone are the NX 300 and hybrid NX 300h; in their place are entry-level NX 250, turbocharged NX 350, hybrid NX 350h, and plug-in-hybrid NX 450h+ models. All but the NX 450h+ are offered in base, Premium, and Luxury trim levels that are progressively pricier and better equipped. The NX 350 lineup adds F Sport and F Sport Luxury trim levels, and the NX 450h+ comes solely in upscale Luxury and F Sport Luxury trim levels. Base prices run a span of almost $19K, ranging from $37,950 for a base NX 250 to $56,900 for the top-line NX 450h+ F Sport Luxury. The destination fee adds $1075 to any NX.
Test Drive Gallery: 2021 Lexus RX 450h F Sport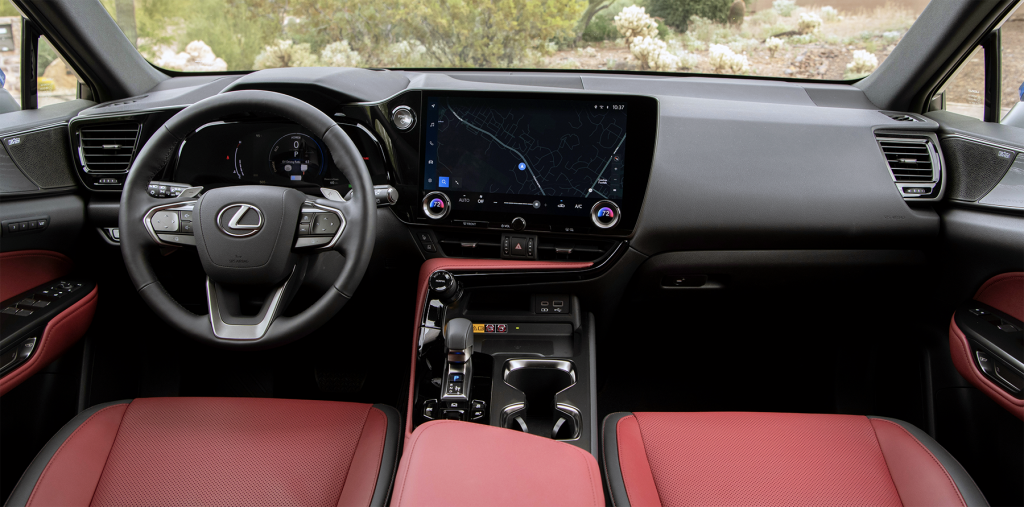 Starting with the gasoline-only NXs, the NX 250 is powered by a 203-hp 2.5-liter 4-cylinder engine paired with an 8-speed automatic transmission and front-wheel drive, or, for another $1600, all-wheel drive. The NX 350, which Lexus expects to be the most popular model, steps up to a turbocharged 275-hp 2.4-liter 4-cylinder engine paired with an 8-speed automatic and standard all-wheel drive.
Quick Spin: 2021 Volvo XC60 Recharge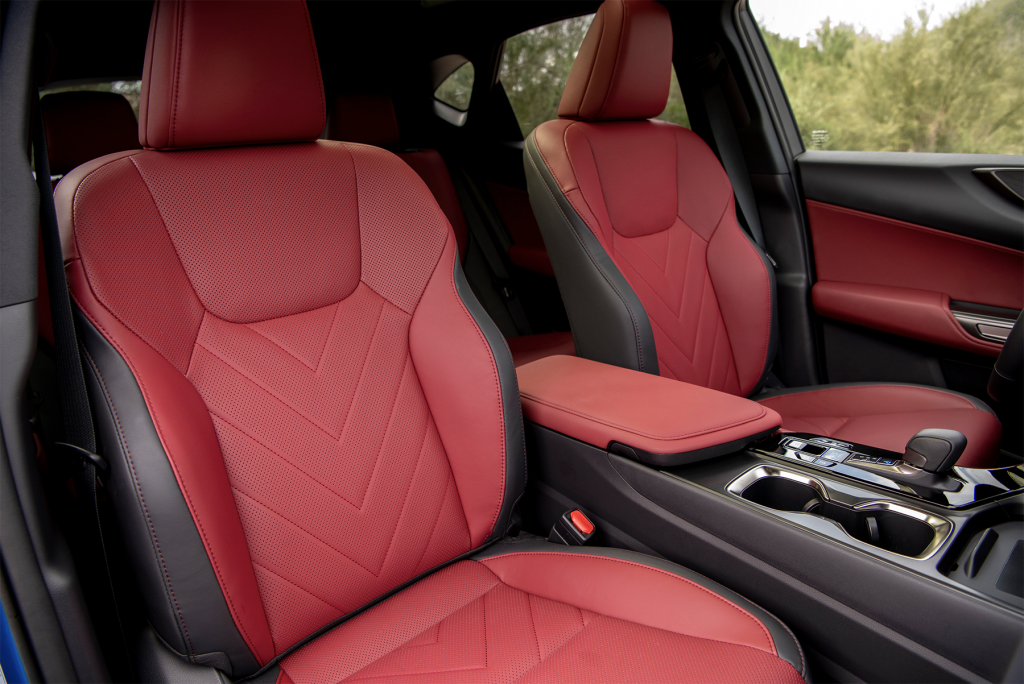 Lexus says a front-drive NX 250 will accelerate from 0-60 mph in 8.2 seconds, while the AWD version needs 8.6. Lexus-estimated fuel economy is 26 mpg city/33 highway/28 combined with front drive. With all-wheel drive, the city and highway numbers drop by one mpg each, but the combined number remains 28. The AWD-only NX 350 shaves a full two seconds off the AWD NX 250's 0-60 time, checking in at 6.6 seconds, though not surprisingly its fuel economy isn't as good—Lexus's estimates are 22 mpg city/29 highway/25 combined, and premium-grade fuel is required.
First Spin: 2022 Infiniti QX55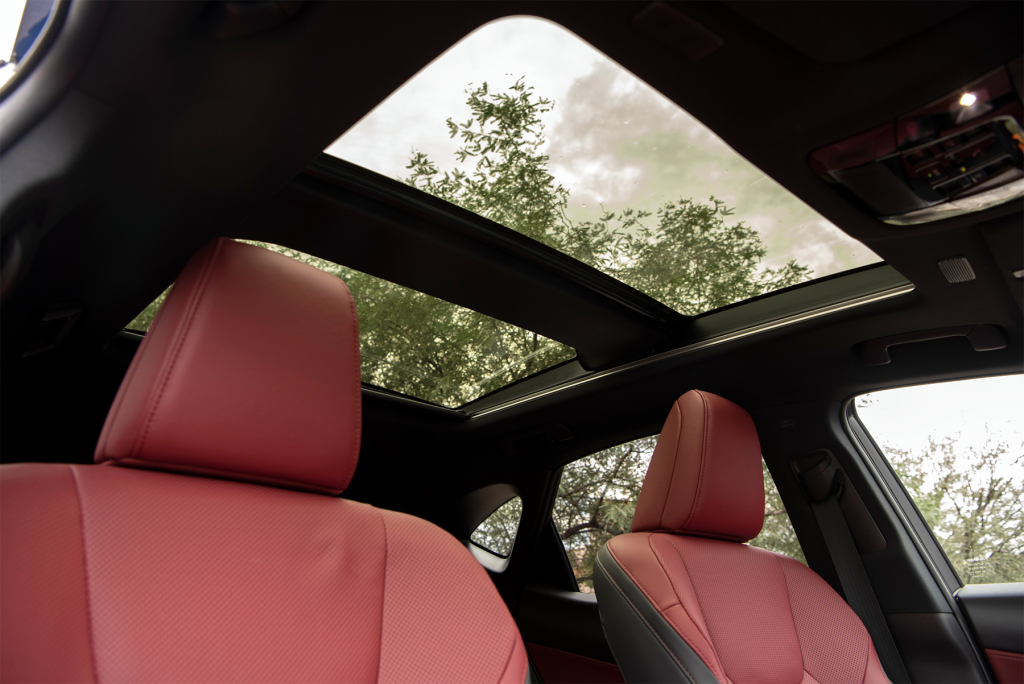 Upgrading to the NX 350 tacks on a premium of at least $2000 over a comparable AWD NX 250 model, but the hybrid NX 350h's starting prices (which range from $41,050 for a base model to $48,500 for the Luxury trim level) are actually $500 less across the board than the equivalent NX 350 models.
As with the previous-generation NX 300h, both of the new NX hybrids come standard with an all-wheel-drive system that uses a second electric motor to drive the rear wheels when additional traction is required, negating the need for a traditional driveshaft from the gasoline engine's transmission. The NX 350h uses a 189-hp 2.5-liter 4-cylinder engine that's paired with a continuously variable transmission (CVT), and two electric motors for a total system output of 239 horsepower. The NX 450h+ borrows its powertrain from the Toyota RAV4 Prime plug-in-hybrid: it also uses a 2.5-liter 4-cylinder, but adds a high-capacity lithium-ion battery pack for a total system output of 302 horsepower. With the standard 3.3 kW on-board charger, the NX 450h+'s battery can be charged using 240-volt "Level 2" service in about 4.5 hours; the optional 6.6kW charger reduces the 240v charging time to 2.5 hours.
First Spin: 2021 Buick Envision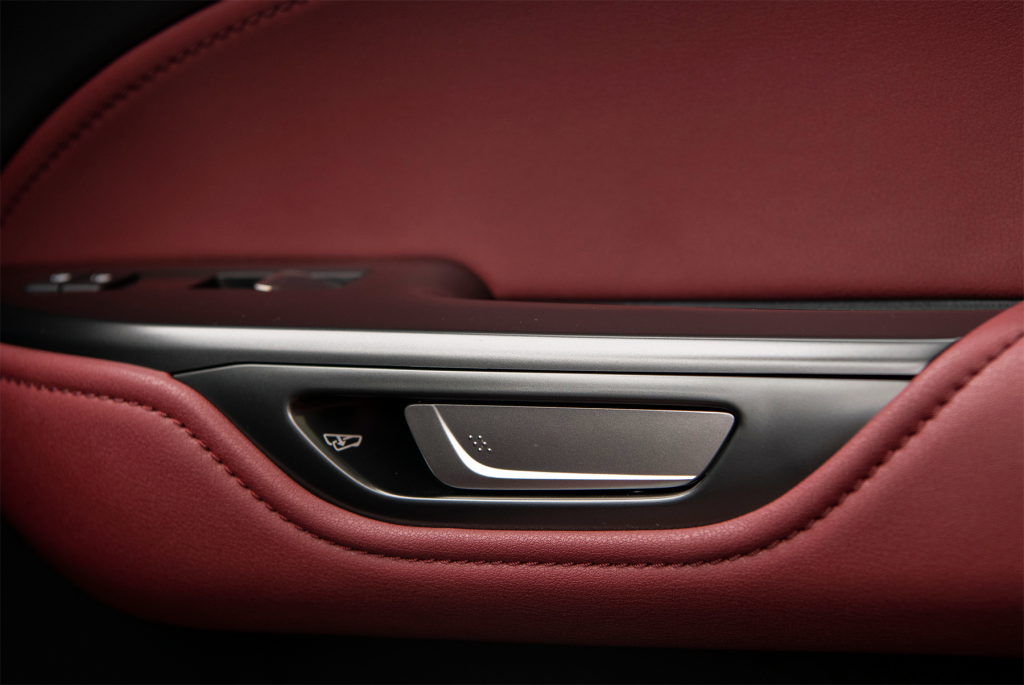 The NX 350h's estimated 0-60-mph time is a respectable 7.2 seconds, and its estimated fuel economy is 41 mpg city/37 highway/39 combined on the recommended premium-grade fuel.The NX 450h+ is the hot rod of the lineup, with an estimated 0-60 time of 6 seconds flat. Its estimated electric-only driving range is 37 miles, comfortably surpassing the Lincoln Corsair Grand Touring PHEV (28 miles) and its European-brand PHEV rivals (all of which are under 20 miles). Using the required premium-grade gas, the NX 450h+'s estimated fuel economy is 84 MPGe and 36 mpg in combined city/highway driving.
Despite its slightly larger size, Lexus says the new NX is lighter than the first-generation vehicle, with the weight reduction approximately 170 pounds for the NX 350 and more than 210 pounds for the NX 350h. Curb weights range from 3660 pounds for a front-drive NX 250 to 4475 pounds for the NX 450h+.
One of our biggest complaints with the first-generation NX was Lexus's Remote Touch infotainment interface and its tricky-to-use console-mounted touchpad. With the new NX, Lexus is inaugurating its all-new, touchscreen-based Lexus Interface multimedia system, which comes with a standard 9.8-inch touchscreen and includes wireless Apple CarPlay/Android Auto connectivity, as well as over-the-air update capability for future feature- and functionality upgrades.
An available 14-inch touchscreen comes with a three-year trial subscription for Drive Connect which adds various connected services including Cloud Navigation, Destination Assist, and Intelligent Assistant. The Intelligent Assistant allows voice-command access of several features, including weather information and point-of-interest searches via Google. If equipped with an AT&T Wi-Fi Connect subscription, the vehicle acts as a hot spot and can connect with as many as five devices. Wi-Fi Connect also makes it possible for the Intelligent Assistant to control integrated audio streaming via Apple Music and Amazon Music.
Quick Spin: 2021 Infiniti QX50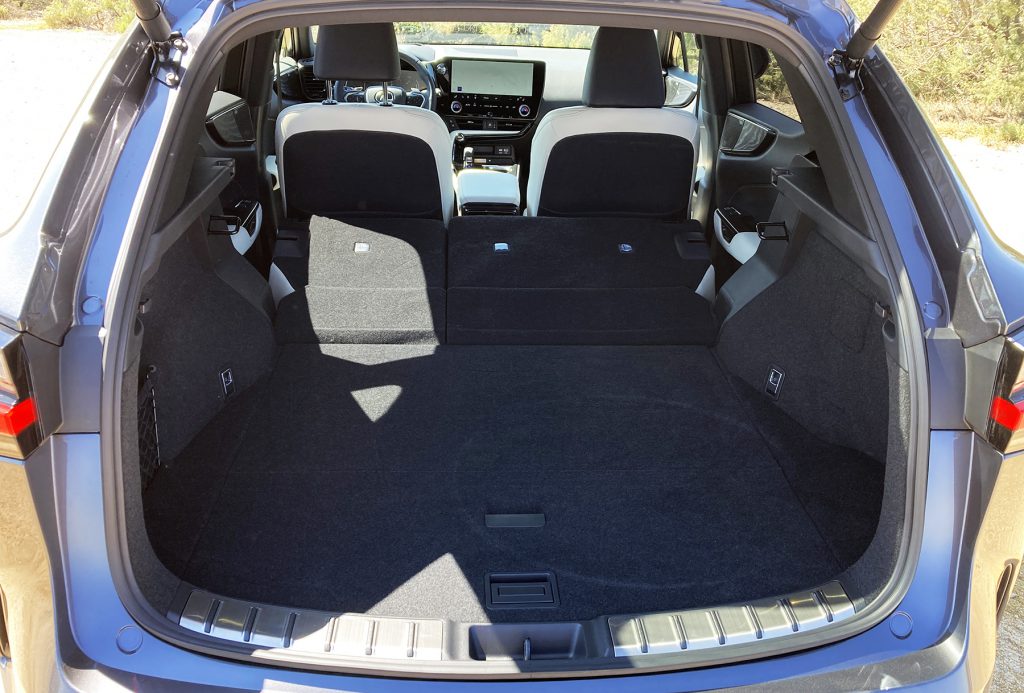 Lexus Interface also interacts with smartphones via its User Profile feature and the Lexus App. Once a User Profile is created in the app, the driver's favorite settings are stored online, where they can be used in any Lexus Interface-equipped vehicle. A User Profile is also needed to support the vehicle's optional Digital Key. This gives owners the ability to lock/unlock and start/stop their vehicle via their smartphone when they are within Bluetooth range. Vehicle access via Digital Key can be shared with as many as seven other people through their own User Profiles in the Lexus App.
All NX models come with three-year trial subscriptions for Remote Connect, Safety Connect, and Service Connect. Remote Connect offers services including remote door lock/unlock, remote start/stop, vehicle finder, vehicle status, and a guest driver monitor. Safety Connect offers enhanced roadside assistance, a SOS emergency assistance button, stolen vehicle location, and automatic collision notification. Service Connect provides a vehicle health report and maintenance notifications.
The 2022 NX also includes the new Lexus Safety System+ 3.0. Features that have been added to the previous 2.0 suite include left turn oncoming vehicle detection/braking, right and left turn oncoming pedestrian detection/braking, dynamic radar cruise control with curve speed management, and risk avoidance emergency steering assist. The NX also introduces the new digital latch and safe exit assist system that detects vehicles or bicycles approaching from the rear and prevents the occupant from opening the vehicle's doors until it is safe to do so. Safety features that return include road sign assist, a pre-collision system, lane departure alert with steering assist, and intelligent high-beam assist.
At the 2022 NX's press-preview event in the Camelback Mountains outside of Phoenix, we drove an NX 350 Luxury, NX 350 F Sport, and an NX 350h Luxury. Though Lexus hasn't yet dialed in complete option pricing yet, the estimated as-tested prices of our test-drive vehicles were $55,085, $55,325, and $56,085, respectively.
Test Drive: 2021 Genesis GV80 2.5T Prestige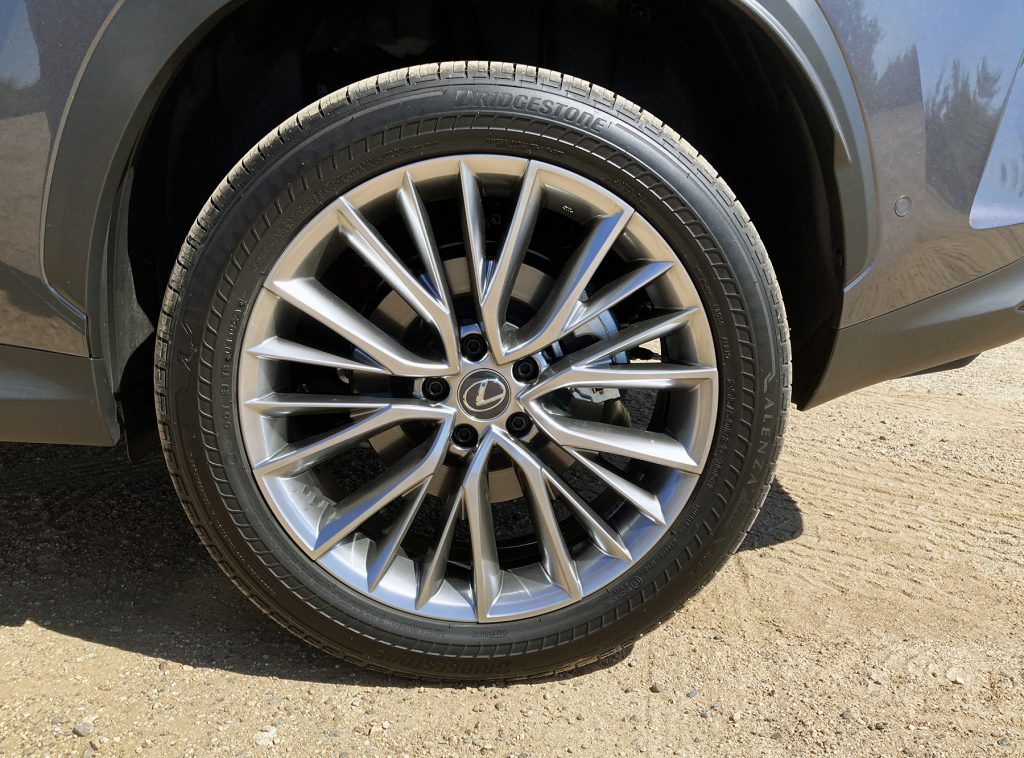 Entry and exit are easy. The seating position is SUV high, which contributes to a sense of command. Even so, we had more than enough headroom under the panoramic moonroof housing, and the driver's seat still had a bit of rearward travel available after your 6'2" test driver dialed in his preferred settings.
Materials quality and appearance are to a high standard. In Luxury trim, the NX has a modern and classy cabin, and we especially enjoyed the black open-pore wood trim. F Sport models present a sportier take on luxury, thanks to unique touches such as bolstered sport seats, a specific steering wheel, revised instrument graphics, and aluminum-trimmed pedals.
Most of the information displayed in the digital instrument cluster is easy to read, but some secondary items are in a smaller text than we prefer. Unfortunately, the cluster is set behind a clear window that is very susceptible to glare. Outward visibility to the front and sides is great, and the view out the back is SUV-typical, with some challenges created by the headrests and the smallish rear window. The optional digital rearview mirror improves the view astern, but on a very sunny Arizona day there were enough distracting reflections on the digital display that we ultimately defaulted to the standard mirror.
All the NXs we drove had the optional 14-inch touchscreen display. It absorbs nearly all audio, climate, and comfort controls, but stereo volume, cabin-temperature settings, and drive-mode selection are still controlled by physical knobs. Visually, the new Lexus Interface looks great; the generously sized screen boasts sharp, attractive graphics. Unfortunately, as big as this screen is, there is a lot of information that needs to be displayed on it—so much information that not all of it is visible at the same time, and some of what is displayed can feel a bit randomly placed and cluttered.
Quick Spin: 2021 Toyota Venza Limited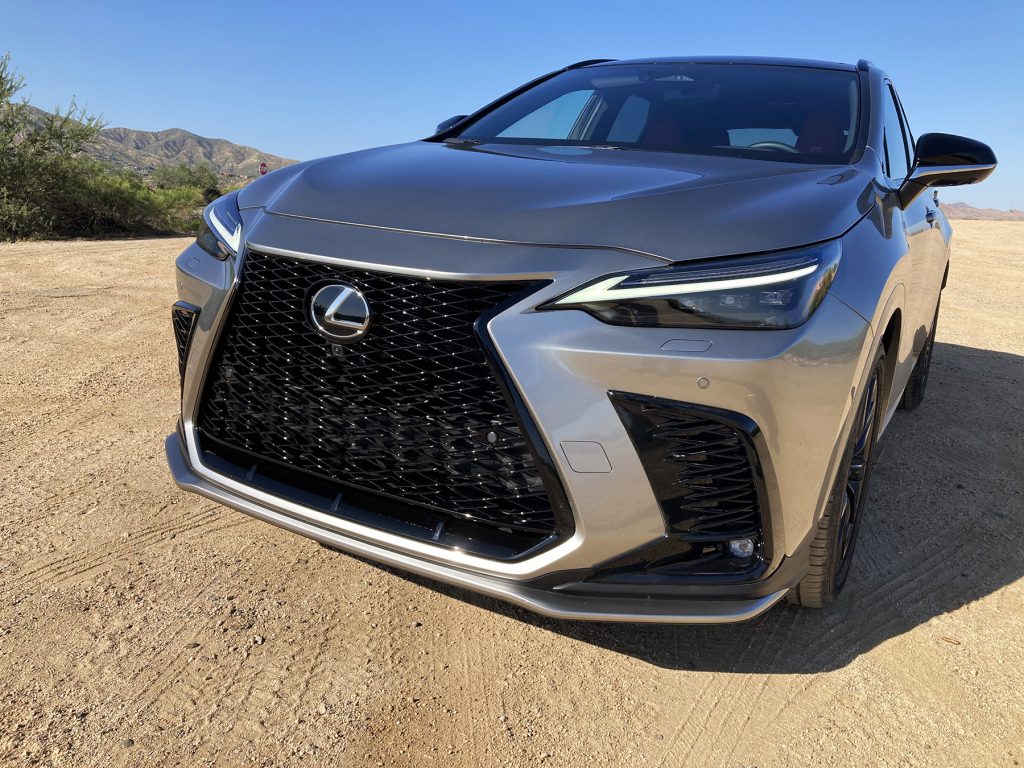 These touchscreen-based systems almost always present steep learning curves and require time and familiarity from repeated use. For example, we were a bit puzzled about how to go about switching from FM radio to satellite radio. Thankfully we were still parked, because it took all our concentration and presses on several different virtual buttons to find our preferred station. While viewing the navigation map, not all comfort settings are visible, and we weren't easily able to understand how to get to the correct screen to adjust the ventilated seats. Since the test vehicles were equipped with the available Intelligent Assistant, all we really needed to remember was to say "Hey Lexus" before saying what we wanted to do.
During a demonstration session after our morning drive, we learned the basics of how the Intelligent Assistant system works and what some of its capabilities are. In response to "Hey Lexus, I want to listen to ZZ Top," the system quickly pulled up Smart Dressed Man from one of the integrated streaming services. When asked where the nearest Target was, the system gave us the address and the option for the navigation system to direct us to the store. If you tell the system you want Mexican food, it presents nearby options complete with Google-supplied information, including star ratings.
We tried the Intelligent Assistant upon returning to the road for our afternoon drives. Unfortunately, response from the system isn't instantaneous, but if you've used Apple's Siri virtual assistant, the experience should be familiar. Without doing anything else, we said something to the effect of "Hey Lexus, I want to listen to 80s on 8" and the satellite-radio station came up with no further effort. We also tried to control several different vehicle functions, including audio volume, interior temperature, fan speed, and seat ventilation, and the Intelligent Assistant did exactly as we asked each time.
All our test vehicles were also equipped with the 10-inch color head-up display, an $1100 option that projects various readouts on the windshield in the driver's line of sight. The display is easy to read and comes with a pair of touch-sensitive pads on the steering-wheel spokes. These pads are much like normal steering-wheel-button controls, but they are multifunctional and user-programmable. Touching the left or right pad brings up a menu on the corresponding side of the head-up display that shows what vehicle function is controlled by each segment of the four-way pad. Another press allows the driver to access an additional level of settings that allows the touch pad to control a different group of functions. We didn't have enough time on the press event to fully absorb this system, but spending the time needed to master it could pay dividends for owners who don't want to use the Intelligent Assistant.
Test Drive: 2020 Mercedes-Benz GLB250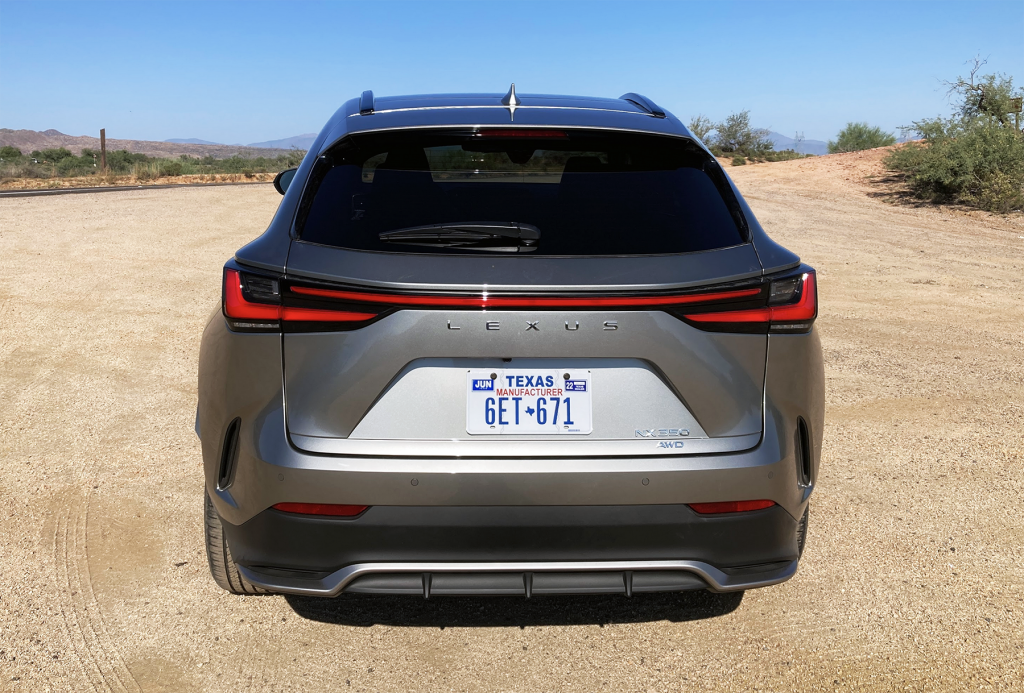 All NXs have "Digital Latch" electric-release door latches that are activated by squeezing a pad on the inside surface of the exterior handle or by gently pushing a wide button on the interior door panels. During our tests, the latches worked flawlessly, and we acclimated to them instantly. Lexus has included back-up mechanical door releases in case of a malfunction or a dead battery.
Test Drive: 2020 Alfa Romeo Stelvio Quadrifoglio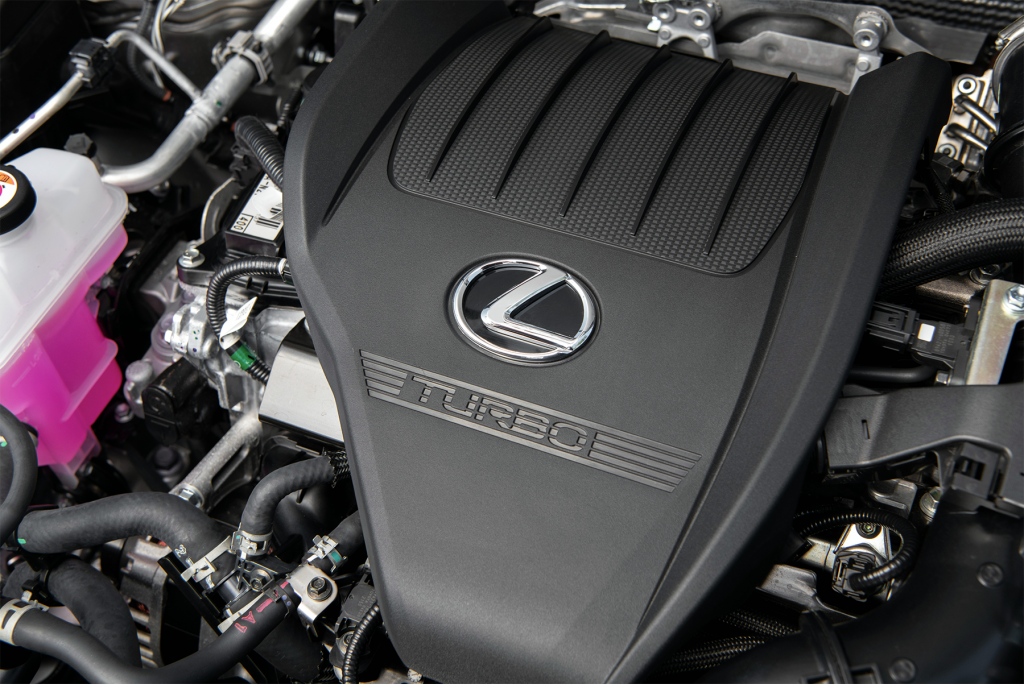 One thing we weren't happy with while in the driver's seat was the optional wireless charging pad. In each NX we drove, our iPhone SE would not stay in in the correct position on the charger, and as a result wouldn't charge unless we carefully monitored the Lexus's charging indicator light and fiddled with the phone's location on the pad. We haven't experienced this level of frustration with wireless charging pads while using our phone in other test vehicles.
Rear-seat entry and exit is easy as well, and there's enough space back there for most average-sized adults to ride in comfort. With the front seat set for ourself, we had enough legroom that there was still a bit of clearance between our shins and the seatback. Headroom was fine, even below the panoramic moonroof housing.
The all-new turbocharged engine in NX 350 is very refined. In normal driving, power is effortless, and a deep stab of the throttle quickly summons ample muscle. The 8-speed automatic is very well behaved, and we didn't find it necessary to use the paddle shifters to manually select gears. Speaking of gear selection, the stubby, console-mounted shifter works a bit unconventionally, similar to the Toyota Prius's shifter. You pull the spring-loaded lever towards you first, then push the lever forward to select Reverse or pull it back to engage Drive (the lever then returns "home" on its own). Park is selected by pushing a button in front of the lever. It works fine, and quickly became second nature for us.
NX350h's gas-electric hybrid powertrain is also very refined, and we were never left wanting for more oomph. The CVT just goes about its business and doesn't bring any unwanted attention to itself, which we think is a high complement for this type of transmission. In all three NXs we drove, the cabin was commendably quiet, with little apparent road noise or wind rush. Though we didn't have the opportunity to drive an NX 450h+ on this event, we've tested its basic powertrain in the Toyota RAV4 Prime and were impressed by its snappy acceleration and laudable pure-electric driving range.
Test Drive: 2020 Mercedes-Benz GLC 300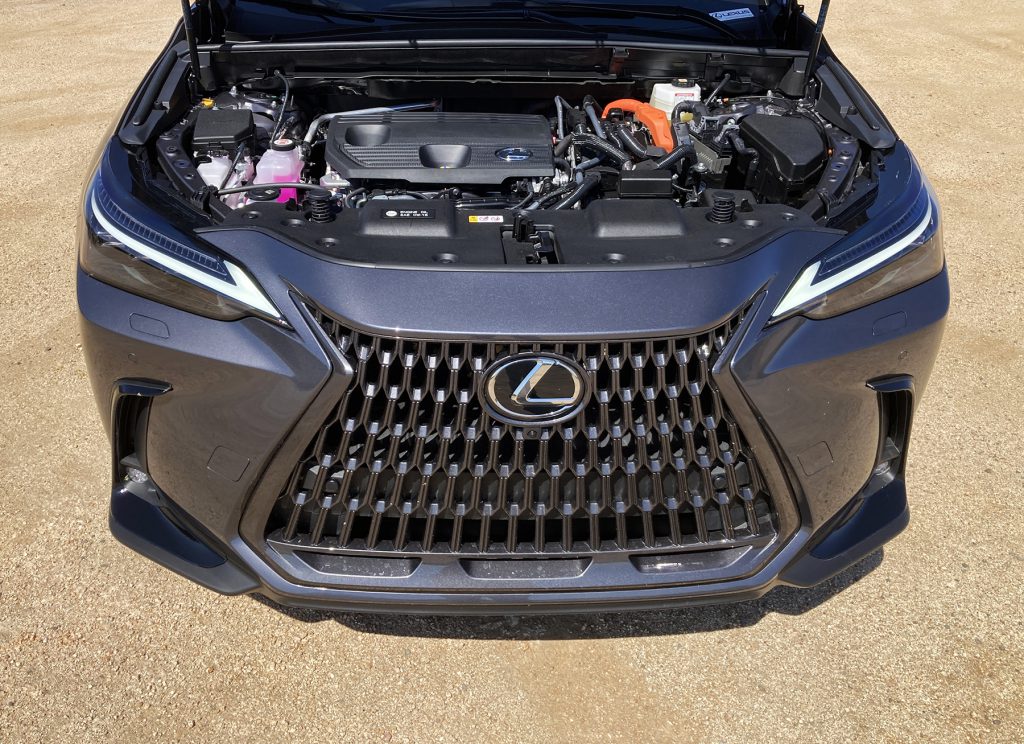 The drive route Lexus chose for this event was nearly all two-lane road, with some curves and elevation changes mixed in. The three NXs we drove felt similar to one another, with each demonstrating a very pleasing balance between comfort and control. All wore 20-inch run-flat tires and rode comfortably, but we'll reserve final judgment on this point until we can experience the NX on the winter-ravaged roads around our home base in suburban Chicago.
The fantastically racy-looking NX 350 F Sport was a bit more playful than the others in the curves, but we were a little surprised that F Sport's sport-tuned adaptive suspension wasn't more apparent during our drive. Even when set in its most aggressive Sport+ mode, the most noticeable tweak was a slightly heavier steering feel.
Cargo space with the rear seats up is expanded to 22.7 cubic feet from 17.7 in the old NX. The space is very usable, and the cargo area widens behind the rear wheel wells. This extra space has a small cargo net on the driver's side to help hold items in place. However, when you fold the rear seats down the new model has only 46.9 cubic feet of space, compared to 54.6 cubic feet in the old NX. We did appreciate that the folded-down seat backs were flush with the cargo floor.
After our first taste of the 2022 Lexus NX, we see no reason why it won't continue its predecessor's success as a top seller for the brand. Regardless of trim level, the NX is comfortable and classy inside, refined, and very pleasant to drive. The choices offered by the two gas engines and two gas-electric hybrid powertrains are very welcome, and tech-savvy buyers will likely enjoy all of the new connectivity features.
Car Shopping From Home: Carvana vs Vroom vs CarMax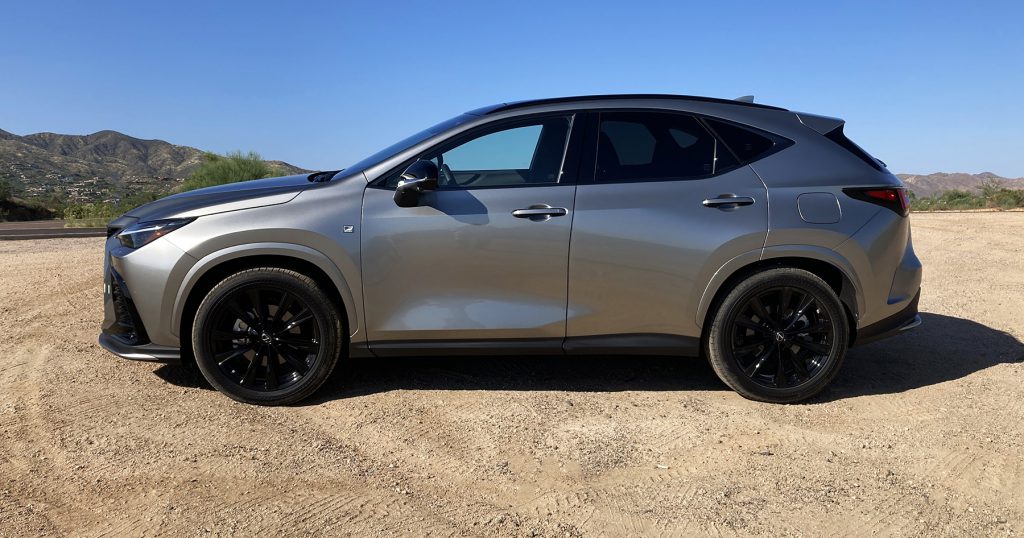 Check out the Consumer Guide Car Stuff Podcast
2022 Lexus NX Gallery
(Click below for enlarged images)