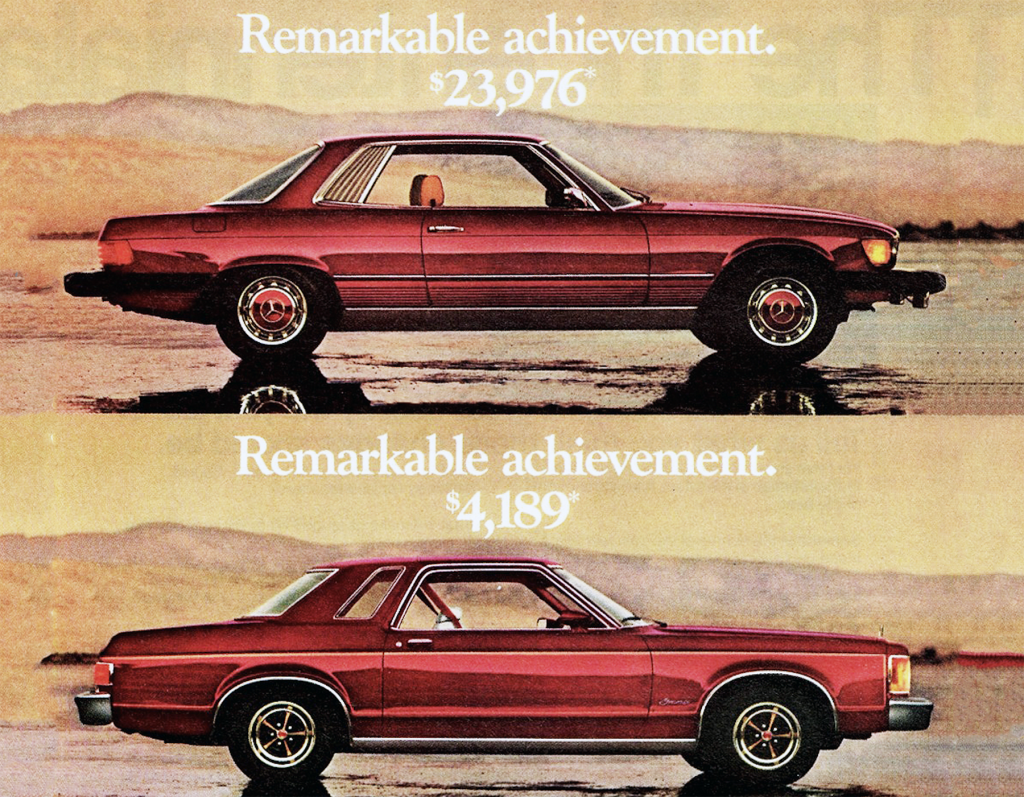 You can't have it both ways… that is, you can't have it both ways unless you worked in Ford's marketing department in the mid-to-late Seventies.
In 1975, Ford launched the enormously popular Granada, a compact/midsize coupe and sedan designed to look and feel like a large car at a time when both car prices and fuel costs were rising at an alarming rate.
Indeed, the Granada looked very much like a large Ford—a trait that likely helped make Ford customers comfortable with the fact that the new small car was fully two feet shorter in overall length than the full-size Ford LTD. The Granada was also considerably shorter than the midsize Ford Torino.
However, even though the Granada was meant to look like a small big American car, Ford's advertising folks decided that it also looked—wait for it—European. And not just European, but high-end-luxury Mercedes-Benz European. In the first of many ads making similar comparisons, Ford chose to compare a Granada Sport Coupe to Mercedes' flagship sports coupe, the 450 SLC.
The handy chart included in the ad below illustrates that the Granada and the SLC are indeed similar in size, that both are available with engines, and that both have gear ratios. Details glossed over include the horsepower output of the Granada's largest engine option (143, versus the Mercedes' 225), or the fact that the compact Ford is saddled with an antiquated leaf-spring rear suspension.
Review Flashback! 1975 Ford Granada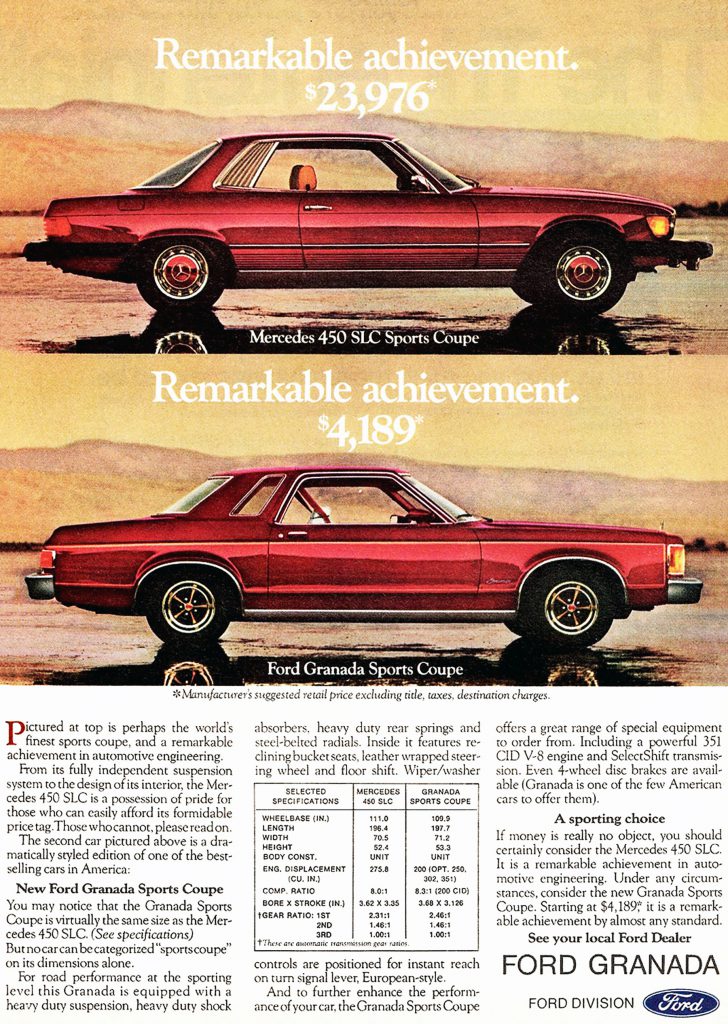 Model-Year Madness! 10 Classic Ads From 1976
To the ad's primary point—the enormous difference in price between the two cars—well, we can't argue that. What can be argued is that no one familiar with the SLC would ever consider the Granada a reasonable substitute, even if it were free.
The Granada-versus-Mercedes campaign would run through 1980, essentially for the life of the first-generation Granada. Later comparisons to midsize Mercedes sedans would shrink the price gap somewhat, but the ads never became less absurd.
Crazy as these ads may have been, they certainly didn't hurt sales—almost 450,000 Granadas were sold in 1976. And, we're still talking about these ads more than 40 years later, so on some strange level, they absolutely worked.
Check out the Consumer Guide Car Stuff Podcast
Ford Granada Ad Gallery
(Click below for enlarged images)
Ford Granada Ad