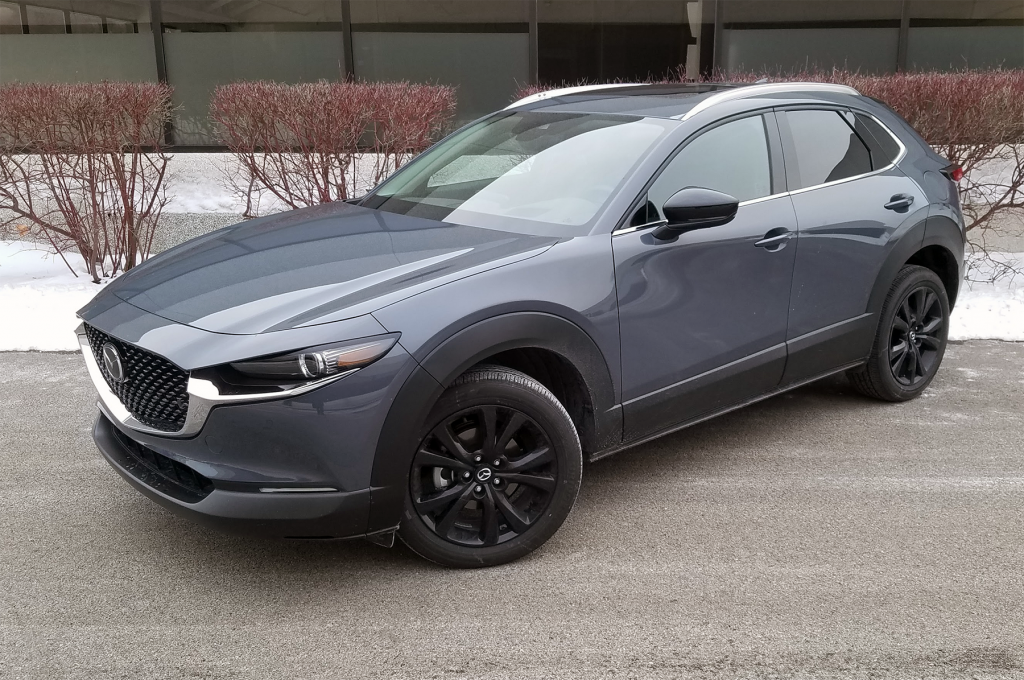 The Mazda CX-30 debuted for 2020 as a "gap-filler" crossover SUV between the subcompact CX-3 and the compact CX-5 in Mazda's crossover SUV lineup. With more and more shoppers eschewing traditional passenger cars in favor of SUVs, there's room for more variety in automakers' SUV lineups, and the CX-30 promised a Goldilocks-style "just right" fit for shoppers who needed something larger than the diminutive, urban-chic CX-3 but didn't want to step up to the pricier, bigger CX-5.
The 2020 CX-30 was indeed an ideal fit for many buyers, as it quickly became Mazda's best-selling vehicle behind the CX-5. However, Mazda reps say that some customers told them the CX-30 needed a bit more power. So, Mazda responded by adding its turbocharged 2.5-liter Skyactiv 4-cylinder engine to the CX-30 lineup for 2021.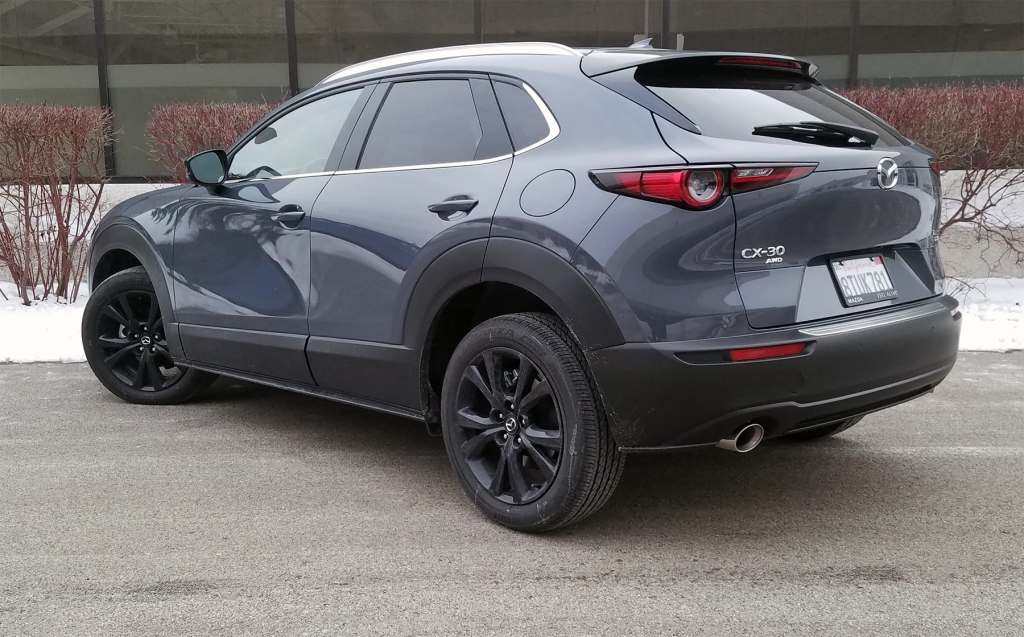 The CX-30's standard engine, a naturally aspirated 2.5-liter 4-cylinder that puts out 186 horsepower, carries over for 2021 as well. The new turbocharged 2.5-liter 4-cylinder—which is the same basic engine available in the CX-5, CX-9, Mazda 6 midsize sedan, and the new-for-2021 Mazda 3 2.5 Turbo models—makes 250 horsepower when running on premium fuel, and 227 hp when running on regular gas. And that boost in power comes at only a slight penalty to fuel economy, at least by EPA estimates; the 2.5 Turbo is rated at 22 mpg city/30 highway/25 combined, compared to 24/31/26 for the naturally aspirated AWD CX-30.
Test Drive Gallery: 2020 Toyota C-HR Limited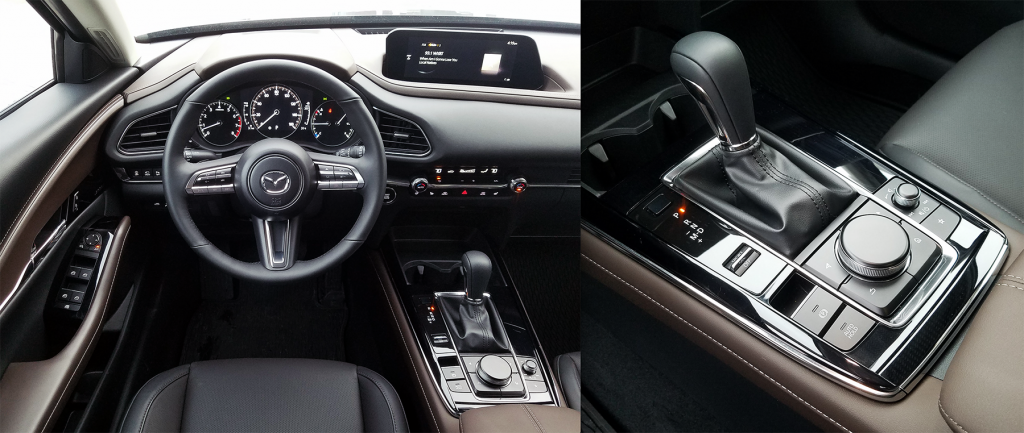 The turbo CX-30 follows close on the heels of the Mazda 3 2.5 Turbo model, which debuted just a couple months back. You can check out our First Spin report of that car here for more details on the engine itself and Mazda's philosophy and goals in installing it in its compact car. Mazda's aim with the CX-30 2.5 Turbo is very similar. The horsepower infusion and corresponding alterations in chassis tuning and standard equipment are intended to improve driving enjoyment in everyday driving situations and push the CX-30 into a more-premium segment in the marketplace. As such, Mazda engineers weren't hyper-focused on performance stats such as 0-60-mph times and skidpad numbers. Instead of things like full-throttle acceleration and cornering at the limit, they worked on optimizing less-quantifiable, "seat-of-the-pants" characteristics—how the vehicle feels from the driver's seat in everyday driving situations.
Quick Spin: 2021 Chevrolet Trailblazer RS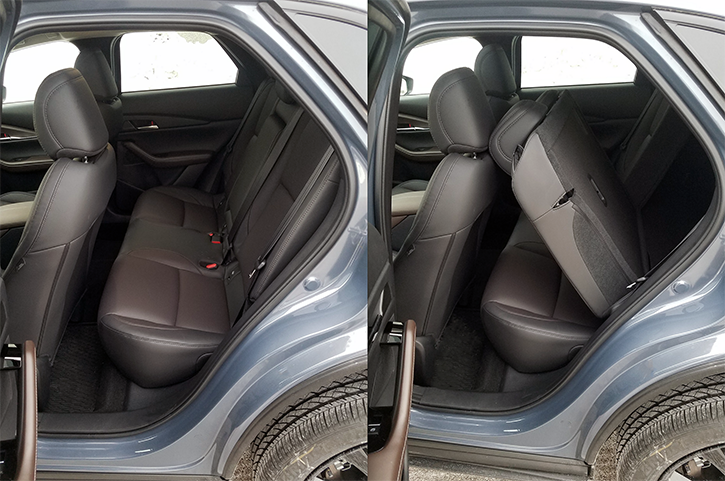 The results of that focus were apparent in our test drive. The addition of the turbo engine doesn't turn the CX-30 into a snarky performance machine—it just delivers a greater sense of effortlessness from behind the wheel. Need to accelerate up to speed on an on-ramp when entering the freeway, or zip forward to an opening in traffic? The turbo 2.5 provides smooth, mostly turbo-lag free power to oblige with minimal fuss.
Quick Spin: 2021 Toyota Venza Limited

Likewise, the CX-30's ride and handling were not radically changed with the addition of the turbo engine… the existing CX-30 models provide a fine blend of cornering prowess and bump absorption. On-road driving performance is the primary forte of the CX-30, but since it is a SUV, Mazda gave some thought to its off-road capabilities. However, this vehicle is a "soft-roader" at best… it's not intended for rock crawling or serious off-road terrain. Within the parameters of its slightly elevated ride height, the CX-30's engineers worked to optimize the AWD-system and traction-control settings in the vehicle's off-road drive mode so it can easily clear the off-road obstacles its ground clearance enables it to traverse.
Quick Spin: 2020 Mazda CX-5 Signature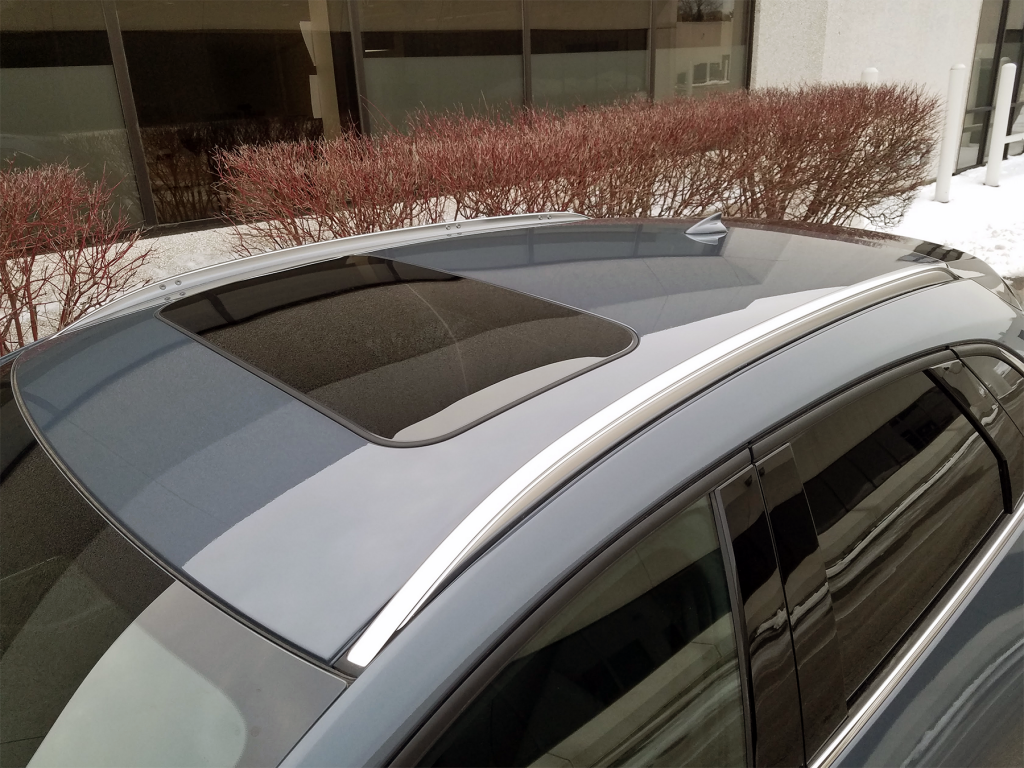 As with the Mazda 3 2.5 Turbo models, the visual differentiators of the 2.5 Turbo CX-30s are subtle: a turbo badge on the liftgate, a larger exhaust pipe, black-finished exterior door mirrors and alloy wheels, chrome interior accents, and a frameless auto-dimming interior rearview mirror.
There are three different CX-30 2.5 Turbo trim levels, all of which come standard with all-wheel drive. The base 2.5 Turbo model starts at $29,900, and includes features such as a heated steering wheel, power sunroof, power driver's seat with memory, and leatherette upholstery. The Premium Package model is priced at $32,300, and adds adaptive LED headlights, power liftgate, head-up display, leather upholstery, Bose 12-speaker premium audio system, steering-wheel paddle shifters, and navigation system.
The line-topping Premium Plus Package starts at $33,900 and adds a driver's side auto-dimming rearview mirror; front and rear parking sensors; and four exclusive features: a 360-degree surround-view monitor, Traffic Jam Assist driver-support system, rear cross-traffic braking, and Smart City Brake Support Reverse (which detects a potential collision in reverse and automatically applies the brakes).
Our test-vehicle was a Premium Plus Package model that bottom-lined at $35,400 with the addition of the destination fee and a trio of accessory items. That's quite a stretch past the $22,050 starting price of the entry-level CX-30, and also a significant premium over the $31-32K you'd spend on a top-line non-turbo model.
Test Drive: 2020 Fiat 500X Sport

Size-wise, the CX-30 hovers right on the line between the subcompact and compact SUV classes. The $35-37K range is the upper end of the mainstream-brand compact SUV category, where there are well-equipped rivals that offer notably better passenger and cargo room. However, the CX-30 2.5 Turbo also compares very favorably by most measures—horsepower, space, standard features, and cabin ambiance—to luxury-brand subcompact competitors such as the Audi Q3, BMW X1 and X2, Lexus UX, Mercedes-Benz GLA-Class, and Volvo XC40. The fact that the CX-30 can be legitimately cross-shopped against those premium-make rivals bodes well for Mazda's ambitions to position itself as a more-upscale brand.
Test Drive: 2020 Buick Encore GX Essence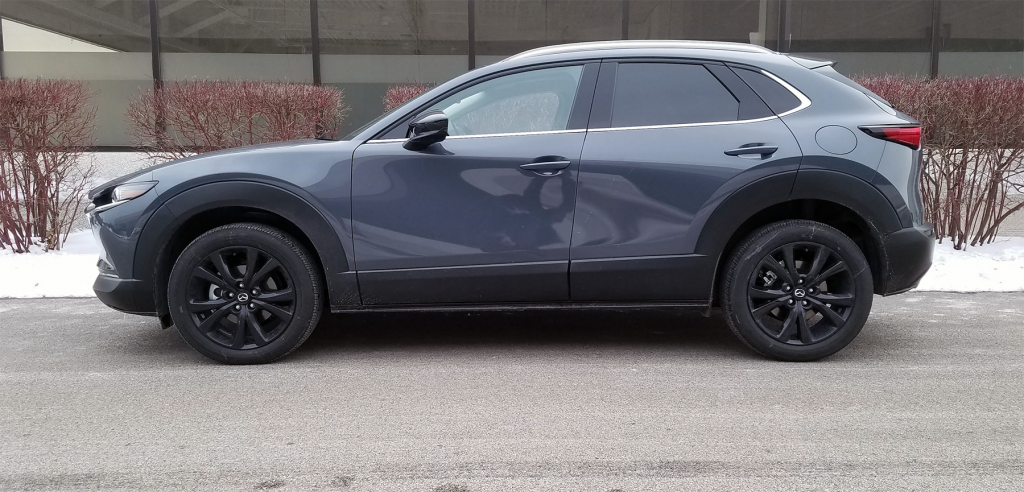 Listen to the very entertaining Consumer Guide Car Stuff Podcast
2021 Mazda CX-30 2.5 Turbo Gallery
(Click below for enlarged images)
Mazda CX-30 2.5 Turbo