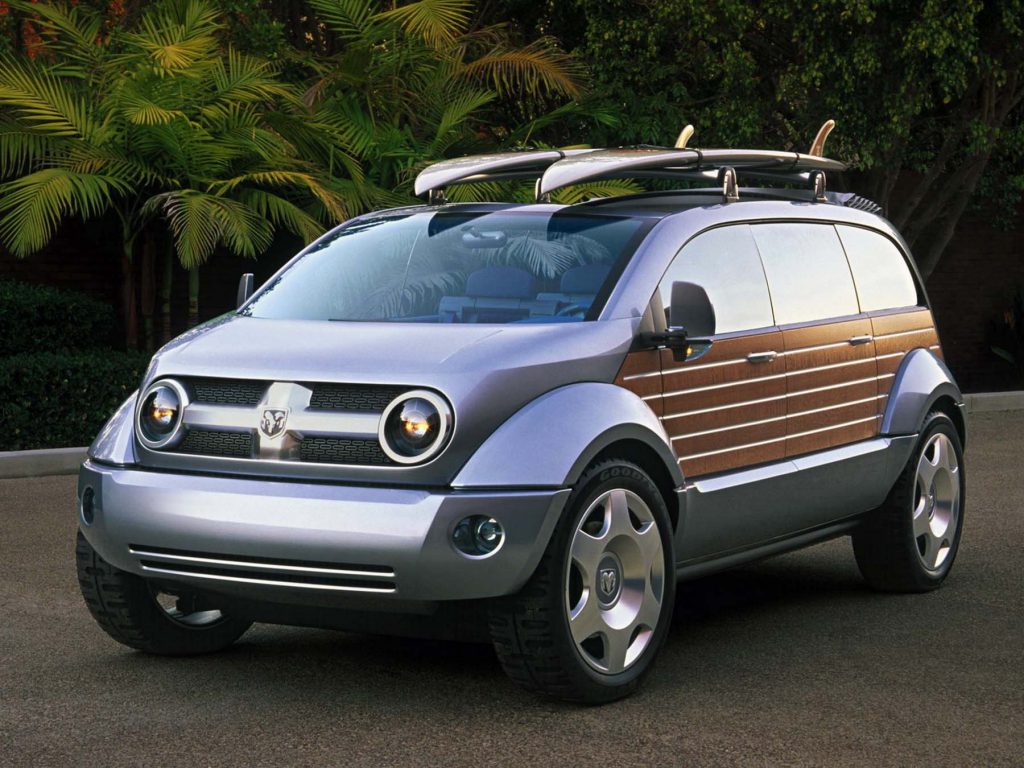 This is an installment in a series of posts looking back on show cars that we feel deserved a little more attention than they got. If you have a suggestion for a Forgotten Concept topic, please shoot us a line or leave a comment below.
Dodge Kahuna
First Shown: 2003 Detroit Auto Show
Description: Surf-themed minivan concept
Sales Pitch: "Kahuna concept blends function and performance with equal parts of cool."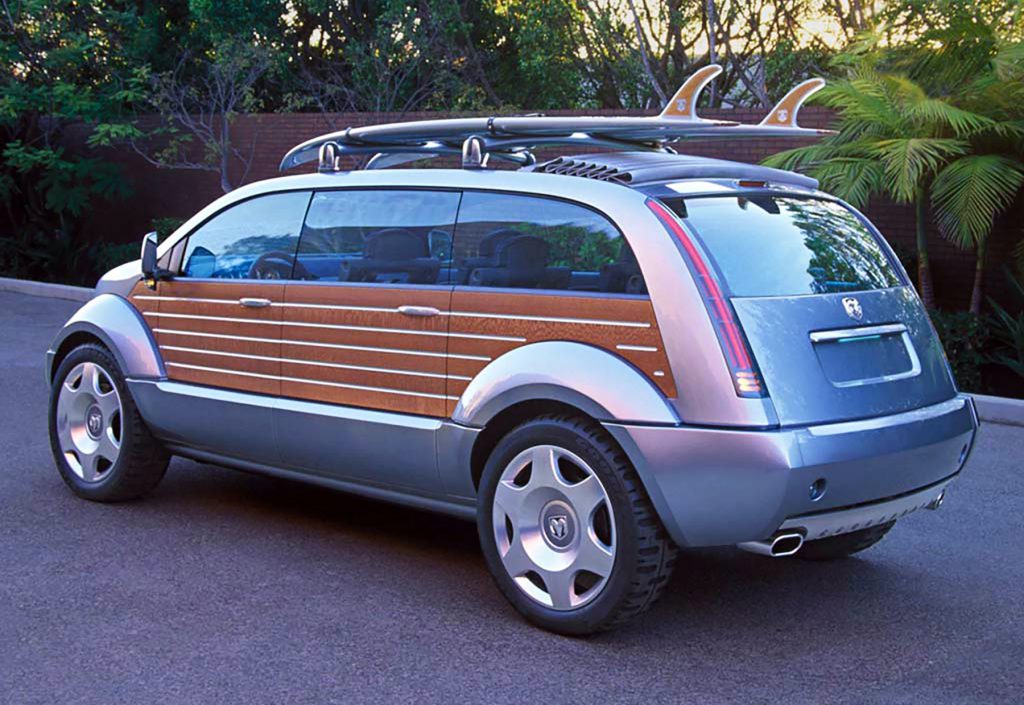 Details:
First shown at the 2003 Detroit Auto Show, the Dodge Kahuna Concept brought the idea of the classic California Woodie "surf wagon" into the new millennium. Chrysler Group Vice President Trevor Creed said the Kahuna was for "active individuals, true free spirits, who demand vehicles that are flexible with appropriate room for gear, but they want it with style." The minivan-esque concept featured seating for six, frameless side glass (all door glass was completely retractable, and the quarter windows were removable), and real bird's-eye-maple laminate bodyside panels. Twenty-two-inch alloy wheels and silvery paint color called Point Break Blue finished off the beach-ready vibe.
A canvas roof opened by retracting toward the rear of the van, revealing a very large opening that would put most of today's production panoramic sunroofs to shame. With all the windows down and with the roof retracted, the Kahuna would have provided a real open-air, convertible-like driving experience.
Inside, all six of Kahuna's seats featured flat-folding seatbacks that were designed to be easily removable. The rear seats also converted into tables.
The Kahuna's front-wheel-drive powertrain, borrowed from Chrysler's compact PT Cruiser, was fairly pedestrian—a 215-horsepower, 2.4-liter turbocharged 4-cylinder paired with a 4-speed automatic transmission.
Rumors at the time were that Chrysler seriously considered the Kahuna for production, but that poor media reception killed the project. The Kahuna was presented alongside the Dodge Avenger hatchback concept.
Forgotten Concept: Cadillac Steinmetz Catera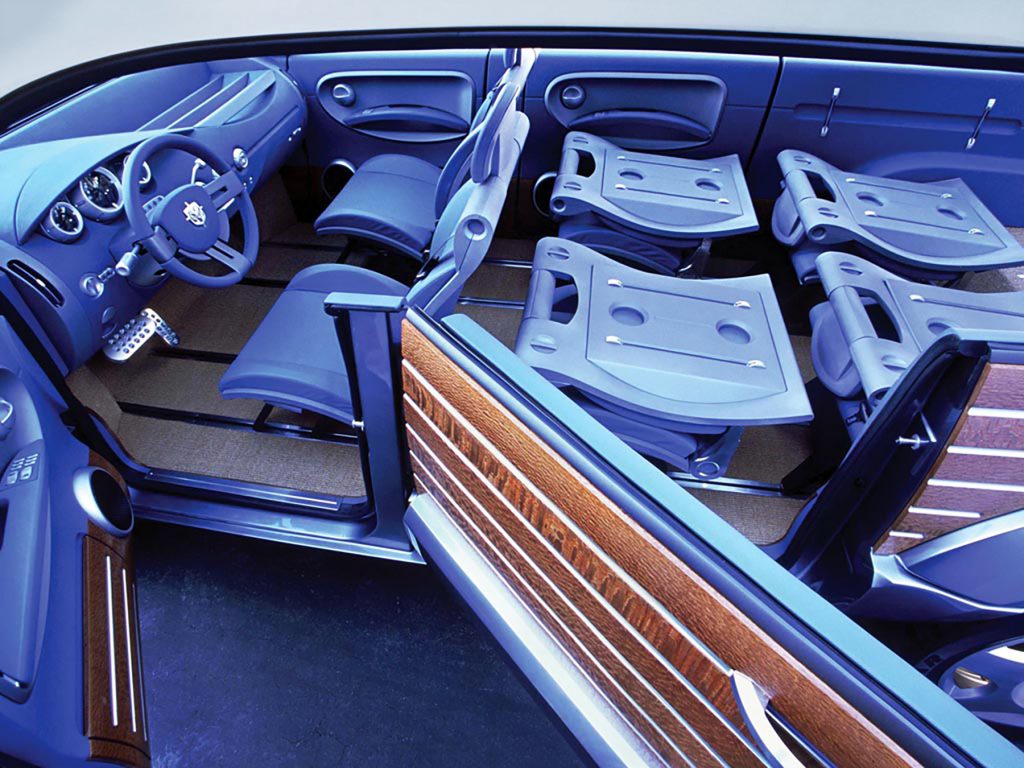 CG Says:
Depending on your source, the Hawaiian term "kahuna" means a wise man, a leader or person in charge, or a very large wave. Given that this concept van was shown with surf boards on its roof, I assume Chrysler was going for the whole wave/beach thing.
Cool as I find the Kahuna Concept, I seriously doubt this van had much potential as a production vehicle. American east coasters and inlanders generally don't respond well to things they perceive to be Californian, and the Kahuna would likely have fallen into that camp.
Recall the Ford Flex crossover wagon, which, as Ford representatives frequently reminded the media, sold very well in California. Good news for Los Angeles Ford dealers, but the quirky midsize crossovers couldn't be given away in Iowa, or New York, for that matter.
I'm a sucker for clean, open greenhouses on cars, however, and wouldn't have minded seeing a sporty, short-wheelbase Dodge Caravan with the retractable sunroof and pillarless side glass.
Forgotten Concept: Oldsmobile Silhouette OSV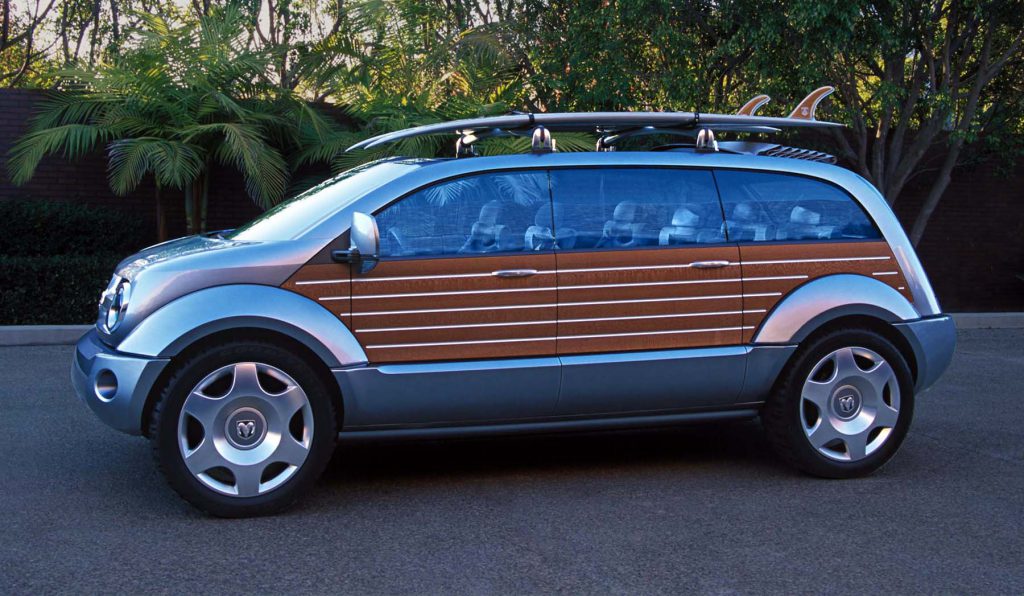 Listen to the Consumer Guide Car Stuff Podcast
Dodge Kahuna Concept Gallery
(Click below for enlarged images)