With hybrid vehicles of all sorts now commonplace in the American new-vehicle market, the Toyota Prius doesn't get the respect (or sales numbers) it once did. These days, most major manufacturers offer numerous hybrids, plug-in hybrids, or both—and increasingly, these hybrids are versions of regular-line vehicles, not stand-alone, hybrid-only models. The majority are also SUVs—the type of everyday family vehicle American buyers are choosing in greater numbers than 4-door sedans of any stripe.
Still, the Prius has a lot to offer, in addition to the obvious benefits of its standout fuel economy. Considering its compact-car footprint, it provides respectable room for adults in both the front and rear seats, and its hatchback-sedan layout improves its cargo-hauling versatility over a traditional 4-door sedan. In any of its forms, the Prius is no performance machine. The suspension and steering are set up for everyday commuting, not enthusiastic cornering. Acceleration is a bit tepid compared to the average new vehicle, particularly in highway driving. But as an around-town commuter, it keeps up with the flow of traffic just fine—thanks in part to the immediate response of its electric motor(s).
And, the Prius comes in multiple flavors that make it more attractive to buyers with specific wants and needs. The current generation of the Prius debuted for 2016, and the Prius Prime plug-in-hybrid version was added for 2017. All-wheel-drive Prius "AWD-e" models followed for 2019.
The larger battery in Prius Prime models enables them to offer an estimated 25 miles of pure-electric driving—enough range for gas-free daily commuting for many Americans. And when its plug-in battery charge is used up, the Prime simply switches to normal gas/electric-hybrid operation like other Priuses. So, long road trips are no problem—no range anxiety or concerns about finding a charging station.
The Prius AWD-e models add an electric motor to power the rear wheels, to deliver improved traction in slippery and/or snowy conditions—just the ticket for eco-conscious buyers in cold-weather or high-altitude climes. The motor always powers the rear wheels when accelerating from a stop up to 6 mph, then disengages unless wheel slip is detected, in which case it powers them up to 43 mph. This allows for a "boost" at launch while shutting off the motor when it's not needed in order to improve fuel economy.
We tested both a Prius Prime Limited and a Prius XLE AWD-e and decided to line them up head-to-head to see how they compare. Check out our pics below, as well as our observed fuel economy, optional-equipment lists, and report-card info on our two test cars.
You'll pay more, of course, for the added functionality of either the powertrain or the plug-in-hybrid powertrains—and the latter commands the larger price premium.  Our Prime test vehicle was about $3600 more than our AWD-e tester, but most of that gap is attributed to the up-level equipment of the Prime's top-line Limited trim (a trim level that the AWD-e does not offer). Though the equipment levels don't line up exactly, the base-price gap drops to about $1100 when comparing the Prime and AWD-e LE models (the base trim level for both) and just $425 when comparing XLE models.
Test Drive: 2020 Toyota Prius Limited
Prime vs AWD-e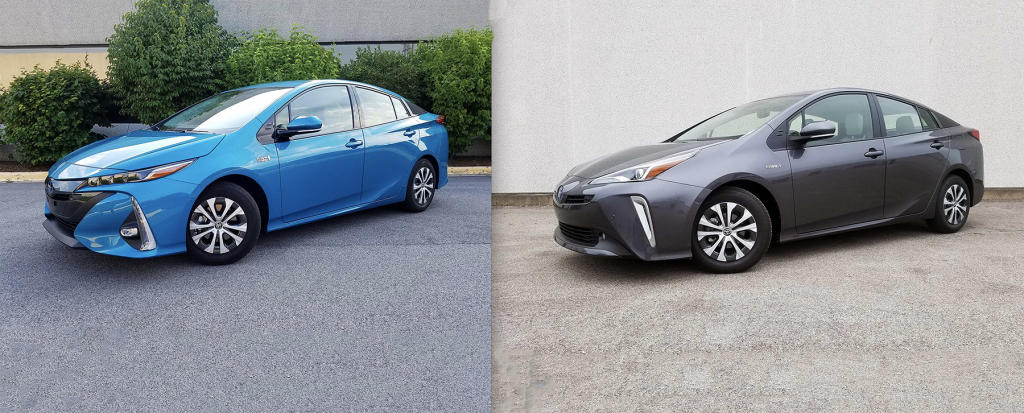 The Prius Prime gets a slightly more aggressive look via quad LED headlights and a blacked-out, inset front-fascia design.
Test Drive: 2021 Honda Accord Hybrid Touring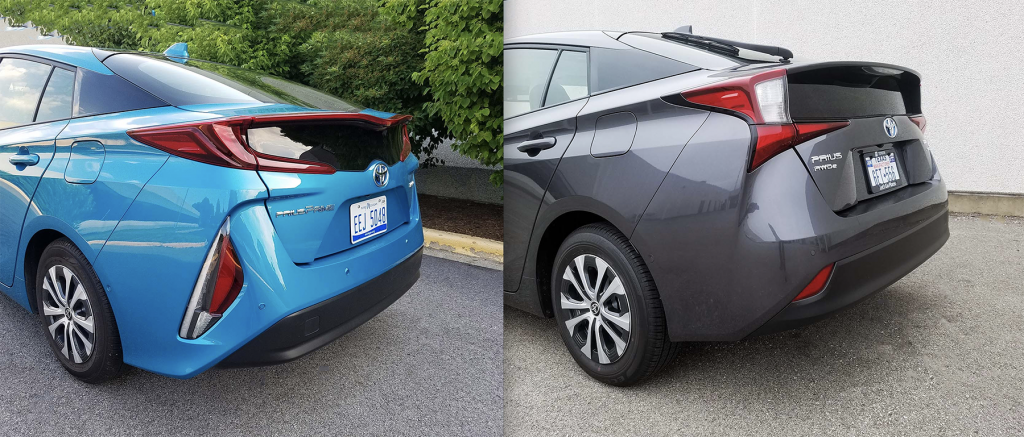 The Prius Prime's rear end styling is a bit swoopier as well. It's highlighted by an unusual compound-curve rear window (which thankfully doesn't affect the view astern) and a sleek-looking full-width taillight arrangement.
Quick Spin: 2020 Toyota Corolla Hybrid LE

Both the Prime and regular Prius models have an unusual vertical "mini-window" beneath the main rear window. This provides a bit of extra rear visibility, but the large crossbar splitting the view can be disorienting.

Not much different here, in terms of visuals or horsepower. Both the Prime and the AWD-e have the same 121-hp 4-cylinder hybrid powertrain, but the Prime feels a bit zippier overall.
Test Drive: 2021 Toyota Venza XLE

A vertically oriented 11.6-inch touchscreen is standard equipment on Prius Prime XLE and Limited models, but it's unavailable on the Prius AWD-e. The plus-size screen is able to display multiple readouts—such as the navigation-system map and hybrid power-flow readings—at the same time, a nice feature.

Here's a subtle but significant downside to the Prius Prime—in order provide space for the larger battery pack, the Prime's rear cargo floor is raised by a couple inches over the non-plug-in Prius versions. That doesn't sound like a lot, but it reduces the Prime's cargo capacity more than you might think—there's 19.8 cubic feet of room behind the rear seats, compared to 27.4 cubic feet in the AWD-e (which offers the same cargo capacity as the front-wheel-drive Prius). That can be the difference between a large box or other cargo item fitting, or not fitting.
Test Drive: 2021 Mini Cooper SE Countryman ALL4 PHEV
---
2021 Toyota Prius Prime Limited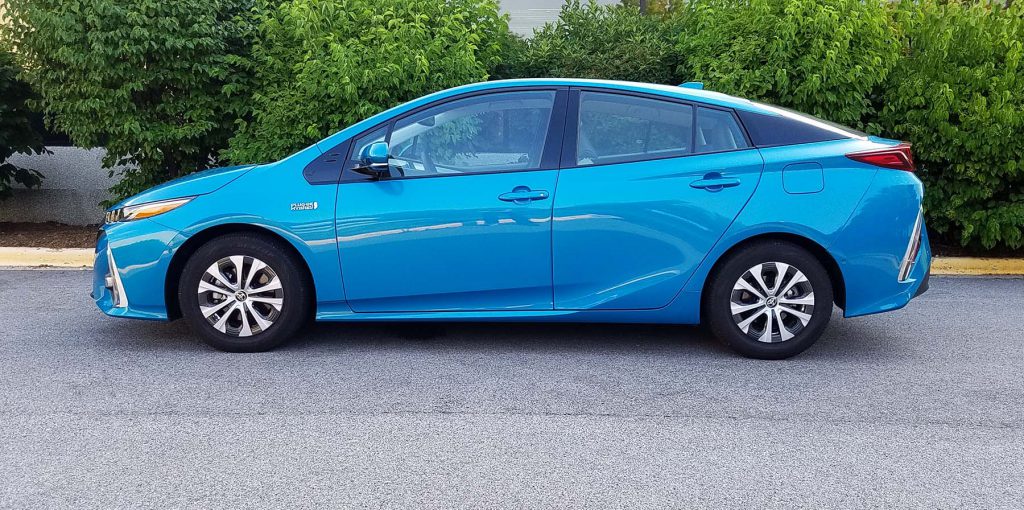 Class: Compact Car
Miles driven: 229
Fuel used: 2.3 gallons
CG Report Card
Room and Comfort
B-
Power and Performance
C+
Fit and Finish
B+
Fuel Economy
A+
Value
A-
Report-card grades are derived from a consensus of test-driver evaluations. All grades are versus other vehicles in the same class. Value grade is for specific trim level evaluated, and may not reflect Consumer Guide's impressions of the entire model lineup.
Big & Tall Comfort
Big Guy
B-
Tall Guy
B
Big & Tall comfort ratings are for front seats only. "Big" rating based on male tester weighing approximately 350 pounds, "Tall" rating based on 6'6"-tall male tester.
Drivetrain
Engine Specs
121-hp 1.8-liter
Engine Type
4-cylinder plug-in hybrid
Transmission
CVT automatic
Drive Wheels
front
Real-world fuel economy: 99.5 mpg
Driving mix: 70% city, 30% highway
EPA-estimated fuel economy: 54 mpg/133 MPGe (both in combined city/hwy driving)
Fuel type: Regular gas
Base price: $34,000 (not including $995 destination charge)
Options on test vehicle: Carpet mat package ($259), door edge guards ($125), rear bumper applique ($79), illuminated door sills ($299)
Price as tested: $35,757
Quick Hits
The great: Outstanding fuel economy with pure-electric capability on short trips
The good: Around-town throttle response, ride quality, cargo space and versatility, relatively affordable pricing
The not so good: Not all drivers like unconventional control layout, limited highway-speed merging and passing power, larger battery compromises cargo-hauling capacity
More Prius price and availability information
---
2021 Toyota Prius XLE AWD-e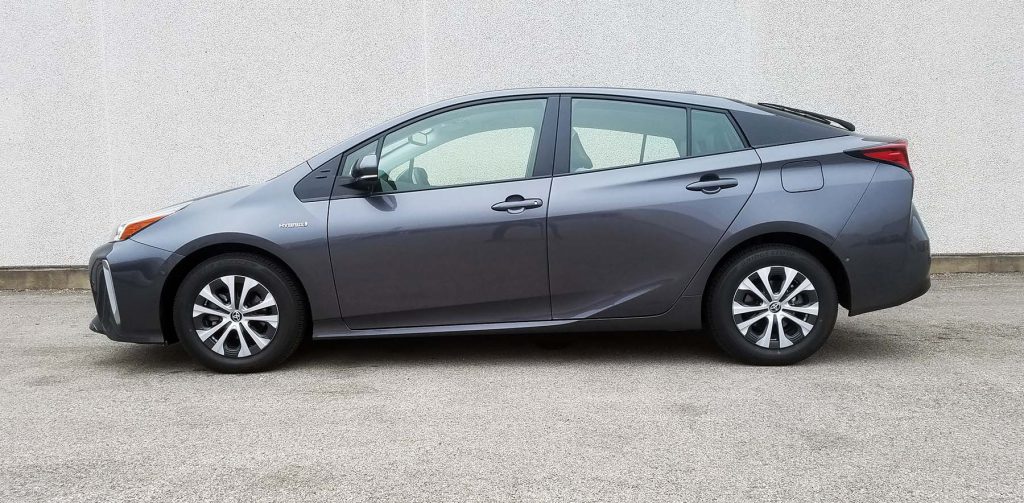 Class: Compact Car
Miles driven: 442
Fuel used: 8.8 gallons
CG Report Card
Room and Comfort
B-
Power and Performance
C+
Fit and Finish
B
Fuel Economy
A+
Value
A-
Report-card grades are derived from a consensus of test-driver evaluations. All grades are versus other vehicles in the same class. Value grade is for specific trim level evaluated, and may not reflect Consumer Guide's impressions of the entire model lineup.
Big & Tall Comfort
Big Guy
B-
Tall Guy
B
Big & Tall comfort ratings are for front seats only. "Big" rating based on male tester weighing approximately 350 pounds, "Tall" rating based on 6'6"-tall male tester.
Drivetrain
Engine Specs
121-hp 1.8-liter
Engine Type
4-cylinder hybrid
Transmission
CVT automatic
Drive Wheels
AWD
Real-world fuel economy: 50.2 mpg
Driving mix: 55% city, 45% highway
EPA-estimated fuel economy: 51/47/49 (mpg city, highway, combined)
Fuel type: Regular gas
Base price: $29,575 (not including $995 destination charge)
Options on test vehicle: Advanced Technology Package ($800), carpet floor mats/carpet cargo mat ($259), door edge guards ($125), rear bumper applique ($69), cargo net ($49), illuminated door sills ($299)
Price as tested: $32,171
Quick Hits
The great: Outstanding fuel economy with all-weather traction of all-wheel drive
The good: Around-town throttle response, ride quality, cargo space and versatility
The not so good: Not all drivers like unconventional control layout, limited highway-speed merging and passing power
---
Check out the Consumer Guide Car Stuff Podcast
2021 Prime vs AWD-e Gallery
(Click below for enlarged images)
Prime vs AWD-e
Prime vs AWD-e