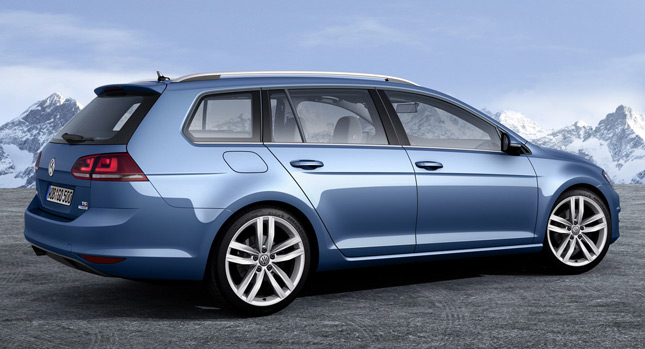 By Chris Poole
The U.S. market's last mainstream-brand station wagon is redesigned with crisper styling, a new gasoline engine, less weight, and a bit more room. No longer a Jetta, the compact SportWagen is based on VW's latest Golf hatchback and should be even more appealing.
Future Volkswagen
What It Is
The 2015 Volkswagen SportWagen is the redesigned version of the last traditional, mainstream-brand station wagon on the American market. Replacing the compact 2009-2014 Jetta SportWagen, it will likely start U.S. sale toward the end of calendar 2014, several months after the seventh-generation 2015 Golf/GTI hatchbacks that use the same basic design. The new model is already rolling out in Europe, where it's called Golf Variant or Golf Estate, depending on market. U.S. pricing probably won't be announced until shortly on-sale time, but VW may drop a hint at an upcoming major auto show, perhaps as early as the November 2013 Los Angeles expo.
Like the departing Jetta wagon, the U.S.-market 2015 Volkswagen SportWagen will be sourced from VW's Puebla, Mexico complex that also supplies Jetta compact sedans and sporty/performance Beetle coupes and convertibles for NAFTA-zone sale. VW has also assigned Puebla to build Golf/GTI hatchbacks for the NAFTA region in a bid for greater price competitiveness and as a hedge against currency fluctuations versus selling imported units from high-cost Germany.
What To Expect—Design and Engineering
As noted, the 2015 Volkswagen SportWagen shares a basic design with VW's "Mark VII" Golf/GTI hatchbacks. Indeed, the two body styles are said to be structurally identical ahead of the middle roof pillar. Both employ the versatile MQB modular-matrix architecture that will also underpin many future compact and midsize vehicles for the VW brand and upscale sister division Audi. The outgoing Jetta wagon used a mix of VW's older PQ35 and PQ36 platforms. The PQ35 still lives on in Jetta sedans, last redesigned for 2011.
MQB is designed to accommodate front-drive and all-wheel-drive powerteams with transversely mounted engines of around 2.0-liters or less. The SportWagen will remain front-drive only, but VW is reportedly working on a quasi-SUV version with AWD to answer the likes of the Subaru XV Crosstrek.
The move to MQB gives the 2015 Volkswagen SportWagen a 2.2-inch longer wheelbase and a one-inch lower roofline than the Jetta wagon. Width and length are little changed, but VW claims modest improvements to passenger and cargo room. More significant is a claimed mass reduction of up to 230 pounds. This reflects weight-conscious engineering that makes greater use of lighter high-strength steel than previous Golf/Jetta platforms.
Despite the slight changes to dimensions and proportions, the 2015 Volkswagen SportWagen has a sleeker look with a touch more wedge in profile. Like the latest Golfs, it also sports crisper body lines that confer a more premium appearance, enhanced by this model's first use of LED daytime running lamps. The interior package is much as before, with a split-fold rear bench seat, underfloor cargo-area storage and rear-seat cargo pass-through, but the dashboard is subtly redesigned around the same simple layout, and materials quality, already good, is taken up a notch. New features include a tab-switch electronic parking brake to replace a pull-up lever and, regardless of options, a color touchscreen below the middle air vents and above the climate-control panel.
Besides more eye candy, the 2015 Volkswagen SportWagen offers a few first-time underskin enhancements. Chief among these are electric-assist steering, replacing conventional hydraulic, and a multilink rear suspension a la Mark VII Golf/GTI, replacing a twist-beam axle. Continued but refined are a strut-type front suspension; standard 4-wheel disc brakes with ABS and integrated VW ESP stability/traction control; and, depending on model, 16-inch steel or 17-inch alloy wheels.
What To Expect—Powertrains and Features
For North America, the 2015 Volkswagen SportWagen will reprise a choice of 4-cylinder gasoline and turbodiesel engines. However, the gasoline mill is a lighter, more-efficient new 1.8-liter turbocharged affair, essentially a smaller version of the 2.0-liter GTI hatchback engine (coded EA888). Replacing a non-turbo 2.5-liter inline 5-cylinder, the 1.8T makes the same 170 horsepower but 184 pound-feet of torque, up from 177. Incidentally, this same swap applies to 2014 SE and SEL Jettas and, eventually, base Beetles and midsize Passat sedans.
The 1.8T promises to improve fuel economy in any application, SportWagen included. Car and Driver notes that the EPA rates the 2014 Jetta 1.8T at 26 mpg city and 36 highway with manual transmission and 25/36 with automatic. That compares respectively with 24/31 and 23/33 for the old 5-cylinder, though many competitive compacts better the 1.8T's ratings. Fuel-saving stop/start and energy-regeneration systems are standard for most gas-powered European Golf wagons, but there's no word on whether these will be available in North America.
The 2.0-liter turbodiesel or TDI engine is familiar VW fare, returning for U.S. consumption with 236 pound-feet of torque but also 10 extra horsepower, 150 in all. Alas, where this "oil burner" used to meet 50-state emissions standards with no exhaust after-treatment, the new version employs a urea injection system drawing fluid from an onboard tank that must be replenished periodically. As with the departing Jetta wagon, both 2015 Volkswagen SportWagen engines will team with a 6-speed manual transmission or an optional 6-speed dual-clutch automatic with manual-shift function.
The Euro-market Golf Variant/Estate offers a number of premium-brand features such as parking and lane-keeping assists, electronic limited-slip differential, and multi-way power front sports seats. We doubt any of these will make it to North America, given the Jetta wagon's modest sales record, though VW might surprise us.
Otherwise, we'd expect equipment rosters to be little changed for the 2015 Volkswagen SportWagen. Ditto the outgoing model's six "package" models, each with a specific mix of features. Whatever the final lineup, linewide standards should again include cloth or leatherette vinyl upholstery, heated front seats with power backrest recliners, all-door auto up/down power windows, tilt/telescopic steering wheel with audio and cruise controls, trip computer, touchscreen audio system, wireless phone link, digital-media connection, and roller-blind cargo cover. Uplevel versions will again offer a panoramic sunroof, navigation system, upgraded audio, and keyless entry/engine-start.
Why It's Being Built
Traditional station wagons remain quite popular in Europe, particularly compact and midsize models, and that's the main reason why Volkswagen has updated the Golf-based Variant/Estate. The U.S. market is almost beside the point, what with wagons being such slow-sellers, displaced in buyer affections long ago by SUVs and minivans. Then again, considering that most of the few wagons still left on the U.S. market are pricey, premium-brand offerings, the more-affordable SportWagen has no real competition. That suggests VW understands it has "a difference to sell," a way to stand apart from other mainstream brands, and a model thus worth continuing, even if it doesn't contribute much to VW's total U.S. sales or earnings.
What It Might Cost
The 2013 Jetta SportWagen lineup covers a fairly broad price spread of roughly $20,500-$29,500 before options. Car and Driver estimates the 2015 will start at $22,000, which seems plausible—provided there are no big price-boosting changes to standard content or manufacturing costs.
Ford's Future: Automaker Set to Revamp Product Lineup with a Strong Focus on Trucks, SUVs, and Hybrids
CG Says
The outgoing Jetta wagon was appealing enough that several of us here at CG Auto actually bought TDI versions with our own money, and we've all been highly satisfied. Considering how picky we are, that's a strong recommendation. We expect the 2015 Volkswagen SportWagen to be even better in many ways, particularly gas-engine performance and overall refinement. The reduced weight bodes well for real-world fuel economy, especially with the thrifty turbodiesel. It should also enhance handling, though you shouldn't expect Golf GTI agility. Workmanship and interior materials, already near premium-brand levels, might be a bit better too. The new styling seems another plus, and the basic package should be as practical and friendly as ever. In all, VW's redesigned compact wagon looks to offer even more reasons to consider buying one yourself. It certainly deserves a long, hard look.
The Basics
Vehicle Type:  compact car
Drivetrain (CG estimates)
Drive wheels:  front
Engine:  1.8-liter turbocharged 4-cylinder (1.8T), 2.0-liter 4-cylinder turbodiesel (2.0 TDI)
Horsepower:  170 (1.8T), 150 (2.0 TDI)
Torque:  184 pound-feet (1.8T), 236 (2.0 TDI)
Transmission:  6-speed manual, 6-speed dual-clutch automatic
Dimensions  (manufacturer data)
Wheelbase (in.):  103.7
Length (in.):  179.6
Width (in.):  70.8
Height (in.):  58.3
Base curb weight (lb):  2980 (CG estimate)
2014 Chrysler 100: The Compact Chrysler That Might Have Been